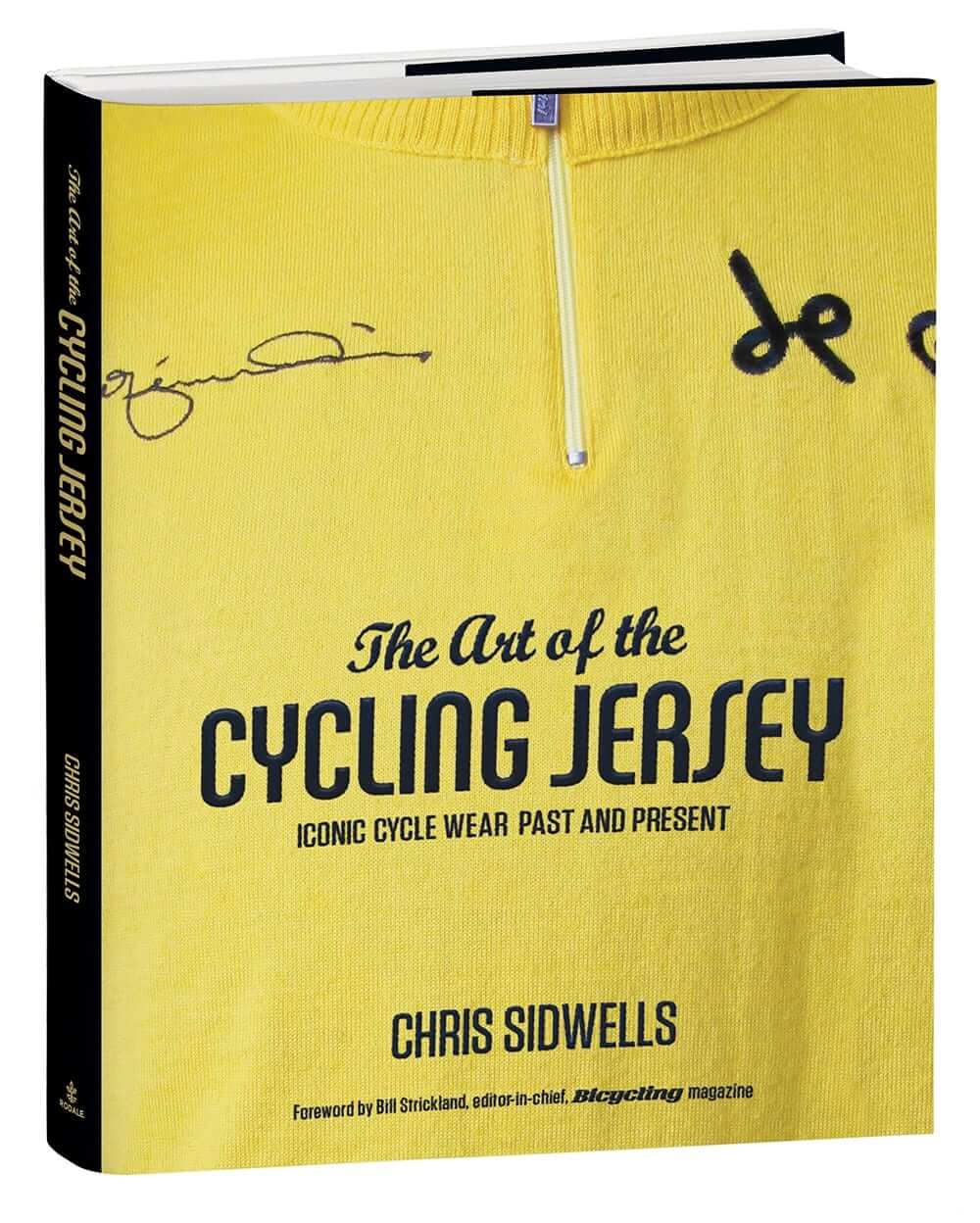 [Editor's Note: Paul is on vacation until tomorrow, but he left this entry to run today. Enjoy.]
There are lots of books out there about cycling jerseys. The latest one is The Art of the Cycling Jersey: Iconic Cycle Wear, Past and Present, by Chris Sidwells (who's a very prolific author on biking-related topics), and it's one of the best that I've seen, with informative text and excellent visuals.
Let's take a look, shall we? Here are some highlights:
•  As you'd expect, there are lots of photos, which we'll get to in a second. But there are all several very cool cycling-centric paintings and posters. I particularly liked these two (for all photos, you can click to enlarge):
•  Over the years, many people have sent me packs of Brooklyn gum, which is actually made in Italy. They also sponsored a cycling team, as you can see in this next jersey. I often see people wearing repros of this one during my daily bike rides in Prospect Park:
•  The Brooklyn jersey's flag-based motif is taken a step further in this spectacular star-spangled design:
•  Bic has been a big name in cycling for decades, but I still find it amusing to see the old Bic mascot character on a jersey:
•  Whoa, check out the button placement on this next jersey — seems like something our resident DIY genius, Wafflebored, would come up with, no?
•  Interesting photo caption on this next one, as the author notes, "The team name on the side panels reflects how formerly strict team jersey design rules were relaxing." Sounds similar to what we might say about team names running up the sides of football pants (among other newfangled developments), right?
•  This next one is ridiculously busy, but I still like it. It's the caption explains, it's a "combined jersey," given to the rider with the highest aggregate scores in the Tour de France's gold, green, and polka dot jersey rankings. The effect is a bit like polka dots on a Mondrian painting.
• One final note: As most of you know, I tend not to buy or wear jerseys, except for the occasional vintage find. A rare exception came in 2009, when I came across a website selling beautiful reproductions of old wool cycling jerseys. I bought one and wore it to a Uni Watch gathering in Pittsburgh later that year. I've almost never worn it since then because, as it turns out, there are very few situations that call for a short-sleeved wool sweater (on any given day, it's usually either too hot to wear wool or too cold to wear short sleeves), but I still love the design, and I was happy to see the original jersey featured in this book. Here's a shot of me wearing the repro jersey at the 2009 Pittsburgh party, followed by the jersey's profile in the book:
Want to see more? There are additional photos here, and the book is available for purchase here.
• • • • • •
[adrotate group="2″]
• • • • • •
Uni Watch News Ticker
By Phil
[Note: Several of these items came in over the weekend, so apologies if they're "old" — PH]

Baseball News: On Memorial Day, a youth baseball team from Fairfield, OH, wore names of soldiers killed in action in a game (from Brian Henke). … Was it superstition or a Nats socks mixup? Douglas Adams notes "Looks like Gio Gonzalez missed the memo on the green socks." … Nice looking Tequila Sunrise uni from Grand Ledge High School in Michigan (good spot by Scott Norman). … Check out this beautiful vintage Expos cap with the 125th anniversary pin in French (from Allen Yelent). … The Yankees' AAA minor league team (the Scranton/Wilkes Barre RailRiders) have two holiday jerseys: The blue ones were worn for Memorial Day, and the red one will be worn for July 4th (from Michael Slesinski). … Saturday's broadcast of the Ole Miss – Texas A&M game included some in-depth commentary on the Rebels' powder blue uniforms and why they always wear them for night games instead of their road grays (from Kary Klismet). … Attention to detail! As they have done for the past several years, the Milwaukee Brewers adapt their helmet decal to the "special" occasion being celebrated by MLB (from Tom Ekstrand). … The Louisville Bats (AAA-Reds) became the Louisville Mashers for a night (from Josh Hinton). Here's a few more good links. … The Phillies did not have sleeve numbers on their home Memorial Day unis, but they did on the road version (from Frank McGuigan). [Probably because their cream alts don't have them either — PH]. … While inside he newly renovated Pirates Fanatics clubhouse store yesterday, Noah Kastroll spotted these Antonio Brown "crossover" jerseys. … Here's a neat guide (by jersey), of the Men's College Series matchups (from Chris Mycoskie and also Rex Henry). … Yesterday, White Sox hurler Hector Santiago wore a signed Memorial Day jersey (good spot by Mark Johnson). … Whoa! Check out the awesome unis (and especially the jerseys) for the 3rd Transportation Military Railway System Baseball Team, 1952 (from GOAT Jerseys). … What's your verdict on this PawSox patriotic jersey? JBJ.Bandwagon has a definite opinion. … In this article from the Daily News, it notes last year MLB was criticized for a lack of transparency with regard to the camo uniforms. … This year they're making things more transparent (from Tim Dunn). … British artist Andy Brown (who I've featured on Uni Watch several times), scored a nice article on how he "captures essence of baseball through paintings." … Because they played a double header yesterday, the Mets and Braves wore their regular unis in the second half of the twin bill (from Glen Matthews). …(CROSSOVER) Rex and Rob Ryan were at Sunday's OKC Dodgers/Nashville Sounds game. Rex wearing an old Sounds jersey and Rob wearing a Roberto Clemente jersey, from Alex Freedman (also posted in football). … There's a Texas Rangers Two Tone Batting Helmet on sale eBay. John Leftwich notes, "Not the seller or affiliated with the seller just know you has some mention of this in articles around when they were worn!" Hard to believe this is from 2009. The helmet was scrapped before the season began.

NFL News: Interesting observation from Stephen Willeford who writes, "Was reading Peter Kings' MMQB and say this picture from Carson Palmers' office (?). There's an autographed Aikman jersey with the body of the Cowboys road jersey circa 83-95 and the sleeves of the current road jersey." He asks, "Have you ever seen anything like this? You would think a guy like Carson Palmer would be able to get a real jersey from the source, not an obviously fake jersey done by a collectible store." … (CROSSOVER) Rex and Rob Ryan were at Sunday's OKC Dodgers/Nashville Sounds game. Rex wearing an old Sounds jersey and Rob wearing a Roberto Clemente jersey, from Alex Freedman (also posted in baseball). … While the Steelers are expected to unveil a new third uniform this week, original reports (and thoughts) are that it will be the "Batman" jersey worn for two seasons. However, it may be that the team will wear unis from 1979. … You know something has gotta be out of whack if Todd Radom asks, "Is this a headline from The Onion?" Well, you be the judge. No, it's true.

College Football News: Here's a really bad interesting article listing the author's 30 best college football jerseys. When I tweeted that, it got a lot of varied opinions of the list, most of which were not good.

Hockey News: Here's a look at the Stanley Cup Finals Patch on the Vegas Golden Knights (from Al N. Kreit). … Absolutely no surprise here, but next season NHL teams will have third sweaters. … "Maybe I'm crazy but isn't the use of the Blackhawks crest in conjunction with the American flag tone deaf?" writes Marc-Louis Paprzyca. … The Arizona Coyotes' official third jersey will be revealed on 6/22 (from ticker-er emeritus Mike Chamernik).

NBA News: Now that his Cavs are (again) in the NBA Finals, Jimmer Vilk "Had this glass for a month and just realized the Cavs logo next to the Arby's logo is from the wrong era." … Speaking of those Cavs, here are larger and clearer views of the 2018 NBA Finals uniform patch (from Conrad Burry). … The Mavericks gave Justin Timberlake his own take on the logo (from Griffin Smith).

Soccer News: Here's a bunch on new kit news, and each of the following four items comes from Josh Hinton: Valencia's 2018-19 home kit has leaked; Benfica's 2018-19 home kit has leaked; Here's a good recap on FC Koln's SEVEN kits during 2017-18 season; and, Chivas Guadalajara's 2018-19 away kit has leaked. … The NWSL's Chicago Red Stars wore NNOB warm-up shirts with rainbow numbers (from our own Jamie Rathjen). … More from Josh Hinton: a look at the boots worn in the Champions League Final between Real Madrid and Liverpool. Also from Josh, the USL has a new ball that will be used for the remainder of the 2018 season as well as the entirety of 2019. … Fulham and Aston Villa today wore special SkyBet Championship patches Sunday in the SkyBet Championship Playoff Final. The League One and Two Playoff Finals also featured it (Josh again). … "I know we recently had the British comic strip Roy of the Rovers in the Ticker because it's being rebooted and the strip's team, Melchester Rovers, got a new logo," writes Jamie. "A picture of the new Roy Race (the main character) came out and you can see that Melchester's kit quite clearly carries Hummel branding."

Grab Bag: Even though most New Yorkers don't have easy access to a pool or the beach, it doesn't stop them from wearing flip-flops (sigh). Here's an article on Flip Flops for the Greater Good (from Tommy Turner). … The Victoria Shamrocks are wearing new uniforms in the Western Lacrosse Association (WLA) this season. "The white uniforms were worn at their home opener against Burnaby Saturday night," writes Wade Heidt. "The new uniforms feature black numbers and a bit of silver trim. Secondary "VS" logo makes its appearance on the uniforms now, on the shoulders and on the shorts." Here's what they wore for comparison. … An Elementary school in Sylvania, OH changed its nickname from Indians to Cardinals (from Tom Konecny). … Just in time for his trip home from Utah today, Delta Airlines will debut new purpleplum uniforms. … Johnny Canucklehead asks, "OK, need more info. Is Basilashvili trying to start a tennis player numbers trend?" … Tennis player Ken Nishikori will be wearing these two UNIQLO shirts during the French Open (from Blake Fox).
• • •
Collector's Corner can be seen on the Uni Watch Facebook page today- it will return to this space next week.
Thanks to everyone for your patience this past week and change. Paul will return to his regular Uni Watching duties tomorrow.
Peace!
–Phil
• • • • • •
[adrotate group="2″]
• • • • • •