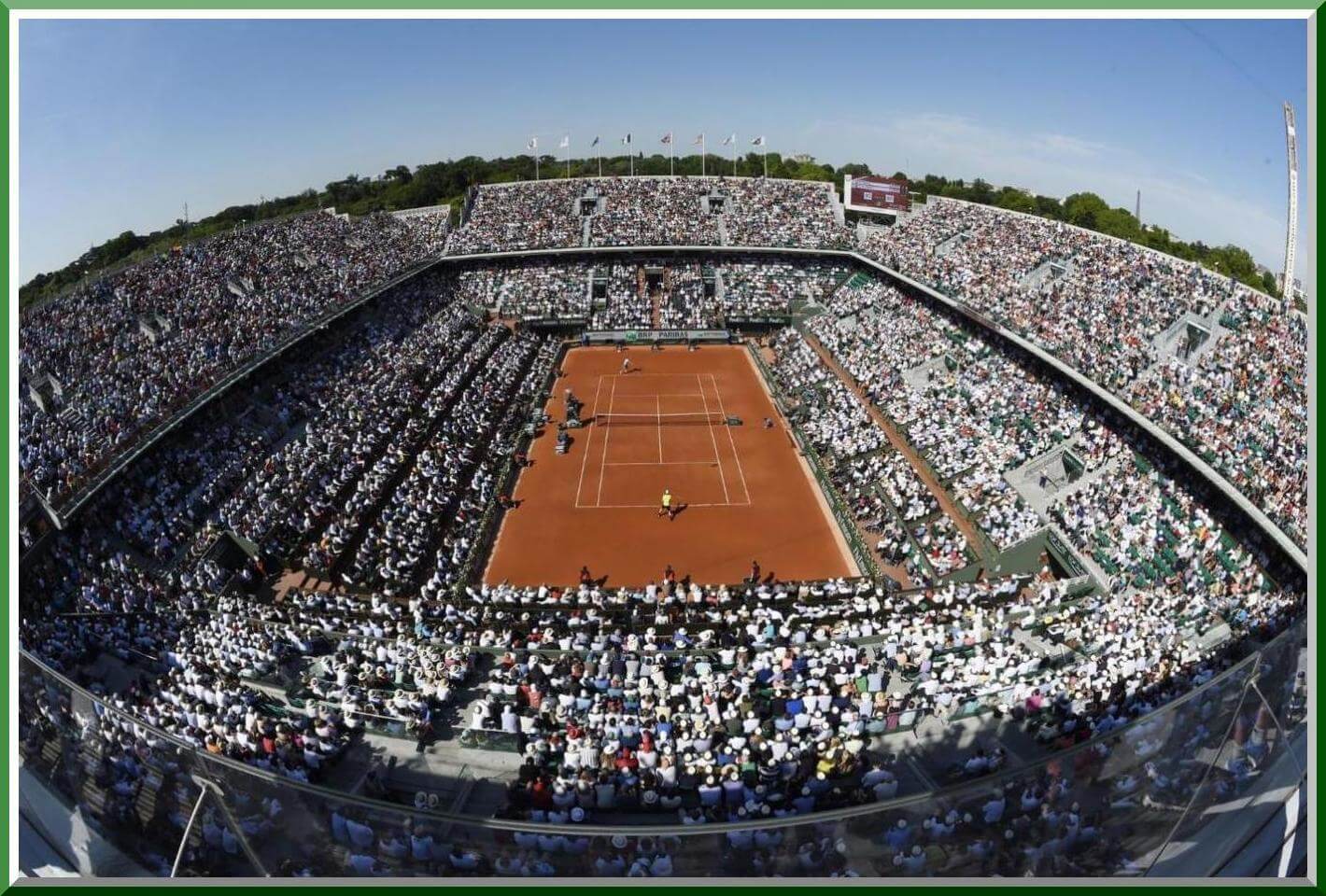 By Phil Hecken, with Brinke Guthrie
Follow @PhilHecken

The 2018 French Open begins this morning. My doubles partner and our other resident Tennis fan Brinke Guthrie, who also brings us "Collectors Corner" during the week, has volunteered to bring us a look at this year's second Grand Slam, taking place at Roland-Garros, for the next fortnight.
Here's Brinke:
• • •
French Open Fashion
By Brinke Guthrie
Following a week of qualifying, the French Open gets started pour de vrai (for real) today in Paris.
The second Slam of the year always brings out new designs in clothing and sneakers. Racquets stay the same more or less, although new paint jobs are common. What's a paint job? Brands roll out new frames but their sponsored players won't change, so in some cases their existing frame gets a new coating of paint to match the new model. Misleading? Yes. Commonplace? Also yes.
Nike has rolled out a special edition shoe for Serena Williams, the Blazer SW Mid. As the name suggests, it harkens back to the classic Blazer hoops shoe, one of Nike's first-ever models. Her Nike SW logo adorns the laces and tongue tab. A Paris pop-up store was to carry these starting this past Thursday as well as the Nike SNKRS app, but I'm pretty sure these are long gone already- the special editions are instant sellouts, destined for eBay.
Unknown if she'll wear them on court, though. Serena and world #1 Simona Halep, who signed with Swoosh earlier this year after her adidas deal lapsed and she wore an unmarked red dress from China bought over the internet (true) will, er, wear the same Nike outfit! Don't they have others to choose from? C'est choquant!
The men's favorite is without a doubt Rafa Nadal, the greatest clay courter of all time. (The GOAT AKA Roger Federer is again skipping this one- too much long point wear and tear for him, he knows it's Nadal's to lose, and he's gearing up for another Wimbledon win.) Nadal has won it a staggering ten times, and he'll wear the Nike Men's Summer Rafa AeroReact Top. His personal logo adorns the sleeve. (If he wins again, look for commemorative Nike stuff. They always do this for Nadal and Fed.) Some nice subtle patterns here in this poly top. Everything's poly in tennis…sigh. No more Egyptian cotton like the good old days.
He'll pair it with the Nike Air Zoom Cage 3. Same shoe he's worn for a long while, just with a Frenchy blue look. The majority of players on the WTA and ATP tours have head-to-toe deals, meaning they rep the same company for clothing/shoes. Most big lines like Adidas, Asics, Nike and Fila do both. Lacoste is a big name that doesn't do both- their shoes are strictly for casual tennis players. Djokovic wears his own signature Lacoste line but recently debuted his own Asics sneaker, for example.
Speaking of Djokovic, he has struggled mightily the last couple of years- a combination of injuries and … no one knows. It seems he's lost his mental edge; when players would face him, they'd more often than not believe they were going to get killed. (They were right.) They don't fear him these days, but that didn't stop Head from re-signing him and young star Alexander Zverev to new long-term deals. Nadal will more than likely win this event again. If for some reason the Tennis Gods deny him, it could be Z in the winner's circle holding La Coup Des Mousquetaires.
Fila has a number of top players competing in Paris. What I like about the brand, besides the historical Borg connection, is they always seem to stick with classic solids and geometric styles.
Here's world #4 Marin Cilic wearing their aptly named Heritage Collection for men…
…with world #6 Karolina Pliskova wearing the women's Elite line.
Adidas has a huge number of players on the courts of Roland Garros- they're an official event sponsor so many of their guys are wearing special RG-logo adidas attire. Women's defending champ Jelena Ostapenko and the previously mentioned Zverev will don the RG look. Other adidas stars like former RG champ Garbine Muguruza and Caroline Wozniacki will wear the Stella McCartney adidas line.
• • •
Thanks, Brinke! Everyone enjoy the French Open folks.
[adrotate group="2″]
And that is it…
…for today
That's going to do it for today. I hope everyone is enjoying their long weekend and the camo MLB unis aren't bringing you down. Paul gave all the ticker guys (which includes me, for today) the weekend off — so while Alex will have Monday off, I'll prepare a ticker so you guys will have a full post on Tuesday, before Paul returns from his vacation. We'll be open for business tomorrow, but expect limited content.
I'll be heading up to Syracuse on Thursday to cheer on Paul as he throws out the first pitch for the Syracuse Chiefs Devices during their Salute to the Brannock Device night. There will be a special area there for all Uni Watchers who make the trek to the game, so I hope to see a few of you there as we celebrate the special occasion. Let's hope Paul doesn't ever get himself added to a blooper reel.
Everyone have a great rest of your weekend; enjoy the auto race, the tennis, baseball and whatever else you're doing — be safe!
Peace.