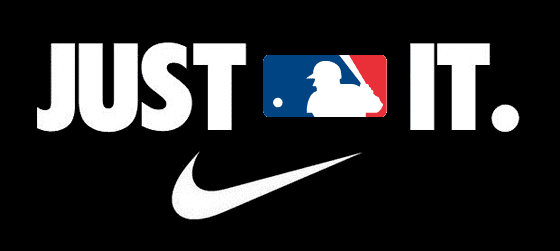 [Editor's Note: Paul is on vacation and will return on May 30. Deputy editor Phil Hecken is running the site until then. Today we have our own Kris Gross covering yesterday's big MLB/Uni News]
By Kris Gross
THE SWOOSH IS COMING.
In news announced today by SportsBusiness Daily, Under Armour is out as the official on-field apparel provider of Major League Baseball's future, and Nike is in. Under Armour was supposed to take over in 2020 with the on-field rights, but financial issues have caused UA to back out of the deal. Under Armour will save around $50 million by relinquishing the rights.
You didn't think MLB would let all that money disappear, did you? And that's where Nike stepped in. According to a source cited in the SportsBusiness Daily article, the deal with Nike is about 80% finished. You can look for an official announcement of the partnership during July's All Star festivities in DC.
The "UA" logo was going to appear on the chest of all MLB uniforms, but that is likely to be filled by the swoosh now. We don't know for sure what the jerseys will look like, but see below for some college teams with the maker's mark front and center.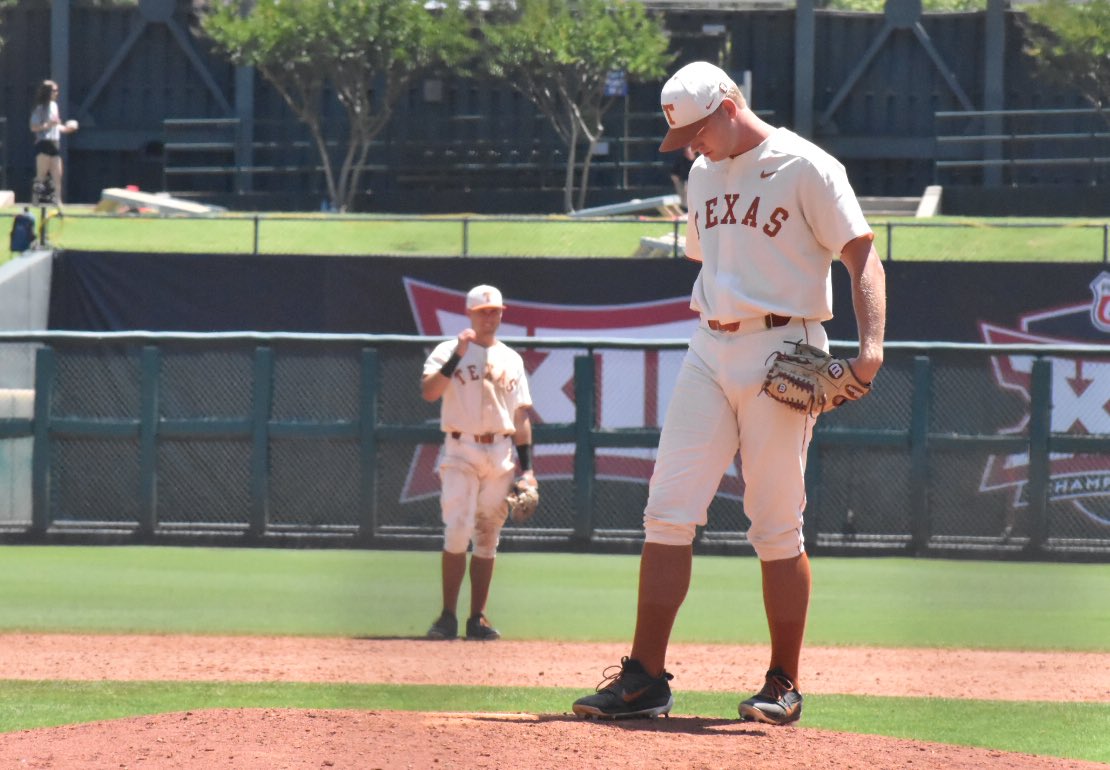 Currently, Majestic makes both the on-field and retail jerseys, but that comes to an end in 2020. Nike will provide the on-field product, while Fanatics will handle the retail side.
We are wading into dangerous territory here people. It won't be long until most fans no longer even think about the Nike logo on the front of the jersey, leading to an easier acceptance of advertising that is no doubt on its way. I guess we're past the point where we can hope for clean, ad free jerseys. But Nike, please, can we at least get jerseys that seem to be properly made?
• • • • • •
[adrotate group="2″]
• • • • • •
The Ticker
By Kris Gross

Baseball News: The Royals have unveiled the uniforms they'll wear on Turn Ahead the Clock Night on June 30 (from Sean Patton). … No logo creep? Phillies manager Gabe Kapler Gets It (from Kyle Caffrey). … A poll was taken on the Facebook broadcast of yesterday's Blue Jays' game, asking fans which logo they like best (from Steven Schapansky). … This news has been a long time coming, but it turns out that a change in the baseball resulted in a spike in home runs since 2015 (from Todd Meisner). … Following up on yesterday's Ticker item about the Orioles Old English B, Jeff Wilk has made a discovery. Head to the :27 mark of this Getty Images footage, where we see the Old English B on an Orioles helmet. Great find! … The Rangers became the first team in MLB history with two players with hyphenated last names in the starting lineup (from David S). … The Orioles will have "University Nights" with school-colored O's caps beginning in August (from Andrew Cosentino). … Don't let the Mascot Hall of Fame lie to you. Mr. Met was not the first MLB mascot (from Nelson Warwick). … Come for Ken Rosenthal's piece on how MLB is changing how it commemorates Memorial Day (Athletic link), stay for his Uni Watch shoutout. … Dustin Pedroia went high cuffed during his appearance with Triple-A Pawtucket (from @josh_claywell). … This hideous Alex Rodriguez/Michael Young frankenjersey was spotted at Wednesday night's Rangers' game (from Eric Patetta). … The Rochester Red Wings become the Hop Bitters tomorrow. … Speaking of the Red Wings, we've got some bike shorts action (from Will Musto). … New lid for the Portland Pickles (from Tessa Sainz). … The Potomac Nationals will give away Trea Turner road runner bobbleheads tomorrow night. … Michigan State players turned the Michigan logo upside down in the Spartan dugout at yesterday's Big Ten tourney game (from @sponmedome). … Good thing UA's not taking over the MLB contract? "Cal baseball pants have stripes that start at the waist and go down to the thigh," says John Furstenthal. "Cal softball pants have stripes that start at the thigh and go down to the bottom. Same school, different shortened pants striping pattern. Strange."

NFL News: The league told Bill Belichick that players have to wear numbers in OTAs, so he gave rookie RB Sony Michel No. 51, which he of course won't wear during the regular season (thanks Brinke). … Set aside three minutes to watch rookies attempt to draw their team's logo (from John Sabol). … Speaking of, Fan Juicer surveyed over 1,400 fans to rank NFL logos (from Peter Quinn). … The Packers are selling these sweet retro jackets in conjunction with their 100th season (from Johnny O). … Rockets F/G Gerald Green got the Oilers logo braided into his hair. … Tell me if you saw this one coming: the radios used during the Watergate break-in were disguised as NFL-branded Chapstick tubes (from Tim Shriver).

College Football News: Alternate uniforms inbound for Iowa State (from @cylinen). … Adidas has created Turnover Chain shoes for Miami head coach Mark Richt (from Adam Apatoff). … New helmets for Southside High School in Fort Smith, AR (from George Mitchell).

Hockey News: The Coyotes will unveil their third jersey at a draft viewing party on June 22 (from Richard Morin). … The Washington Post has collected the best custom fan jerseys from the Caps season so far (from Mark Smith). … James Moser was on vacation in Detroit and found this Pistons/Red Wings logo mashup.

NBA News: The Rockets wore Santa Fe High School patches last night (from Max DeFilippis). … Also posted in the NFL section: Rockets F/G Gerald Green got the Oilers logo braided into his hair. … Also posted in the hockey section: James Moser was on vacation in Detroit and found this Red Wings/Pistons logo mashup.

Soccer News: You can see what kits all 32 World Cup teams will wear here. … Louisville City FC wore their away kits at home for their US Open Cup game on Wednesday night (from Josh Hinton). … George Chilvers passed on this kit and needs help identifying it. "We think it's a football shirt, but to our knowledge it's not a national team shirt." Any ideas? … Here's some notes from our own Jamie Rathjen: Chelsea Ladies are changing their name to Chelsea FC Women. … New primary kits for Atlético Madrid and Athletic Bilbao. … More new kits for Scottish Championship team Inverness CT, with the reveal coming at Loch Ness!. … Counting is hard for Pittsburgh Riverhounds SC (from Josh Hinton).

Grab Bag: The Burnaby Lakers of the Western Lacrosse Association have white nameplates with black lettering this year, a change from white letters last season (from Wade Heidt). … Indianapolis 500 driver Oriol Servia's helmet is causing controversy (from Todd Usher).
• • • • • •
[adrotate group="2″]
• • • • • •