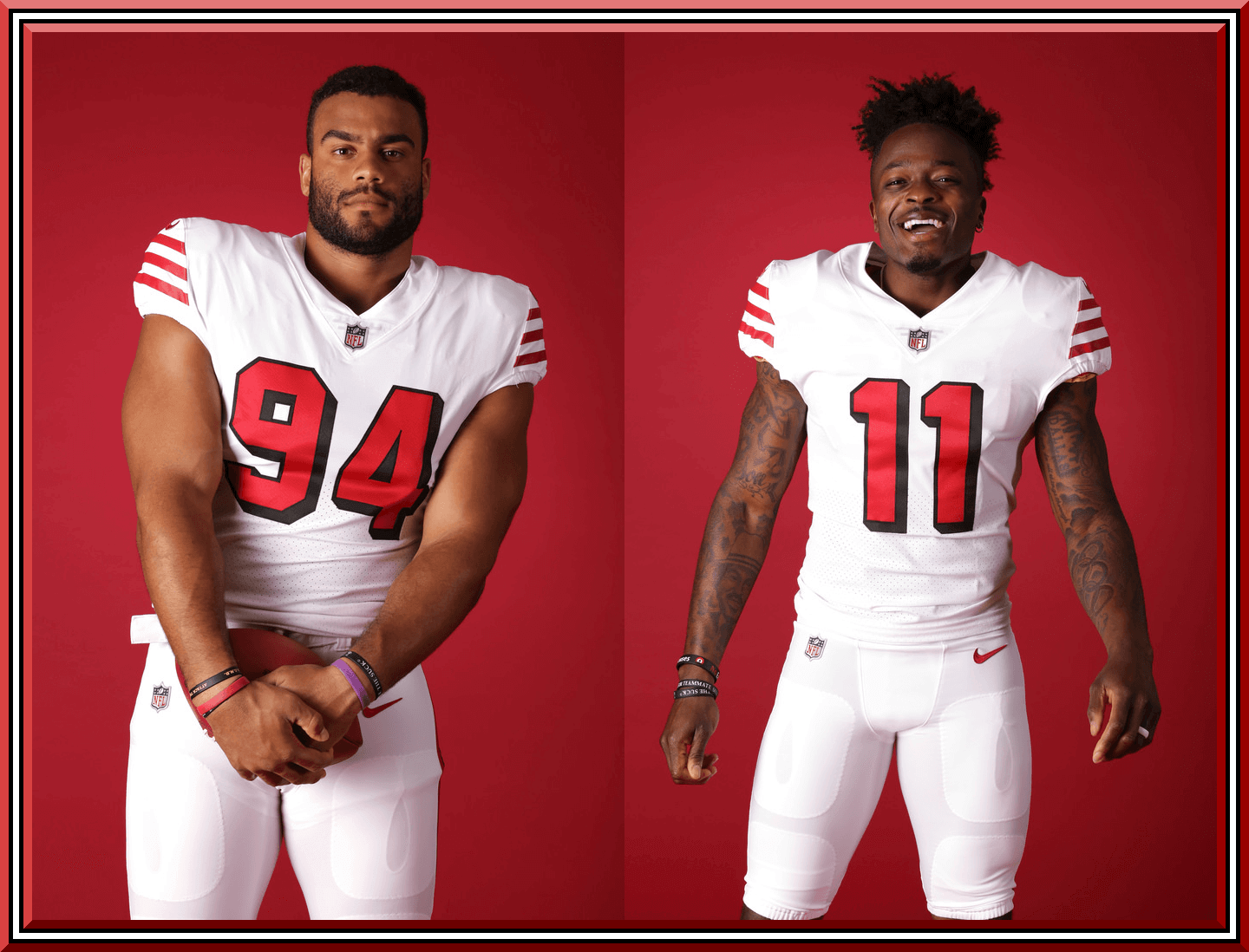 [Editor's Note: Paul is on vacation and will return on May 30. Deputy editor Phil Hecken is running the site until then.]
By Phil Hecken
Follow @PhilHecken

Late last evening, during their "State of the Franchise" event, the San Francisco 49ers unveiled a new alternate uniform set — which is a throwback to the throwback they wore during their 1994 Super Bowl Championship season. That year, you'll recall, the team wore both red (at home) and white (on the road) jerseys as the NFL was celebrating its own 75th Anniversary Season. Those unis looked like this:
Yesterday's uniform introduction brings back the white jersey of the 1994 (which itself was a throwback to the 1955) set. Here's how the Niners introduced it…
This is the armor of legends. #94Niners pic.twitter.com/zcPYxCfge4

— San Francisco 49ers (@49ers) May 24, 2018
The uniforms are pretty clean and simple. White jerseys with three red stripes on the shoulder caps, red numbers with black drop shadow, white pants with a red/black/red stripe down the side. Basically an exact duplicate of the 1994 throwbacks. The one major change, unfortunately, has to do with a very stupid NFL gimmick: Color Rash. The 1994 uniforms had red undersocks. These, in order to meet the monochrome mandate of color rash, will have white socks. It's not a bad look (if there is one monochrome look I like, it's an all-white one), but it's not the same as having the red socks.
SQUUUUUAAAADD #94Ninershttps://t.co/m6MOKuReA5 pic.twitter.com/6ENWP4XU1i

— San Francisco 49ers (@49ers) May 24, 2018
The new throwbacks replace the dreadful all-black uniforms the 49ers wore for color rash outfits the past couple seasons. In this sense, these are a VAST improvement.
Here's more looks at the unis:
Yeah, I know — seeing Richard Sherman in a 49ers uniform is pretty jarring. Get used to it.
Quarterbacks, of course, get a slightly different cut for the jersey. And the 49ers even brought back a legend to model the unis (and he looks like he could still catch 20 TDs and get 1,000 yards receiving):
I like what the 49ers are doing — and they have the New York Football Giants as a model — creating a throwback uniform that satisfies the ridiculous Color Rash parameters. Interestingly, both teams made the all white uniform the designated CR uni. I'm not 100% certain if the team will wear the uniform just once or more (and with red socks?).
Here's a slightly more detailed look at the elements:
Hella cool #94Ninershttps://t.co/m6MOKv8PYF pic.twitter.com/Eu5acqrKRV

— San Francisco 49ers (@49ers) May 24, 2018
The helmet itself is the same shell (due to the one helmet rule), but with two differences: a throwback decal and a throwback nose bumper:
You can see more photos here. You can see video of the event here.
OK. I like these a lot. Interestingly enough, I didn't especially like them when the team introduced them (and then proceeded to win the Super Bowl) back in 1994. But nostalgia has a way of wearing off on one, and I must confess, I'm pleased with this (re)incarnation. But even better is the fact that the team finally ditched that awful BFBS uni (which the team wore with red socks in a non-CR usage). So in that sense, this is also addition by subtraction.
Your thoughts?
Big thanks go out to our own Brinke Guthrie and Roger Hacker, Director of Corporate Communications at the 49ers, for his help with the images.
[adrotate group="2″]
The Ticker
By Alex Hider

Baseball News: As the C-Flap becomes more popular with Big Leaguers, Little Leaguers have begun copying their favorite players — so much so, that Little League Baseball is sending emails to parents asking them not to install C-Flaps onto helmets, as the modifications could void manufacturers' warranties (from Brian Rowland). … The Red Sox will give away Mensch on a Bench bobbleheads on June 5 (from Phil). … William F. Yurasko stumbled upon this video of the Senators Opening Day in 1955. The video appears to show manager Paul Richards wearing a cap with what appears to be an Old English "B." Marc Okkonen's database makes no mention of this cap. Anyone know anything about it? … Good photo of Red Sox legends Ted Williams and Johnny Pesky boxing during Navy training during WWII (from James Gilbert). …  Padres P Cory Spangenberg's name was so long, scoreboard operators at Nats Park needed to render it in a smaller font (from David Raglin). … A Mexican restaurant in LA sells T-shirts inspired by both the Angels and the Dodgers (from Chris Cruz). … The Portland Sea Dogs will wear Iwo Jima jerseys on Memorial Day (from Ryan Rudman). … The Jacksonville Jumbo Shrimp will wear fauxbacks on May 31 for '90s night (from Phil). … The New Jersey Jackals of the Canadian-American Association of Professional Baseball have a new scoreboard (from John Cerone). … Houston Baptist University will wear Santa Fe High School caps during their conference tournament this week to honor the victims of last week's school shooting (from Steven Key). … The American flags on the sleeve's of Baylor's jerseys are backwards, per the flag code (from Shannon Breaud). … VCU has some big ol' numbers (from Greg Pitts). … Roy High School in Utah is poaching the Yankees logo (from Brice Wallace). … Jake Yergert recently visited the Colorado History Museum's "Play Ball" exhibit, which has some great uni-related stuff. He took a ton of photos for your viewing pleasure, which you can find here. … The 2018 MLB Draft logo suffers from an apostrophe catastrophe (good spot by Joe Baka).

NFL News: The NFL has signed a deal that Fanatics to make all team merchandise, including jerseys, for the next 10 years. Even though Fanatics will be making the jerseys, they'll still carry the Nike logo, and Nike will continue to make on-field jerseys (from Richard Hindle). … Someone put together a GFGS concept for the Dophins (from Phil). … NFL owners have agreed to adopt a policy that will allow for teams to be fined if players make political demonstrations during the national anthem, and will also allow for players to stay off the field during ceremony. … The 49ers and Jets were the only two teams whose owners did not vote for the proposal. [I have two new favorite owners — PH] In fact, Jets chairman Christopher Johnson said he will pay any fines for players who choose not to stand!

Hockey News: We have our first look of what the Stanley Cup Finals patch will look like on the Golden Knights' home and road jerseys (from Moe Khan). … Speaking of the Kinghts, here's a good recap of that copyright standoff between them and the Army (from Dave Kottler). … New uniforms for Bay High School (Ohio) (from Phil). … Rheingeist, a brewery in my hometown of Cincinnati, makes good beer in bitchin' cans. Turns out those bitchin' cans make one bitchin' hockey sweater.

NBA News: The Rockets will welcome survivors of the Santa Fe High School shooting at their next home playoff game and wear a ribbon on their jerseys to honor the victims (from Ignacio). … I think we missed this last week: At the NBA Draft Lottery, Nick Gilbert, son of Cavs owner Dan Gilbert, wore a bow tie made out of a piece of the floor the Cavs played on during their 2016 championship season (from James Gilbert).

Soccer News: Two new 2018-19 kits for Scottish Championship team Ross County (from our own Jamie Rathjen). … Couple of kit leak updates from Josh Hinton: Southampton's 2018-19 third kit (also from Chris Morris) and Arsenal's 2018-19 sleeve advertiser (also from Moe Khan). … Here's a ranking of all the kits that will be worn during this year's World Cup (from Phil). … This may have been ticked before, but every year since 2012 (including this year's kit), the Canadian National Team has included stitching that mimics the soundwave made when singing the first line of "O Canada." (from Ryan Farrar).

Grab Bag: For Goodyear's annual salute to the U.S. military, all tires at this weekend's race in Charlotte will be branded with "Support Our Troops" instead of the customary "Eagle." … The Marines sent Lids a cease-and-desist letter asking them to stop using their name to sell camo baseball jerseys (from WB Young). … Friend of the site Todd Radom did an interview with the Chicago Tribune about his new book, which you should totally pick up (from Jerry Kulig). … Here's an all-inclusive "ugliest uniforms in sports" ranking (from Phil). … Etihad Stadium, a stadium just outside of Melbourne, Australia, is being renamed Marvel Stadium in partnership with the comic book brand (from William Blevins). … Apparently the Golf Channel had been using the wrong "Block A" for the Arizona Wildcats. That changed yesterday (from Selena Castillo).
[adrotate group="2″]