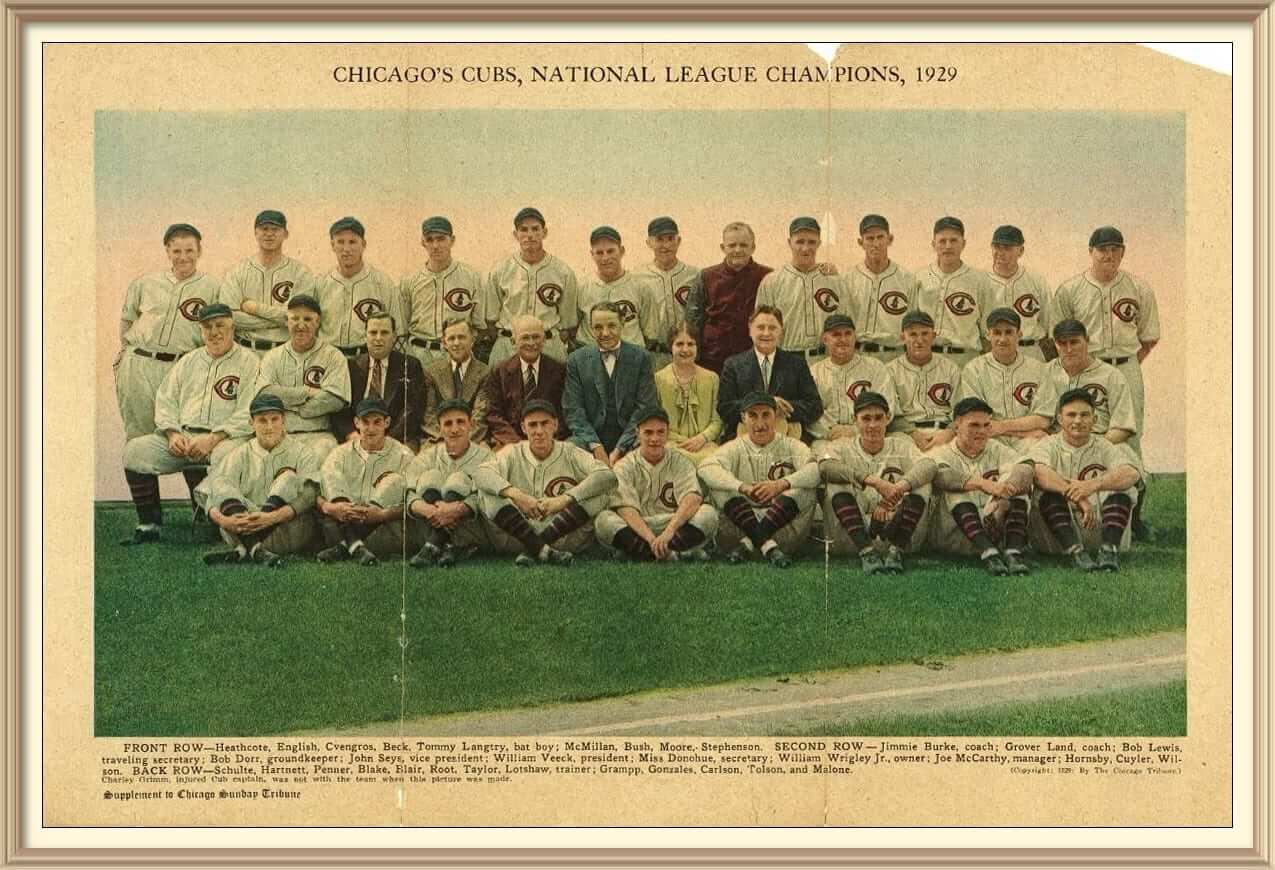 By Phil Hecken, with Gary Livacari and Ron Bolton
Follow @PhilHecken

Happy Mother's Day!
If you weren't aware of it, by the time you watch your first game (that is, if you're not taking your mom out for a well-deserved meal!) you'll know it's Mom's Day — thankfully MLB went easy on the "you must wear pink caps all weekend" we were expecting. Maybe they do Get It™ afterall.
As you know, I frequently include a section in some weekend posts by Ron Bolton (Old-Time Baseball Photos) and I generally work with him to have his section coincide with my lede. When Ron asked me what my weekend posts were going to be this week, I told him I'd have the Mississippi Sports Hall of Fame Museum (which ran yesterday) piece and then possibly a "What's Your Sign(ature)" piece or a writeup of the Padres throwback. Then I remembered today would be Mother's Day, and Ron said his partner (on another website) might have a great lede if I wanted to work with them. Since we don't often feature historical ladies who played important roles in sports on UW much, I jumped at the chance.
I love the splash photo — it's the 1929 Chicago Cubs (obviously), but what stands out is the fact that aside from the players, the middle row contains several men in suits (team brass) but also a woman! You rarely, if ever, see females in team portraits of any kind, much less those taken in 1929. As you'll learn below, her name is Margaret "Midge" Donohue, and she is generally recognized as the first female to rise to an executive position in a major league front office.
Allow me to introduce you to Gary Livacari, who penned the following excellent piece on that lady in the middle of the Cubs 1929 portrait:
• • •
Meet Margaret Donahue
By Gary Livacari
With Mothers' Day today, it's a good time reflect upon the significant, often under-appreciated roles women have played in baseball's development. One name that comes immediately to mind is that of Margaret "Midge" Donohue, widely recognized as one of the game's truly great innovators.
Margaret Donohue joined the Cubs in 1919, hired by Cub president William Veeck, Sr. Over time, Margaret rose to become baseball's first female front office executive (who was not an owner). According to no less an authority than Bill Veeck, Jr., Miss Donohue made more lasting contributions to major league baseball than most owners. Some of her innovative ideas were initially perceived as controversial; but now, over the passage of time, they have long-since been accepted as commonplace throughout the baseball world.
Chicago Cubs secretary Margaret Donahue on September 29, 1939
A strong case can be made that William Veeck, Sr., a baseball pioneer in his own right, deserves consideration for the executive wing of the National Baseball Hall of Fame. Few of his accomplishments were more significant than his foresight in hiring Margaret Donahue. Veeck immediately recognized her executive potential and allowed her to rise through the Cubs' executive ranks. In doing so, he was among the first to open the door, if ever so slightly, for women to enter the staid, chauvinistic world of major league baseball's front offices.
In the accompanying photo of the 1929 National League pennant-winning Cubs, there are many familiar names. They include Rogers Hornsby, Kiki Cuyler, Gabby Hartnett, Hack Wilson, Charlie Root, and Joe McCarthy. What makes this photo unique is not the ball players. It's the presence of Margaret Donohue, seated in the center of the middle row. There are not many team photos from this era that include female front office personnel. This may be the only one in existence.
Margaret Donohue was initially hired by Veeck as a bookkeeper. Forty years later, she was still with the club. After her hiring, Margaret's responsibilities rapidly increased. Before long, she was in charge of ticket sales, press passes, gate receipts, payroll, game-day deposits, stock transfers, and eventually even handling the gate receipts for the Chicago Bears. If something needed to be done, the task was delegated to the reliable, competent Margaret Donohue.
Chicago Cubs president William Veeck, left, visits club secretary Margaret Donahue at her desk at Wrigley Field sometime in the 1920s
As her value to the club increased, she was asked to travel with the team on the road. Margaret was also considered the Cubs' expert on player trades and waiver deals.
A 1930 ad featuring Chicago Cubs president William Veeck and Cubs club secretary Margaret Donahue
William Veeck, Sr. made the following announcement at the 1924 National League meeting in New York regarding Margaret Donahue:
"I haven't signed any players recently, but I'll tell you what I have done that means much to our club. Our board of directors has elected a new club secretary, a woman, the only woman secretary in organized ball. Her name is Miss Margaret Donahue and she has been with the club offices for seven years. We feel that in Miss Donahue we have added a real asset to our club organization."
Donahue's promotion became a national story. The Sporting News featured her, as did the Chicago Tribune. A picture of her sitting at a desk was accompanied by the headline, "She's a Baseball Boss" in the December 14, 1926 Chicago Tribune.
Besides being the first woman in an executive position, Margaret is credited with introducing several baseball "firsts." These include the concept of selling season tickets, which she began for the 1929 season. Margaret also introduced a precursor to Ticketron, Ticketmaster and other remote purchasing sites by developing a system in which tickets could be bought at Western Union locations.
Chicago Cubs secretary Margaret Donahue, left, receives flowers from vice president Charlie Grimm and manager James Gallagher for Donahue's 30-year anniversary of working for the Cubs, June 23, 1949
Thinking that baseball should have a more "family friendly" atmosphere, Margaret started the movement to bring more women and children to the ballpark, engineering large-scale "Ladies' Day" promotions. This eventually translated to higher club profits, as entire families were now attending games. With increased revenue, the Cubs became one of the dominant teams of the 1930's, with pennants in 1932, '35, and '38. Another of Donahue's ideas came to fruition when, after a three-year battle, the club's directors granted special reduced-price tickets for children under the age of twelve.
Chicago Cubs vice-president Margaret Donahue, center, standing, and Cubs pitcher Sam Jones, with an award, most probably after he pitched a no-hitter for the Cubs in 1955, while other employees watch in an office at Wrigley Field. Jones was the first African-American to throw a no-hitter in the major leagues
Bill Veeck, Jr., who worked with Margaret Donohue after his father's death in 1933, summed up her baseball acumen in 1954:
"Margaret Donahue is as astute a baseball operator as ever came down the pike. Margaret has forgotten more baseball in her forty years with the Cubs than most of the so-called magnates will ever know."
At her retirement, team owner Phillip K. Wrigley issued a proclamation on behalf of the Cubs' Board of Directors stating she was "a nationally acknowledged authority on the intricacies of baseball rules and regulations." Largely overlooked for decades, Margaret Donahue's accomplishments are now listed in The Book of Women's Firsts: Breakthrough Achievements of Almost 1,000 American Women. Thanks to the efforts of Laura Ricketts, Margaret Donohue was finally recognized for her many contributions to the Chicago Cubs as part of the 100th anniversary of Wrigley Field in 2014.
___________
Sources: Article on Margaret Donohue in The National Pastime Museum, May 11, 2014: https://www.thenationalpastimemuseum.com/article/margaret-donahue-first-lady-front-office; and article in the Chicago Tribune, July 22, 2013: Female Cubs executive left her mark on the big leagues.
Along with Ronnie Bolton, Gary Livacari is co-editor of the Old-Time Baseball Photos Facebook page (now with over 73K followers), and administrator of the Baseball History Comes Alive! website.

His two baseball books, "Paul Pryor in His Own Words: The Life and Times of a 20-Year Major League Umpire" and "Memorable World Series Moments" are available on Amazon (All profits go to the Illinois Veterans Foundation).
[adrotate group="2″]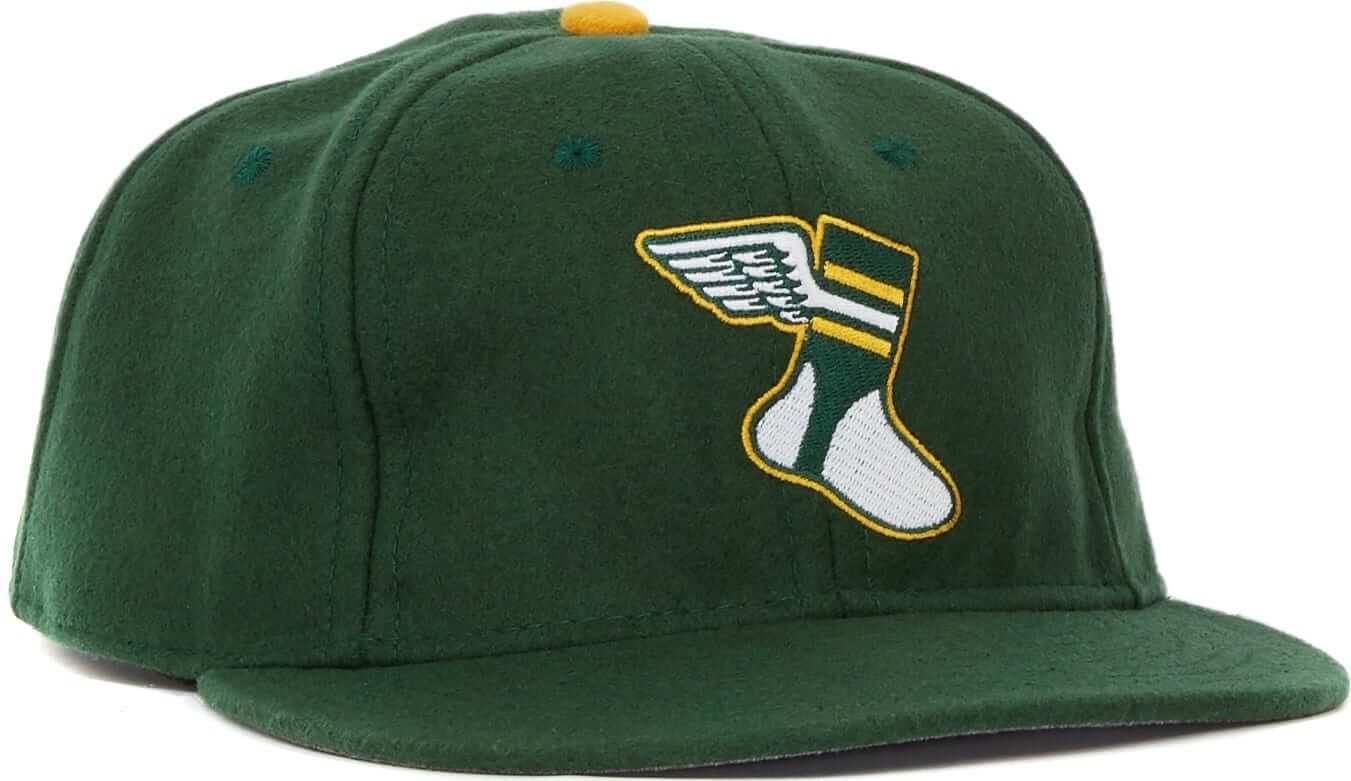 And now a few words from Paul: Hi there. In case you missed it on Friday, the first Uni Watch cap is now available from Ebbets Field Flannels. You can click on the photo shown at right to see the gorgeous embroidery detail. It's available in fitted sizes, or you can get it with an adjustable leather strap. Our Ebbets sales rep says it's their fastest-selling cap ever! A few sizes have already sold out, so move fast.
We will definitely be restocking the the sold-out sizes. So if you want a size that's no longer in stock, use the "Email me when my size is available" link so you'll be notified when we have fresh inventory.
Meanwhile: My latest ESPN column takes a look back at the Arizona Diamondbacks' original unforms, which get my vote for being one of the most misunderstand and mischaracterized uni sets of the past generation (and is also one of the rare purple uniforms that I approve of). Check it out here.
We now return you to your regularly scheduled Phil-osophizing.
[adrotate group="2″]

Too Good…
for the Ticker
Got an e-mail from reader Kevin Brown.
The message was short, but the goodness inside was not to be missed:
(A)ttached is an article from SI dated April 1989 (mlb preview) and I don't know if you've ever seen it before.

Enjoy,
Kevin Brown
I don't recall having seen this spread so I've made .jpg's of the pages (in case this link doesn't work).
I apologize for the less-than-stellar quality, but if you can view the link above the scans are much higher res (click to enlarge):
OK. Now, on to the ticker…
[adrotate group="2″]
Uni Watch News Ticker
By Phil

Baseball News: Yesterday, the Lakewood Blue Claws had their annual "Bark in the Park" day and the team celebrated by wearing these jerseys — All of the dogs on the jerseys were submitted by fans (from Lakewood Blue Claws). … If you have two hours to kill (or if you're driving, running, biking, etc.), here is audio of the 1961 All Star Game in San Francisco (from Karla). … A $500 cap? Yep: "Here are the new jersey caps just released. $500 gets you this." says Ignacio Salazar. … The Cubs Ben Zobrist is pretty old school and sometimes he wears PF Flyer shoes — so, when he got warned by MLB that he's in violation of the footwear rules, he wasn't happy about it. Here's more on that (from Kevin Zdancewicz). And even more (from Bryan Martin Firvida). … Do we? Doug Keklak asks, "Do you guys have Cervelli in the list of numbered belt guys?" … "Ichiro was wearing an MLB x Under Armour hoodie (last) night," writes Cole Could he be testing product for when UA takes over as uniform makers?" … There are short pants, and then there are these Frank Gore-esque pants being worn by Cobie Vance of Alabama (from Benji King). … From the @Reds Instagram page. Team bags sporting a variation of the 1993-98 logo without the pinstripes. Also love the lack of black shadowing on the letters (from Jason). … Not sure if we've seen this before, but here's how a shiny finish C-Flap helmet looks when it's attached to a matte helmet (from Bryan WDC). … Yesterday Kentucky baseball wore 'murica caps (thanks, Paul). … The Rays and Orioles has a single admission double header yesterday. The first game was a color versus color "softball" game; the Orioles broke our their usual orange Saturday jerseys and the Rays wore their navy blue jerseys. The second game was a traditional gray versus white matchup (from Andrew Cosentino). … In a late game last night, the Padres honored their 1998 team with throwbacks (from Sully Baseball) — and Pitcher Craig Stammen honored Trevor Hoffman by wearing special Stance socks (from VHS). Apologies that I don't have more photos, but as of 1:00 am, none were to be found after a fairly extensive interwebs search. Those unis would look good today — still not a good as the brown and gold they refuse to return to, but much better than their current sets.

NFL News: For those who care about such things, here are the top 10 selling rookie jerseys from the past NFL draft. … Speaking of rookies, the Steelers have announced the jersey numbers for their rookie class. … Likewise, the Detroit Lions has also release rookie jersey numbers. … And also rookie numbers for the Philadelphia Eagles. … And your rookie number for the Miami Dolphins. … Here's an electric company that kinda-sorta uses a LA Chargers bolt logo (from jimmy jazz).

College Football News: Herm Edwards says Arizona State's current pitchfork logo looks like a candle. He also wants to bring back (or make more prominent) Sparky the Sun Devil logo. From our own Alex Hider. … New white jerseys for Ball State (from Mitch Purcell). … Pretty cool video in this link on helmet customization (from Lee Wilds).

Hockey News: Here's and article that goes through the Tampa Bay Lightning uniform history. It's actually pretty painstakingly done, and worth the read.
.

College Hoops News: In somewhat rare off-season college hoops news, KSR, a University of Kentucky-themed sports blog/website ranked all of the basketball uniforms in the John Calipari era (2009-10-present). That comes from Josh Hinton.

Soccer News: The following four items all come from Josh Hinton: Chelsea FC have signed a sleeve ad deal with Hyundai, meaning that their ad will feature for all PL, Carabao Cup, and FA Cup matches starting in 2018–19; Inter Milan's 2018-19 home kit has leaked; FC Barcelona's 2018-19 home kit has leaked; and, Borussia Mönchengladbach (aka Gladbach)'s 2018-19 away kit has leaked (its first away kit by Puma, as they took over from Kappa) and it's a perfect example on why kit ads can be a hinderance. … Sporting Kansas City will celebrate Retro Night on Sunday, May 27 with a new retro jersey — featuring rainbow sleeve details and an "Oh When the Wiz" jock tag. … "Hamburger SV, commonly referred to as Hamburg, are the only Bundesliga club to have never relegated from the inaugural season of the Bundesliga, which was formed in 1963," says Josh Hinton. "Hamburg have a clock that denotes the amount of time that they've been in the Budesliga, to the second. They relegated [yester]day but have announced that they'll keep the clock, albeit with some changes." … Here's a look at Neymar modeling a new jersey for PSG as Nike unveil new shirt for French champions. … "adidas Football's New Manchester United Kit Is Crafted From Ocean Plastic:" Parley for the Oceans aided in creating the sustainably-minded garment.

Grab Bag: Yesterday, in the ticker, we had a look at the new Georgetown Hoya lax helmets. Here are a couple more looks (from Chris Grosse). … "I was at the supermarket (yester)day and I saw these images on the rack for the drink Body Armor," says Austin Ledley. "Apparently they couldn't get the rights to show the team logos or wordmarks on Mike Trout and James Harden's uniforms. It looks pretty comical, especially the picture of Harden. They are even using the old adidas uniform for his picture as well."
• • • • •
Happy Mother's Day to everyone. Hopefully you're all seeing your moms today and treating them special like the ladies who brung you into this world deserve!
Today is also my 12th Anniversary. Y'all can drink a toast for me.
Big thanks to Gary and Ronnie for today's lede. You guys have a great week and I'll catch you next weekend.
Peace.
[adrotate group="2″]