Click to enlarge
The Titans revealed their new uniform set last night. I gave my assessment of the new look in this ESPN piece, which was published last night. (In retrospect, I wish I'd made the overall grade B-, not B, but that's what happens when you have to write very quickly with an instant reaction.) There's some additional info and imagery on the team's website.
Once you've digested all of that, I want to talk a bit more about the number font. As you've probably heard/read by now, it's supposedly based on stone-carved Greek lettering, plus they added a little triangular serif to sticking out to the right side of each numeral to symbolize the northeastern corner of Tennessee. Here's how it looks as a digital font:
Here's the full set of the new Titans numerals for the uniforms. I don't mind them. Was a little worried after seeing the 8, but I can live with them. pic.twitter.com/xtPb71xlc0

— Conrad Burry (@conradburry) April 5, 2018
Now, when viewed on a computer screen, with no surrounding context, that's not terrible. It's not wonderful either, but it certainly isn't a disaster.
But on a football jersey, as I mentioned in my ESPN piece, it doesn't work. For starters, the strength of stone-carved lettering (or stone-carved anything) comes from its monolithic solidity, its rock-solid intransigence — all of which is completely lost when you apply the font to fabric, which will be stretched and twisted and wrinkled and puckered. Plus the numeral strokes are too thin for a football jersey, especially on larger players. Plus-plus — and this is something I didn't mention in my ESPN piece — it's pretty obvious from the press photos that certain numeral combinations will work better than others. Like, if this is how No. 31 looks, what are they going to do with 33?
Sound familiar? It's the same problem that came up with the Vikings' font. For the unveiling and the press photos, they used numeral pairings that nested together nicely. But in reality, a lot of the pairings are extremely clunky.
All of this is quintessential Nike. Come up with a "storyline," graft a design concept onto it, hype the hell out of it, and then move on to the next thing. Wait, what's that, the font doesn't look as good on the field as you thought it would? No worries — in five years we'll give you a new one and you can sell a new batch of jerseys to the same suckers.
If you want to have a good laugh, check out this video that's supposedly about the making of the Titans' new design. But it's not really a video about design; it's a video about lifestyle marketing, and about Nike marketing itself. Watch the video, think about the design process they're describing, and then ask yourself: Were most of your favorite uniforms — uniforms that you consider good designs, from any sport — created via that type of process? On balance, has that type of process, which we've been subjected to for quite a while now, resulted in more good design work or bad design work? And would the Titans have ended up with this number font if not for this process?
Meanwhile: If you look at the rear view, you can see that the sword-based center striping on the Titans' new helmet is two-tone:
Reader Ron Ruelle points out that this is one of the very rare chromatically asymmetrical helmet stripes. He came up with three other examples: 1976 Cowboys, 2010 Arizona, and 2014 Maryland. Can you think of any others?
Okay, I'm all Titan'd out. Fortunately, we have a lot of other stuff to discuss today! Let's get to it.
• • • • •
[adrotate group="2″]
• • • • •
New ESPN column: As you may have noticed, the C-Flap — which is that faceguard attachment that's been rattling around on the margins of MLB for three decades now — is catching on with more and more players lately (including, clockwise from top left, Bryce Harper, Mike Trout, Giancarlo Stanton, and Miguel Cabrera). It's reached the point where you rarely see a game, or even an inning, without somebody wearing it, so today on ESPN I've done a deep dive on the C-Flap's history, including interviews with the guy who invented it and the player who was apparently the first big leaguer to wear it. I'm a bit surprised that nobody else has written a story like this before, and even more surprised that I haven't done it myself until now. Anyway, it was a really interesting piece to report and write. I hope you'll check it out here.
• • • • •
[adrotate group="2″]
• • • • •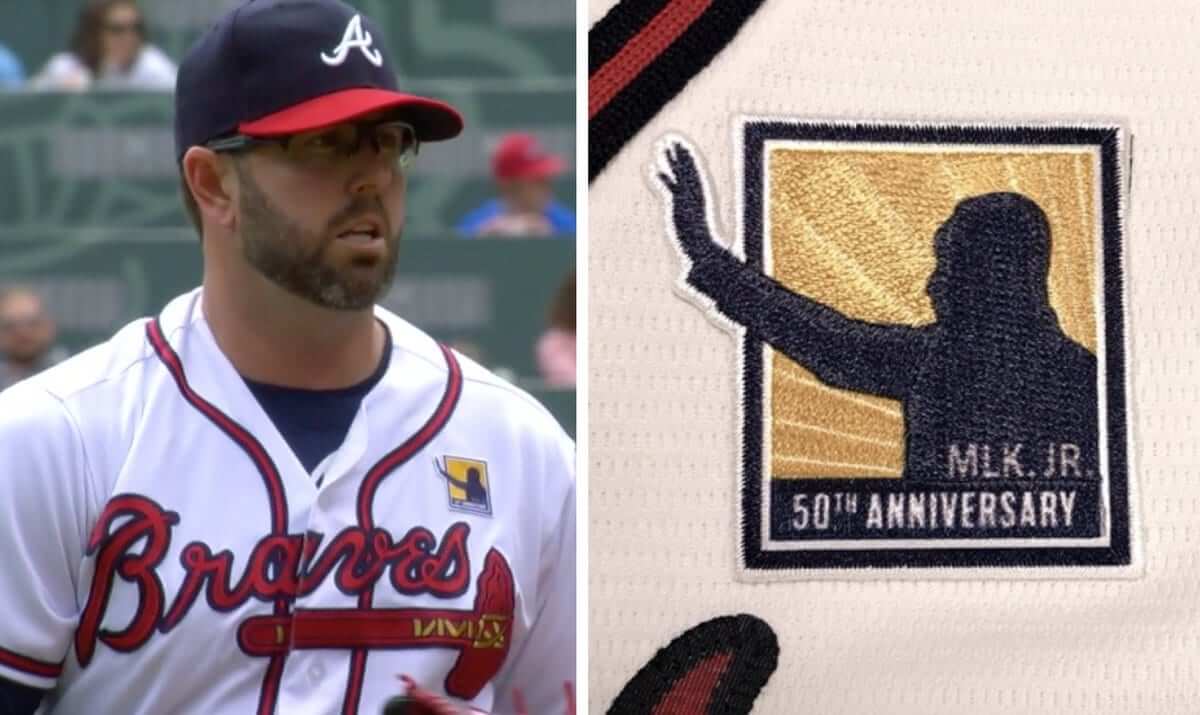 Click to enlarge
Now let's do something about the tomahawk: Surprise move yesterday by the Braves, who marked the 50th anniversary of Martin Luther King's assassination with a jersey patch. If you're wondering why the Braves did this instead of some other team, King lived much of his life in Atlanta and is buried there. The city is also home to the King Center for Nonviolent Social Change.
I'm surprised that the NBA didn't do anything King-related last night. The Grizzlies wore their MLK uniforms, but that's the only thing I'm aware of. Did any players even write something on their sneakers? (To be clear, I'm not saying they should have; I'm just surprised that they didn't.)
Speaking of the NBA and Atlanta, the Hawks played last but they didn't wear a King patch. Then again, they don't have much room for one.
• • • • •
[adrotate group="2″]
• • • • •
Thigh high: I know it's a cliché, but it really is amazing how you can watch baseball your whole life and keep seeing things you've never seen before. That's what happened during yesterday's Mets/Phillies game, when Phils first baseman Carlos Santana, who goes high-cuffed, slid into home and emerged with his left pant leg riding up around his thigh, exposing his black compression shorts. I've never seen that before!
Here's a video clip of the play. The key moment comes at about the 13-second mark, and then there are several replays where you can watch it happen in slow motion:
While we're at it: In that same game, Mets reliever Hansel Robles was wearing two undershirts — a standard blue one, and then a white one under that (or maybe his undersleeve was rolled up and it was white on the underside — hard to be sure). The Phillies complained that the white one was a potential distraction, so Robles had to bunch up his undersleeves so they were hidden by his jersey sleeves.
• • • • •
[adrotate group="2″]
• • • • •
The Ticker
By Paul

'Skins Watch: The Vox podcast Today, Explained recently ran an episode about the Indians ditching Chief Wahoo next season, and whether they should also change their team name (from Kary Klismet).

Baseball News: Fans at Yankee Stadium say they're fine with the new extended netting but don't like the poles (NYT link) that hold up the netting. … The Louisville Bats will wear Halloween-themed uniforms — on April 7 (from Josh Hinton). … UGA had three different headwear colors two nights ago (from Michael Rich). … Love this 1973 shot of Tigers slugger Norm Cash taking BP in a ski mask. … Phillies INF J.P. Crawford's bat knob decal shows a dog — I assume it's his dog — wearing a Phillies cap (from Josh Claywell and Mike Williams). … Yesterday's lede asked about the early instances of players wearing balaclavas on the field. Here's our earliest example yet: Cubs INF Jose Vizcaino in 1993. … Looks like Mets 3B Todd Frazier was breathing Ethier yesterday (from Shannon Shark). … I don't think this is new, but MLB pants include QR codes with the players' tailoring preferences. … Babies born at a DC-based hospital chain "on special days of the season" will receive a Nationals goodie bag (from William Yurasko). … Speaking of William, he's done a great job of compiling newsreel and video footage of Opening Days in DC, from the old Senators days to the current Nats. It includes lots of great old uniforms and good shots of presidents throwing out the first ball. … Lots of specialty jerseys this season for the Round Rock Express. Further info, including dates, here. … A designer named Matthew Henderson has come up with a very visually appealing way of showing the Blue Jays' entire schedule, complete with the result and score of each game (from @MRWCannon).

NFL News: Back in the 1970s, you could get a T-shirt featuring a photo of your favorite NFL star (from Emily Gordon). … Va-va-voom: Check out this sensational 1947 shot of Doc Blanchard and Charley Trippi before a game between the College All-Stars and the NFL champions at Soldier Field. White nighttime ball, too (from Ray Hund). … The NFL has given $20,000 to a Baltimore helmet company to test the company's new helmet technology. … Keith McKenzie spotted a gumball helmet machine advertising some outdated helmet designs. "I didn't have any Canadian change to see if the helmets in the machine were from the same era as the picture," he says.

College and Amateur Football News: Virginia Tech has announced the schedule for its 2018 "effect" games, most of which will presumably have matching uniforms (from Andrew Cosentino). … Jeff Hutchison plays in the National Public Safety Football League, whose 25 teams consist of cops, EMTs and firefighters. "Our day jobs as first responders aren't quite dangerous enough, so we pad up and play full-contact NCAA-rules football," he says. He's annoyed that the home uni for his team, the Central Texas Wolf Pack, has two different shades of gold and illegible NOBs. "Maybe if you mention it on Uni Watch, I can get them to change it," he says. Good luck, Jeff! … James Gilbert found an NCAA memo from January. It reminds teams and officials that, starting this fall, pants must have knee pads and must cover the knee.

Hockey News: Small note in this story indicates that the Milwaukee Admirals will wear ALS-themed jerseys on April 14. … A new ring is being added to the Stanley Cup, which means an old ring is being removed and sent to the Hall of Fame (from Mike Chamernik).

Pro Basketball News: Big3, which is about to begin its second season, has inked an outfititng deal with Adidas. The league did not have an official outfitter for its debut season (thanks, Phil). … Grizz Gaming, the Grizzlies' NBA 2K affiliate, will have uniform ads from the U.S. Navy. … Speaking of NBA 2K, the league has its own draft caps, if you care about that kind of thing (from Joel Weyrauch). … Here are some secondary logos for next year's NBA All-Star Game in Charlotte (from Ryan Dye). … As had long been rumored, the Warriors will keep the "Golden State" descriptor when they move from Oakland to San Francisco (from Mike Chamernik).

Soccer News: "Back in 2001, Bayern Munich brought their home kits for an away game against Koln, forgetting that their opponents had changed from white home jerseys to red," says Denis Hurley. "So Bayern had to wear white training bibs over their kit." … Club America was forced to change their underwear on Tuesday night against Toronto FC. "Underwear must match uniforms, and CA's didn't," says Ed Zelaski. … Mike Pendleton took a stab at creating a crest wore their third kit jacket before their UEFA Champions League quarterfinal against Liverpool, but they wore their home kit in the game (from Josh Hinton).

Grab Bag: This is great: There's a guy out there who's achieved a measure of internet fame by knitting sweaters themed after various places or landmarks and then having himself photographed wearing the sweaters at those places (NYT link) (from Michael Rich). … A certain beer's very annoying catchphrase has been banned from the Masters (from Kary Klismet). … Following up on yesterday's Ticker item about a high school named for Robert E. Lee getting a new name, here's a good roundup of the current situation regarding schools named after Confederate figures. … Speaking of renaming, a North Carolina middle school that recently changed its team name from Vikings to Railblazers is drawing concern from railroad safety advocates. … New logo for QC Construction Products. … A proposal to adjust the rules surrounding Montreal police uniforms to accommodate Sikhs' and Muslims' religious attire is stirring up controversy in Quebec. … The old-fashioned lowercase "g" — the kind with two bowls and a connector — is now so rarely used that people can't pick it out of a lineup (from Adam Herbst).