The Astros played their home opener last night, so they wore their gold-trimmed jerseys and caps for the occasion. I'd say this was one of the better executions of this trope that we've seen, because gold meshes well with Houston's color scheme. Lots of additional photos here.
They'll wear these uniforms again tonight. As of now, those are the only two games for which this design is slated to be worn, although it wouldn't surprise me to see them say, "Hey, everyone loved this so much that we're going make it our Friday alternate," like the Royals did in 2016. We'll see.
How does the Houston design compare with other MLB championship uniforms? Let's take a look, beginning with last year's edition and going back to 2005, when the trend started (for all photos, you can click to enlarge):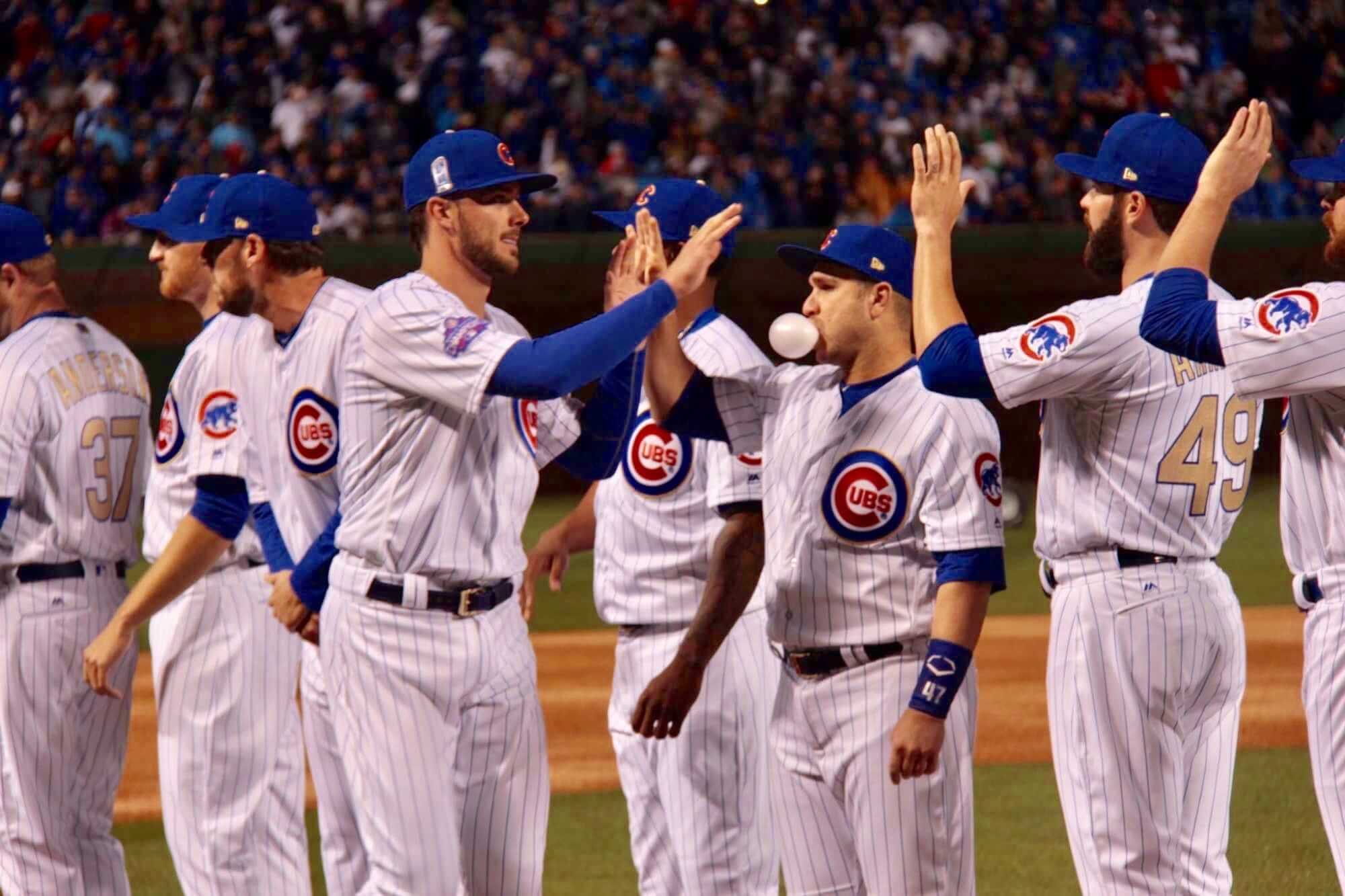 2017: Cubs

2016: Royals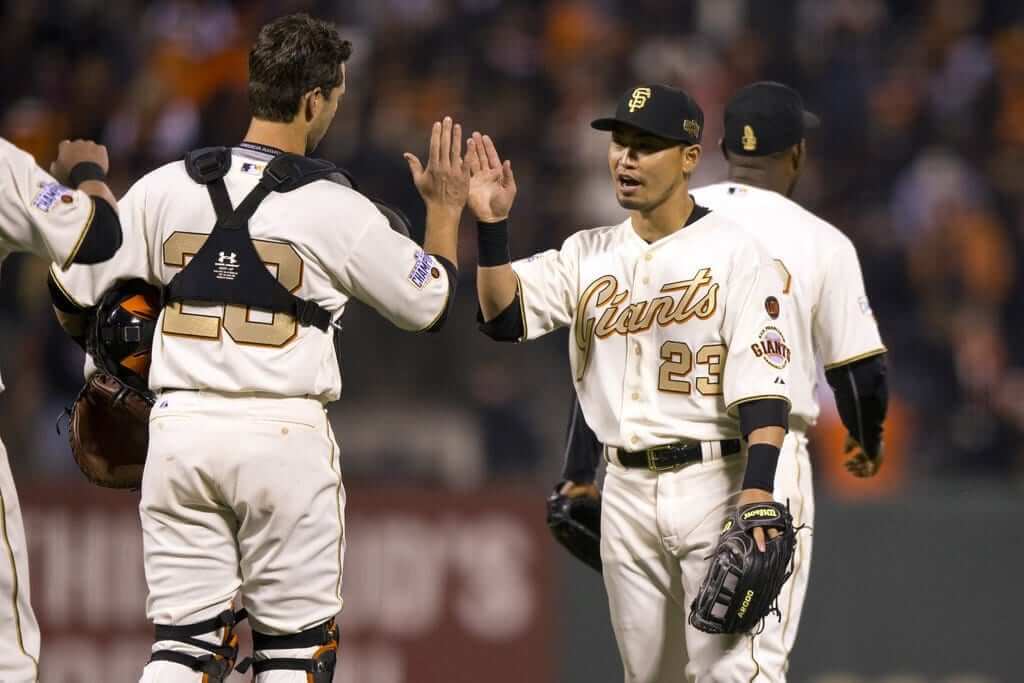 2015: Giants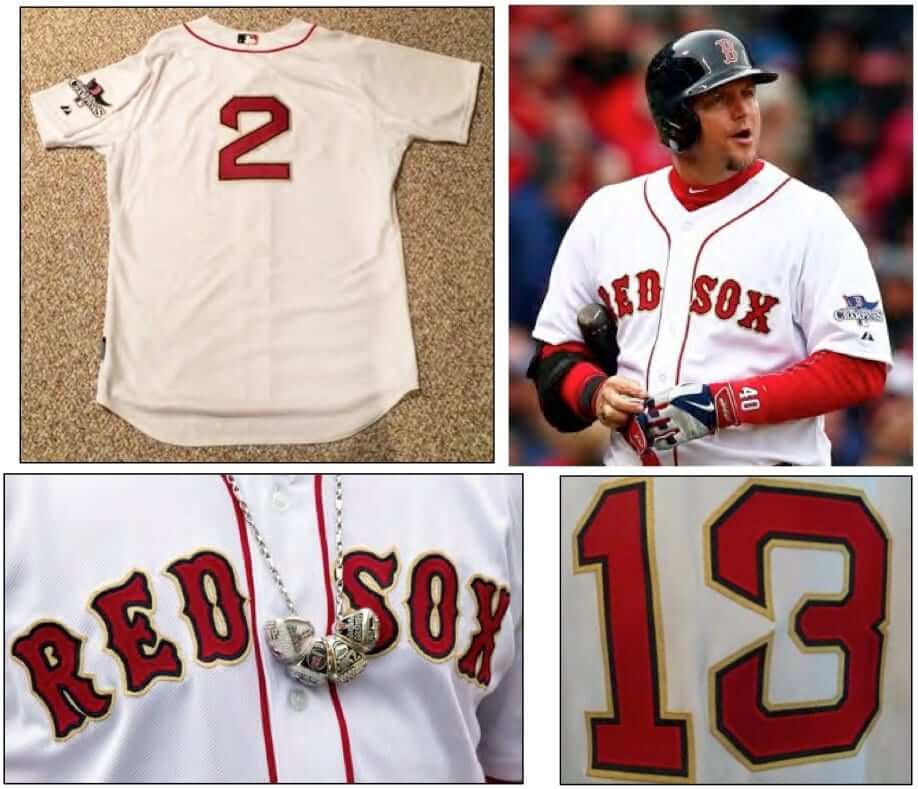 2014: Red Sox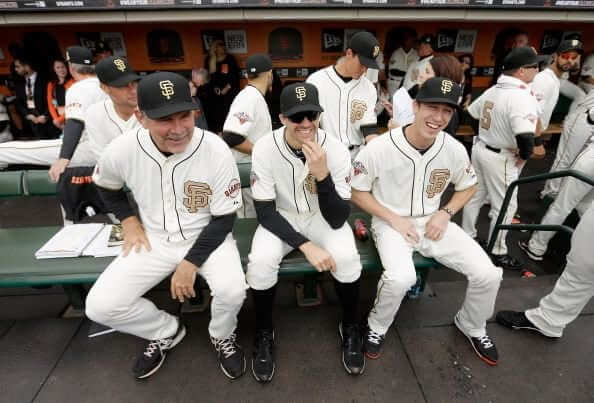 2013: Giants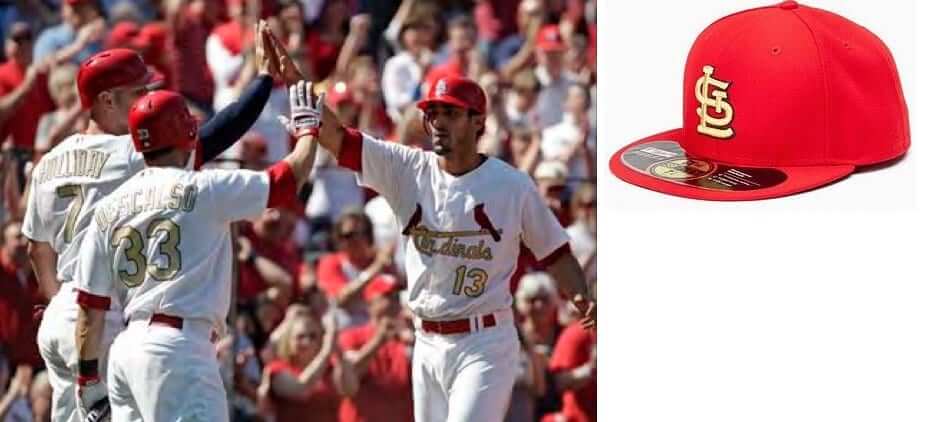 2012: Cardinals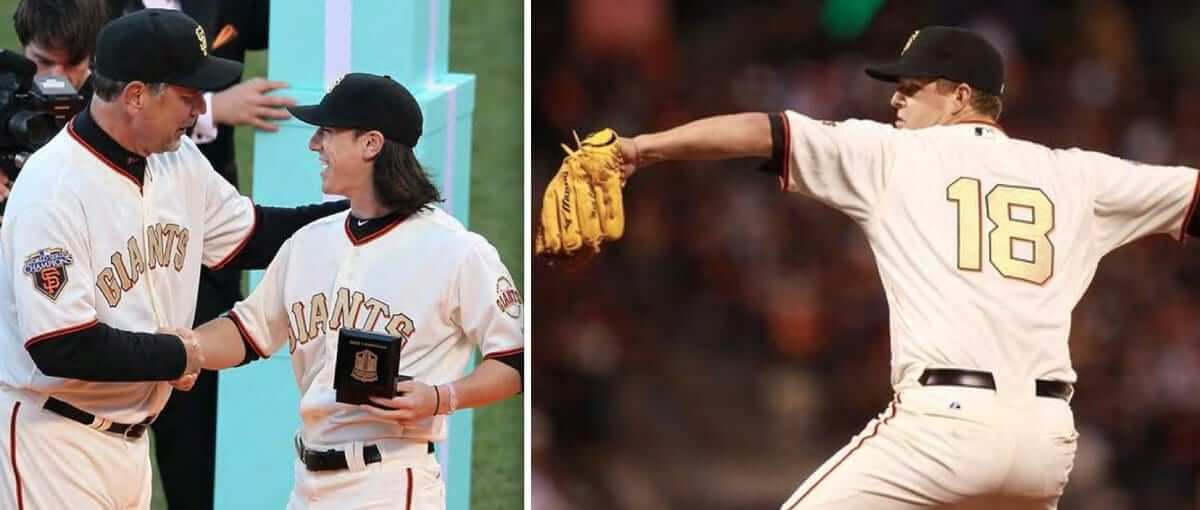 2011: Giants

2010: None. The Yankees were champions and opted not to wear a gold-trimmed uniform.
2009: Phillies

2008: None. The Red Sox were champions and opted not to wear a gold-trimmed uniform.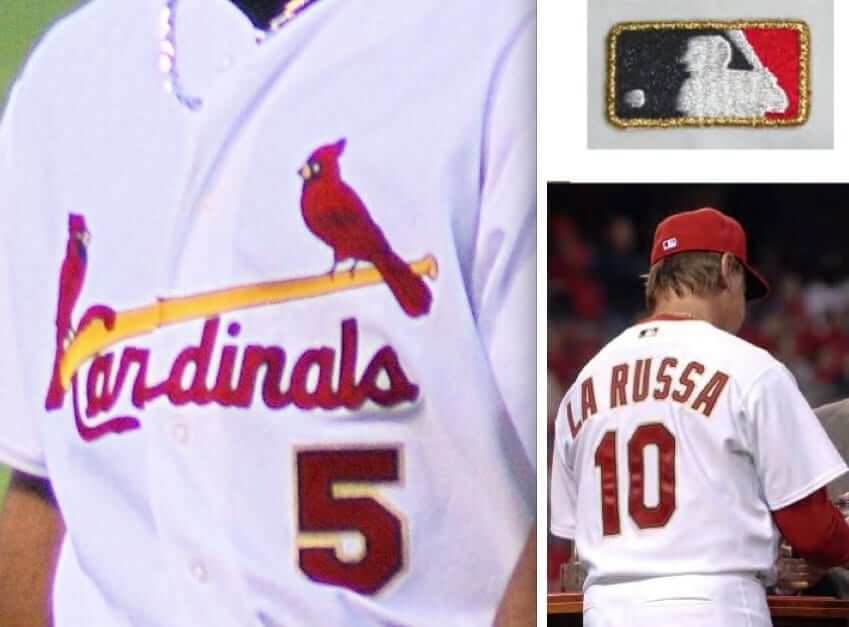 2007: Cardinals

2006: None. The White Sox were champions and opted not to wear a gold-trimmed uniform.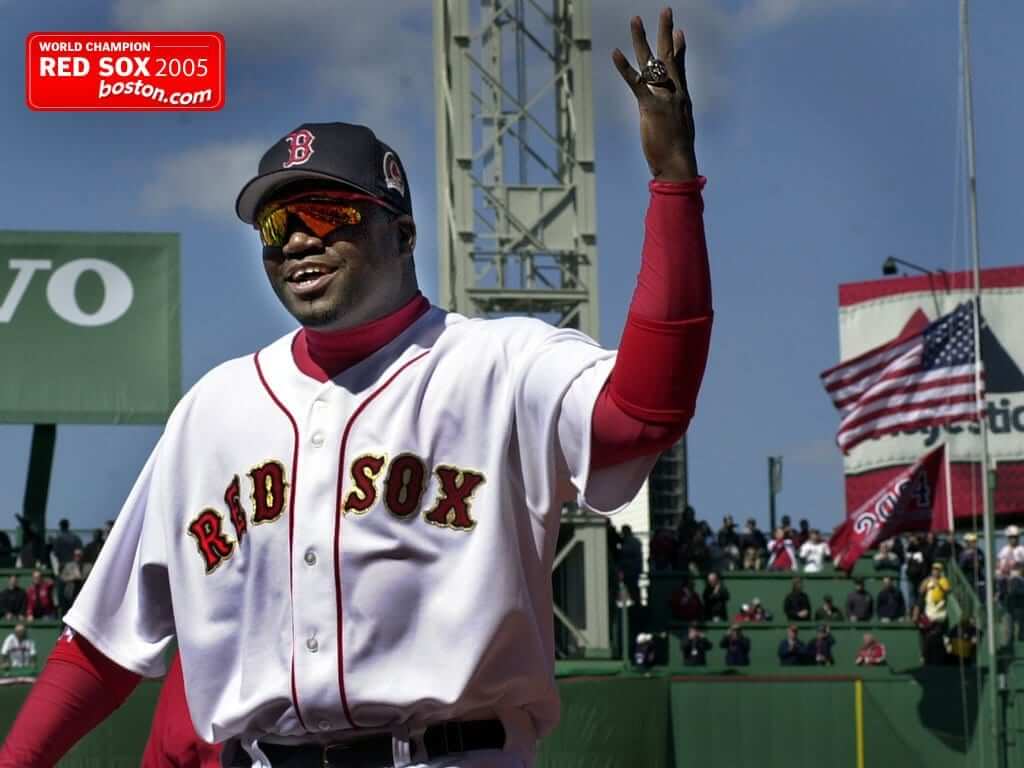 2005: Red Sox (ring ceremony only)

Meanwhile, the 'Stros had a wee bit of difficulty unveiling their championship banner last night:
Fun to see the players chuckling about the snafu. Life is so much more interesting when things don't go exactly as scripted, right?
(My thanks to Mike Chamernik for banner video.)
• • • • •
[adrotate group="2″]
• • • • •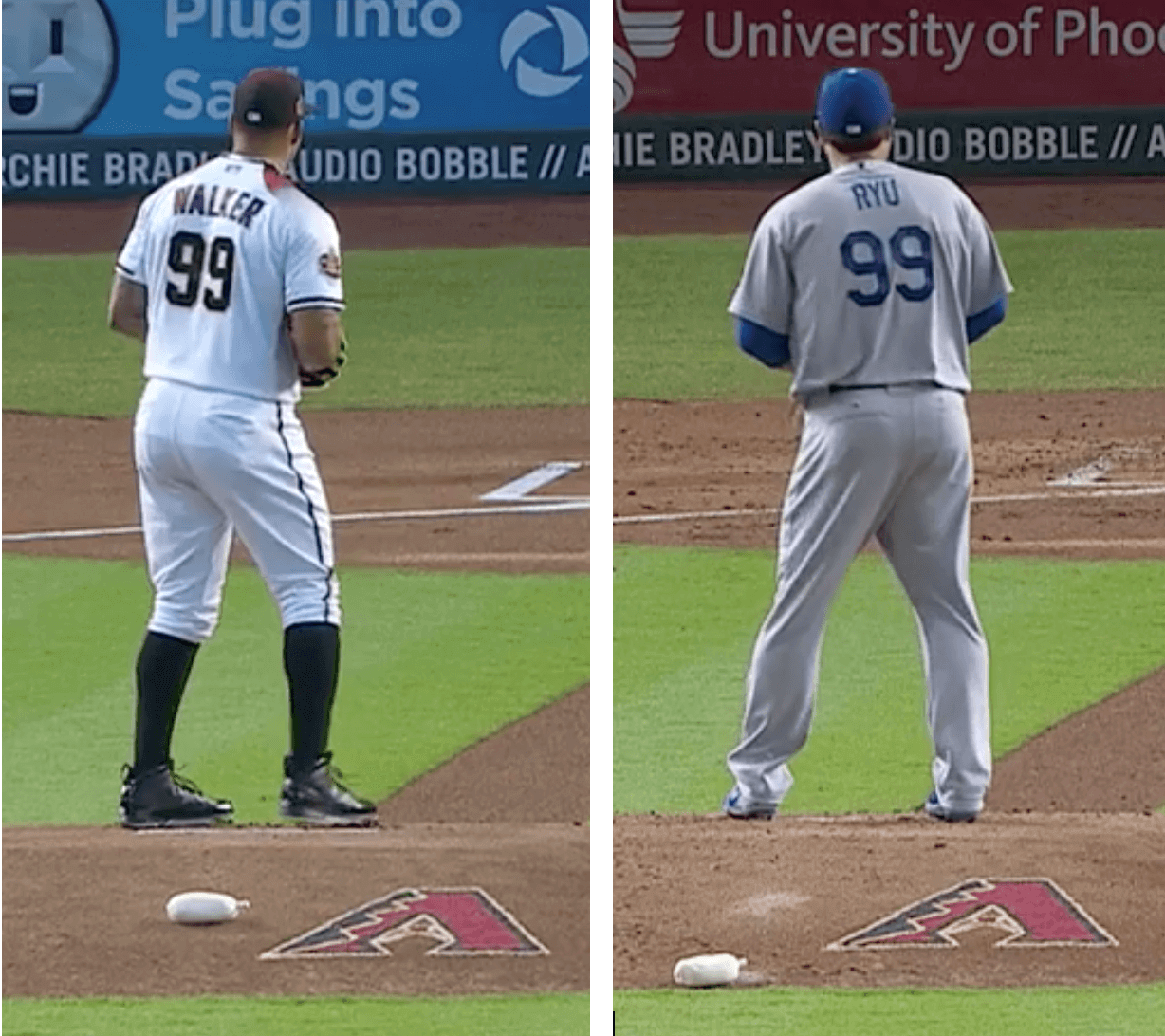 Click to enlarge
Another MLB numerical first: History was made in last night's Dodgers/D-backs game, as starting pitchers Taijuan Walker and Hyun-Jin Ryu both wore No. 99 — the first time that has ever happened, at least according to Christopher Kamka, who crunched the numbers over at baseball-reference.com. Unfortunately, Turk Wendell, Mitch Williams, and Barbara Feldon were all unavailable to pitch in relief.
It's sort of the opposite of a Rays/Jays game from last year — almost to the day! — when both starting pitchers wore single-digit numbers (a feat that was rare but not unprecedented).
(My thanks to Andrew Edling for bringing this one to my attention.)
• • • • •
[adrotate group="2″]
• • • • •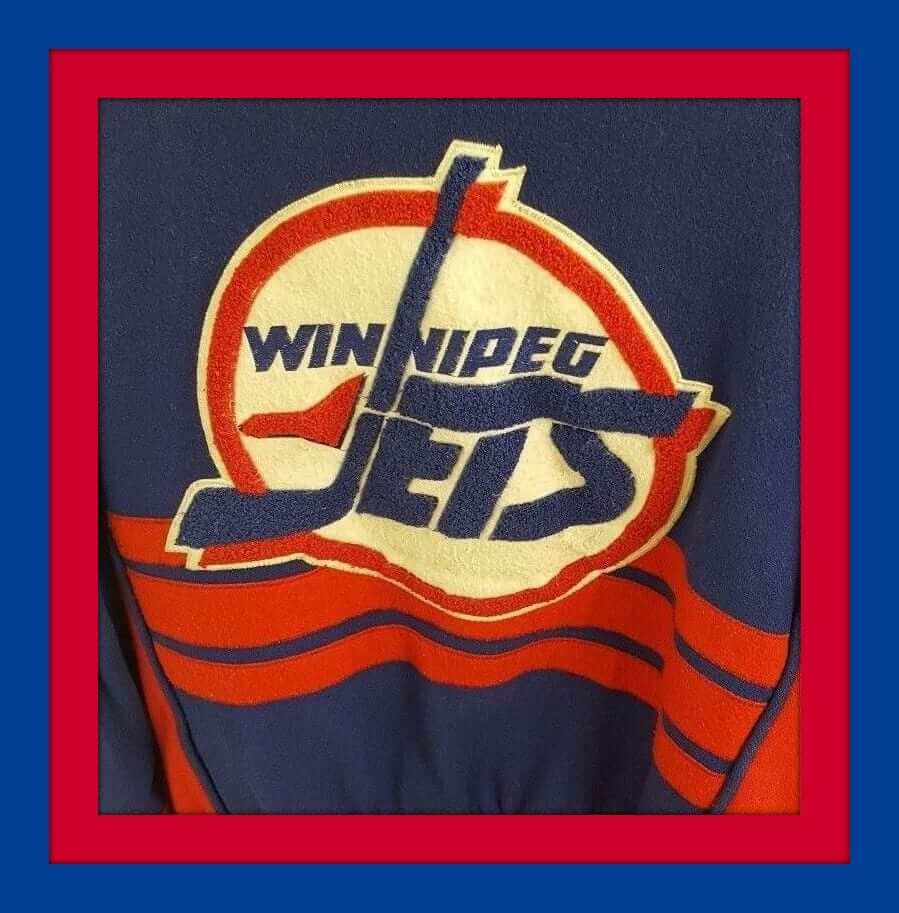 Click to enlarge
Collector's Corner
By Brinke Guthrie
Time for some hockey stuff, eh? I love the old-style varsity jacket look, and this Winnipeg Jets varsity jacket just looks outstanding. All wool with chenille logo on the back, and embroidered conference and league patches on the sleeves. Can't quite make out the maker — but we can tell that this one for the Montreal Canadiens is from Shain of Canada.
Now for the rest of this week's picks:
• Got some poster art for ya this week. First off, how about this 1972 Stancraft New York Jets poster! Clearly Joe Willie in the middle there. The artist here is George Bartell. And this Jets poster seems to have had a bit of airbrushing on the Jets helmets, am I right? (Want to see the rest of the 1972 Bartell series?)  
• Doesn't get much better poster-wise than this Damac 1979 Detroit Lions poster from Chuck Ren.
• One more Chuck Ren poster, this time for the Seattle Seahawks!
• Boston Bruins fans, transform that plain black puck into a Bruins biscuit with these 1970s Bruins puck stickers.
• This 1970s powder blue Houston Oilers duffle bag was Made in U.S.A., according to the tag.
• Interesting late-1970s New York Jets watch. The numbers are in silhouette, which would make it harder to read in the sun, right?
• These wristbands are an Officially Licensed Product of the NFL (or at least they were in the 1970s) and are presented here in the blue/yellow of the L.A. Rams.
• These 1970s "MVP" model Adidas baseball cleats are trimmed in Baltimore Orioles orange. I surely don't recall seeing any retail Adidas shoes with trim other than white (you could get their soccer shoes with yellow stripes back then, but even those were German imports), so maybe these were used at the pro level after all.
• Another O's item: This 1970s-1980s bumper sticker from WMAR-TV2 tells everyone you've got the spirit! Here's another version from 1983.
• Some nice vintage NBA logos on this 1970s bath towel.
• And we wrap up this week's entry with some hockey items spotted by reader Will Scheibler, including this Indianapolis Racers belt buckle, a Kansas City Scouts coffee mug, and a very cool pair of Philadelphia Blazers key chain figurines.
Seen an item on eBay that would be good for Collector's Corner? Send any submissions here.
• • • • •
[adrotate group="2″]
• • • • •
The Ticker
By Alex Hider

Baseball News: The Marlins have reportedly mothballed their orange jerseys, which sounds like the latest in a series of late-breaking decisions by Derek Jeter's new ownership team. … Phillies manager Gabe Kapler has been wearing a cap without the New Era logo this season. Kapler wore caps with the logo during spring training (from Joe). … Astros IF Alex Bregman has new batting gloves for Autism Awareness month (from Megan Brown). … Reds CF Billy Hamilton had his 3D batting helmet logo come loose during yesterday's game. We can probably chalk that one up to the chilly weather (thanks to all who submitted). … As you can kind of see from this photo, the Brewers have cleaned up the ads on the outfield wall by requiring white text on either blue or green backgrounds. Much cleaner look (from Dylan Buell and Drew). … The Reds flipped the home and road bullpens at Great American Ball Park this season, and it's throwing off manager Bryan Price (paywalled link). … The Louisville Bats will wear throwbacks in July (from Alexandra Ottaviano). … Could the Trenton Thunder be wearing throwbacks this season? The team made these throwback caps available for sale (from Aaron Pinto). … This Astros fan has the ultimate patch collection (from Ignacio). … Check out the satin unis worn by this baseball team from Wickett, Texas in the 1940s (from @jhlichty). … Baseball uniforms really are weird, when you think about it (from @brandongutie).

Pro Football News: New uni number assignments for the Cowboys and Vikings (from our own Kris Gross and @RipVanWhiskey, respectively). … Pro Football Journal found a 1976 photo of Tampa Bay Bucs guard Tony Alward in a NNOB jersey. The next week, his name was restored. Andres Cardenas also snapped a screencap of Bears RB Walter Payton with a NNOB jersey during a 1983 game. … Dave Buchanan found these USFL logo buttons on Facebook, being sold by a company that does estate sales. … The New York Times has done more reporting on the horrible working conditions for NFL cheerleaders.

College Football News: NBA star LeBron James's media company, Uninterrupted, has sent a cease and desist letter to Alabama concerning copyright infringement. The 'Bama football team is producing a show called "Shop Talk," which involves former players talking football during haircuts. James has his own barber shop-based show called "The Shop." … More Nike tear issues, this time at Florida spring practice (from Hunter G.).

Pro Basketball News: Despite reports that the NBA would be introducing new "City" edition jerseys next season for all teams, the Jazz are reportedly keeping their "Red Rocks" uniforms in the rotation next season (from Christopher Jones). … Over the weekend, Pelicans F Anthony Davis shocked the NBA community by threatening to shave his famed unibrow. Turns out it was just an April Fool's Prank (from Josh Hinton). … This thread may have some hints as to what Nike has in store for the WNBA's warmups (from @TheSkyShowCHI). … Cross-listed from the college football section: LeBron James's media company, Uninterrupted, has sent a cease and desist letter to the University of Alabama concerning copyright infringement. The school is producing a show called "Shop Talk," which involves former players talking football during haircuts. James has his own barber shop-based show called "The Shop."

College Hoops News: Loyola Chicago's Clayton Custer was asked by Dan Patrick on his radio show yesterday if he gets to keep his Final Four jersey. Custer said he may have to give it back so the team can reuse it next year (from Griffin Smith).

Soccer News: Tottenham Hotspur's kits for next season have leaked, and a slight badge change is coming along with the switch from Under Armour to Nike (from John Muir). … Vfl Wolfsburg of the Bundesliga made a fourth kit to avoid a kit clash against Hertha Berlin SC, as Hertha were the home side and all three of Wolfsburg's kits were too similar to Hertha's home kit (from Josh Hinton). … New away kit for FC Copenhagen (also from Josh Hinton). … Tim Dunn found a website that's selling stirrups for soccer players. Footballers, you know what to do. … DC United had a community relations table at the White House Easter Egg Roll on Monday. According to John Muir, the team was giving away mini banners commemorating the team's 1996 championship — banners that included the team's new logo. They were also giving away programs from the team's final game at RFK, which contain a passage about the team's uniform history.

Grab Bag: This 1999 Washington Post piece about uniform retailing used the term "planned obsolescence" to describe how teams quickly change uniforms to drive merchandise sales. I think it's safe to say that for many teams, this is still the case 20 years later (from Thomas Juettner). … Golf Digest reports that Tiger Woods (and other Nike golfers) will wear pink on Sunday during The Masters, but I'll believe it when I see it (from Colin Dilworth). … This is what golfer Daniel Berger will be wearing each day of The Masters later this week. … Reader Dan Siegel has a design concept for the NHL's expansion franchise in Seattle. … Not surprisingly, Nike is taking over the high school athletic apparel scene in Oregon (from Travis McGuire and @aDub503). … Looks like Blondie Gets It™️, at least judging by yesterday's installment of her comic strip (from
 Patrick).