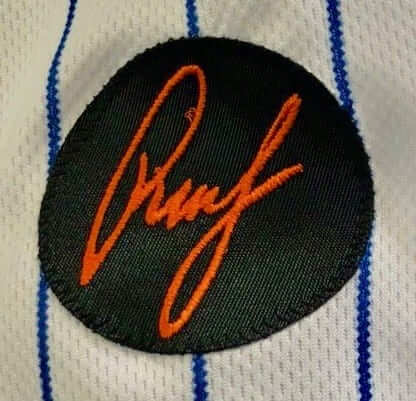 As Phil reported in yesterday's Ticker, the Mets have added a memorial patch for Rusty Staub (shown at right; click to enlarge). Interestingly, instead of going with the more typical approach of using Staub's uni number or initials, they used his signature. It's nice that they rendered it in orange, which is both a Mets color and a Rusty color, matching his hair and his Le Grand Orange nickname.
Off the top of my head, I can think of only three other memorial patches that have featured a person's signature or autograph:
• The Twins wore an "Eloise" patch for team owner Carl Pohlad's wife, Eloise Pohlad, in 2004.
• Five years later, when Carl Pohlad himself died, the Twins wore a "Carl" patch.
• In 2013, following Stan Musial's death, the Cardinals wore a patch with his number and signature.
(Update: Reader/commenter JediJeff points out that the White Sox wore a memorial patch with Nellie Fox's signature in 1997.)
But here's the thing: The signatures on the two Twins patches were clearly legible even from a distance, and the Musial signature is legible if you take a reasonably close look. But the Mets' new Staub patch, even if you stare at it up close, just looks like a random squiggle. And on TV this past weekend, it was just a blur.
One reason the patch looks so random is that is that the "t" in "Rusty" isn't crossed. And the reason for that is that Staub had an unusual signature. Here, take a look: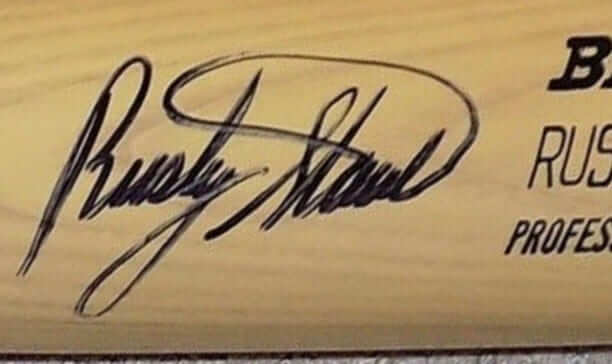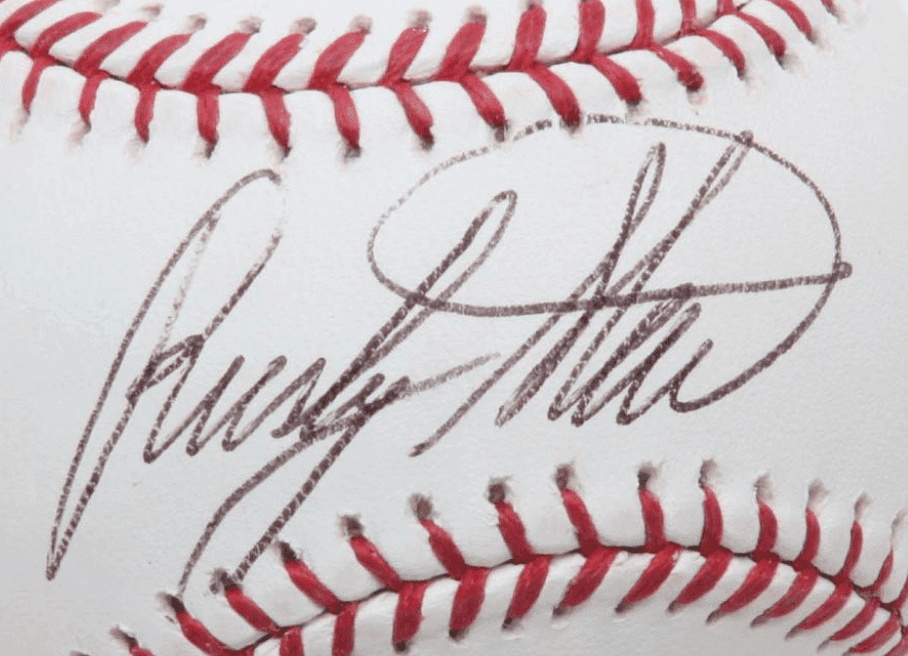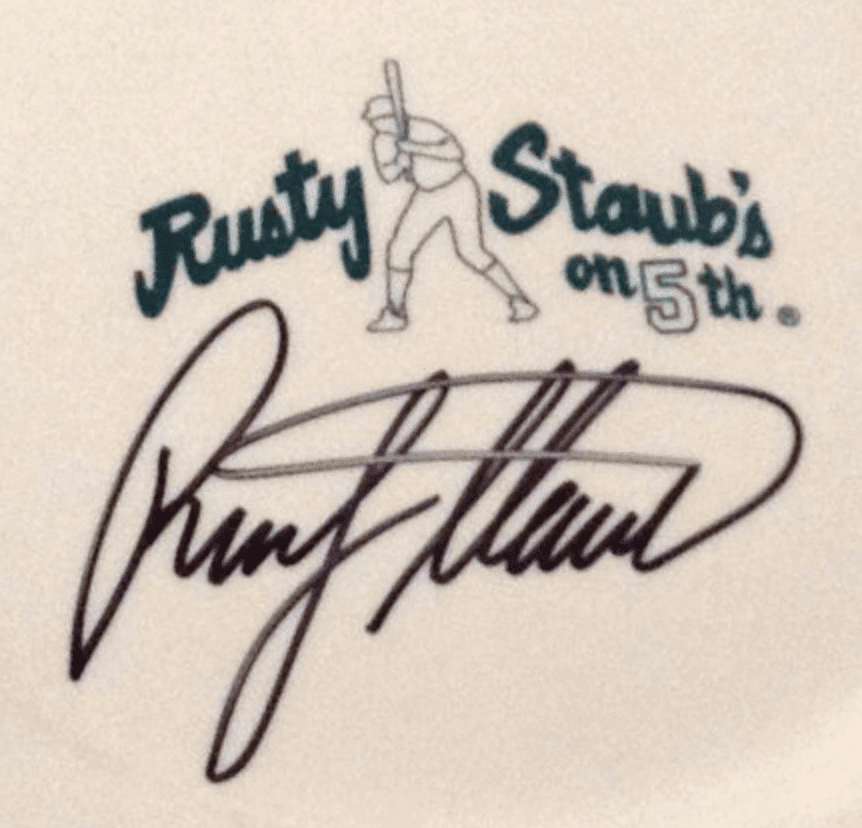 There are lots of additional examples here, and almost all of them show the same thing: After finishing his script "Staub," Staub would loop around and cross the two "t"s in his first and last names.(while inadvertently crossing the capital "S" as well, which looked a bit awkward). It wasn't the world's most dynamic-looking autograph, but it was a style he apparently liked and stuck with for many years.
But because the Mets only used Staub's first name on their patch, they were left with an uncrossed "t." That's problematic on two levels: It makes the patch even harder to decipher, and it's not true to Staub's actual signature.
It's no fun to critique a memorial patch. And I don't mean to pick on the Mets, who I'm sure thought that using Staub's signature would make the patch feel like more of a personal, intimate gesture, especially when compared to the boilerplate number or initials treatment that so many teams use. And they're right about that, at least in terms of the concept. But in terms of execution, there's no getting around it: It's not a successful design.
(My thanks to longtime reader/pal Tyler Kepner for pointing out how the patch differs from Staub's signature.)
• • • • •
[adrotate group="2″]
• • • • •
April Fool's recap: Yesterday was April 1, so of course the uni-verse was awash with pranks (although not as many as usual, I guess because the date fell on a Sunday and a holiday). For example:
• Dolphins CEO Tom Garfinkel suggested that the team's upcoming uni tweak would be, well, a lot more than a tweak:
Uniform sneak peek #2… pic.twitter.com/ABmx0MXhFx

— Tom Garfinkel (@TomGarfinkel) April 1, 2018


(And no, I don't know what happened to sneak peek No. 1 — no sign of it on his Twitter feed.)
• SportsLogos.net said that MLB teams would be wearing pastel-colored uniforms for Easter. Chris went the extra mile with this one, coming up with an Easter-themed MLB logo that would supposedly be appearing on the jerseys: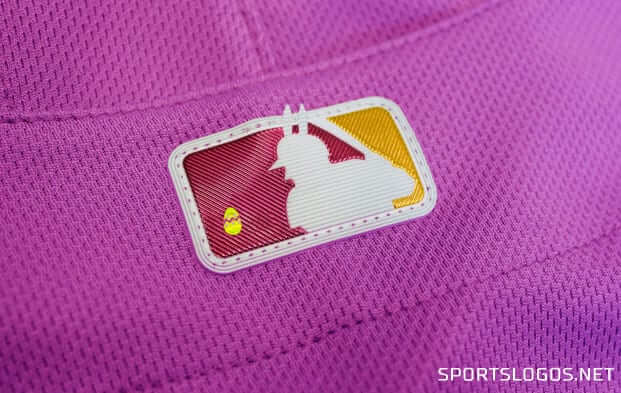 • The Nashville Predators said that the Tennessee Titans' upcoming uni redesign would be mono-yellow, so the two teams would match:
We're here to silence the rumors. Leaked photos confirm the @Titans are joining the movement and will don gold uniforms.#Preds | #TeamSmashville pic.twitter.com/OVh2TvvEe9

— x-Nashville Predators (@PredsNHL) April 1, 2018
• The Jaguars posted a tweet designed to look like they'd inadvertently leaked their upcoming uni redesign:
Reminder to update this copy before April 19 jersey launch — DO NOT POST. pic.twitter.com/LFnxI1D3vR

— #DUUUVAL (@Jaguars) April 1, 2018
• SB Nation's Browns blog said that the team would be phasing out Brownie the Elf, "due to how [Brownie] is perceived by some organizations."
I'm sure there were other uni-related pranks floating around out there. If so, feel free to post them in today's comments.
• • • • •
[adrotate group="2″]
• • • • •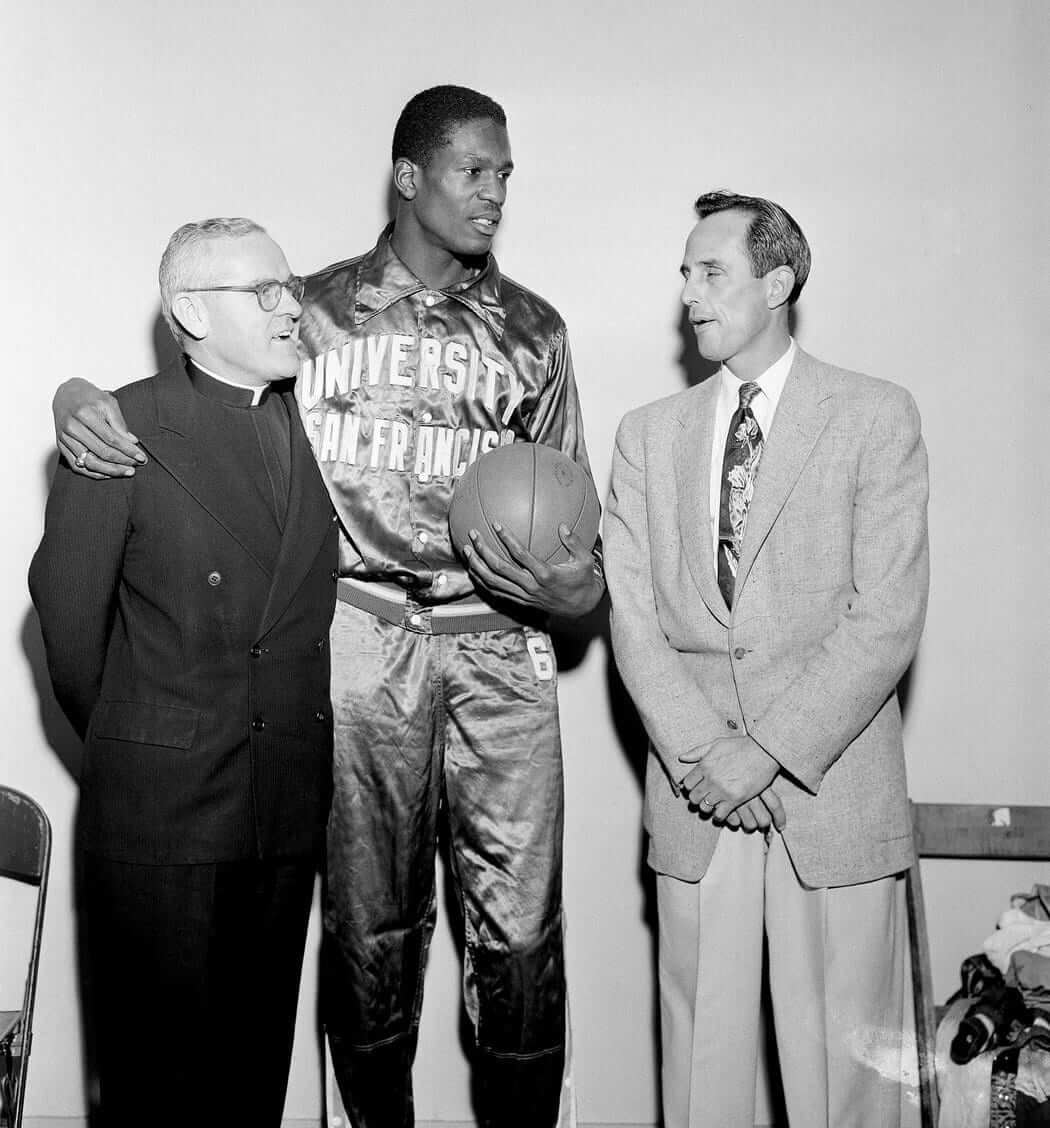 Click to enlarge
NCAA Numbers Game
By Jamie Rathjen
This 1955 photo of Bill Russell wearing a satin warm-up suit, which appeared in Saturday's Ticker, prompted a follow-up question from reader Malcolm Spicer, who noticed that Russell was wearing No. 6 on his hip:
Of course, 6 is the number Bill wore in the NBA with the Boston Celtics, but I've always assumed that he didn't wear No. 6 at U. San Francisco because college ball, or at least the NCAA, only allows the numerals 0 through 5. Apparently, that wasn't the case in 1955. When did the NCAA impose that rule?
Russell did indeed wear No. 6 in college. So when did the NCAA introduce the 0-5 numbering system? Sources that mention the subject treat it as if it has existed since time immemorial, but I did find a 1957 Final Four program where most, but not all, of the players fit the 0-5 system. So perhaps it was introduced around Russell's time, but remaining players were grandfathered in. Anyone know more?
• • • • •
[adrotate group="2″]
• • • • •
Click to enlarge
Baseball stirrups: Is there anything they can't do? Got a note the other day from longtime reader/contributor Tris Wykes, as follows: "That sound you heard this afternoon was my exclamation upon paging through the 1978 Dartmouth yearbook in the sports information office. Behold, a fencer wearing what appear to be baseball stirrups!" Indeed — and Northwestern-striped, to boot. That other fencer was clearly outclassed, at least in the hosiery department.
Stirrups used to be routinely worn by football players (albeit with crew socks covering up the cutouts) and basketball players (also usually with crew socks over the cutouts, but sometimes without crew socks). Now it turns out they've also been worn in fencing!
When you consider that stirrups were dreamed up as the MacGyver-ish solution to a very specific problem (i.e., the need for an extra layer of hosiery due to ballplayers getting spiked in the shin and then having their wounds get infected due to stocking dyes not being colorfast), it's pretty amazing how wide their reach has turned out to be. Anyone know what other sports they've been used for?
• • • • •
[adrotate group="2″]
• • • • •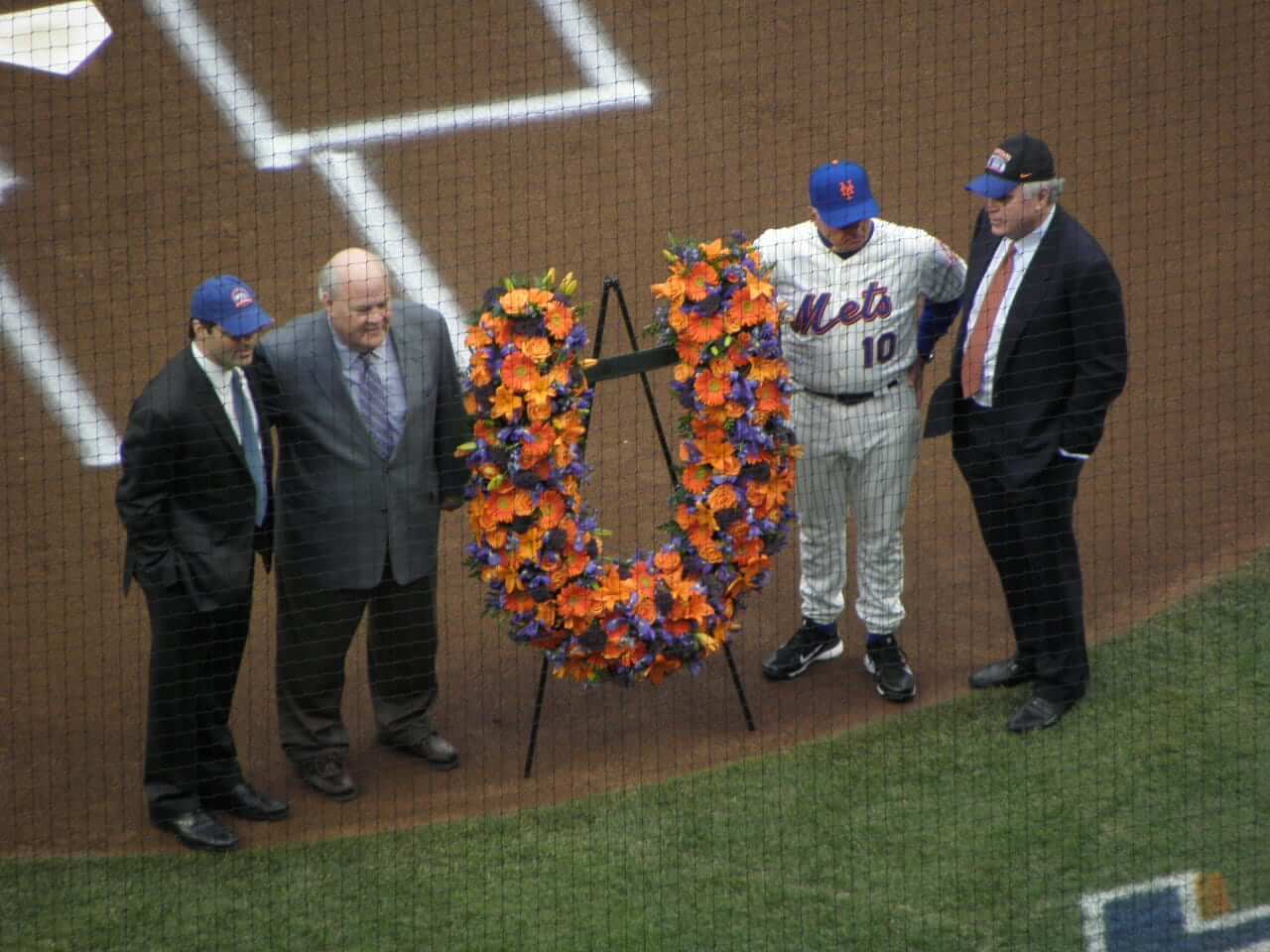 Click to enlarge
Flower power: It's a longstanding Opening Day tradition that the Mets' manager receives a horseshoe-shaped wreath of flowers, usually from members of the Shea family, as a gesture of good luck. I'm trying to collect photos of this ritual from as many seasons as possible. At present I have 1962, 1963, 1964, 1969, 1972, 1978, 2008, 2011 (shown above), 2012, 2013, 2014, 2016, 2017, and 2018. If anyone out there has photos from other years — personal photos, photos from old yearbooks, screen shots from home movie footage, whatever — please get in touch. Thanks.
• • • • •
[adrotate group="2″]
• • • • •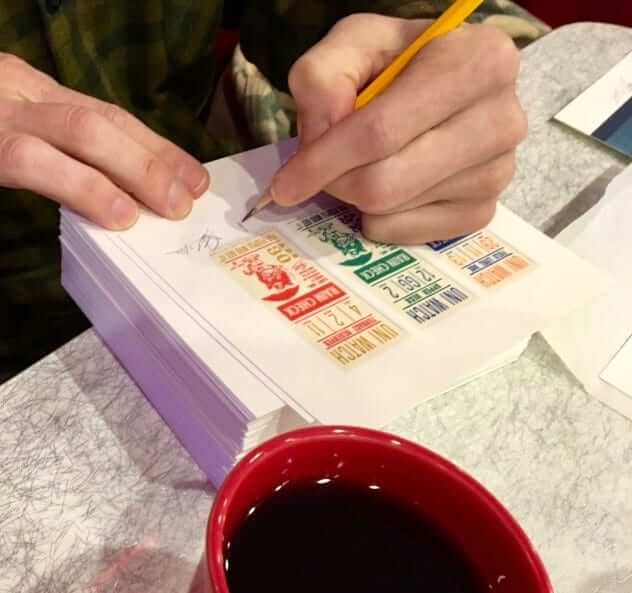 Print update: Todd Radom and I met up at a Brooklyn diner on Friday to sign the limited-edition prints that we're selling. The photo above shows me adding my signature to print No. 1, which Todd had already signed.
Here's how it looked after I'd added my John Hancock: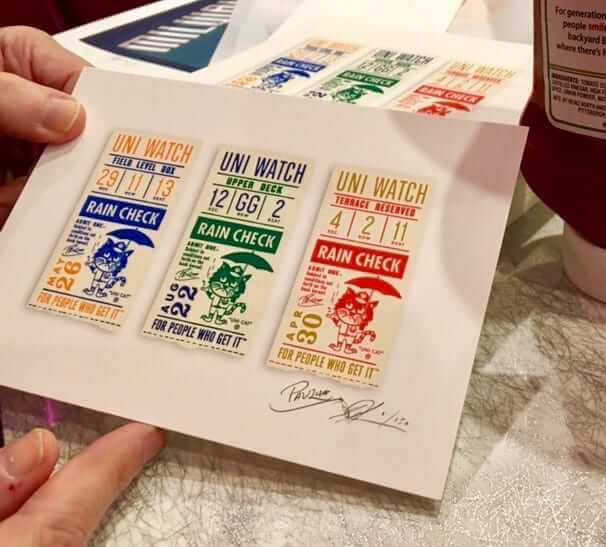 Todd will begin shipping these out later this week. If you want to buy one, they're available here. We've already sold through more than 40% of the print run — once they're gone, they're gone, so move fast.
• • • • •
[adrotate group="2″]
• • • • •
Culinary Corner: Here in NYC, where there are lots of Jews, it's common for supermarkets to offer a special on Passover matzos. At my local supermarket, the deal is usually "Get the five-pack of matzos for free if you spend a certain amount." Cool — but what the fuck am I gonna do with five boxes of matzos?
Enter the Tugboat Captain, who said, "I'll use them to make toffee." And she did! Yesterday afternoon, when we were supposed to be planning a spring vacation, she disappeared into the kitchen and whipped up something amazing. Here's how she did it:
1. She covered a baking sheet with foil and parchment paper and then laid out a bunch of matzo as a base (for all of these photos, you can click to enlarge):
2. She made some caramel from butter and brown sugar, spread it over the matzo, and then put the caramel-clad matzo in the oven for a bit:
3. She sprinkled some chocolate chips over the caramel-clad matzo. After a couple of minutes, the hot caramel had softened the chips enough for her to spread the chips into a layer of chocolate:
4. She chopped some almonds, sprinkled them over the chocolate, and then pressed them into the chocolate so they'd be firmly embedded:
5. She put the pan in the fridge to firm up. Then she took it out and cut it into squares. Et voilà.
The resulting treat is a lot like a Heath bar, only better. Am I a lucky guy or what?
(Footnote: I still have about 4.7 boxes of matzos left. But I'm sure we'll find a way to go through them.)
• • • • •
[adrotate group="2″]
• • • • •
The Ticker
By Jamie Rathjen

Baseball News: According to Indians beat reporter Paul Hoynes, the team won't wear Chief Wahoo on any future throwbacks that may have otherwise featured the logo, or else will simply avoid Wahoo-era throwbacks altogether. Here's the key passage (from multiple readers). … There was a blue-vs.-blue matchup in Japan's Pacific League between the Hokkaido Nippon-Ham Fighters and the Saitama Seibu Lions (from @GraveyardBall). … The Rays wore their throwback batting helmets with blue alternates (from @r_p_w81). … Athletics alumni appearing in the team's 50th-anniversary-in-Oakland celebration wore the Kelly green Friday alternates, but with gold (not white) numbers and NOBs (from David Fisher). Oakland has also opened the season wearing four different jerseys in its first four games: white, Kelly green, yellow, and dark green (from Richard Paloma). … A nursing home in the Bronx installed a kiosk that smells like Yankee Stadium (NYT article from Tom Turner). … The Marlins will not be wearing their orange jerseys this season (from Louis M).

NFL News: In addition to his April Fool's shenanigans, Dolphins CEO Tom Garfinkel confirmed that the team's new uniforms will be unveiled on April 19. That's the same date as the Jags unveiling, so that'll be a busy day (from @frankie__doodle).

Hockey News: Canadiens winger Logan Shaw, a mid-season waiver pickup, has a standard NOB on his home jersey but goes FIOB on his road whites. "Can't think of any other player with separate treatments," says Mike Engle "For the record, teammate Andrew Shaw (no relation, and has been on the Habs longer) has a standard NOB."

Soccer News: New second kit for NWSL team Sky Blue FC, of Piscataway, N.J. … Both the Chicago Red Stars and Sporting Kansas City changed to second-choice black kits at home. SKC have changed for all three home games so far. … Two blue-vs.-blue matchups: Brighton and Hove Albion/Tottenham Hotspur in the English women's second tier and Dundee/Heart of Midlothian in the Scottish Premiership. … Over the international break, Scotland's starting lineup against Costa Rica featured five McNOBs, with four more on the bench. The team record appears to be eight starting at once. … Now for USL time with three items from Josh Hinton: the entire supporters' section at Louisville City's game Saturday got a police citation and possible ejection because some fans were wearing masks. Apparently the wearing of masks in public places is illegal in Jefferson County, Ky. … Real Monarchs, Real Salt Lake's reserve team, are wearing a memorial sleeve patch for Irish midfielder Liam Miller, who was a former assistant coach with the team. … A banner advocating for promotion and relegation between the tiers of American soccer showed up at the Richmond Kickers' game March 24. Ironically, Josh says, the Kickers would have been strong candidates for relegation, if such a thing existed, from the USL last season.

Grab Bag: The ball to be used in the field hockey competitions at the upcoming Commonwealth Games in the Gold Coast, Australia, was revealed in a video showing how it's made. The competitions, as with the Games themselves, start Thursday.
• • • • •
I have a meeting this morning, so I'll be off the grid from 9:45am until 1:30pm-ish. Play nice while I'm away, yes? Yes. Thanks. — Paul