The 2018 MLB season kicked off yesterday, with 13 games on the schedule (down from 15 due to a pair of rainouts). Here's a rundown of all the uni-notable developments:
• In Miami, the Marlins and Cubs both wore ribbons for the recent shooting victims at Marjory Stoneman Douglas High School. The ribbons had 17 stars — one for each victim. They also wore special batting practice shirts (click to enlarge):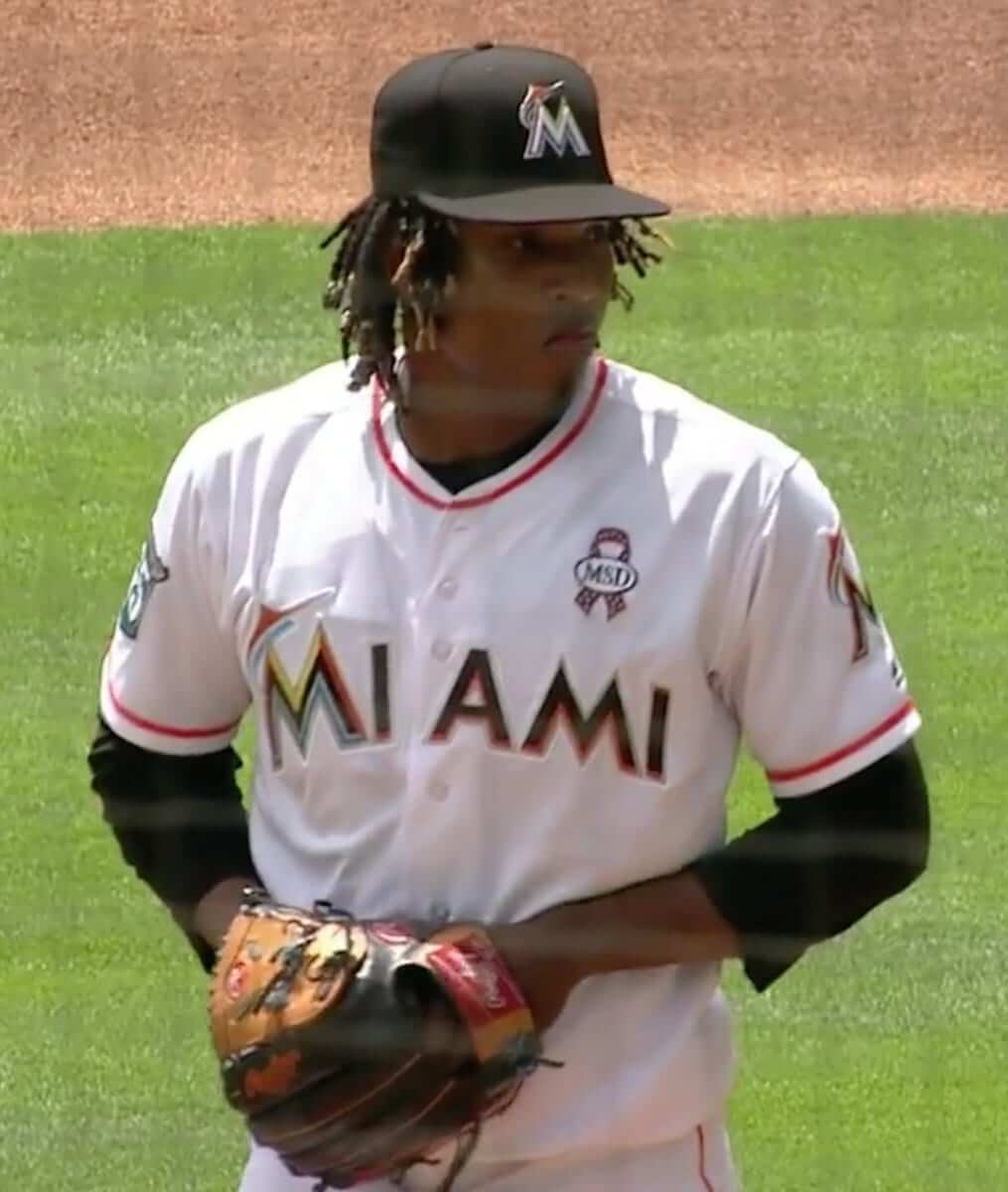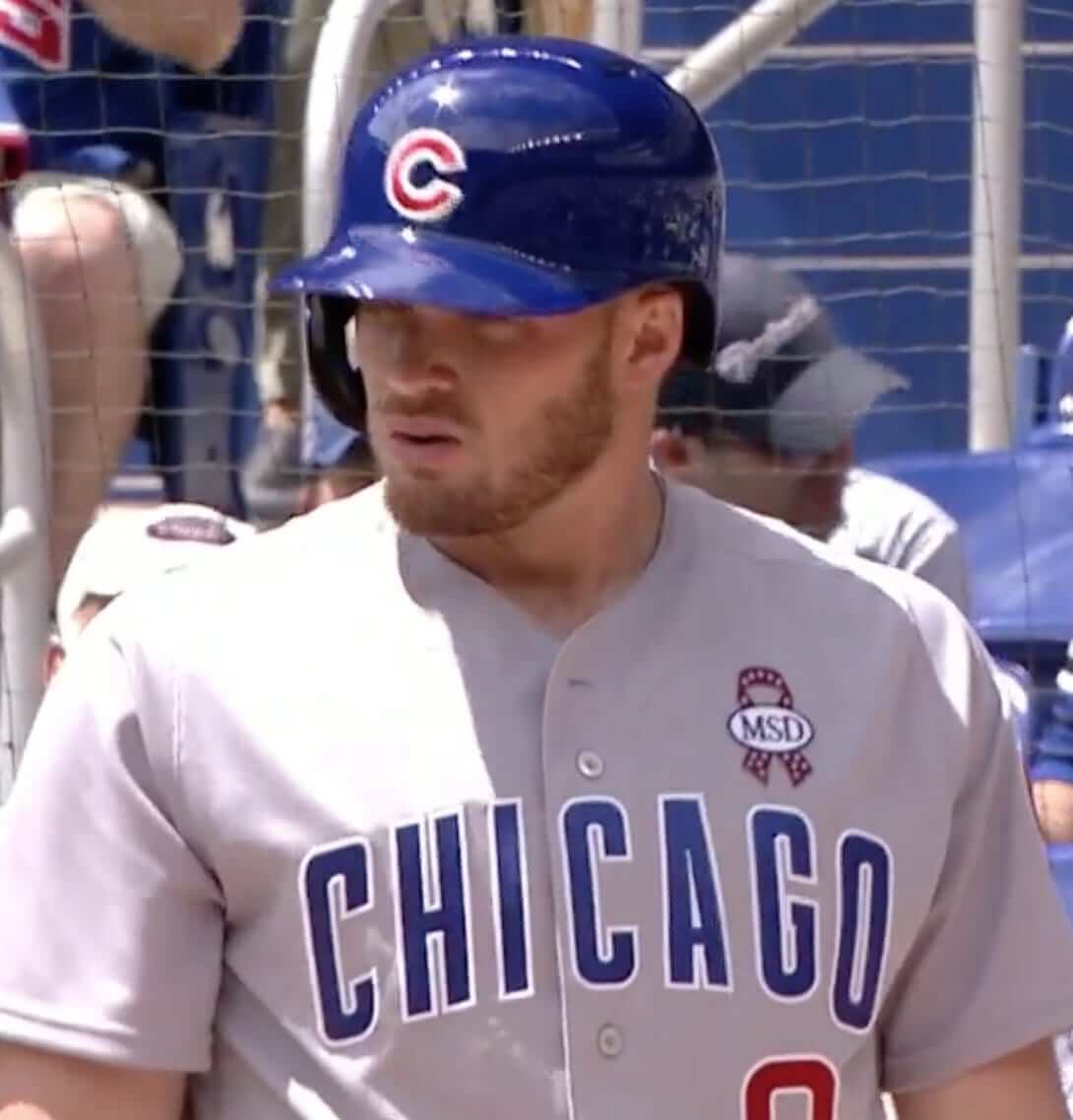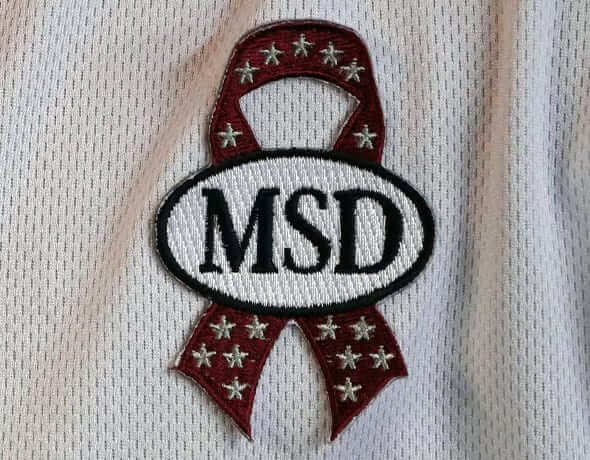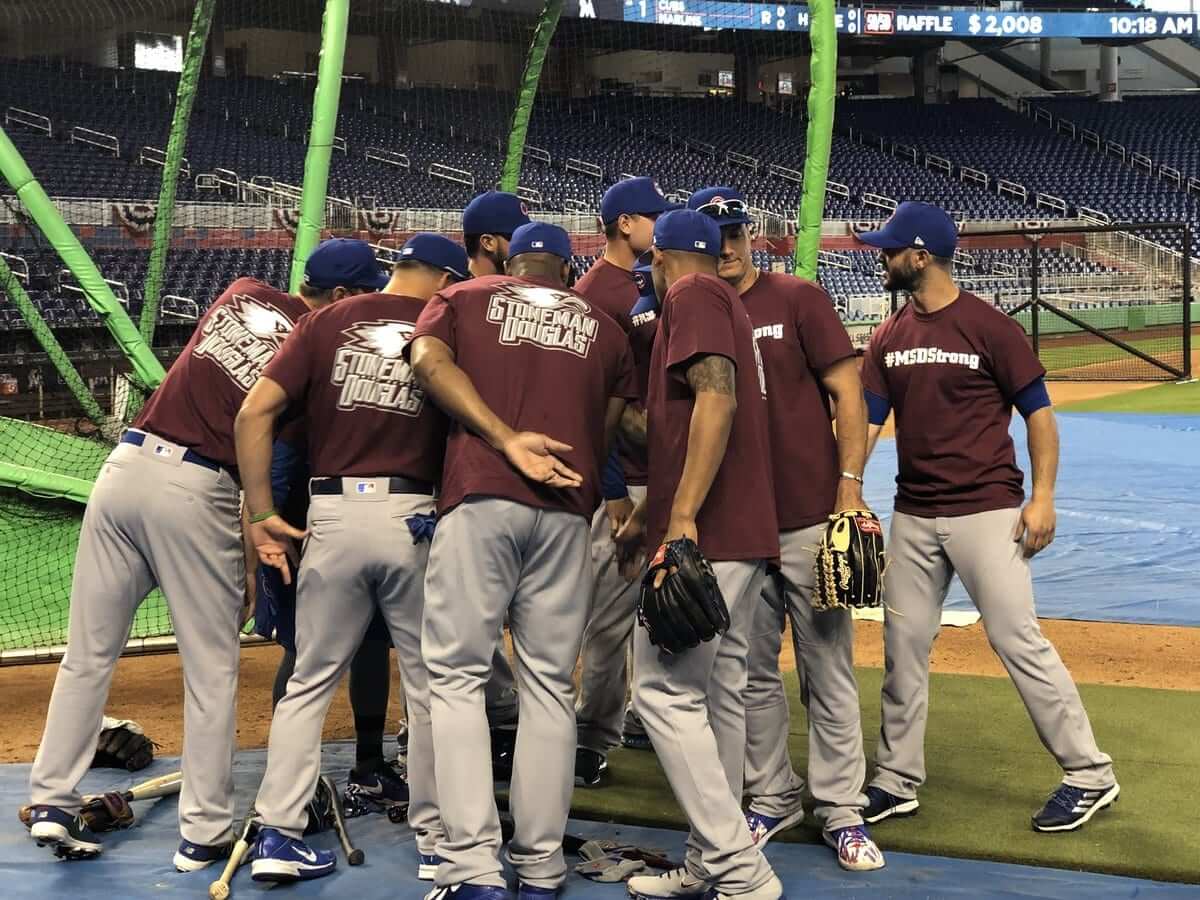 • We also got our first look at the Marlins' 25th-anniversary patch on a jersey. We'd seen the logo before, but it hadn't been worn as a patch until yesterday: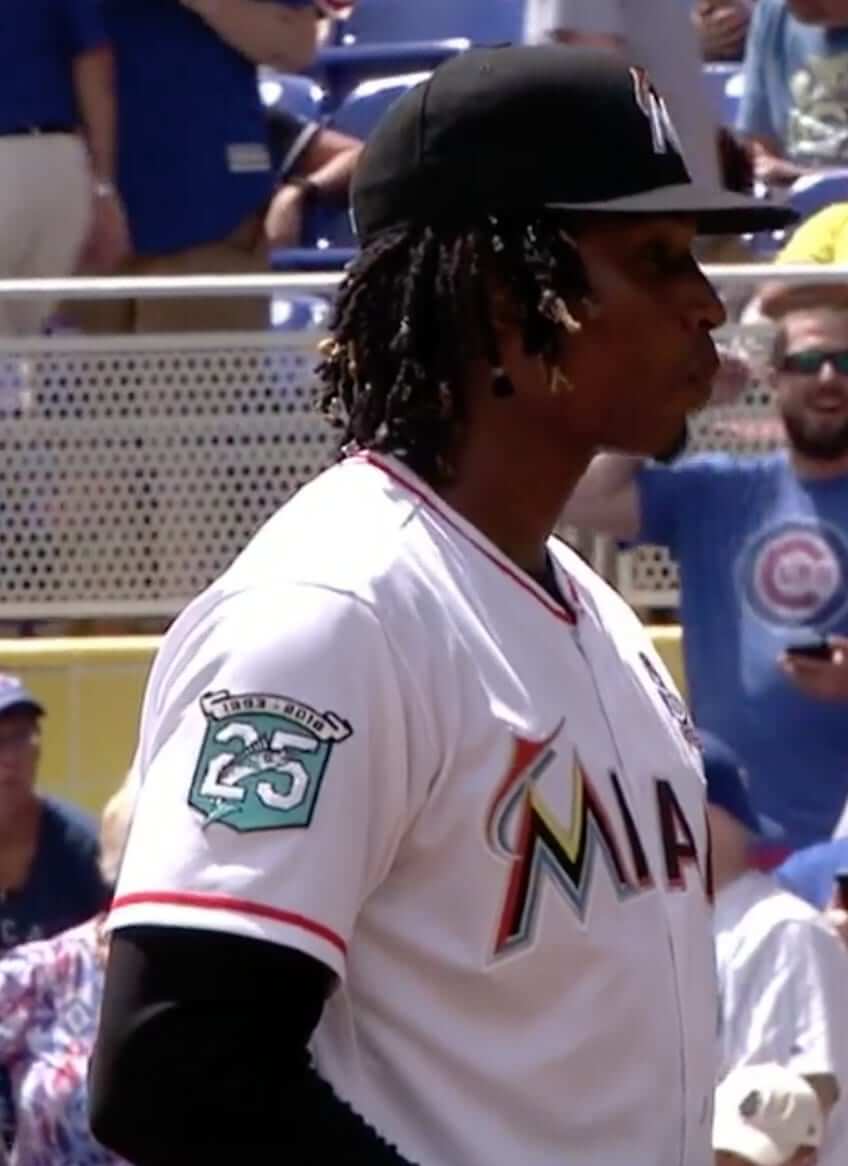 • More Marlins: Although there's been no official announcement and no change shown in the MLB Style Guide, the Marlins appear to have reduced the size of their cap logo. The photo on the left is from last season, and the one on the right is from yesterday (click to enlarge):
• And still more Marlins: Pitcher Tayron Guerrero had an unusual placket on his jersey yesterday, with three buttons above the lettering instead of the usual two (click to enlarge).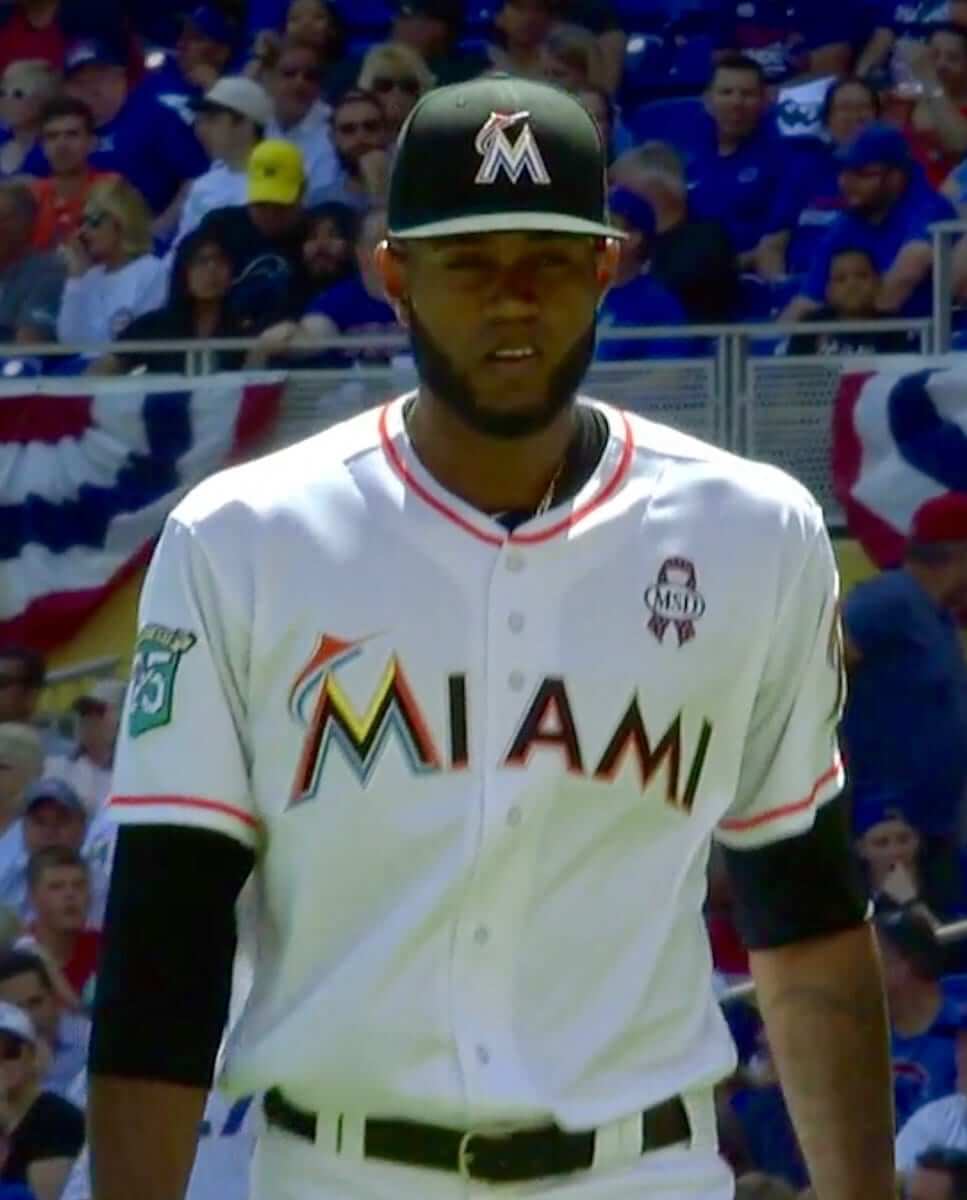 • Cardinals starting pitcher Carlos Martínez had an accent on his NOB. That's new for this season — he didn't have it last year.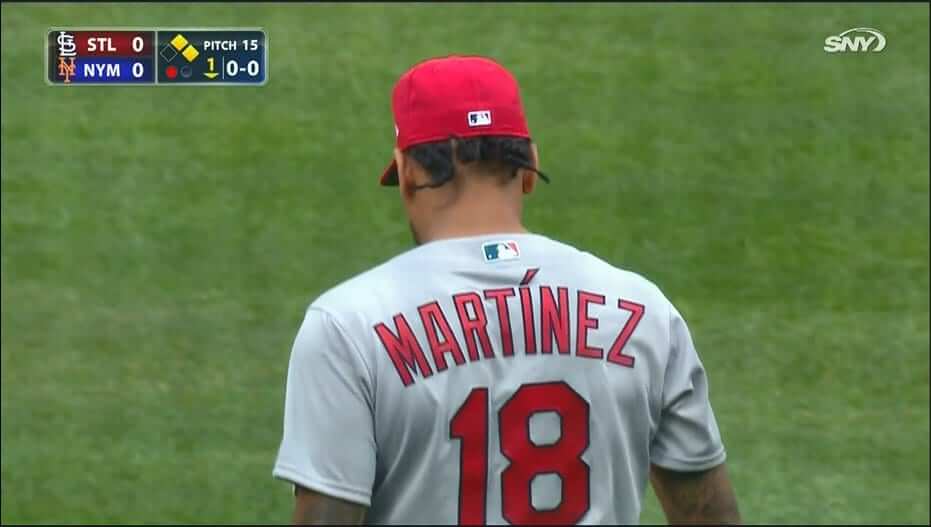 Although I don't have a photo, Cards infielder Jose Martínez has had an accent added to his NOB as well. (No first initial for either Martínez.)
• Speaking of accents, Mariners pitcher Felix Hernández now has one. In past seasons, he didn't have it.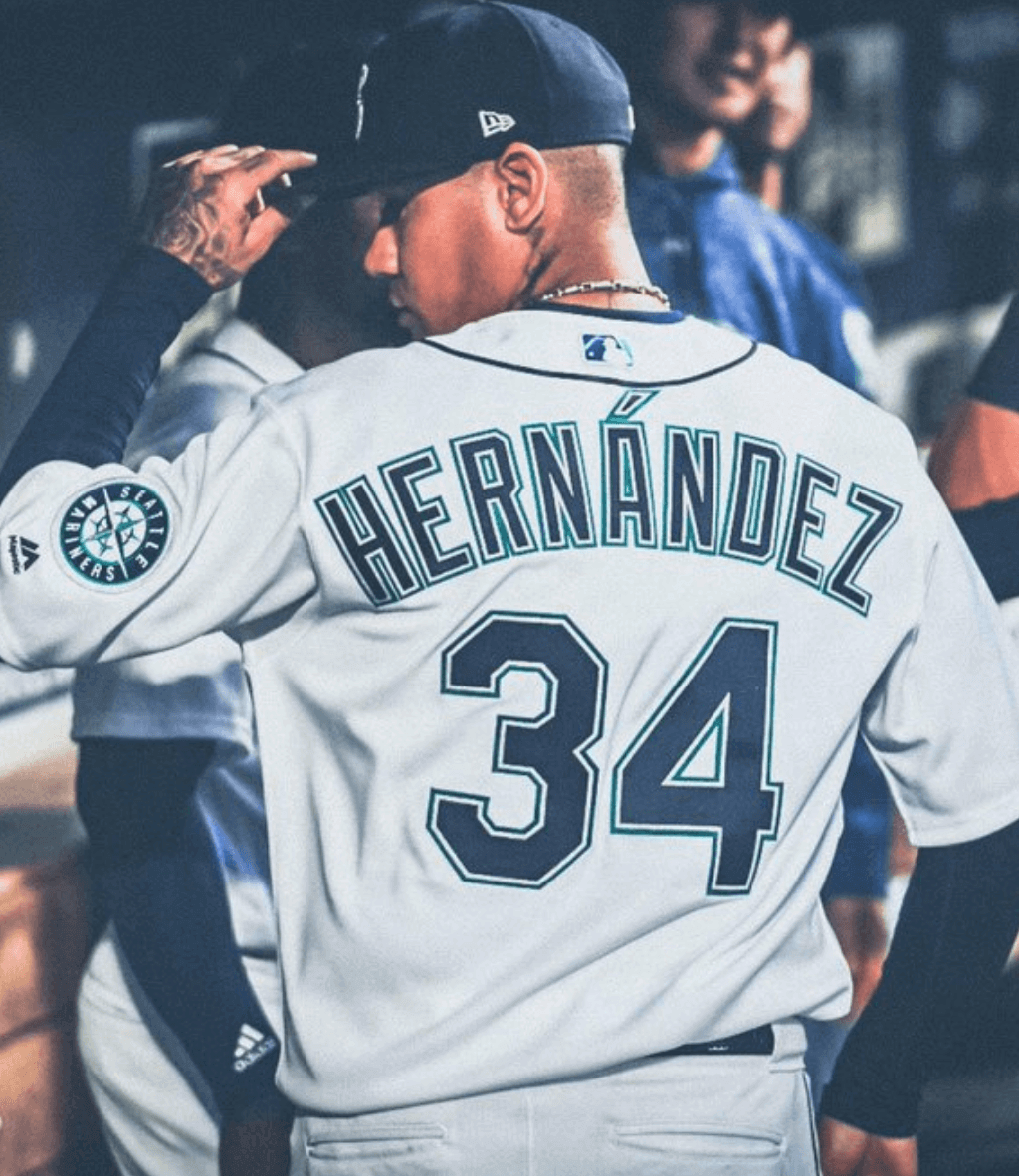 • The Mets added a white "10" to their mound in memory of former player Rusty Staub, whose death was announced earlier in the day. He'll always be No. 4 to me, because that's the number he wore during his first two seasons with the Mets (including in the 1973 World Series, which I still remember like it was yesterday), but it's true that he wore No. 10 for most of his Mets career, so that's the appropriate number for them to have used.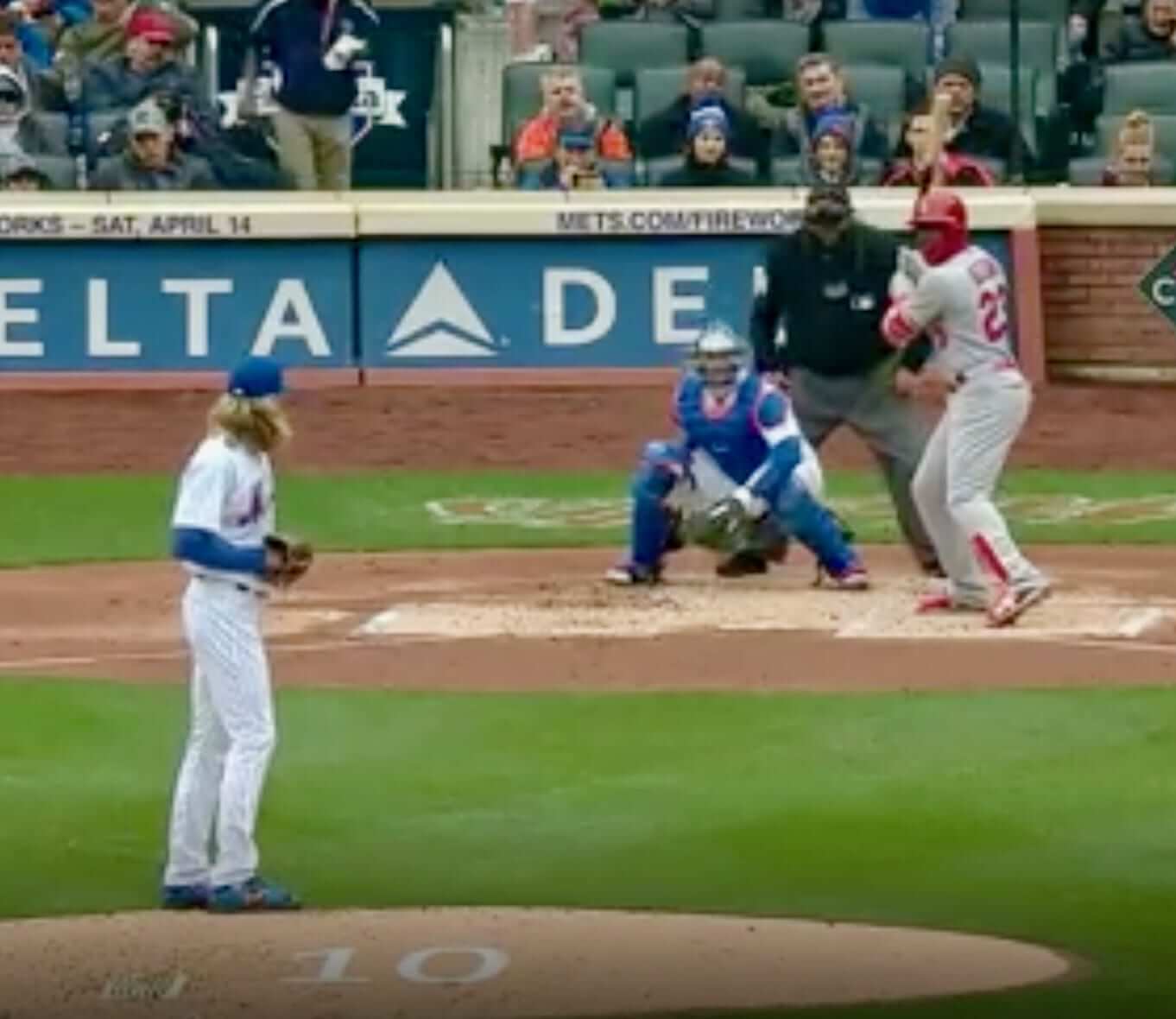 • Speaking of the Mets, mascots there was a major — major! — NOB inconsistency between mascots Mr. and Mrs. Met. He didn't have a period on his NOB, while she did (click to enlarge):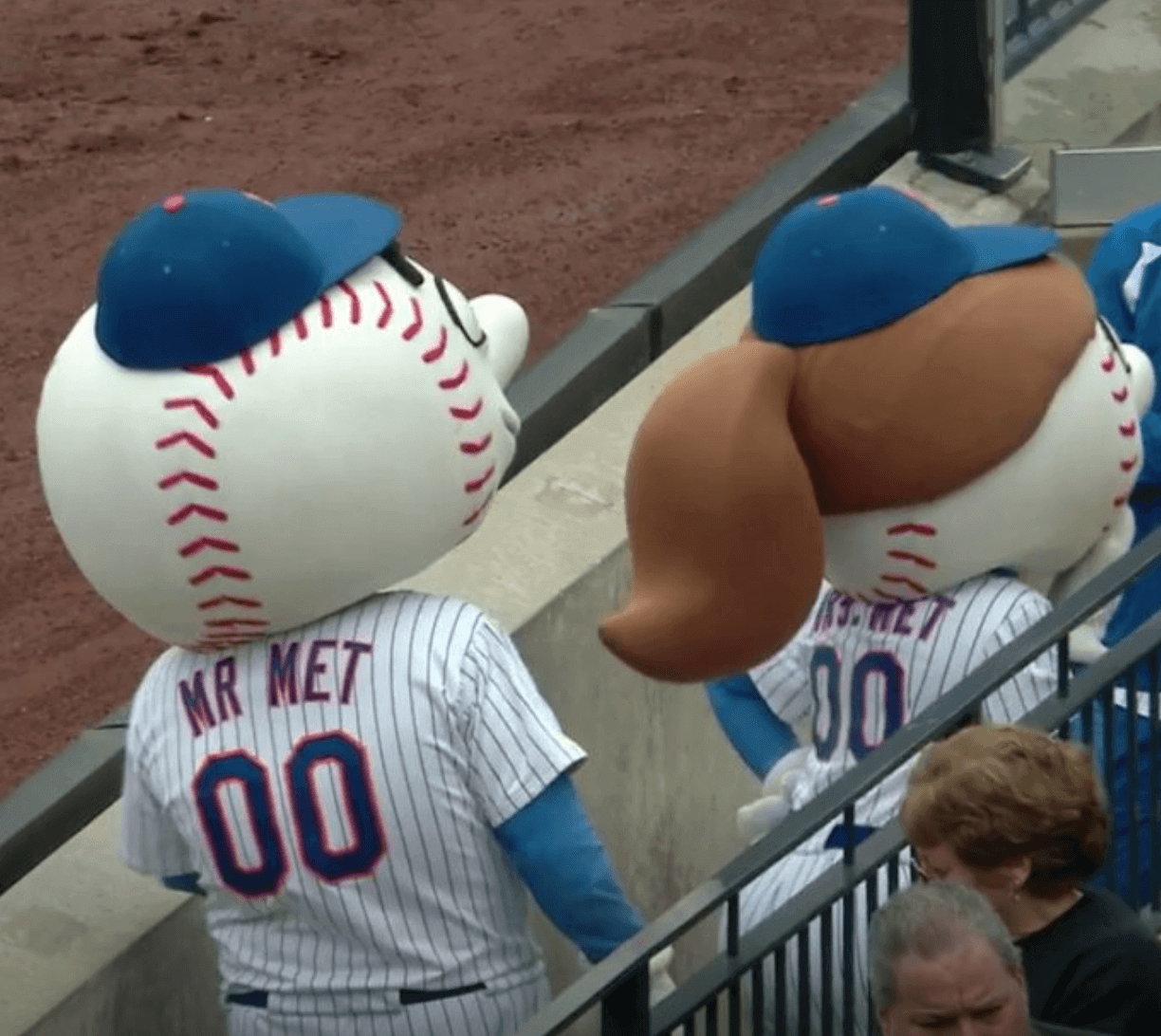 • The Blue Jays retired Roy Halladay's number prior to their game. They used the team's current number font, which Halladay never wore during his time with the club:
Roy Halladay's number 32 retired by #BlueJays pic.twitter.com/yw30jBo3Yo

— Chris Creamer (@sportslogosnet) March 29, 2018
• Last year the Braves switched to a raised helmet logo. One year later, they've gone back to a flat decal: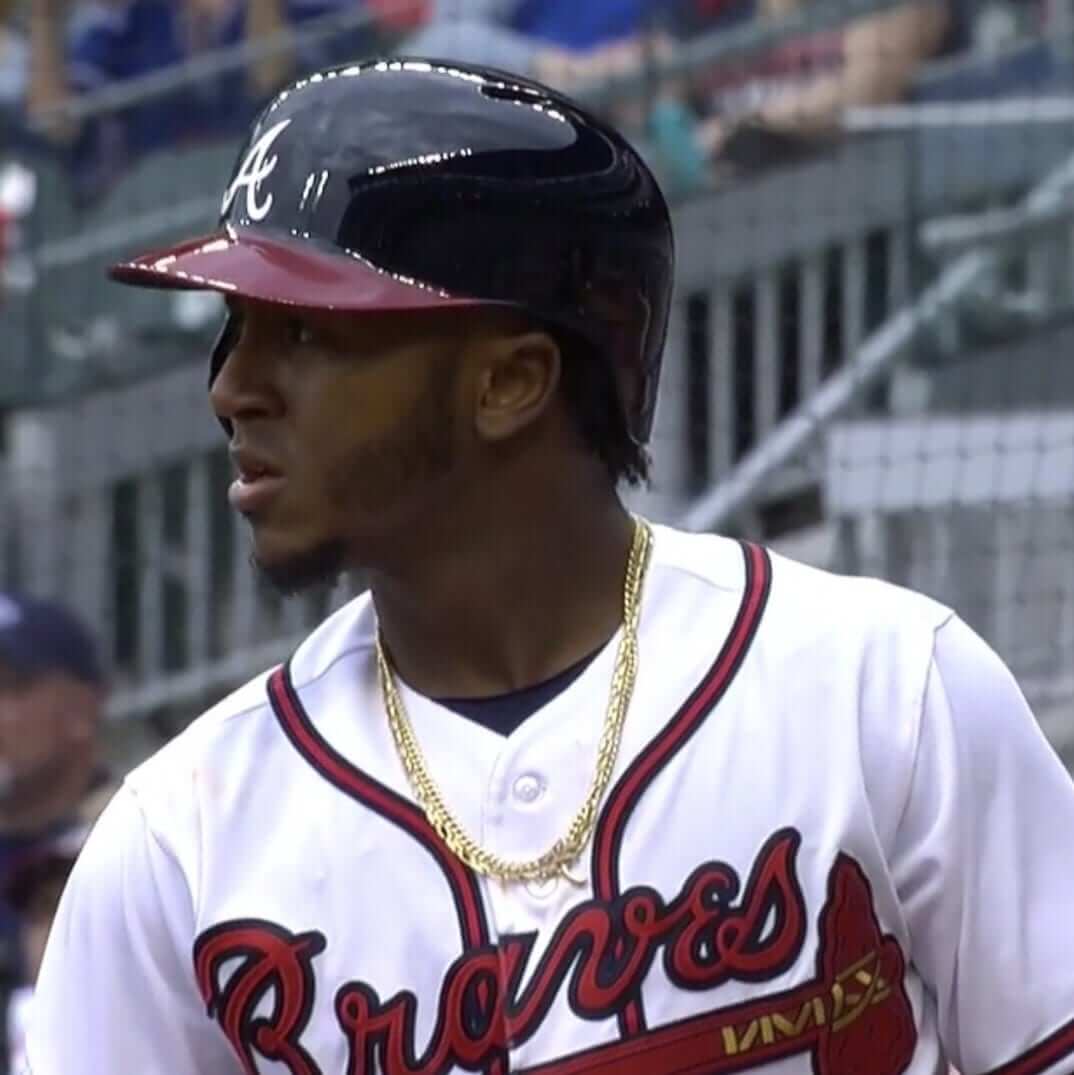 • Padres reliever Adam Cimber made his MLB debut and became the first player in MLB history to wear No. 90: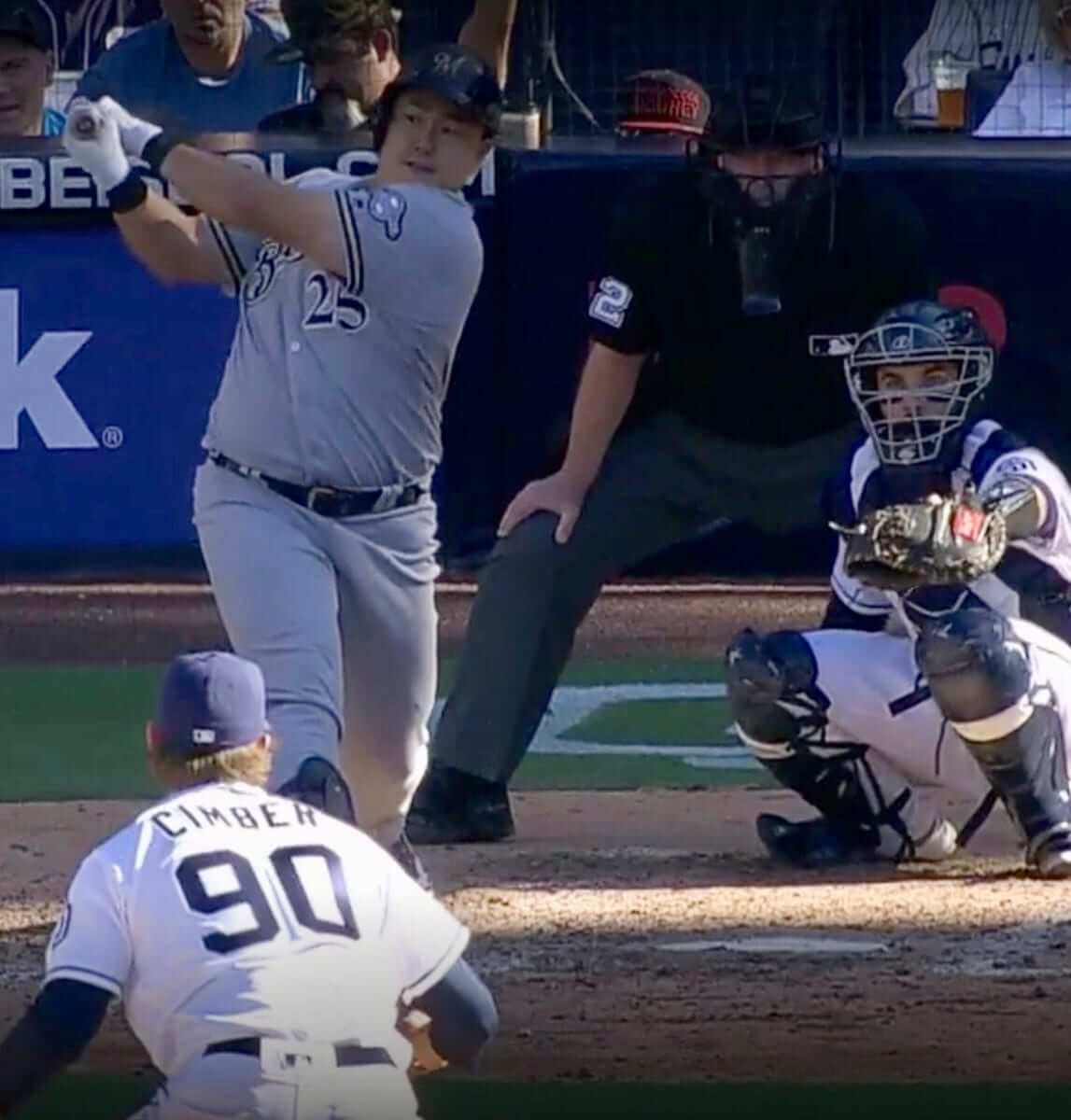 When Phillies pitcher Pat Neshek makes his debut, he'll become the first player to wear No. 93. That will leave 80, 86, 89, and 92 as the only unworn uni numbers.
• The Blue Jays wore their alternate caps with the white front panel: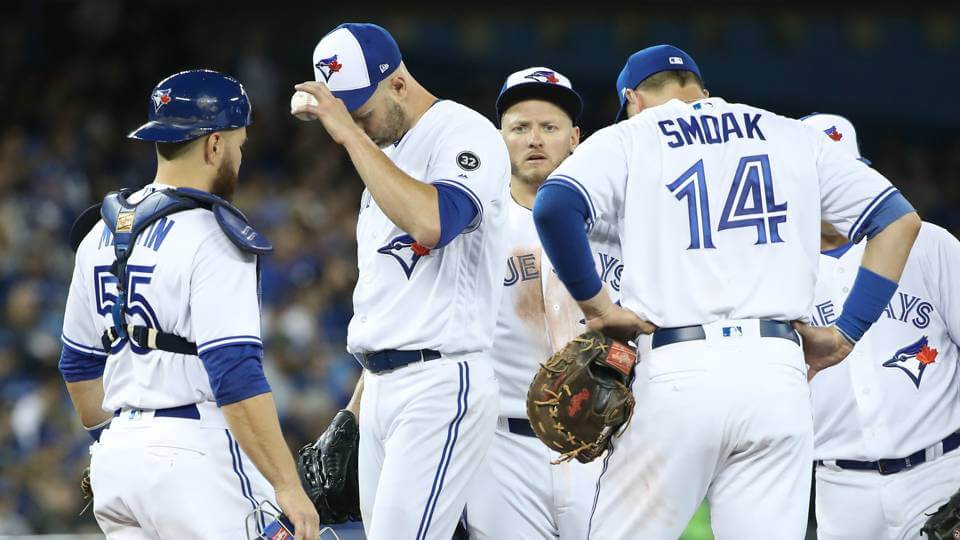 • Traditionalists will be glad to hear that all 13 of yesterday's Opening Day home teams wore white. Nine of the 13 road teams wore grey, the exceptions being the Twins, Angels, White Sox, and Cleveland.
• As is customary in Baltimore, players lined up for their pregame introductions on the infield, not on the baselines. I'm not aware of any other team that does it this way (click to enlarge):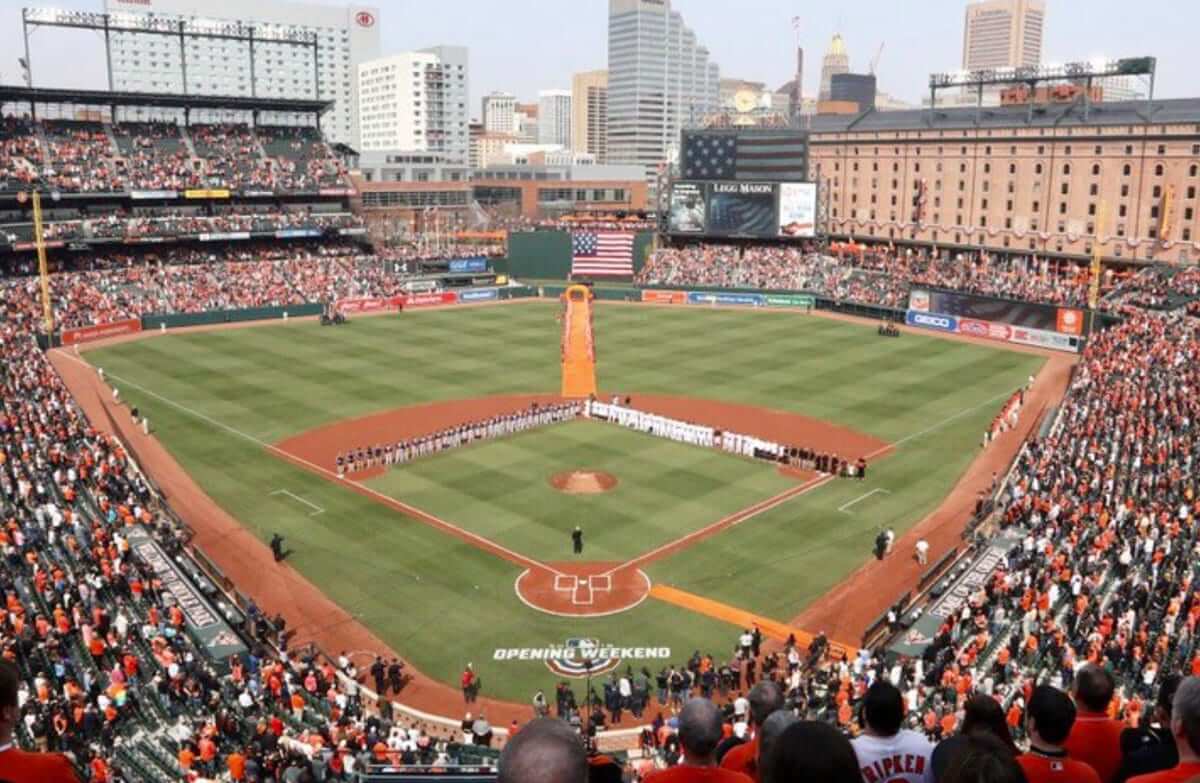 • Here's something I don't recall seeing before: In Seattle, the Mariners had a big "2018" stenciled onto the infield. Do they do this every year?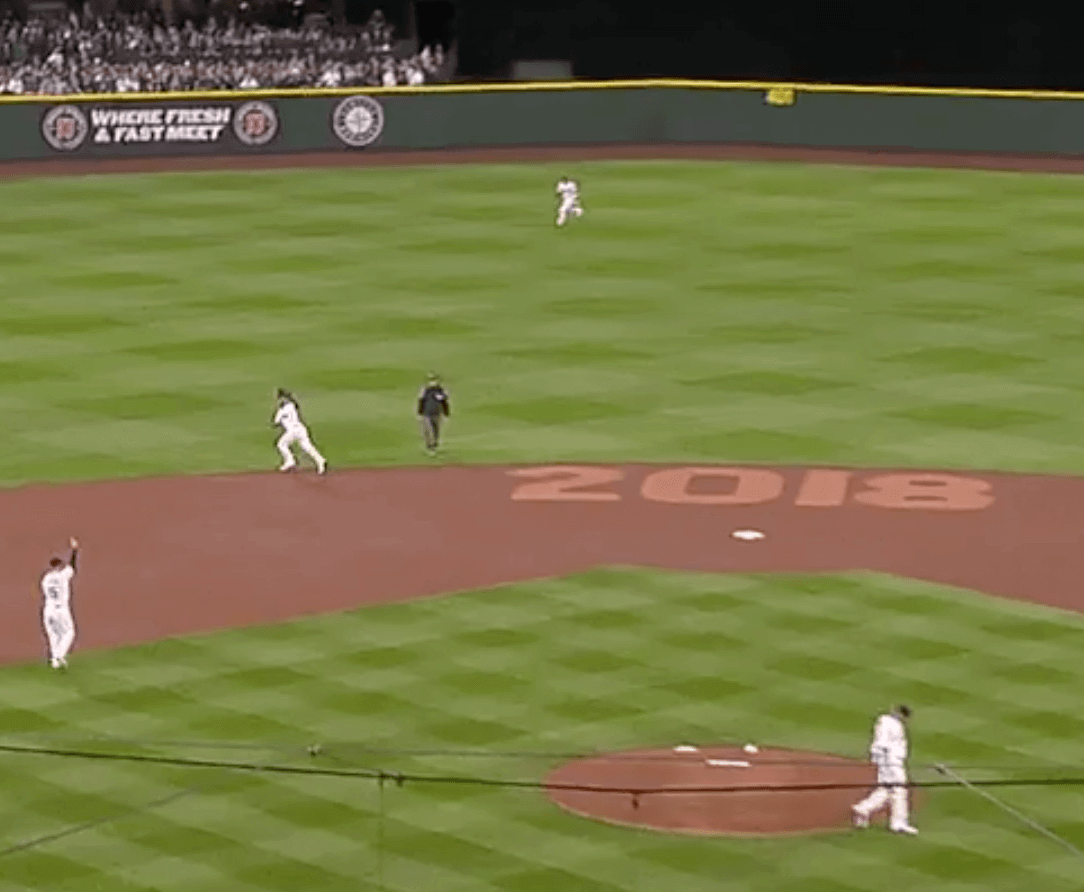 • By the end of last season, MLB umpires were wearing four memorial patches for retired umps who'd passed away during the year. Those are all gone now, but they've been replaced by two new patches — "DH" for Doug Harvey and "BE" for Bob Engel.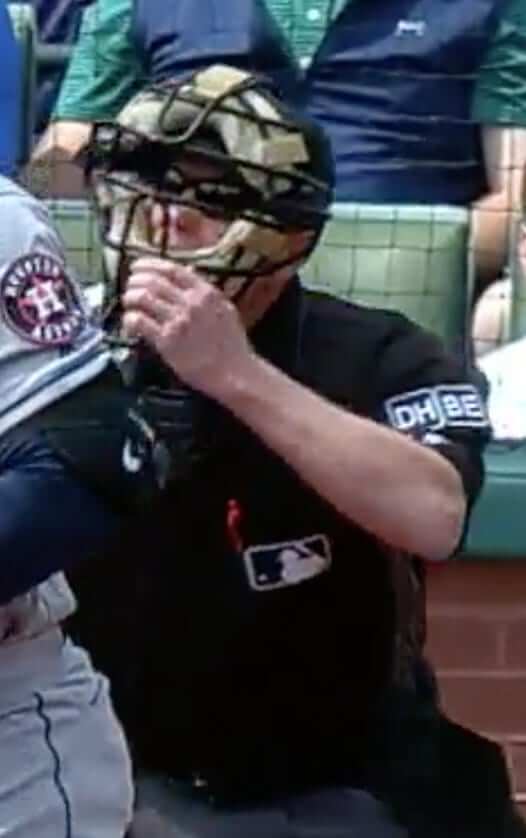 • The Diamondbacks used five relievers — and all of them chose not to use the team's new bullpen buggy. (Update: The Tigers are also adding a bullpen buggy.)
As for me, the Mets' magic number is down to 162, so I'm happy. How did your team do? Oh, and for those who are wondering, the tantalizing uni-related tidbit that I mentioned at the end of yesterday's post ended up not happening after all. The source who told me about it turned out to be wrong.
(My thanks to all contributors, including Cliff Corcoran, Tim Dunn, Eric Garment, Wade Heidt, Alex Hider, Louis Levin, @MBDChicago, @quirkyresearch, Chris Richards, @smoresarefun, and John Stark.)
• • • • •
[adrotate group="2″]
• • • • •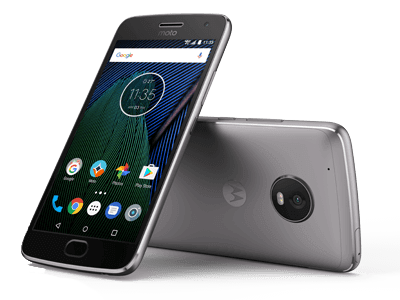 Mobile site question: About 10 days ago I started inserting new ads in between sections of each day's post (like the ads that appear before and after this "Mobile site question" section, for example). Around that same time, some readers reported having problems with the site on their smartphones. The page would freeze, or the page would try to scroll directly to one of the new ads.
I was unable to duplicate this problem myself — the site worked fine for me on my iPhone — but yesterday we changed the ad code to a different media network. For those of you who were having problems, over the past week or so, have yesterday and today been any better?
Thanks for your feedback — it's apprecated.
• • • • •
[adrotate group="2″]
• • • • •
Todd Radom print reminder: In case you missed it earlier this week, I've collaborated with uniform designer/scholar Todd Radom on a museum-quality art print that's similar to the T-shirt design he recently did for us. It's being produced in a limited edition of 150, with each print hand-numbered and signed by Todd and myself. And we've already sold through more than one-third of them, so move fast.
The design is filled with lots of little Easter eggs that are of personal significance to Todd and me — full details here, or you can go straight to the ordering page. My thanks, as always, for your consideration.
• • • • •
[adrotate group="2″]
• • • • •
The Ticker
By Alex Hider

Baseball News: Here are some good shots of the new "Reds Threads" exhibit at the team's Hall of Fame and Museum — a display of old jerseys worn by the Reds and other teams throughout history. Phil will have a full-blown treatment of this soon (from Keenan Singleton). … Speaking of the Reds, C Devin Mesoraco had a set of bats made from wood harvested from his property in Pennsylvania — and even used a few of them in games! … The Giants have added a uniform history page to their website, dating back to the move to San Francisco (from Brinke). … Here's a good look at past Astros uniforms (from Phil). … Yankees P Josh Rogers donated new uniforms to his alma mater, New Albany High School in Indiana (from Josh Claywell). … Mario gets it (and goes first NOB, though there is some controversy surrounding it) (from Patrick Lindsey). … New umpire uniforms for NPB in Japan (from Jeremy Brahm). … The Nassau County Police Department on Long Island had its own baseball team back in 1933. Look at those sweaters! (From Brian Wulff.)

College Football News: Sure looks like UAB stole a photo of Colorado State's stadium and photoshopped the Birmingham skyline behind it for a social media graphic (from Joel Mathwig).

Hockey News: This is an interesting concept: One blogger thinks that if the Golden Knights win the Cup this year, the players should show up to the championship parade in the jerseys of the teams that let them go in the expansion draft (from @NotHotTakes).

NBA News: According to a report by Conrad Burry on Sportslogos.net, the Hawks, Hornets, Jazz. Magic, Pacers, Timberwolves and Warriors will wear throwback uniforms next season. … Speaking of the Jazz, someone baked a cake based on their tequila sunrise alts (from Benji King).

Soccer News: Couple of submissions from soccer expert Josh Hinton: Atletico Madrid 2018-19 home jersey design has reportedly leaked, Brazilian club Palmeiras has unveiled their home kit for next season. … The resurgence of '90s fashion is having an impact in the world of soccer (from Ed Zelaski). … New uniforms for FC Isloch, a team in Belarus (also from Ed Zelaski). … Bleacher Report has done an in-depth feature about the sculptor who made the widely ridiculed bust of Cristiano Ronaldo last year, complete with an unveiling of the second bust he created in response to the criticism (from Kary Klismet).

Grab Bag: Fortune has published a history on one of the fiercest sneaker rivalries in the world: Adidas vs. Puma (no, not Nike) (from Josh Hinton). … It's already been announced that this year's Southern 500 on Sept. 2 would feature throwback paint schemes. Yesterday, Brad Keselowski announced his car will be modeled after Rusty Wallace's 1990 car (from Stockton). …  Golfer Soyeon Ryu was wearing one striped sock and one solid sock during her round yesterday (from Ethan Ganot).
• • • • •
Happy Good Friday and Passover to all who are observing today and tonight, and happy Easter to all who are celebrating on Sunday. Have a great weekend and I'll see you next week. — Paul