Click to enlarge
We all know how NHL goalies like to wear a toque over their masks during outdoor stadium games. I believe Canadiens netminder Jose Theodore was the first to do this, at the 2003 Heritage Classic.
Now Canadiens prospect Michael McNiven has embraced that tradition with a new mask design that features a faux toque — a brilliant concept that was expertly executed by artist Sylvie Marsolais, who's part of a Montreal design operation called Sylabrush.
I love this! And check out the level of detail — Marsolais really captured the feel of the knitted yarn and the sewn-on team logo patch. First-rate job! There's some background info and lots of additional photos here.
The only down side here is that the toque concept can be duplicated for any team, so it's easy to envision every goalie wanting his own version of this, which would water down the concept. If that ends up happening — and it seems somewhat inevitable, no? — I hope people remember that it all started with this mask for McNiven.
Speaking of: McNiven currently plays for the Canadiens' AHL affiliate, the Laval Rocket, so he presumably won't be wearing this in a game anytime soon. But if he gets the call to play with the Habs, he'll definitely be ready, at least in terms of his mask.
(My thanks to Twitter-er @GKG_77 for letting me know about this one.)
• • • • •
[adrotate group="2″]
• • • • •
Todd Radom print reminder: In case you missed it earlier this week, I've collaborated with uniform designer/scholar Todd Radom on a museum-quality art print that's similar to the T-shirt design he recently did for us. It's being produced in a limited edition of 150, with each print hand-numbered and signed by Todd and myself. And we've already sold through more than one-third of them, so move fast.
The design is filled with lots of little Easter eggs that are of personal significance to Todd and me — full details here, or you can go straight to the ordering page. My thanks, as always, for your consideration.
• • • • •
[adrotate group="2″]
• • • • •
The Ticker
By Paul

'Skins Watch: Check this out! "It's part of the Albert Stone collection of the Rochester Museum and Science Center," says Doug Brei. "The description lists it as a 'Group portrait of Seneca Indian baseball team, posed in uniform with bats and mitts. To the left and right of the team are two Indians in traditional dress, one holding several arrows.' The picture was taken sometime between 1911 and 1915. It's one of my favorite baseball photos of all time." … Chief Wahoo may be on the way out, but a new poll indicates that fans in northeastern Ohio still love him.

Baseball News: Big news from "Game Worn Guides" author Bill Henderson: Up until now, his guides have only documented MLB uniforms as far back as 1970, but now he's taking the plunge and doing pre-1970 guides. He could use everyone's help with photo research. Full details here. … Nice little video clip of the NOB lettering and anniversary patch being sewn onto Royals C Salvador Perez's jersey (from Blake Molina). … Here's a good rundown of this year's Orioles promo giveaways (from Andrew Cosentino). … Here's a gallery of food being served at MLB ballparks this season (from Jonathan Bean). … Every MLB stadium has extended its protective netting this season. Here's how it looks in Detroit (thanks, Kris). … Start 'em young: Chuck Betts's six-year-old son, Easton, looks mighty sharp in his Little League uniform — complete with stirrups! … The Tigers may join the D-backs by bringing back the bullpen cart (from Jeffrey Sak). … The home and road bullpen designations at the Reds' ballpark have been changed, and not for the first time (thanks, Alex). … I'm still calling them the Hens: Back in 1953, sportswriters in Louisville, Ky., refused to call the city's then-new minor league by its actual name, which was the Glass Sox (fun find by Jerry Wolper). … Quite a game in South Bend, as Notre Dame and Kent State went mono-Kelly green vs. mono-powder blue (from Kevin Riley). … Dennis Healy has produced a set of really nice MLB wallpaper designs. Feel free to use them on your computer.

NFL News: A project to expand the Pro Football Hall of Fame has run into numerous problems (NYT link). … There's some info on the Browns' new uniforms, and on the team potentially retiring Joe Thomas's No. 73, here (from Bob Moon). … Newly acquired Cowboys WR Allen Hurns will wear No. 17 to honor the 17 shooting victims in Parkland, Fla. (thanks, Alex). … With the NFL now formulating a rule that will make it a penalty for a player to lead with his head, at least one observer thinks football helmets are causing more problems than they solve (from Tracey Lynn). … Interesting article about the Bears' newly revived orange alternate jerseys. Key passage: "The Bears are attempting to clarify with the NFL whether they are permitted to change their alternate jerseys on a yearly basis. 'You can't make decision changes within the five-year period," [team chairman George] McCaskey said. 'We're trying to nail down whether we can have for instance an orange jersey one year, a throwback jersey the next year and an orange jersey the following year'" (from Tom Juettner).

Hockey News: The Islanders' old fisherman logo has been poached by a seafood company in Auckland, New Zealand (from Camryn Brown). … Sabres alumni held a wine-tasting event last night and wore a memorial patch for alums who'd died during the past year. 15 = Mike Bolland, 23 = Ken Britenbach, 29 = Jeff Parker, and it's not clear who 31 was for (from @HaseksCage).

Basketball News: The logo for the newly renamed Delaware Blue Coats looks a lot like the logo that graphic designer Skye Dillon created for the Paul Revere Project. … Back in 1991, a Seton Hall player dropped out after receiving threats in the wake of his refusal to wear an American flag patch on his uniform during the first Gulf War (good find by James Gilbert). … Here are this year's McDonald's All-American jerseys and sneakers. The jerseys have silhouettes of the players' home states on the back (from Dave Garabedian). … Clever graphic by The Chicago Tribune, which depicted the Final Four as a thoroughbred horse race, complete with jockey and trainer references (from @Curley5). … USF's jerseys are missing a period on the front (from @notthefakecasey).

Soccer News: New home shirt for AIK (from Ed Zelaski). … Also from Ed: Cleveland SC has struck a uni-outfitting deal with Admiral Sports. … Newcastle United will not appeal a ruling against the team for putting betting advertisements on its under-18 jerseys. … The French Men's National Team wore three different walk-out jackets to mimic the French flag. "Generally speaking, teams usually wear one walk-out jacket," says Josh Hinton. … Also from Josh: Australia's World Cup kit has leaked.

Grab Bag: Virginia Tech is building a $10 million ACC Network studio on campus. "It is expected to be ready in time for the ACC Network launch in August of 2019," says Andrew Cosentino. … The U. of Washington, which is currently outfitted by Nike, will have a new deal with either Nike or Adidas by mid-May (thanks, Brinke). … Here's what Justin Thomas and Billy Horschel will be wearing at the Masters. … The apparel brand Fendi is relaunching its classic "FF" logo. … The Trademark Trial and Appeal Board has affirmed a refusal to grant a trademark for the name of the podcast Serial, because it is "too generic," although it allowed trademarks for the podcast's logos. … Dunkin' Donuts is making running shoes with sprinkles. … At the bottom of this page is an interesting article about what it cost to keep UNC sports teams outfitted in 1979 (from James Gilbert). … The logo for a Target apparel brand called A New Day is causing confusion. … Budweiser packaging will now include a new logo indicating if the beer was brewed at a facility using renewable energy. … A designer has launched a new project to create mascots and logos for defunct teams. Should be good to watch this one unfold (from Aaron Wade). … Lots of fun facts about the Masters in this infographic. … Towson lacrosse will wear chrome helmets on April 7 to support pediatric cancer patients (from James Brandenburg).
• • • • •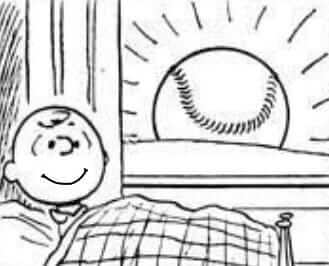 Today is Opening Day for Major League Baseball — one of my favorite days of the year. I'll be watching the Mets/Cards game this afternoon, and of course I'll be alert for any uni-notable stuff that pops up in the various season openers (including one tidbit that I'm already aware of but am not allowed to talk about). If you need a refresher course in all the new designs for this season, here's my annual MLB Season Preview column.
We'll have a full Opening Day recap tomorrow. Whoever you're rooting for, enjoy the day and here's to a good season. Play ball! — Paul