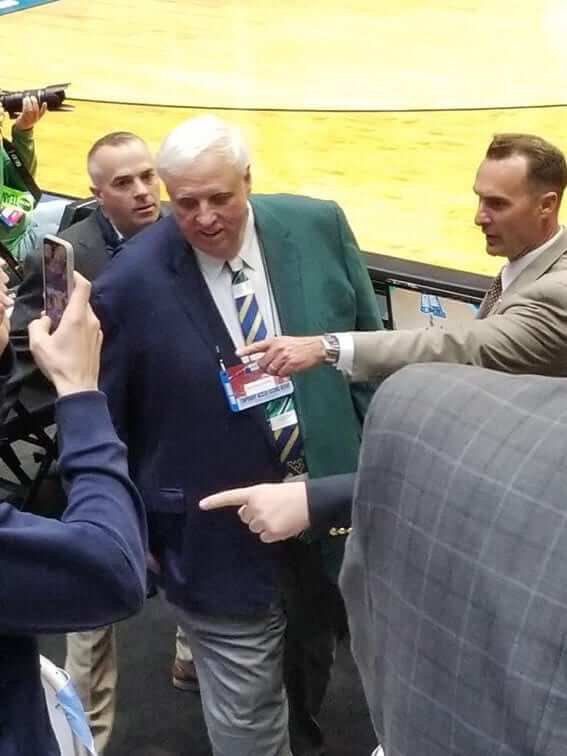 Photo by Derrick Paul, @WestVirgyinzer
It was an all-Mountain State affair last night in San Diego, as Marshall and West Virginia faced off in the second round of the NCAA tourney. And there was a special guest on hand: West Virginia Gov. Jim Justice, who made the 2,000-mile trip to see the game (hopefully not at taxpayer expense). Justice is a Marshall grad, but he didn't play favorites with his attire. As you can see above, he wore a Frankenblazer — green on one side for Marshall and blue on the other for WVU.
But there's more. Trevor Patton and our own Phil Hecken noted that Justice was also wearing a frankentie! It appeared to be two ties — one blue and one green — held together with white duct tape or something similar: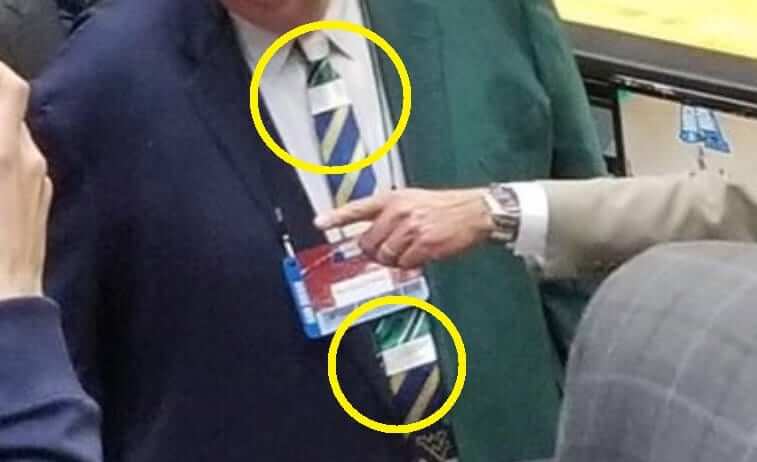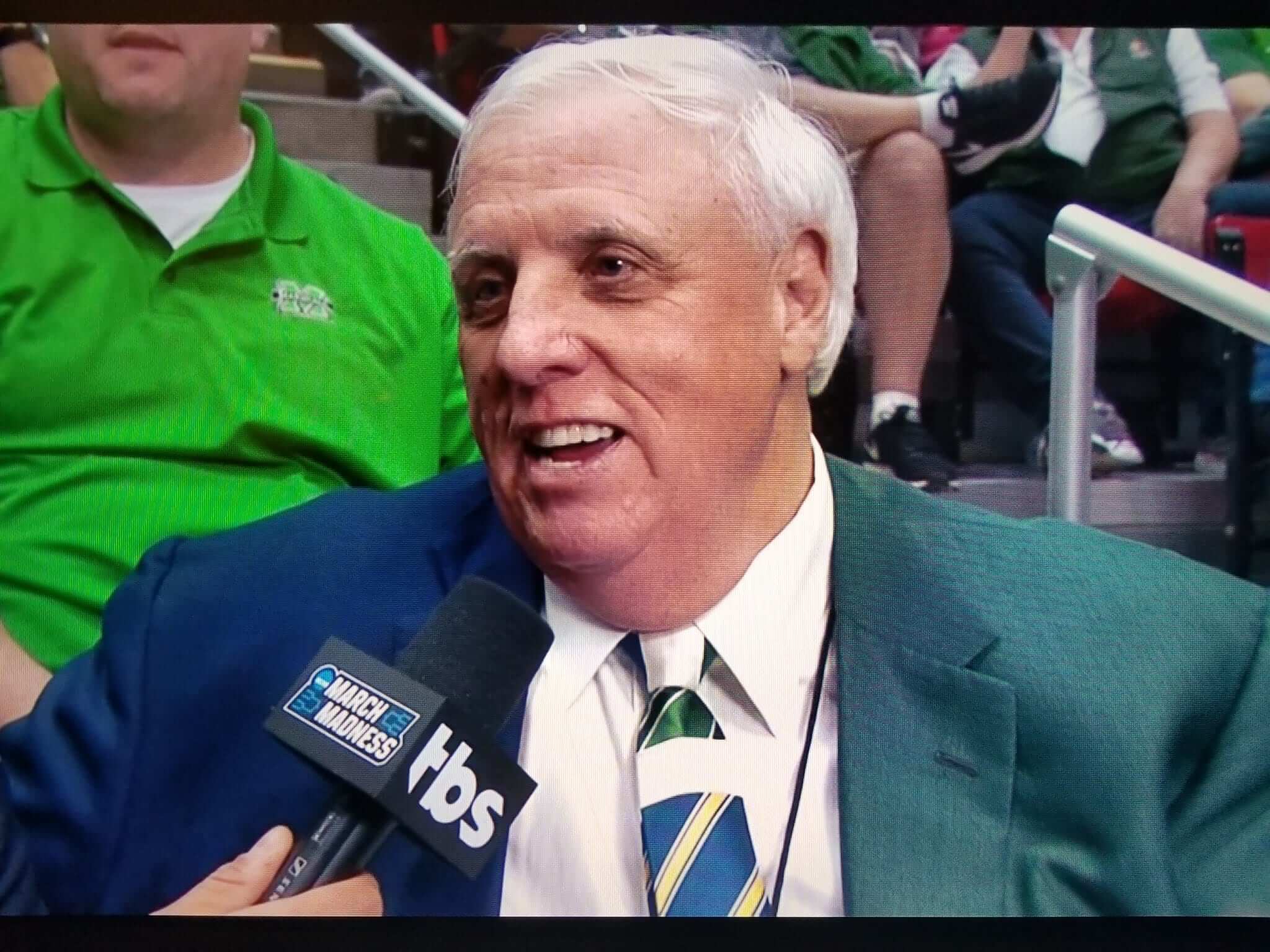 That second shot is taken from this video clip, which features Justice talking about his outfit and the game:
At the end of the day, win, lose, or draw, this is a win for West Virginia. This is real proud moment for West Virginia and both of these great programs. #WV pic.twitter.com/QUyhxVuDid

— Governor Jim Justice (@WVGovernor) March 19, 2018
And there's still more: According to this AP report, "Before the game, [Justice] held a coin toss with the schools' athletic directors to see whose rooting section he would sit in first. West Virginia won. At halftime, Justice walked around the arena to sit with Thundering Herd fans."
WVU won the game and will play No. 1 seed Villanova on Friday.
• • • • •
NBA Uni Tracking
By Collin Wright
If you look at the season-long trend, you can see that the three types of uniform matchups (home team in white, road team in white, and color vs. color) are beginning to even out. Here's our latest chart (click to enlarge):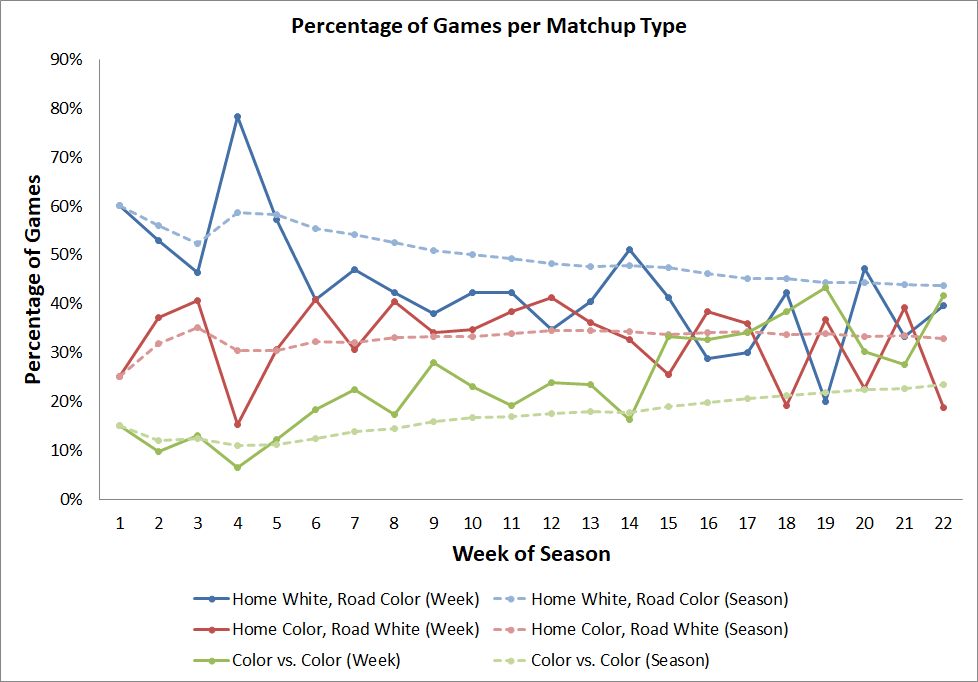 A few items of note from the past week:
• The Heat wore their regular white uniform on March 12. It was the first time they'd worn it since Jan. 22, a span of 20 games. They did wear white in 16 of those games, but each time it was their "Vice" set.
• On March 15, the Hawks wore white for the first time since Jan. 24. They'd worn one of their black or red designs in 21 consecutive games.
• On March 16, the Nets wore their regular black uniforms for the first time since Jan. 19. They'd worn dark uniforms in 19 of the 23 games during that span.
• The Bucks wore their green uniform at home for the first time all season on March 17 — a nod to St. Patrick's Day.
• • • • •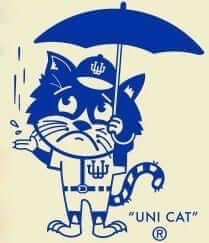 Print's charming: When we were recently selling our limited-edition "Rain Check" T-shirt, designed by Todd Radom, several readers said they'd be interested in purchasing the ticket stub design as a print. As it happens, Todd owns a high-quality printer that uses archival pigment-based inks to produce gorgeous artwork like these city-based posters, so a print of the T-shirt design would be easy for him to do if there's enough demand for it.
After back-and-forthing it a bit with Todd, here's what we're thinking for this project:
• We'll do a limited edition, with each print numbered and signed by Todd and myself.
• The prints would be 5″ by 7″, on a white background. So they might look something like this (we might tinker with the exact size of the ticket stub relative to the background):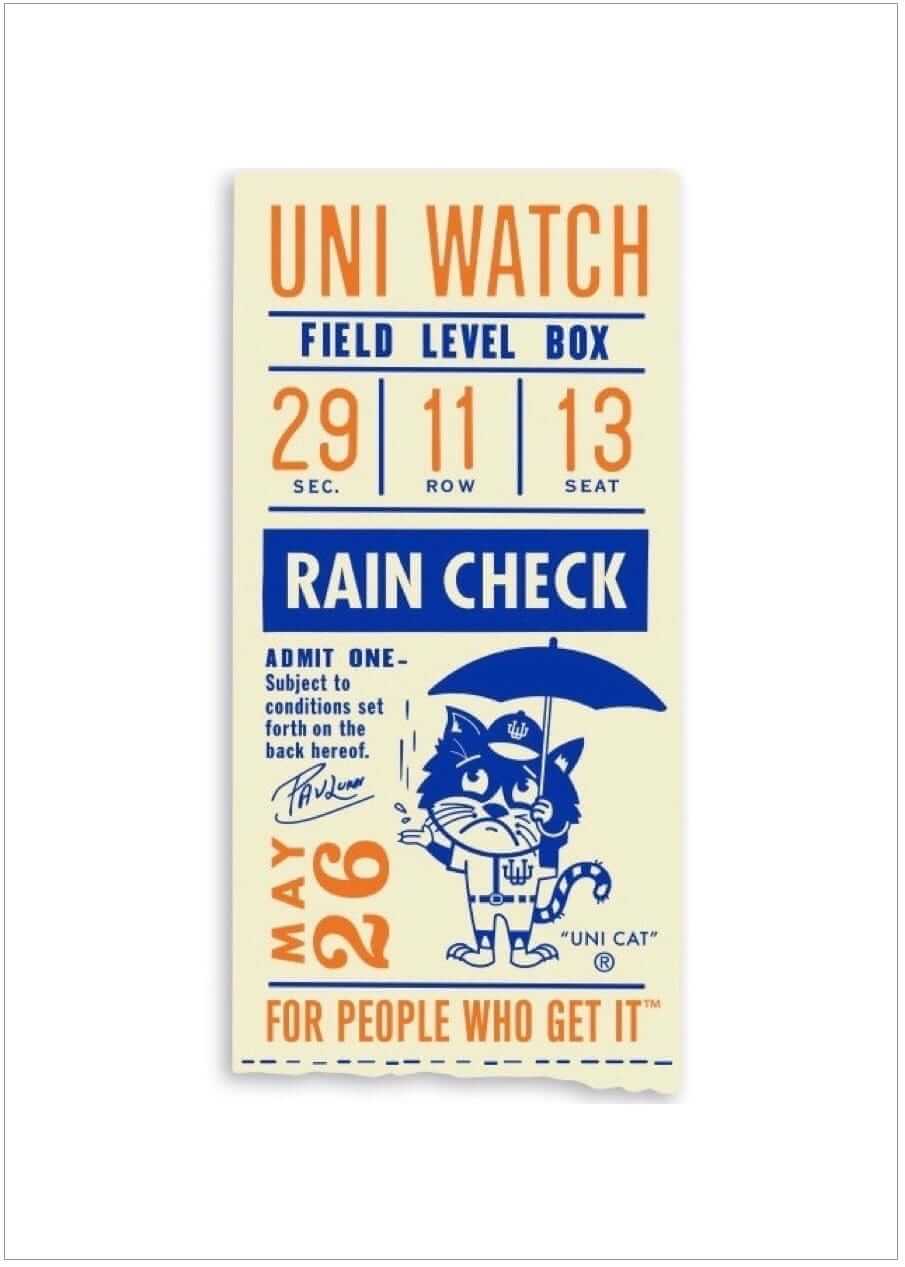 • Or, we could make the design horizontal and show three different ticket stubs with three different color schemes — something like this (click to enlarge):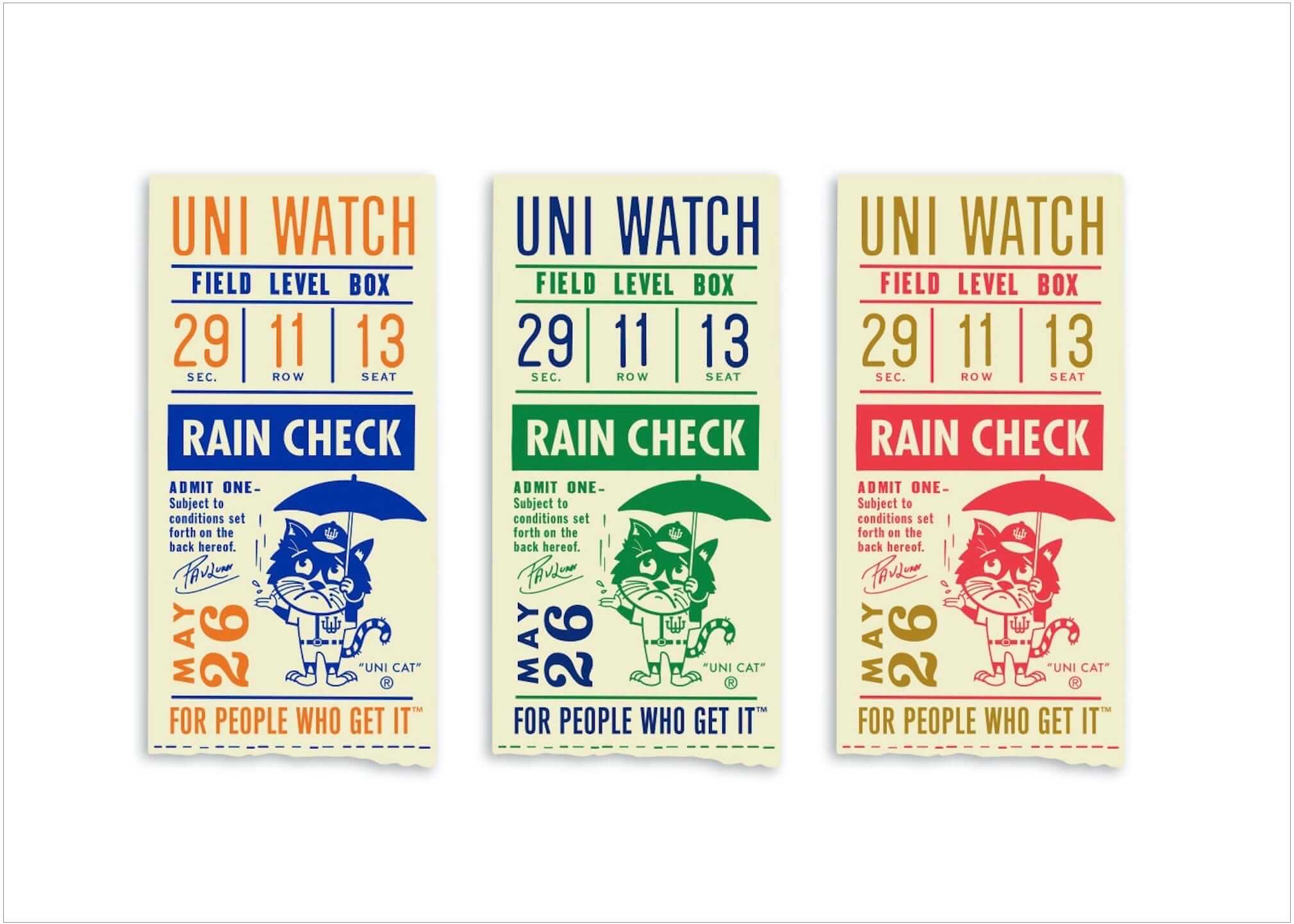 If we do the three-stub version, we'd change the wording so one of the stubs said "Field Level Box" and the other two referenced other seating areas (like "Upper Grandstand," or whatever). We'd change box/row/seat numbering for each stub as well. And we might tinker with the colors a bit. The image shown above is just to give you an idea of how it could look. (Personally, I like how the three-stub repetition creates a sort of Warholian effect.)
• The price will likely be $16 or $17, plus shipping.
Before we go ahead with this, we'd like to get a sense of how many people would be interested. If that's you, please weigh in below (you can check both boxes if you like):
[totalpoll id="94765″]
Thanks for your input, and my continued thanks to Todd for being so much fun to collaborate with. It's a privilege to work with such talented people.
• • • • •
Great uni movie: Over the weekend I saw the new political farce The Death of Stalin, which is fucking hilarious. It's also that rarest of great movies: a great uniform movie. Dig:
1. After Stalin dies, the members of the CCCP wear red memorial armbands (for all photos, you can click to enlarge):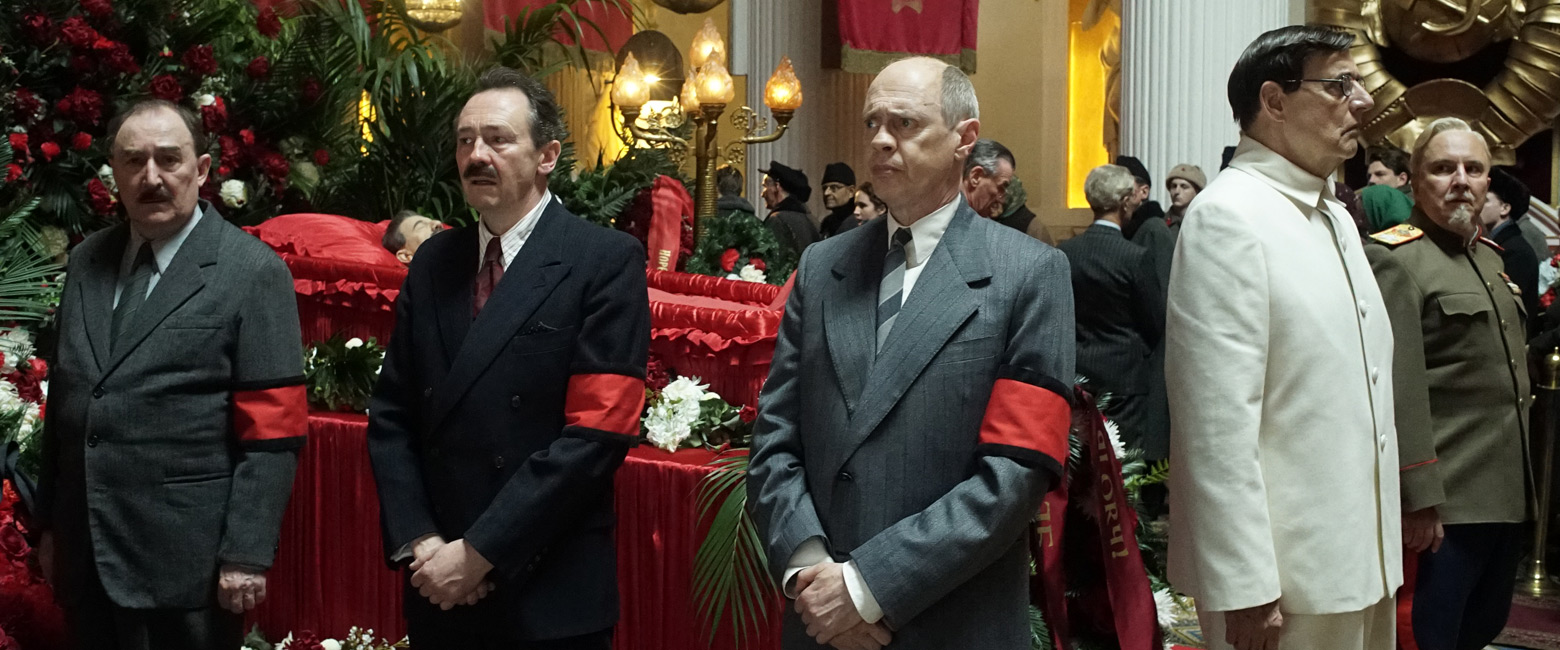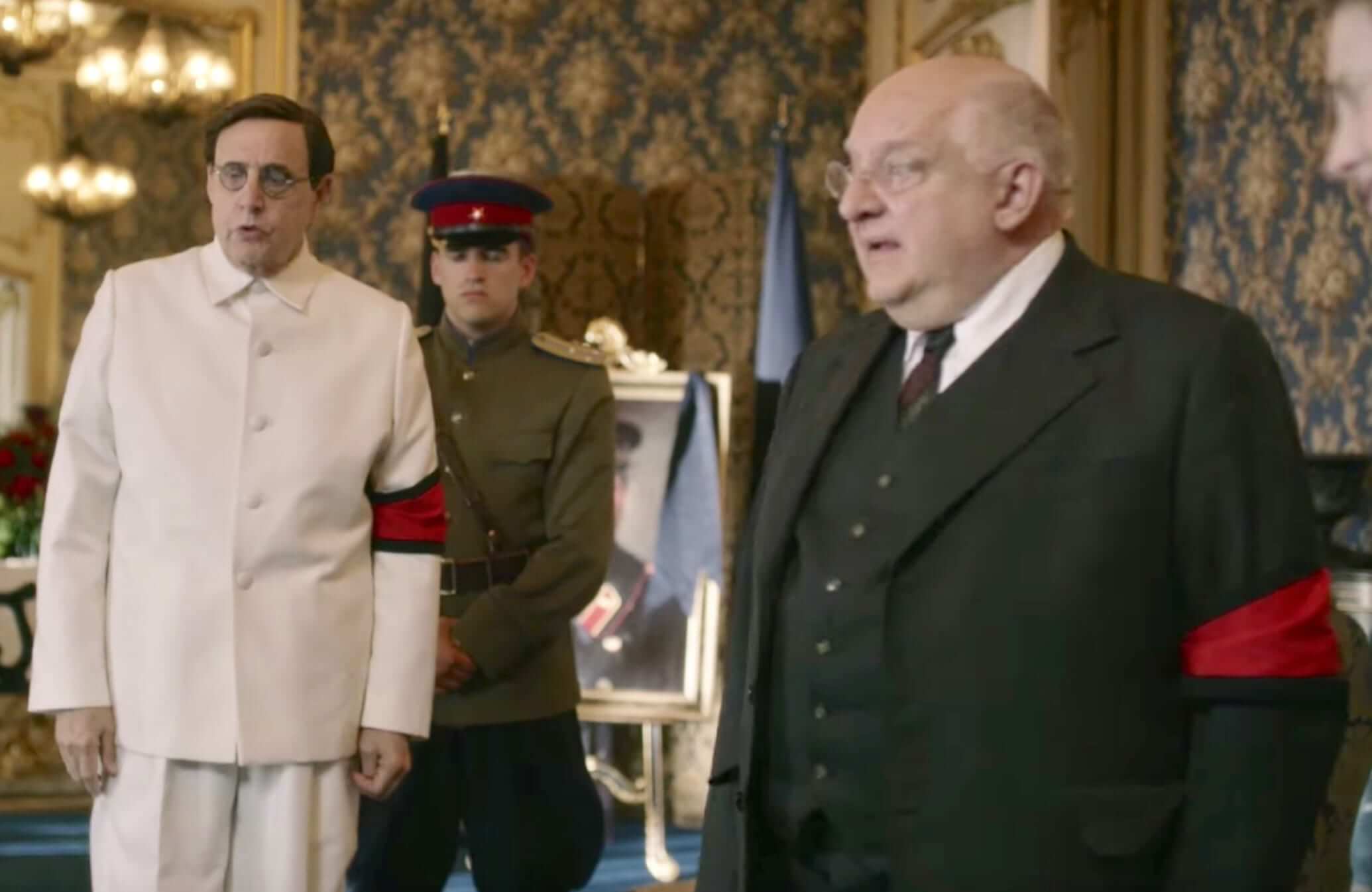 2. There's a scene showing a practice session of the Soviet hockey team, wearing some very cool early-1950s uniforms: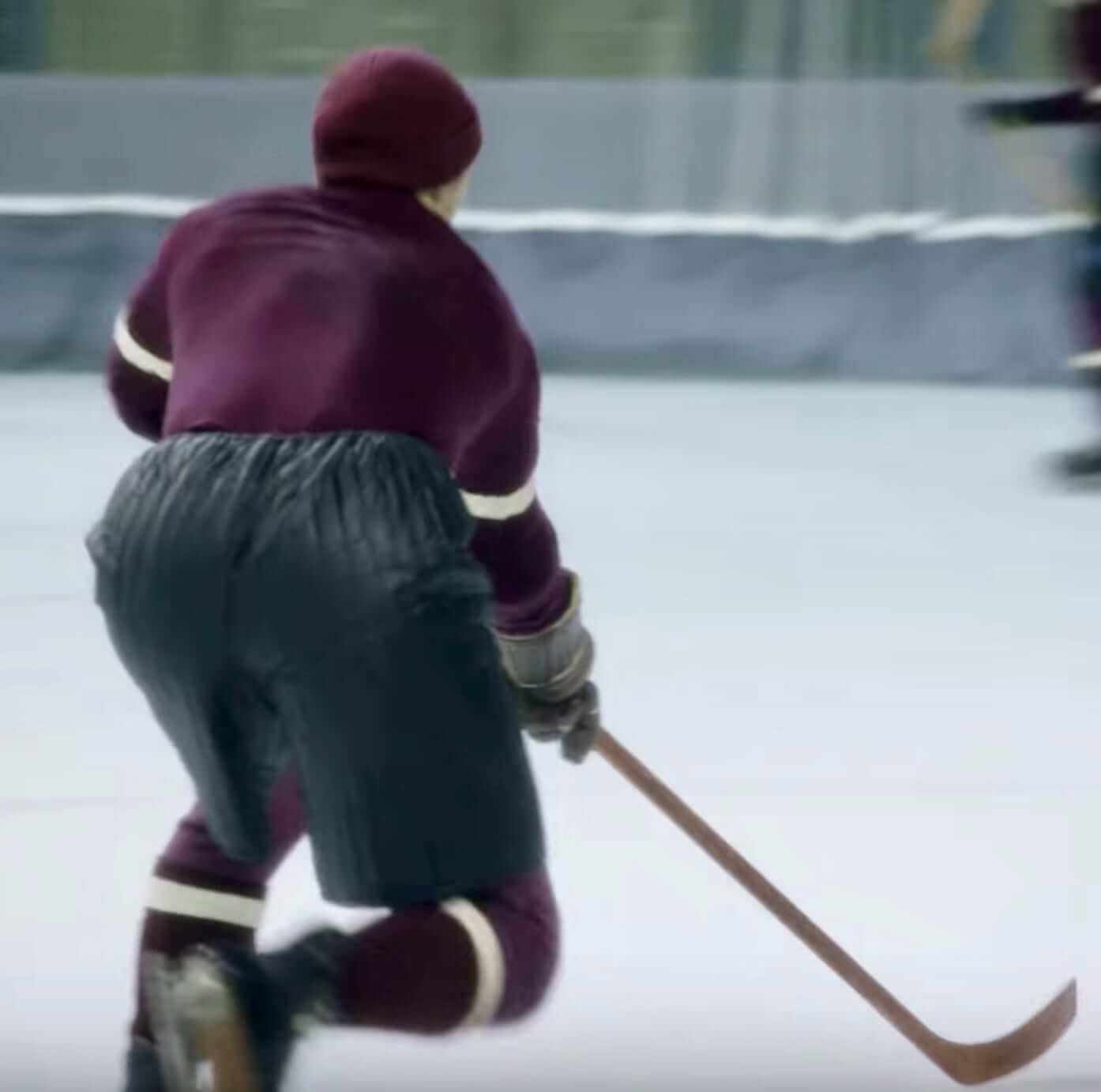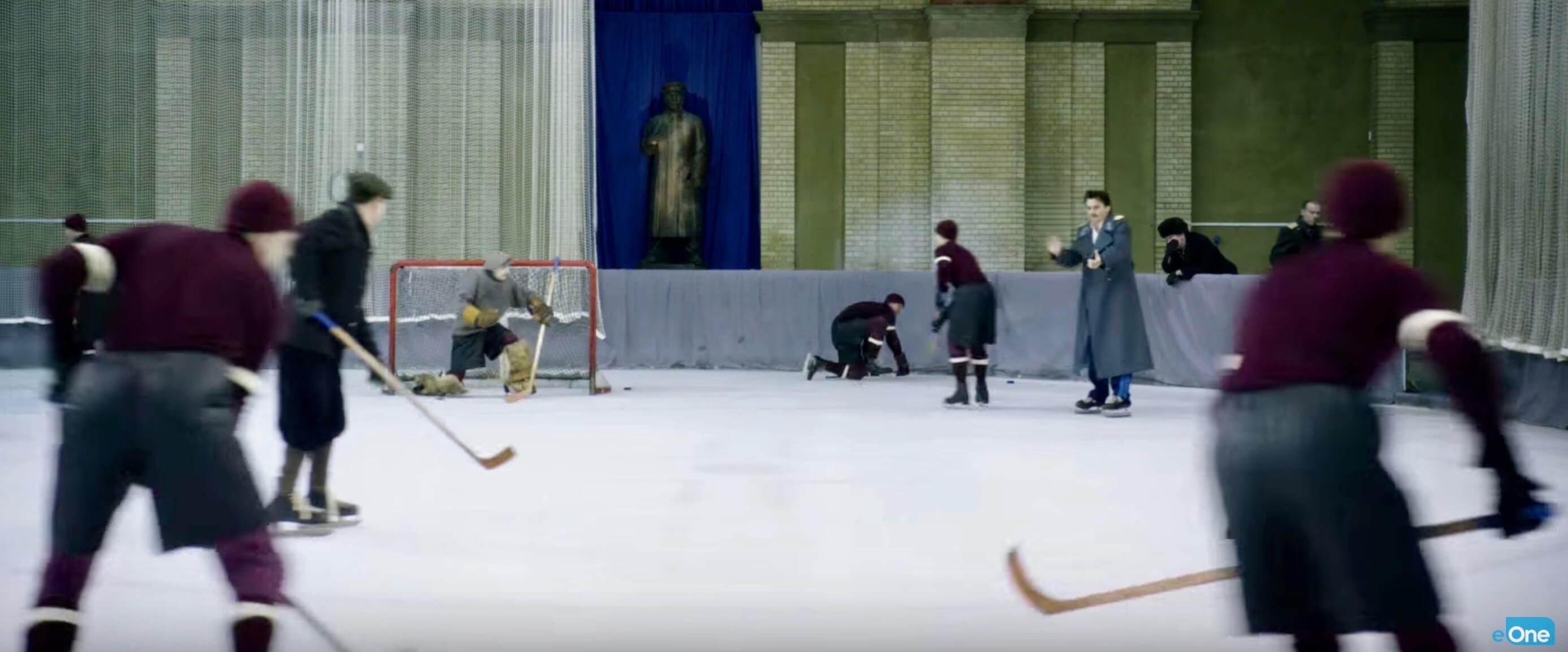 3. There are lots of scenes of the secret police wearing spectacular olive overcoats and blue caps, which work together surprisingly well: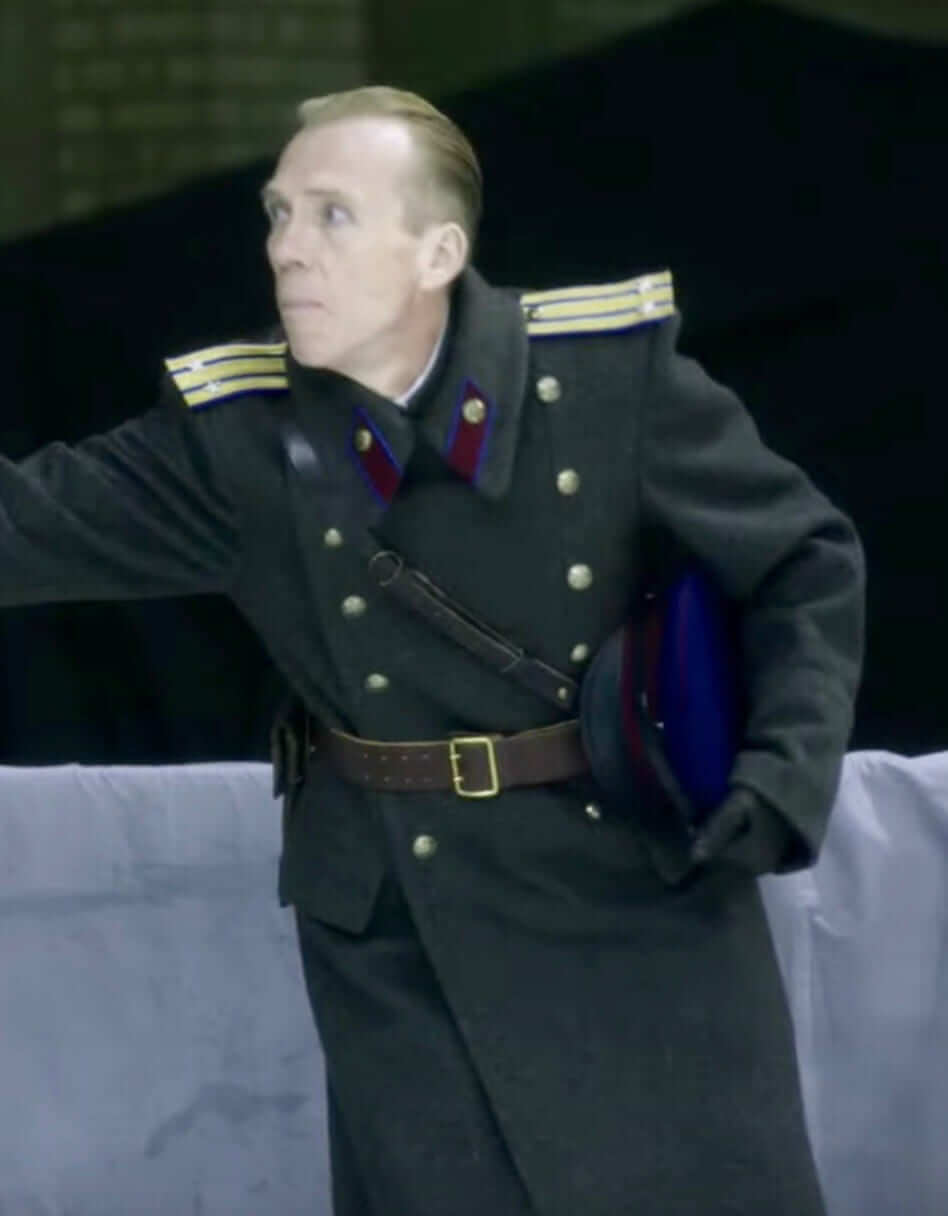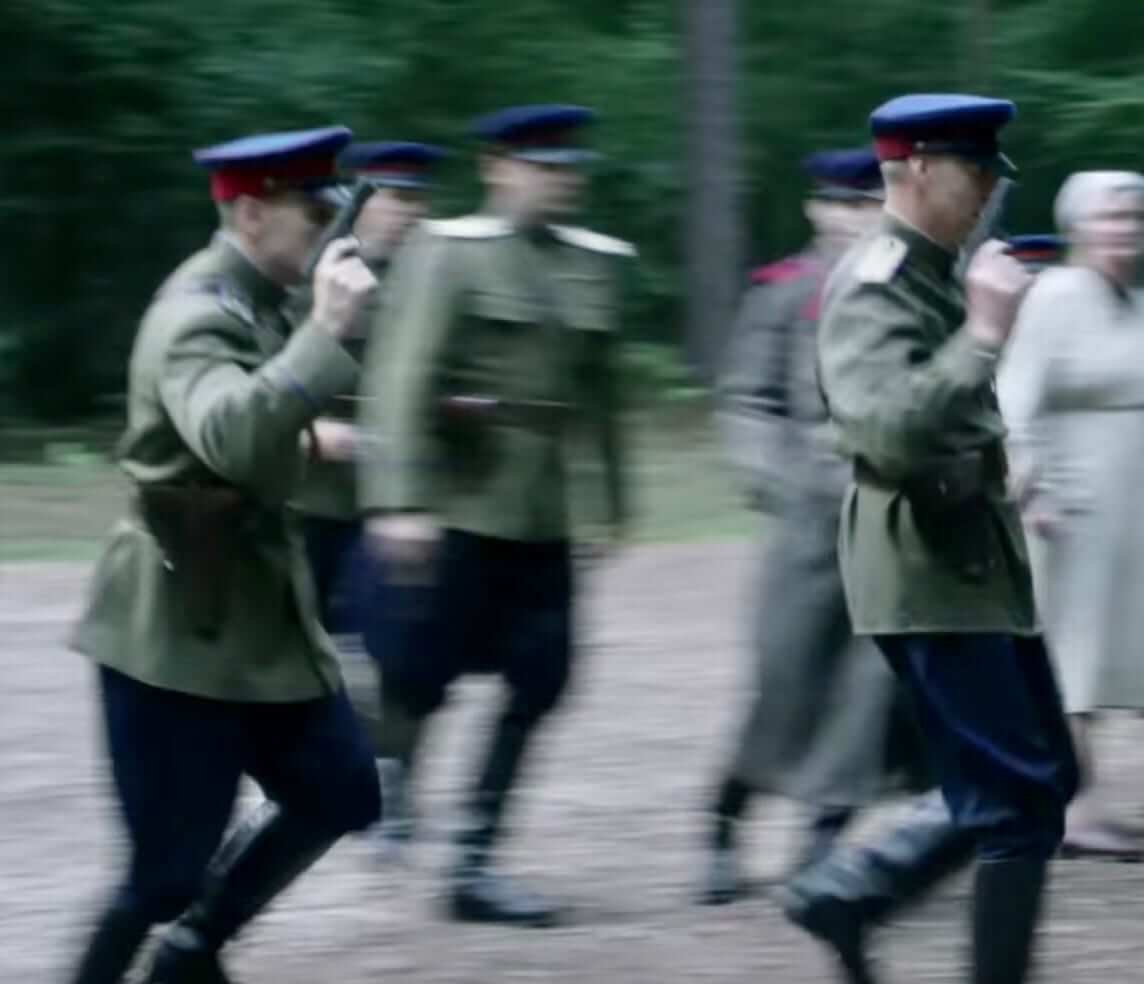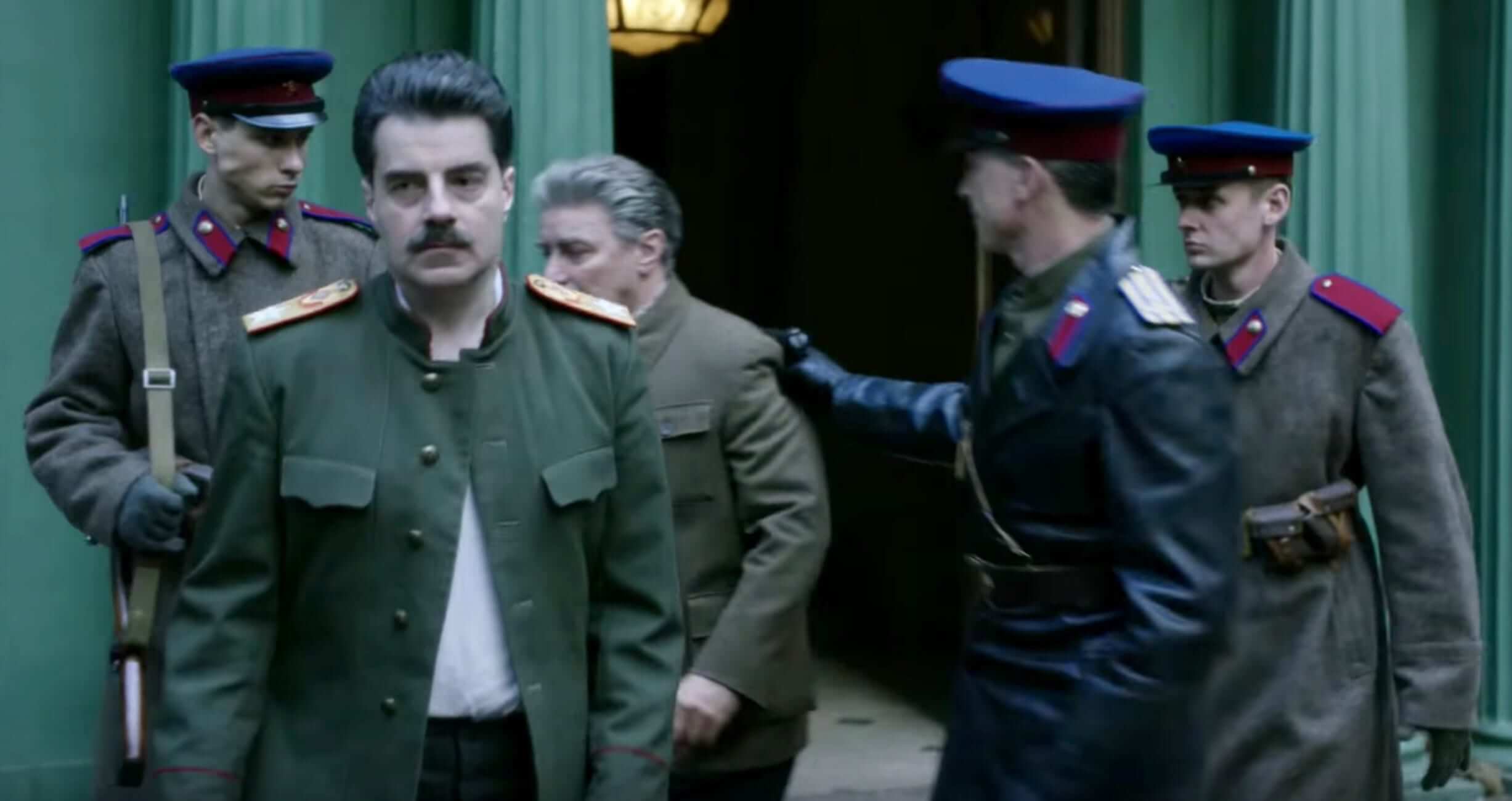 4. There's a military general who wears a farcical amount of medals on his uniform: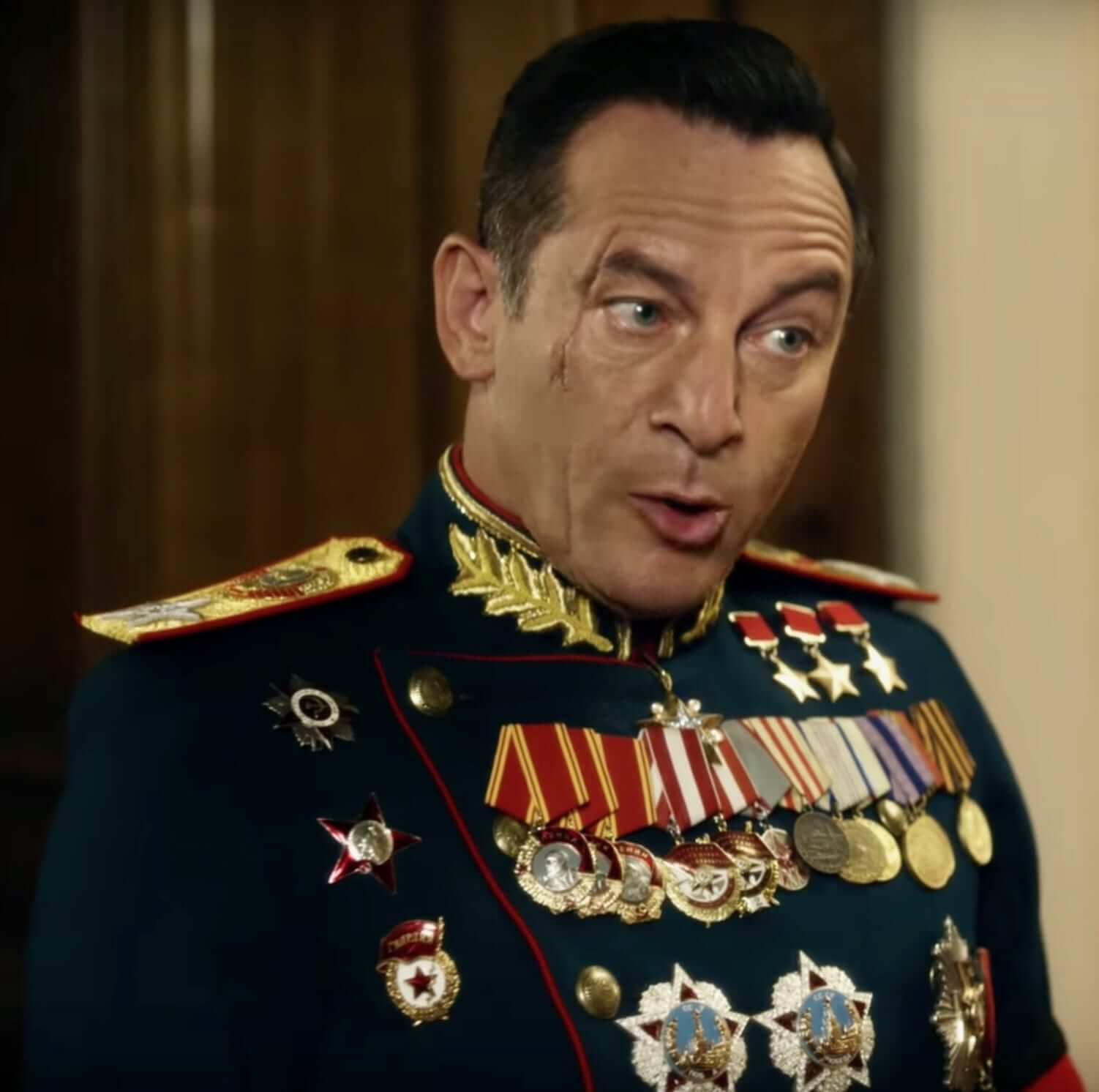 And so on. A movie that's as much a feast for the eyes as it is a treat for the brain. Don't miss.
• • • • •
Culinary Corner: I was dropping off some theoretical T-shirts at my local butcher shop on Saturday and noticed that they had little lamb sirloin roasts in the meat case — a cut I hadn't tried before. It seemed like just the thing for Sunday dinner on a cold March weekend, so I went back yesterday and got one of them. It was a little thing, just two pounds (for all of these photos, you can click to enlarge):
I prepped it by putting some rosemary, thyme, sage, salt, pepper, olive oil, and garlic in my food processor and pulsing it until I had a coarse paste, which I rubbed all over the lamb:
After an hour-ish in the oven, it was a gorgeous medium-rare. Served it with a pan sauce and a simple salad — nothin' fancy. An extremely simple but very satisfying meal:
• • • • •
Raffle results: The winner of the 19Nine raffle is Chris Costello, who's chosen these Indiana shorts and this St. John's T-shirt as his prizes. Congrats to him, and thanks to all who entered. More raffles coming soon.
• • • • •
The Ticker
By Jamie Rathjen

Baseball News: In the Netflix documentary series Wild Wild Country, about controversial 1980s attempts of the followers of an Indian spiritual teacher to build a town in Oregon, a man can be seen wearing a plastic A's batting helmet. "I had that exact same one as a kid in New Hampshire around that time," says Tris Wykes. … Rays minor league outfielder David Olmedo-Barrera has a 180-degree NOB on his spring training jersey (from multiple readers). … The wearing of pink came either a few months late or early for Oregon softball (from Jeff Frank). … Staying in softball, Ohio State and Oklahoma played each other wearing basically identical uniforms, not just jerseys (from Ryan Osborn). … The Lansing Lugnuts will hold Mike Sadler Night, including a jersey giveaway, on May 3. Sadler was the popular Michigan State punter who died in a car accident in 2016 (from Jason Reid). … Back in 1991, Toys R Us had a company softball team with the company's signature backwards R serving as a chest logo and cap logo. … In 1968, the Orioles took two team portraits — one with the team facing forward and one with their backs to the camera. It was part of a promotional campaign called "Let's Get Behind the Birds!" (The unnumbered jersey at lower-right was worn by Jay Mazzone, the batboy, who's been featured before on Uni Watch.) "I wish more teams would do this, so we could see the NOBs and numbers in all their glory," says Tristan Ridgeway.

Hockey News: The Canadiens recently traded center Tomáš Plekanec to the Maple Leafs. Plekanec was known for wearing a turtleneck shirt under his jersey, so other Canadiens saluted him by wearing turtlenecks during pregame warmups before their first game after the trade (from Mike Engle). … The AHL's Charlotte Checkers were yet another team to wear St. Patrick's uniforms. … The Blues wore white at home Saturday (from Adam Chkaut). … Washington State's governor may have given away the name of the potential Seattle NHL team (from Moe Khan).

Basketball News: Reader John Muir sends us some team photos of Georgetown Prep (Md.)'s junior varsity team ca. 1911, including some striped socks. The school's teams, true to its name, are frequently called "the Little Hoyas" in D.C.-area media. … Ray Hund says that the Bulls appear to have worn intentionally mismatched socks for the 1967-68 season.

Soccer News: With the NWSL starting next week, only a handful of kits have been revealed so far, including for the North Carolina Courage (first and second) and Washington Spirit (first and goalkeeper). In the absence of new kits, the participants at a preseason tournament hosted by the Portland Thorns looked very plain, even the host team. The league also has a new NOB font. … Some English teams painted their pitch lines different colors because of snow over the weekend, including Sheffield United (red) and Barnsley (blue). … Leicester City produced elaborate pitch patterns for several years until the Premier League required plain horizontal stripes for this season, but can still have them in the FA Cup (from Brett Baker). … German team shirts crossed with the shirts of Peanuts characters? Sure, why not (from Iain Landon).

Grab Bag: The NLL's Calgary Roughnecks wore black St. Patrick's uniforms (from Wade Heidt). … There was a blue-on-blue matchup in Super Rugby, the southern hemisphere rugby union competition, between the Stormers and Blues, from Cape Town and Auckland respectively (from Ted Kerwin). Not helping is that the Blues' shirts are, well, both blue. … Color-vs.-color lacrosse between Rutgers and Syracuse (from @stevewoj). … In Formula E, the FIA's series for electrically powered cars, driver Lucas di Grassi received a fine and points deduction for wearing illegal underwear, because he had run out of clean legal pairs (from Kenny Ocker). … NHRA Funny Car driver Matt Hagan suffered an explosion Saturday, which led to what looks like the car's rear body panels flying through the air (from David Firestone). … University of Iowa wrestler Spencer Lee, an avid video game player, chose the Pokemon theme song as his entrance music for the 125-pound final at the NCAA wrestling championships (from Kary Klismet).