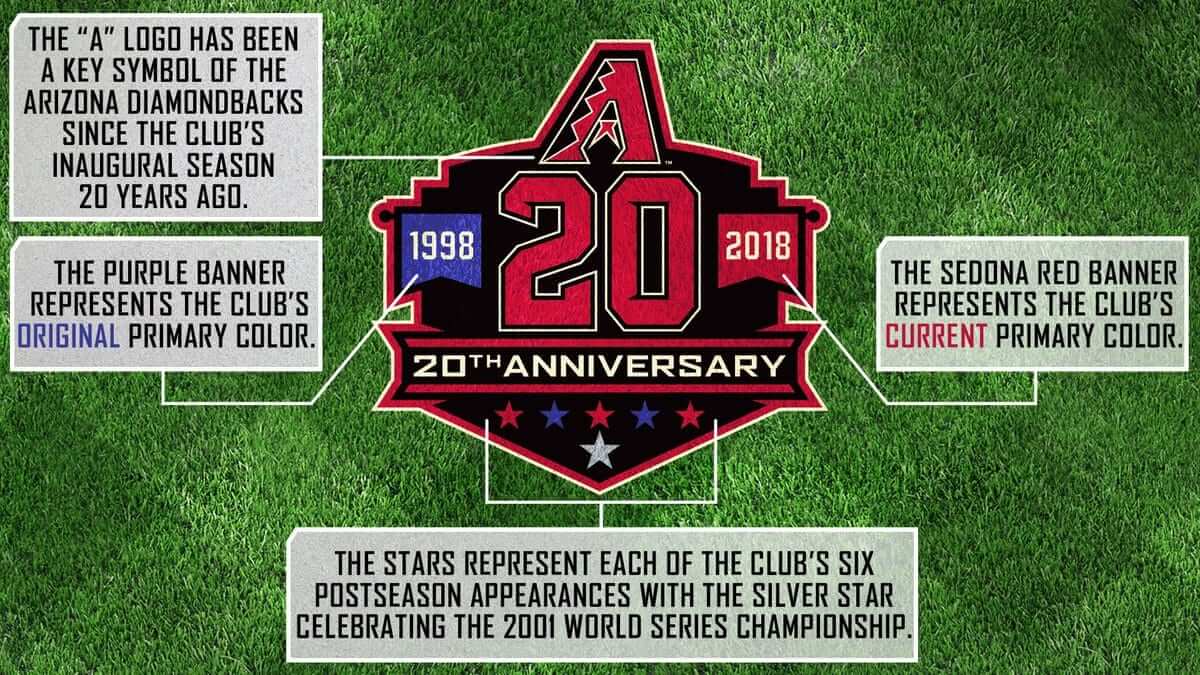 Click to enlarge
The Diamondbacks officially unveiled their 20th-anniversary logo yesterday. It will be worn as a sleeve patch throughout the 2018 season and as a cap patch during the season-opening homestand on March 29 through April 4.
In addition, the D-backs will wear six throwback uniforms for select Thursday home games. Chris Creamer helpfully created a graphic showing all of them:
A look at the six throwback uniforms the Arizona D-backs will be wearing throughout the 2018 season #Dbacks #MLB

This plus their 20th anniversary patch were both announced earlier today, check 'em out in our post here –> https://t.co/uJHGkRDCdK pic.twitter.com/xMO1pJrgrY

— Chris Creamer (@sportslogosnet) February 15, 2018
Someone on Twitter asked me if the six throwbacks represent a single-season record for an MLB team. As I explained, it's not even close, beause the Cubs had a whopping nine throwbacks when they celebrated Wrigley Field's centennial in 2014.
• • • • •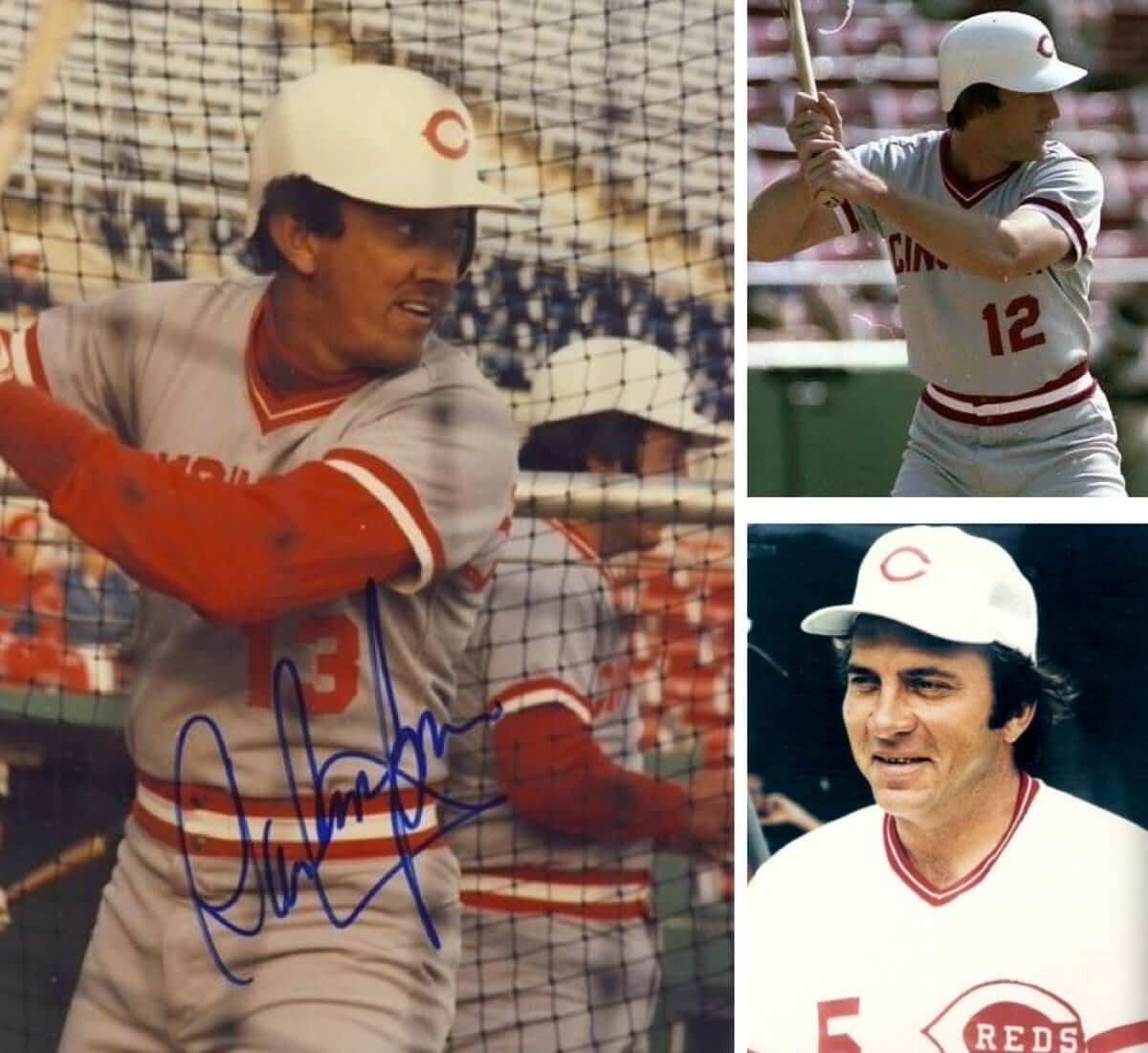 Click to enlarge
Friday Flashback: With pitchers and catchers reporting this week, I have a Friday Flashback piece on ESPN that looks back on how the Reds and Dodgers have been particularly innovative with their spring training uniforms over the years (including the Reds' 1983 experiment with white helmets and caps, shown above). Check it out here.
• • • • •
Contest reminder: In case you missed it yesterday, our latest ESPN design contest is to redesign the Jaguars. Full details here.
• • • • •
The Ticker
By Kris Gross

Baseball News: Why should we care that the Mets signed OF Matt den Dekker? It once again gives New York three players at camp with lowercase Ds on their NOBs, the other two being C Travis d'Arnaud and P Jacob deGrom (from @Josh1938). … Brewers third base coach Ed Sedar will now wear No. 0, as new CF Lorenzo Cain will take his old No. 6 (from Mike Chamernik). … Giants season tickets feature different images or players to promote their 60th anniversary in San Francisco (from Joe Farris). … Reader Robert Andrews came across these photos of the 1956 Orioles, who wore black armbands in honor of the death of team treasurer Howard Jones. "I don't remember seeing an armband this darn wide." [You can see additional examples of very wide armbands here and here — PL]… It sounds like spring training caps are made of dri-fit material this season (from William F. Yurasko). … The Phillies' 1968 yearbook had a great cover design (from BSmile). … More from BSmile: Wilson Sporting Goods displayed their new uniforms before the 1947 season. … Philadelphia is getting a new sports museum next year, which will have items from Joe Frazier trunks to Jackie Robinson's jerseys (thanks Phil). … The Corpus Christi Hooks, Double-A affiliate of the Astros, will become the Blue Ghosts for a weekend in June (from Ignacio). … The K-town Intimidators, Single-A affiliate of the White Sox, will wear Yoda uniforms on May 4. … Cal has new jerseys (from Chris Mycoskie, Curtis Godt). … Arizona will honor former coach Jerry Kindall, who passed away in December, with sleeve patches and helmet stickers (thanks Phil). … New helmets for Maryland and Alabama (from Matt Shevin, Griffin Smith). … Iowa has new gear for the new season (from Kary Klismet). … LSU has worn every uniform combination in practice so that nothing feels unfamiliar when the season arrives (from Chris Mycoskie). … Florida shared a photo from their inaugural baseball season in 1912 (from Kevin J. Kobasko).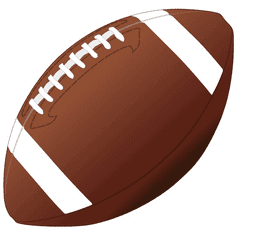 Football News: Here's something that hadn't been previously announced: The Dolphins will be making some uniform tweaks for 2018. Expect an unveiling in April (from Curt Kobae). … John Flory got his Sports Illustrated renewal notice in the mail, and the free sweatshirt offer featured several outdated helmets. … Alabama has added their most recent national championship logo to their locker room entrance (from Griffin Smith).

Hockey News: The Capitals' "Mentors' Trip," which brings players' dads on the road with the team, is underway, and it has its own logo. "Nice touch with the trees and skyline for Minnesota and Chicago," says Bill Curran. … The Flint Firebirds of the Ontario Hockey League will honor Jackie Moon and Semi-Pro with Flint Tropics-themed jerseys tomorrow night. Take a better look with this video (from Jason Lewis). … The Penguins gave their scoreboard a retro look for 1990s Night. … The Czach goalie at the 1980 Olympics had an interesting throat protector (from Bill Kellick).

NBA News: Following the massacre at a Florida high school, Jazz rookie Donovan Mitchell wrote "End Gun Violence" and "Pray for Parkland" on his shoes Wednesday night (from Mike Chamernik). … Dominique Wilkins had a huge NBA logo on his warmups at the 1985 dunk contest (from Chris Perrenot). … This clip uncovered by Mike Chamernik shows Ron Artest at the 2004 All-Star Game wearing four shoes from four different brands in an attempt to land a shoe deal. … Also from Mike, the Timberwolves wore special shoes for Flip Saunders night last night.

College and Rec League Hoops News: Nice spot by Don Schauf who found this photo in a piece from the Milwaukee Journal-Sentinel about the 1968 Marquette team. "I spotted an MU logo that I'd never seen. That's spectacular." … A judge has declined to drop charges against Adidas executives in the recent corruption case (thanks Paul). … Timmy the Cop reports that the Metropolitan Police Department in Washington, DC, has a new basketball league: "There are seven patrol districts, each with its own team and unique uniform, complete with sublimated print featuring the names of fallen DC officers."

Soccer News: We knew this from the leaks, but Atlanta United FC has now officially unveiled their alternate kits (from @woogidyboogidy). … Here are some good soccer kits based on Atari game concepts (from Mark Higgins).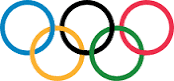 Olympics News: South Korea's Yun Sung-bin wore an Iron Man skeleton helmet (from @VerbDC). … Check out the pants Norway wore in yesterday's curling match against Canada (thanks Phil). … A cool story behind why Swiss goalie Florence Schelling wears No. 41 (from Mike Engle). … The CBC's open to the USA/Canada women's hockey game featured some great vintage footage (from Ted Arnold). … "Best job at the Olympics" nominee: curling measuring device guy (from Doug Kalemba). … The Jamaican bobsled coach has quit, and might take the sled with her (from Kary Klismet). … The American curling team is trying to create suspense about their pants color (from Steve Herbert). … With the Olympics cracking down on things like stickers and patches, athletes express themselves via nail polish and painted moustaches (from Jerry Wolper).

Grab Bag: Oregon women's lacrosse has new uniforms (from Ian Gerig). … Cross-listed from the baseball section: Philadelphia is getting a new sports museum next year, which will have items from Joe Frazier trunks to Jackie Robinson's jerseys (thanks Phil). … Here's how Richard Nixon's redesigned White House Police uniforms became band uniforms in Iowa and/or Utah (from Bryan O'Nolan).