For all photos, click to enlarge
Earlier this week, on Tuesday afternoon, I went to the Javits Convention Center, where the bi-annual New York International Gift Fair was taking place. One of our advertisers, Tokens & Icons, had a booth at the show, and I wanted to meet their founder, Ward Wallau (that's him on the right in the photo shown above) and his right-hand man, Milan Micich.
Ward and Milan are interesting guys. Before they agreed to advertise on Uni Watch, they spent a lot of time on the phone with me so we could get to know each other and get a feel for each other's goals. And once they started advertising, they kept in touch with me on a pretty regular basis. I've never had an advertiser take such a communicative approach with me before — it's really nice. That's why I wanted to meet them.
I don't want this entry to turn into a big promo for Tokens & Icons' products. I'm not even going to be linking to their website in this entry. But I want to talk about them because I really admire their creative approach, which I think is really cool. If you'll give me a minute to explain, I think you'll agree.
As you all know, I love DIY projects, and Tokens & Icons is like a big DIY laboratory. They take the components of various sporting goods (jerseys, balls, bats, stadium seating, etc.), deconstruct them, and then repurpose them into cool stuff. And their Gift Fair booth had some really interesting displays that emphasized that approach.
For example, I knew that T&I made cool gift items featuring the wood from game-used MLB bats. But how many pieces do they get out of a single bat? Nineteen, as it turns out, as shown by this David Ortiz gamer that they had on display at their booth:
The bat pieces are then used to make things like bottle openers, like the ones shown in this display (if you click to see the larger image, you'll see that some of the bottle opener handles were taken from hockey sticks, basketball court floors, and even football stadium goalposts):
T&I also makes wallets with pieces of game-used jerseys serving the lining. Their booth had a display with NFL, MLB, and NHL examples:
But the coolest thing about T&I is what they do with game-used baseballs. From a single ball, they can make cufflinks, a wristwatch, a money clip, earrings, a bottle opener, a necklace, and a knit hat:
The hat is particularly cool. As you know, a baseball is full of yarn. As it turns out, there are several different layers of yarn, in two different colors. T&I got the idea of using that yard to make knit caps — "baseball caps"! And because each game-used ball is MLB-authenticated with its own unique hologram number, each hat comes with a note spelling out when, where, and how the ball was used. Check it out:
Just to be clear: T&I didn't pay anything extra for this entry, they didn't give me any freebies at the Gift Fair, they didn't take me out for dinner — nothing like that. I'm not trying to get you to buy any of their stuff (all of which, I'd be the first to admit, is pretty expensive). But I really like and respect their creative approach, and I love the knit hat. I look forward to seeing Ward and Milan again when they come back for the next Gift Fair in August.
• • • • •
Friday Flashback: It's been a while since I've done one of my Friday Flashback pieces over at ESPN. But with the Winter Olympics kicking into full gear today, I have a piece that looks back at notable moments in Winter Games uniform history (including the American snowboarding team's faux-flannel and -denim look from 2010, shown above). Check it out here.
• • • • •
Mystery man of multiple numbers: Reader Christopher, who didn't give his last name, was watching the recent 30-for-30 production The Two Bills and noticed something bizarre. During a snippet of footage from the 1990 NFC Championship Game (Giants/49ers), the Giants had someone on the sideline wearing No. 6 on his chest but No. 2 on his sleeve: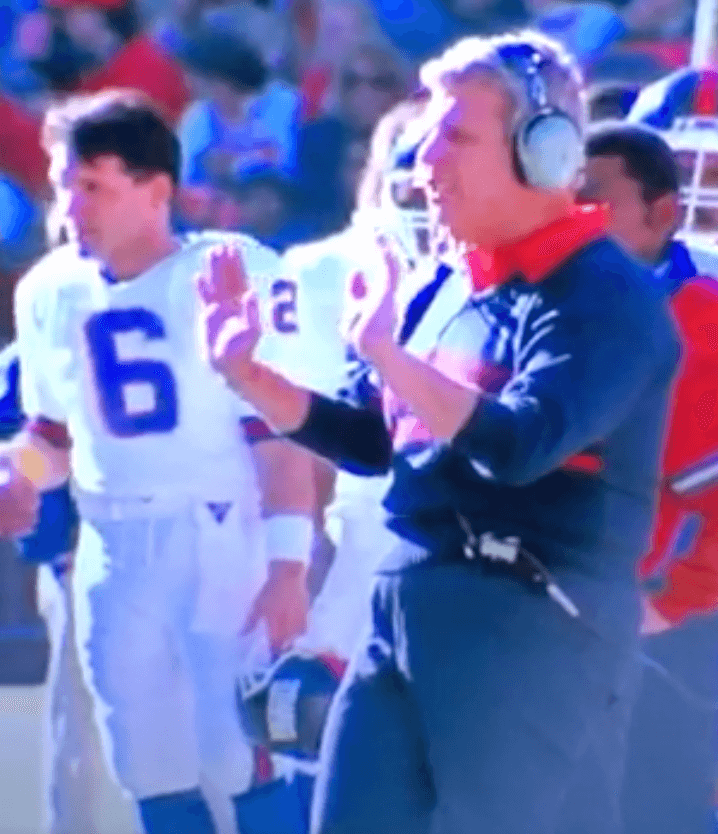 I watched the video segment that this was taken from and can assure you that it's just one person (i.e., it's not an illusion created by two guys standing next to each other or anything like that).
So who was this player? The Giants' roster that season included backup quarterback Matt Cavanaugh, who wore No. 6. He actually got into that game after starter Jeff Hostetler was shaken up at one point: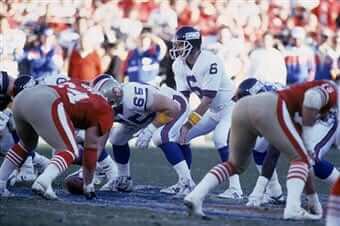 Obviously, his jersey numbers look fine in that shot. Looking again at the original screen shot from the sidelines, maybe the TV number is a backwards 6..? Hmmmmm.
Kicker Raul Allegre wore No. 2 that season, but he had been replaced by Matt Bahr by the time of the NFC title game. I found a few shots of Allegre without a helmet (look here, here, and here), but it's tough to say if that's the same guy on the sidelines in the No. 6/2 jersey.
Hmmmm. Anyone have any ideas about this one?
• • • • •
Naming Wrongs update: After we recently launched our shirts for the L.A. Coliseum in Rams and Trojans colors, we had several requests to render the design in silver and black. Ask and ye shall receive (click to enlarge):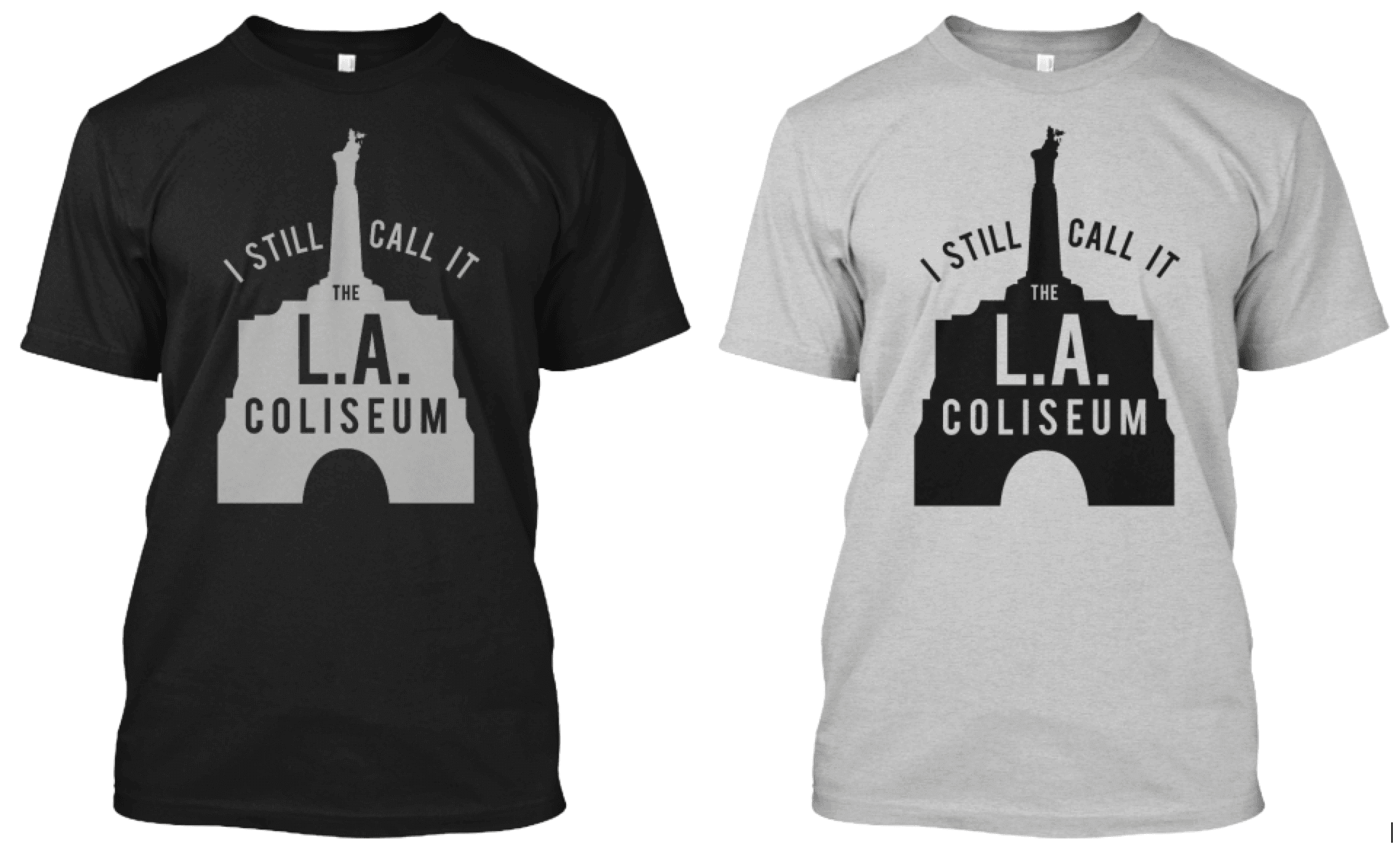 All of these designs are now available in the Naming Wrongs shop. They're also cross-listed in the Uni Watch shop, where card-carrying members can get 15% off. (If you're a member and need the discount code, send me a note and I'll hook you up.) My thanks, as always, for your consideration.
• • • • •
The Ticker
By Kris Gross

Baseball News: The Tigers and Royals will wear throwback Negro League uniforms on May 6. … … In honor of the movie Coming to America's 30th anniversary, the Fresno Grizzlies will take the field as the Zamunda Lions on June 21. … The Gary ShouthShore RailCats will have The Office nights 10 times this season. … Anyone interested in buying the head of the San Diego Chicken? (from @theauthenticEli.) … Florida State will be unveiling new uniform combos over the next eight days, starting with a garnet jersey (from Ryan Kelly). … New alternate uniforms for the Chiba Lotte Marines (from Max G).

NFL News: At yesterday's Eagles championship parade, Philadelphia mayor Jim Kenney wore a 2004 Brian Dawkins jersey, complete with Linc patch (from Blake Fox). … @SportsPSD mocked up what an Eagles uniform would look like if they added gold trim like MLB championship teams do. … An Eagles fan has agreed to pay for the Super Bowl seat he stole (from Kary Klismet).

College Football News: Tennessee head coach Jeremy Pruitt said they will not be wearing the "smoky greys" while he's coach (from Dwight Ternes). … Georgetown shared pictures of their team from 130 years ago. … Is it disrespectful for recruits to throw other school hats on the floor when making their commitments? (From Kary Klismet.)

Hockey News: The Canucks will honor Larry Kwong and wear Year of the Dog warmups next week (from Brock Jackson). … Tampa Bay police wore NHL-branded badges during All-Star weekend (from Josh Frank).

NBA News: Newly signed C Greg Monroe will wear No. 55 for the Celtics. As Mike Chamernik points out, his previous numbers (10, 14, and 15) have all been retired by Boston. … Peter Hartlaub came across photos from a 1962 Pistons/Warriors game that appears to show a Detroit player wearing warmups during the game!

College Hoops News: Duquesne will wear black and gold uniforms as a tribute to the city of Pittsburgh (from Ben Mitchell). … Nice color-on-color matchup between Nevada and UNLV on Wednesday night (from Brett Thomas). … Utah will honor Jon M. Huntsman, a major donor to the school who passed away last week, with a jersey patch (from Benji King). … We somehow missed this earlier in the week, but Auburn G Bryce Brown was playing defense while holding his teammate's wayward shoe (from @tedchastain). … Not that Auburn, but Auburn High School in Nebraska uses Arizona's logo (from Brett Baker).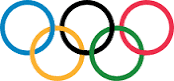 Olympics News: Check out these Día de los Muertos uniforms for Mexico's alpine ski team (thanks Phil). … US Speedskaters worked with Under Armour to redesign suits for these Olympics (from Tommy Turner). … Speedskater Shani Davis is upset that the USOC used a coin toss to determine who would be the American flag bearer (from Kary Klismet). … The latest in Olympic retailing: You can get yourself an official Team USA garment bag.

Grab Bag: Perry Hall High School in Maryland has new Alumni Tribute lacrosse uniforms. … Here's a fascinating video on the creation of the biohazard and radiation symbols, and how to make sure they keep their relevance (from Drew). … Hendrick Motorsports pit crews get merit decals (from Aaron Reed). … Golf belt maker J.T. Spencer will now create club head covers (from Tommy Turner).