By Phil Hecken, with Tim Brulia
Follow @PhilHecken

I'm back again today with my buddy and Gridiron Uniform Database co-founder, Timmy Brulia, who has — as he has for the past several seasons — provided YEOMAN research into the uniforms worn by the two Super Bowl combatants. Yesterday we took a look at the history of the AFC rep (and designated "home" team) the New England Patriots. If you missed that post, please click here. Timmy's back today to bring you the history of the Eagles — a team who have competed in the NFL since 1933 — so it's a long and amazingly detailed post. Enjoy!
Here's Tim:
• • •
Eagles Uniform History
by Tim Brulia
Well, well, well. We got a big one here. So, bear with me as we begin.
. . .
1933: With the anticipation of the uber strict Pennsylvania Blue Laws being overturned by Keystone voters in November, which would allow Sunday sporting events, the National Football League awards franchises to Philadelphia and Pittsburgh (as well as Cincinnati). The Philly team takes the name of Eagles and colors of pale blue and yellow. The uniforms consist of a pale blue leather helmet trimmed in yellow, jerseys of pale blue with yellow numbers and yellow Northwestern sleeve stripes. The pants were (for the time) standard canvas khaki and the socks pale blue with yellow Northwestern stripes. [In 2007, the team "threwback" for its 75th season to this look, however, it's likely the team got it wrong — PH]
. . .
1934: The Eagles change up the jerseys and socks from a base color of pale blue to yellow, and during the season switch the helmet from blue to yellow with a blue wing trim pattern. The yellow jerseys feature pale blue sleeve panels and the yellow socks have three very thin blue stripes. The khaki pants remain.
. . .
1935: The Birds ditch yellow as a uniform color and go to plain white leather helmets. The jerseys are plain, with pale blue jerseys and also green jerseys. Both tops feature white numbers with no trim or striping. Pants are gray with pale blue rear stripes worn with the blue jerseys and white with green stripes worn with the green jersey. Socks are solid pale blue and solid green worn with the respective jerseys.
. . .
1936: The blue togs are eliminated, leaving the green and white as the sole uniform.
. . .
1937: Green helmets are worn for night games.
. . .
1941: With new ownership, the Eagles totally revamp the look. The helmets are now a light gray with black sides. Primary jerseys are midnight blue with light gray sleeve & side panels and numbers. Secondary jerseys are reversed (light gray with midnight blue sleeve & side panels. Pants are black with a thin light gray side stripe. The socks are midnight blue with two thin gray stripes and light gray with two thin midnight blue stripes. For their last two games of the season, the Eagles abruptly discard the above unis for green jerseys and socks with the same patterns, but trimmed in white, with plain silver pants. The helmet design for these two games were unchanged.
. . .
1942: The look introduced at the tail end of 1941 remains, with the helmet modified to the new colors, with the light gray lid now more of a silvery color and the black sides now green.
. . .
1943: The Eagles merge with the Pittsburgh Steelers and are affectionately called the Phil-Pitt Steagles. However, the unis worn in 1942 are exclusively worn by the merged squad for the entire season.
. . .
1944: A secondary jersey is added. The jersey is white with green numbers and two thin green stripes on the sleeves.
. . .
1945: The secondary white jersey is altered to mimic the green top, with green sleeve and side panels. Plain green pants are occasionally worn with the white jerseys.
. . .
1946: Three uni combinations are worn. white over green, green over silver and green over green.
. . .
1947: With the return of the 1944-style white jersey, no less than six combinations are worn this season. A: white (striped) over green. B: white (striped) over silver, C: white (striped) over green with white socks (trimmed with two thin green stripes), D: white (paneled) over green, E: green paneled over gray, F: green paneled over green.
. . .
1948: The white paneled jerseys are retired for good. Four combos are used. A: white over silver, B: white over green, C: green (paneled) over silver, D: a plain green jersey over silver.
. . .
1949: The Eagles replace the leather lids with plastic domes. As a result, two styles of helmets were used. 1) A helmet done in the style of the leather lid, silver with green sides. 2) A solid green helmet. Four uni combos were worn: A: silver-green helmet, white over silver, B: silver-green helmet, green (paneled) over silver, C: silver-green helmet, plain green jersey over silver, D: green helmet, plain green jersey over silver.
. . .
1950: Green pants make a return, but the green paneled jersey is retired. The combos: A: silver-green helmets, white jersey, green pants, B: silver-green helmets, green jersey, green pants, C: green helmet, white jersey, silver pants, D: green helmet, white jersey, green pants, E: green helmet, green jersey, green pants.
. . .
1951: Only two uni combos are worn, green helmets, white jerseys, silver pants and the still stable green socks with the two thin white stripes, and the green jerseys worn with the aforementioned accessories.
. . .
1952: The silver-green helmets make a one year return and are concurrently worn with the green helmets. The 1951 uni combos remain.
. . .
1953: Same as worn in 1951.
. . .
1954: The plain green helmets are now adorned with silver wings that start from the front of the helmet, separated by the raised ridge on the center of the helmet. The Eagles thus become the second team in the NFL to use an emblem on their helmets, six years after the Rams and one week before the Colts add white horseshoes to their blue helmets. All else remains the same.
. . .
1955: Along side the usual look, the Eagles add a pair of white pants with two thin green stripes along the sides, resulting in four combos worn during the season.
. . .
1956: As with many other teams, the Eagles add TV numbers to the jerseys starting this season. Four combinations are worn, A: white jersey with green numbers (front, back and wee tiny TV numbers on the shoulders) and green Northwestern sleeve stripes over white pants, B: traditional white jerseys with green numbers (front back and sleeves) with the two separated sleeve stripes over white pants, C: traditional white jersey as mentioned in B over silver pants, D: plain jersey with white numbers (front, back and sleeves) over silver pants.
. . .
1957: Three combos this season. Away 1: traditional white jersey over silver pants, Away 2: plain white jersey with green numbers (front, back, sleeves) over white pants. Home: green jersey over silver pants.
. . .
1958: The plain white jerseys and white pants are discarded, resulting in the normal home and away outfits.
. . .
1959: The alternate white away worn in 1956 (trimmed with Northwestern sleeve stripes) are also worn for an early season game.
. . .
1960: White pants (with the two thin green side stripes) replace the silver pants for the three combos.
. . .
1961: The basic two combos are worn.
. . .
1964: The green home jersey adds white Northwestern stripes to the sleeves. The white jersey is unchanged.
. . .
1965: The jerseys undergo another revamp. The green jerseys feature two white shoulder stripes and two white sleeve stripes with white TV numbers in between the stripes. The white jerseys also undergo a similar change, two green shoulder stripes then the green TV numbers and two green sleeve stripes. The green socks, long adorned with two separated thin white stripes, are now a solid color.
. . .
1969: While the Eagles retain the 1965-1968 jerseys and the white pants with the green side stripes, the Eagles change the wing color on the helmets from silver to white. They also decide to wear the green lids for road games only. The Birds break out a white helmet with green wings for Franklin Field games only. In addition, for some early season road games, the Eagles wear stripeless mesh jerseys, in both white and green colors. In all, 5 combos are worn. A: green helmet/stripeless white/white/green, B: green helmet/striped white/white green, C: green helmet/stripeless green/white/green, D: white helmet/stripeless green/white/green, E: white helmet/striped green/white/green. And like all the other NFL teams, a 50/NFL patch is worn on the left shoulder of all four jerseys.
. . .
1970: The white helmets become exclusive. The jerseys are now permanently stripeless and the numbers on both sets are outlined in black. With the merger in effect, player names are added to the back above the numbers, serifed solid green on the white jerseys, serifed solid white on the white jerseys.
. . .
1971: Only change is the stripe combo on the white pants, from green/white/green to black/green/black.
. . .
1974: A overhaul of the uniforms for this season. The green helmets return with silver wings outlined in white. The jerseys get vast changes. White: green numbers (front, back, shoulders) trimmed in silver with a green collar and sleeve stripes of green/silver/green separated by a solid green stripe separated by another green/silver/green stripe. Names on back (NOB) is solid sans-serifed green. Green: white numbers (front, back, shoulders) trimmed in silver with a silver and white collar and sleeve stripes of white/silver/white separated by a solid white stripe separated by another white/silver/white stripes. NOB is solid sans-serifed white. Pants are now silver with three separated stripes of green, white and green. Socks remain green with two white stripes, closer together than in days of yore.
. . .
1975: The green socks have an altered stripe pattern of thin white/medium silver/thin white.
. . .
1976: A set of wire mesh jerseys are introduced, which are worn for warm weather games. These jerseys lop off the lower set of stripes from what is worn on the normal set of jerseys. The "Philadelphia 76" bicentennial logo patch is worn on the left sleeve of all four jerseys for this season only.
. . .
1979: The wire mesh jerseys are worn exclusively for the season.
. . .
1980: The normal mesh jerseys with the full allotment of sleeve stripes return for a few games. For the Eagles appearance in Super Bowl XV, a piece of yellow tape is placed on the back of the helmet in tribute for the American hostages held in Iran.
. . .
1981: The full striped green jersey makes its sole appearance for a playoff game.
. . .
1985: Except for the helmet, the unis get a major revamp. The sleeve stripes were scrapped on both sets of jerseys for a simpler design. The whites had green numbers edged in black (front, back, shoulders), a green NOB, and the Eagles logo in green on the sleeves. The green jerseys had similar features, white numbers with black outline (front, back, shoulders), white NOB and a white Eagles logo on the sleeves. The silver pants had a new stripe pattern of green/thin black/white/thin black/green. Socks were white with two sets of green stripes flanked by black feather stripes.
. . .
1988: For their game against the Steelers (11/13), the Eagles wore a tiny memorial helmet decal for Art Rooney between the wings.
. . .
1989: After the sudden passing of assistant coach Doug Scovil on 12/9, the Eagles used a strip of black electrical tape across both wings on their helmets as a makeshift memorial.
. . .
1992: Popular player Jerome Brown was killed in an accident in late June. The Eagles wore a memorial patch on the left breast in contrast to the jersey colors. Starting with Week 3, the patch was given a facelift and worn for the rest of the season.
. . .
1994: As like all the other teams, the Eagles wore the NFL's 75th season patch on the left breast of the jersey. For their throwback uni, the Eagles hearkened back to the look of the late 40's with the silver helmet with green sides, white jersey with the two separated green sleeve stripes, green pants and green socks with two white separated stripes.
. . .
1996: It's time for another overhaul! The Eagles ditch the kelly green/green which had served them so long in favor of midnight green. The helmets are midnight green with the wings modified to white, with black inset outlines and a flair of silver. White jerseys feature a new block font with midnight green outlined in black (front/back/shoulders), NOB's in serifed midnight green trimmed in black and sleeve stripes of midnight (dark) green/white/black, the black stripe resting on the sleeve edge. a very small Eagles wordmark sits below the center collar front. The dark green jerseys feature similar number and NOB styling as the white jersey in white with black outline. However a new Eagle logo is placed on the sleeves instead of stripes. The pants are now white with a black/green/black stripe combo, which are worn with both sets, and dark green pants with a single black stripe plus the new Eagle logo placed on the hip is worn with the white jersey. Solid black socks complete the re-design.
. . .
1997: The white jersey is modified by replacing the sleeve stripes with the Eagle logo as seen on the dark green jersey with a single black stripe on the sleeve edge. For a Monday Night game against the 49ers, the Eagles go all green with green pants flanked by a thickish black stripe, without the logos on the hips. Otherwise, the white pants are worn for the regular season.
. . .
1998: Three uni combinations are worn: A: white over green, B: white over white, and C: green over white.
. . .
1999: Slight alterations are made, as a black collar is added to both jerseys and the black stripe on the sleeve edge to the green jersey. The same three combo worn in '98 are worn this season.
. . .
2001: The same three jersey/pants combos are worn, but solid green socks are now worn with the pants, while the black socks remain with the green pants.
. . .
2002: 5 uni combos are worn: A: white/white/black (socks), B: white/white/green, C: green/white/green, D: green/white/black, E: green/green/black.
. . .
2003: For their first game at new Lincoln Financial Field, the Eagles wear a patch on the white jersey commemorating the event. The jerseys and pants have slight changes. Jerseys now have a touch of silver trim to the numbers and the wordmark is changed. The pant stripes now have a rear black/front green on the whites and a very thin rear white/front black on the greens. Also, a black alternate pops up, with a green collar and a green sleeve edge. Black socks are again exclusive. The combos: A: white/white, B: white/green, C: green/white, D: black/green, E: black/white.
. . .
2004: Four combinations: A: white/green, B: green/white, C: black/white, D: black/green. The Super Bowl XXXIX patch is worn on the green jersey for the Big Game.
. . .
2005: Just three combos are worn, A: white/green, B: green/white, C: black/white.
. . .
2006: Same as 2005.
. . .
2007: A commemorative 75th Season patch is worn on the left breast, and the black top takes a sabbatical. The combos: A: white/white, B: white/green, C: green/white, D: In honor of the 75th season, the Eagles wear a throwback based on the 1934 set: yellow helmet with a pale blue wing pattern, yellow jersey with pale blue sleeve panel, pale blue front & back numbers, white pants and pale blue socks with three thin yellow stripes.
. . .
2008: Week 1 had the Gene Upshaw memorial patch on the white jersey. combos include: A: white/green, B: green/white, C: black/white.
. . .
2009: Same 3 combos as 2008.
. . .
2010: For Week 1, the Eagles celebrate the 50th anniversary of their last title by wearing their home uniform from that season, including kelly green helmets with silver wings, kelly green jerseys with plain white numbers and serifed NOBs, white pants with two green side stripes and kelly green socks with a thin white stripe. Other uni combos were: A: white/white, B: white/green, C: green/white.
. . .
2011: For the Week 1 game played on 9/11, a ribbon commemorating the 10th anniversary of the tragedy is worn on the white jersey. Only the white/green and green/white combos are worn.
. . .
2012: Hall of Fame patches are worn on both the white and green jerseys for Weeks 14 and 15. Combos include: A: white/white, B: white/green, C: green/white, D: black/white.
. . .
2013: The 4 outfits worn are: A: white/white, B: white/green, C: green/white, D: black/white.
. . .
2014: Same sets as worn in 2013, though Nike's flywire collars make those a bit thicker.
. . .
2015: Four sets worn this season. Including A: white/white, B: white/green, C: green/white, D: black.black.
. . .
2016: Again four sets worn: A: white/green, B: green/white, C: black/black, D: a black/black Color Rush set where the black socks had no white showing.
. . .
2017: The Birds wore five combos. A: white/white, B: white/green for a game, C: green/white, D: black/black, E: a Color Rush white/white with full plain white socks. As a side note, the flywire collar is dropped.
• • •
Wow. Thanks, Timmy. Tremendous work (as always) there. OK, now on with the rest of the post…


.

Eagles In The NFL Title Game
With the Super Bowl today, and the Eagles seeking their first ever Super Bowl victory, you might think the Eagles has never won an NFL Championship. But the team has actually won three NFL titles, all in the pre-Supe era: back to back in 1948 and 1949, and then again in 1960.
In "honor" of those three NFL Titles, I asked my pal Ronnie Bolton (he of the Football on Diamonds article, and subsequent sub-ledes) if he could cull together some photos from those games, and to give us a little write up on each one. Thanks to Don Stokes for the 1949 image.
Here. We. Go. (Click any photo to enlarge)
• • •
Eagles NFL Championships
By Ronnie Bolton
• • •
Philadelphia Eagles 7, Chicago Cardinals 0, December 19, 1948, Shibe Park
Just before the 1948 NFL Championship game against the Chicago Cardinals, guard Duke Maronic (#61) and his Eagles teammates must be wondering what they have gotten themselves into as they struggle to pull off a tarp topped with heavy snow during a Philadelphia blizzard. And star RB Steve Steve Van Buren is trying to make it to the game by taking a bus, trolley and subway and finally walk seven blocks in snow up to his knees. But the tarp got removed, Van Buren made it in time and would score the only touchdown in the game giving Philadelphia its first NFL title
• • •
Philadelphia Eagles vs Los Angeles Rams, December 18, 1949, Los Angeles Coliseum
The 1949 NFL Championship game is one huge muddy slop as Eagles DB Frank Reagan intercepts a Bob Waterfield pass at two yard line that just adds to Rams frustration in 14-0 loss. And Eagles players had their own frustrations, the one silver lining on having to take a long train ride to west coast was dreams of a rich payout from a huge crowd playing in a 100,000-seat stadium, and Rams games during season would sometimes top 80,000. But an unexpected stormy day kept LA fans at home and attendance was a highly disappointing 22,245. Still, heading home with their second consecutive championship had to boost Eagles players spirits.
• • •
Green Bay Packers vs Philadelphia Eagles, December 26, 1960, Franklin Field
UPenn's field house Weightman Hall takes center stage in the 1960 NFL Championship game played at Franklin Field. Here Packers great Paul Hornung adds three more points to give Green Bay a 6-0 lead over Philadelphia Eagles. But Eagles would battle back led by the play of two-way legend Chuck Bednarik, who played every snap (as center on offense and linebacker on defense) of this title game, and take a 17-13 lead in the fourth quarter on a 5-yard touchdown run by rookie back Ted Dean. With time running out, Packers field general Bart Starr took one last charge only to run out of time on Eagles ten yard line.
Ronnie adds, "A couple interesting notes about this game that I couldn't fit in: it was played at noon, because Franklin Field had no lights and in case it went into OT, and it was played on a Monday, because look at the date and you'll see why."
Thanks Ronnie. The Eagles, of course will be hoping to add one more NFL Title (and their first Supe) to their collection tonight!


.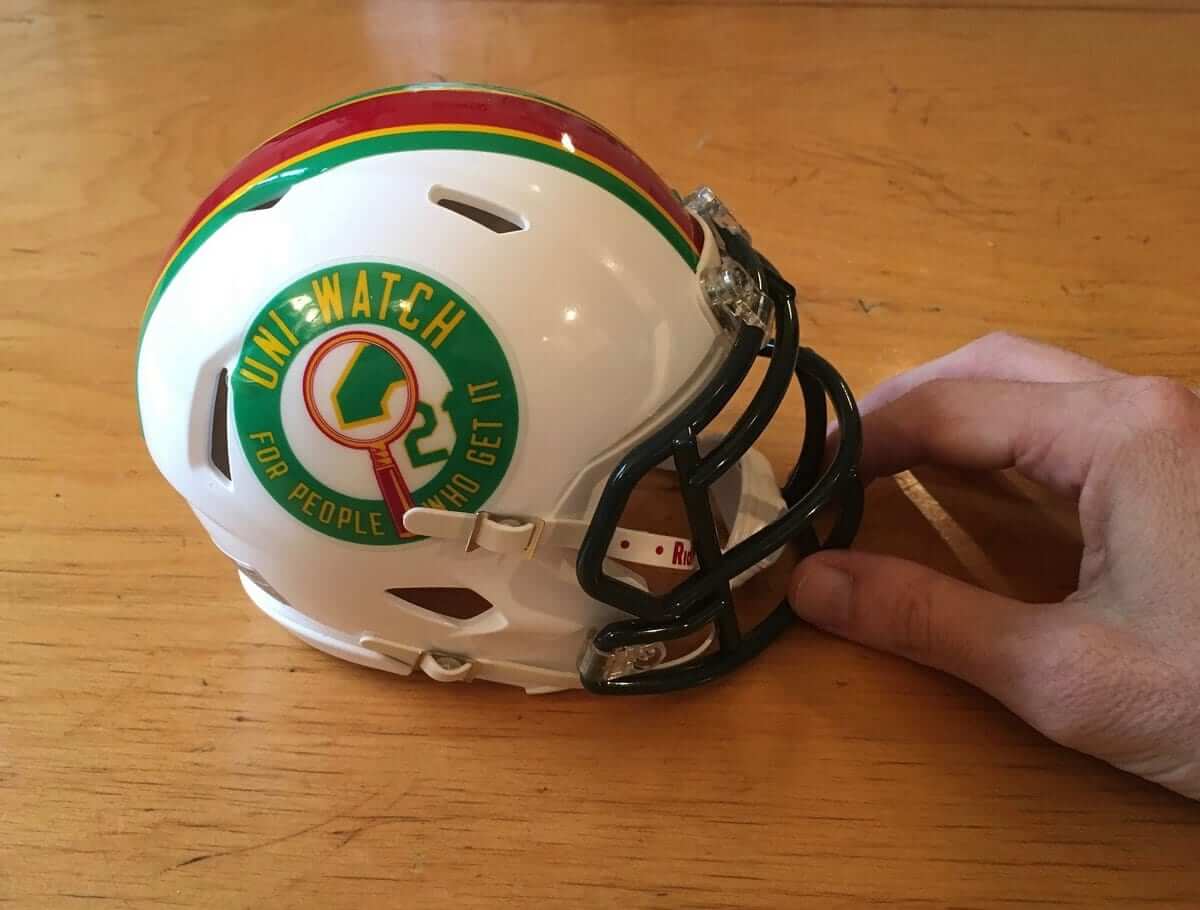 And now a few words from Paul: Hi there. As you get ready for the Super Bowl, here are a few things to keep in mind:
• In case you missed it on Friday: With the football season almost over, our friends at Rocker T Collectibles are running an end-of-season sale on Uni Watch mini-helmets. The original price of $39.99 has been reduced to $29.99. They're available here.
• In case you missed it last week, I announced a new partnership with Grey Flannel Auctions. If you have a potentially valuable collectible, GFA will appraise it at no charge, and with no obligation. Think of it as an online version of Antiques Roadshow. Full details here.
• A few days ago I had a major ESPN piece about a confidential NFL memo from 1966 that carried a very provocative subject line: "Some Observations on the NFL and Negro Players." It's one of the most interesting stories I've ever worked on. Check it out here.
• And I have another ESPN piece that just went up on Saturday morning, about some old letters that Denver Broncos season ticketholders sent to the team, requesting tickets for Super Bowl I. You can see that one here.
We now return you to your regularly scheduled Phil-fest.


.
Uni Watch News Ticker
By Phil

Baseball News: People do things during the offseason to keep them occupied until pitchers and catchers and Jimmer Vilk is no exception, working on a DIY baseball standings magnet board. "Each offseason it'll be in my order of preferences like this" he says. … Check out this program from the 1945 Negro Leagues East-West All-Star Game, played at Comiskey Park in Chicago. Attendance was circa 33,000 (from SABR Bio Project). … With the news this past week that the Detroit Tigers were tweaking their Iconic jersey "D" to match their cap, this article ponders whether alternate uniforms are now a possibility. … If you're a baseball uniform tracker, you will be interested in this site, which shows what uniform every team has worn everyday for the past 6 years (from Mike Chamernik). … "I came across this gem while looking through an old minor league baseball guide–an NFL shield logo knockoff for the Class A Northwest League," says Alan Filipczak. … Here's another tremendous colorization from Chris Whitehouse ("ManCave") of the penultimate Chicago Cubs World Champs: "Here is our restored look at the scorecard and 1908 World Series Champions from field view. So much personality in the old parks!"

NFL News: Here's one of the more bizarre headlines you'll ever see: "Gay men prefer Eagles over Patriots in Super Bowl LII; But Brady is considered the sexier quarterback over Philadelphia backup Nick Foles" — with the uni-related tidbit, "with 37% favoring the Eagles' green-and-white uniforms and 34% liking the Patriots' blue-and-white uniforms" (the article notes the Pats will be wearing white and that 12 of the past 13 Supe winners have worn white). … Pretty cool article on a 1920s football referee uni here. … For the sneaker/shoeheads, here's a piece looking back at the cleats/shoes worn in the Supe. … "This isn't so timely anymore, but I just wanted to flag this Toronto-based streetwear brand that has created an absolute triumph of a graphic supporting Colin Kaepernick," says Laurence Holland. "Took me a moment to see it, but, wow." … Yesterday's Sacramento Bee features one of their writers' rankings of NFL uniforms (from Bryan Justman). … Do you want to see all 52 years of Super Bowl game programs? Of course you do (from our own Mike Chamernik). … Football News has a nice look at Super Bowl Style Through the Years (from our own Brinke). … WOW — some guys really step up their backyard football game for the Supe (from Andrew Shehorn). … Here's a closeup of "Flying Elvis", and a close up of the Philadelphia Eagle, not to mention the midfield logo. … "Here's a heart-wrenching ESPN feature about the bracelet Carson Wentz wears on the field (when healthy, obviously) and the young boy whose memory it honors," writes Kary Klismet. He adds, "This story is from last October, but ESPN replayed it [Thursday] on SportsCenter. I searched the Uni Watch archives and could find no evidence that it had been mentioned on the site before. I'm a bit surprised no one noticed it before, considering the boy's name was Lukas. In any event, it's too good of a story not to share." … The NFL uniform police will be watching carefully at Super Bowl LII. … From Robert Brashear: "This year's super bowl rice krispy treat special at Treat House. Upper West Side." Looks like someone made some kelly green Philly throwbacks — NICE! … How long has Tom Brady been in the NFL? The Tom Brady MVP graphic on SportsCenter's Facebook page features an adidas Patriots jersey (from half of my twitter followers). … You already know enough about the uniform histories of the Patriots & Eagles, but here's 52 more facts to wow your friends with at your Supe Party this evening.

College Football News: Great news! Tennessee will no longer wear the 'smokey grey' alternate uniforms and the orange pants and black cleats returning to Rocky Top. … According to @dogpoundjon, the Ohio "Green uni on the mannequin is an unworn alt. Was not worn on field for 2017, but the sublimated pattern was used with a black jersey. Must be an adidas thing, as I believe Miami Florida used same pattern on black alts."

Hockey News: The Iowa State Cyclones are celebrating 50 years of hockey this season and absolutely crushing the throwbacks (from Andrew Musgrove). … On Friday night, Robin Lehner of the Buffalo Sabres broke out a new full set. Last night, Lehner switched to a composite goal stick and back to his old leg pads. During a TV timeout, he changed back to his old blocker and traditional stick (good spots by The Goal Net). … Last night the Tulsa Oilers pregame jerseys were sponsored by local plumbing company, getting creative with the tool belt look (from D. Hempel). … In 2016 Pro Helmet Decals helped the Los Angeles Dodgers become the first MLB club to use raised, 3D helmet logos. Last night they took them to the L.A ice! Raised, 3D helmet logos for the LA Kings (thanks, Brinke).

NBA News: The Orlando Magic unveiled their City Edition alternate jerseys Wednesday. There is an actual explanation behind them. … This is interesting (sorta): The Denver Nuggets were only slated to wear their City Edition alternate unis for 'nationally televised games,' but the players liked them so they got the go ahead from the League to wear them last night (from @so_it-gohs). … The Erie BayHawks wore these retro-style Atlanta Hawks uniforms for last night's game (from Erie BayHawks). … Last night the Cleveland Cavaliers broke out their "The Land" City Edition alternate uniforms, and played a color vs. color gray game against the Rockets (from Robert Hayes). … Last night the Indiana Pacers broke out their City Edition alternate unis.

College Hoops News: Yesterday there were a shit-ton of sponsor advertiser logos on the court for the Johnnies/Dukies game (from Josh Claywell). … FFS — check out the Under Armour lapel pin for Texas Tech coach Chris Beard (from our own Kris Gross)…. Hmmm — check out yesterday's Xavier vs Georgetown tilt: both teams primary colors shades of navy and gray, neither wearing either color. XU wearing Running Man throwbacks, looks like G-Town in circa-Patrick Ewing throwbacks (from Mike Vulanich. Here's another look (from Bodz). … Last evening Boise State and UNLV went orange vs. black for a #HalloweenInFebruary matchup (from bryanwdc).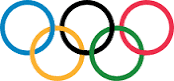 Olympics News: Little bit of a kerning problem here — that's Team USA Captain Brian Gionta, playing for the Rochester Americans, on the ice against the Toronto Marlies in preparation for the Winter Olympics (from Dylan Nowak).

Grab Bag: Oops: One Wisconsin fan found out why you shouldn't order your fan gear from China (from Ryan Wozniak). … Danica Patrick has mostly old but also a little bit of new on her uniform and car for the Daytona 500 (from Zachary Loesl). … Yesterday, Lafayette College wore Syracuse style Nike muscle cut jerseys for their Lax game (from Travis Holland). … Awesomeness (Loudmouth Pants) and shite (advertiser logo) in one shot, from Zachary Loesl: "Charley Hoffman wearing pants featuring the tournament sponsor logo during the Waste Management Phoenix Open." … Also from Zach, Golfer Jon Rahm wearing a football jersey on the 16th hole during the Waste Management Phoenix Open. He's an ASU alum, so that makes sense. … New fade uniforms in action for Texas Cross Country/Field & Track & new captains patches (from David Weichmann). … Where do you find the best sox in the nation? Washington state legislators express their creativity with colorful socks (from Kenny Ocker).


.