Click to enlarge
[Editor's Note: Today we have a guest entry from Jeff Flynn, who is super-obsessed with the details of Super Bowl field design. He points out tons of stuff you probably never noticed or thought about. He's included an insane number of photo links, so apologies in advance for any click fatigue you may experience. — PL]
By Jeff Flynn
It won't come as a surprise to readers of this blog that there is a subset of the uni-centric population that cares a lot about how the fields look for the Super Bowl. From the beginning until recently, starting with the Burger King-esque "crown" logo at midfield in SB I, the fields were prepared in a way that made them look like the Biggest Game Ever was about to take place. The earliest designs were boldly colorful with old AFL and NFL logos, dueling midfield helmets, colorful Lombardi trophies, uncommon team logos, even some unintentional throwbacks. End zones had fairly basic but attractive block lettering, which eventually made way to team wordmarks in SB VI, while the AFL and NFL logos morphed into AFC and NFC logos in SB V.
The first Super Bowl that I can remember watching is SB VIII, between the Dolphins and Vikings. Not coincidentally, the greatest and longest-running general Super Bowl end zone template, at least in my opinion, began that year: team helmet on the left, team wordmark in the center, conference-logo helmet on the right. The background color was never the same as the helmets, and the team wordmarks were often outlined in white or another color in order to make them pop that much more. Even the hated Patriots' end zone was glorious in SB XX. In the conference championship games, I usually rooted for whichever team hadn't yet been represented in a Super Bowl end zone, just so I could see the design treatment. So, let's go Jets in 1982! Seahawks in '83! And so on.
For no apparent reason, little things changed year to year, but the fields were always still great. In SB X, small shields appeared at the 35 yard lines, featuring that game's Roman numeral. These grew bigger and bigger the next few years, until they were replaced in XIV with a white football graphic featuring that year's Super Bowl logo. It even included Pete Rozelle's signature! The midfield NFL logo, which first appeared in SB VI, even changed frequently during this time period, sometimes outlined in white and at other times in blue. Starting in SB XIV, the NFL logo settled into what most people likely remember as "the" NFL logo and remained unchanged for many years. In SB XXIII, the giant footballs at the 35 yard lines were removed and replaced by larger versions of that year's Super Bowl logo.
There was a one-year slight change in SB XXV, with the Super Bowl 25th-anniversary logo at midfield. and the AFC and NFC helmet logos disappeared from the end zones in SB XXIX, while the NFL 75th anniversary logo took over at midfield, but this general template lasted through SB XXX. In SB XXXI, the overall design changed fairly dramatically. The NFL logo was relegated to the corner of the end zone and replaced at midfield by that year's Super Bowl logo. Helmets were removed from the end zones and put at the 30s. Wordmarks generally still popped nicely, though, and important details like team striping around the 20s and two-point hash remained bright. It was a different look for sure, but still colorful. The end zone team helmets unexpectedly returned in SB XXXVIII. It wasn't quite the same as before, though, as the Eagles helmet was the same color as the end zone, instead of a contrasting color, in SB XXXIX. The Super Bowl logos returned to the 25s as well in SB XXXVIII. In SB XL, the end zones featured the conference logos in a banner treatment. These disappeared in SB XLII and the current NFL logo made its debut at midfield in SB XLIII. SB XLIV, with the Saints' beautiful gold end zone, was the last year of original Super Bowl logos.
SB XLV ushered in the current corporate-style "logo system" with much greater consistency from year to year, including the field design. The 20s and two-point hash marks have no longer been outlined in team colors. End zones have been boring with wordmarks no longer outlined. In SB XLVIII at the Meadowlands, they didn't bother to enlarge the stadium's existing midfield NFL logo to match the size in previous Super Bowls, and didn't paint the team logos onto the sidelines. The AFC and NFC logos have not appeared since SB XLIX, when a huge blank space was left in the Patriots' end zone. A splash of color was added in the SB LI logo, but the corporate feel was still there.
Now, for SB LII, which takes place this Sunday, we are being introduced to the unbalanced end zone template. The Patriots' wordmark is substantially larger than the Eagles', and the Eagles' end zone has empty space again. Is there any thought going into the fields at all anymore? Who designs and approves the fields? Or do they just wing it? Do they have any idea that people don't like them as much as they used to?
If you're interested in this subject, there is an awesome thread on SportsLogos.net that is must-read, start to finish. This thread includes every previous Super Bowl field template graphic, "alternate" graphics for some of those "what might have beens," updates on this year's (crappy) field, and more. The thread was summed up best by a Jaguars fan who remarked that one of his favorite things about making the AFC Championship game was that the Jaguars could now at least be included in the "what if" section.
Also, there's currently an online poll that invites you to rate the Super Bowl fields from first to worst. Have fun with it, and enjoy Sunday's game, even if the field design isn't as good as it could be.
• • • • •
Click to enlarge
Dear Team, Please Send Me Super Bowl Tickets: Yesterday I had an ESPN piece on an extraordinary confidential NFL memo from 1966 (if you haven't read it yet, please do — it's powerful stuff), which Uni Watch reader Tom Jacobsen found in some old files. Those files also included some really interesting letters and paperwork regarding the very first Super Bowl, including the handwritten letter shown above. It was sent by a Denver dentist named Thomas Ross to Don Smith, the Broncos' PR director in the mid-1960s. It reads as follows:
Dear Mr. Smith:

As a loyal season ticket holder and member of the Denver Broncos Quarterback Club [a local booster club] for seven long years, I have suffered thru good and bad. Please help relieve my suffering by obtaining six (6) tickets to the "Super Bowl" to be played in L.A.

Sincerely,
Tom Ross
These documents provide a very entertaining glimpse into the Broncos' inner workings at the dawn of the Super Bowl era. That's the topic of a new ESPN piece that I've written — link coming soon. Meanwhile, here's one more plug for yesterday's ESPN piece, which is one of the most important and interesting stories I've ever worked on — don't miss.
• • • • •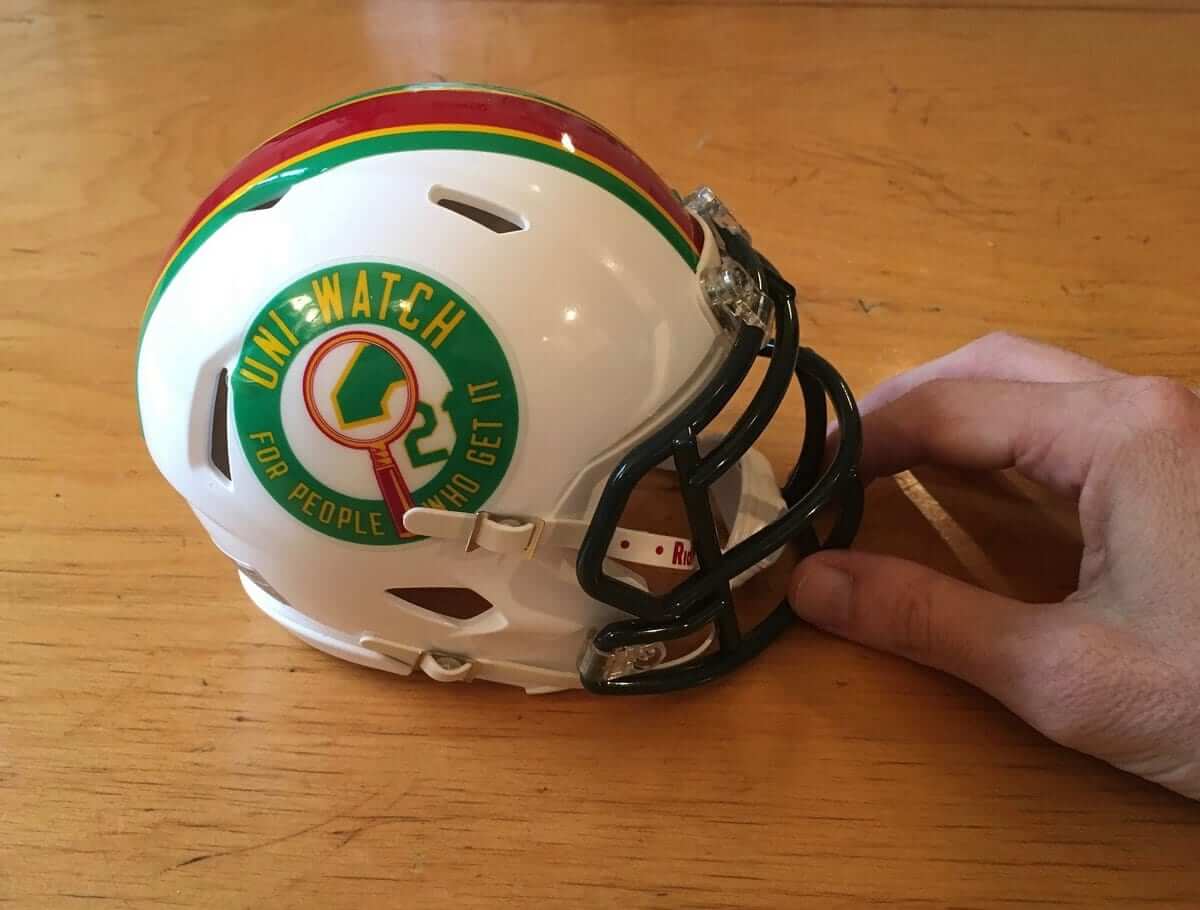 ITEM! Mini-helmet sale: With the football season almost over, our friends at Rocker T Collectibles are running an end-of-season sale on Uni Watch mini-helmets. The original price of $39.99 has been reduced to $29.99. They're available here.
• • • • •
"What's It Worth?" reminder: In case you missed it last week, I announced a new partnership with Grey Flannel Auctions. If you have a potentially valuable collectible, GFA will appraise it at no charge, and with no obligation. Think of it as an online version of Antiques Roadshow. Full details here.
• • • • •
The Ticker
By Kris Gross

Baseball News: The Pirates officially confirmed their new military jerseys and caps for 2018, which had already been obvious for several weeks because they'd been available for retail sale (from Hayden Kay). … The Durham Bulls are releasing new uniforms later today. … A proposed pace-of-play suggestion for MLB included the return of bullpen carts. I'm all in (from Mike Chamernik, @caesarscott). … Check out these gorgeous 1973 powder blue uniforms for the Omaha Royals, a KC Triple-A affiliate. … Missouri has seven new unis for 2018 (from @JGorla_). … New D-Rose cleats for Indiana. … Here's a piece looking back on BYU's uniforms from the 1980s. … As of this morning, the Mariners online roster still shows manager Scott Servais wearing No. 9 and newly acquired OF Dee Gordon with no number assignment, but this photo suggests that Gordon may have convinced Servais to give up No. 9 (from Tim Dunn).

NFL News: Philadelphia Mayor Jim Kenney said they're not putting an Eagles jersey on the Billy Penn statue out of fear of a jinx. Putting a jersey on the statue has not worked out well for Philly teams in the past (from Michael). … Packers QB Aaron Rodgers said in a radio interview that the Packers frown upon the post-game jersey swap, and they make players pay for the jerseys if they give them away (from Jeff Ash). … Sports Illustrated did an interview with the man who creates Super Bowl stadium replicas filled with food (thanks Brinke). … Falcons owner Arthur Blank is upset the Patriots puts 283 diamonds in their Super Bowl rings (thanks Brinke). … Golfers and celebrities at the Phoenix Open wore NFL jerseys on the 16th hole (from Zeke Perez Jr.).

Hockey News: The Rangers wore their Winter Classic jerseys last night, and Ondrej Pavelec and Henrik Lundqvist had special masks (from Al Kreit). … New mask and pads for Blues G Jake Allen (from Bryce Mandrell). … Maple Leafs G Curtis McElhinney wore the "Fathers Trip" hat. The players' dads went to New York with them last night (from Kevin Wilson).

NBA News: The NBA unveiled the 2019 All-Star logo. It pays tribute to the "Hornets and the city of Charlotte". … Blake Griffin made his Pistons debut last night and immediately had a uni-related snafu: He didn't start the second half because he forgot his jersey (from Mike Chamernik). … ESPN Photoshopped LeBron James into a Warriors jersey but forgot to change the advertiser logo. … The 76ers are honoring the Eagles with giveaway shirts tonight (from Mike Chamernik).

College Hoops News: 1950s throwbacks for Hofstra last night (from @OlegKvasha). … Oklahoma women unveiled pink uniforms for cancer research. … Check out these Midland College warmups (from Jay Crain). … Carmel High School in Indiana celebrating the Chinese New Year (from @lilbropeep). … Arizona State's Mickey Mitchell wore mismatched shoes last night (from @gayhooters).

Soccer News: Whitecaps FC teased the new kit they'll reveal on Feb 5 (from Wade Heidt). … Bethlehem Steel FC, the USL affiliate of the Philadelphia Union, has a tweaked primary crest, new secondary crest (from Kody Allenson). … Also from the USL, new kits coming on Monday for FC Cincinnati (from Tom Gelehrter).

Grab Bag: Cross-listed from the NFL section: Golfers and celebrities at the Phoenix Open wore NFL jerseys on the 16th hole (from Zeke Perez Jr.). … Sticking with the Phoenix Open, John Rahm is wearing a RAHMBO headband (from Zachary Loesl). … Also from Zachary, Rickie Fowler honored a deceased fan by wearing a photo of him on his hat. … Schmidt Peterson Motorsports unveiled its 2018 IndyCar liveries (from Tim Dunn).