People, I'll be frank with you: I spent most of yesterday at a social event in New Jersey and watched not one single moment of the NFL Pro Bowl (shown above) or the NHL All-Star Game. Judging from the photos I saw after I got home, the Pro Bowl was pretty rote — red vs. blue, nothing remarkable, except for the color-vs.-color format (which is what the Thursday-night concept should have been, instead of the mono-vs.-mono gimmick).
The most noteworthy aspect of the game was this tweet from Jaguars beat reporter Mark Long, who covers the team for the Associated Press:
Say goodbye to this piece of (art). The Pro Bowl will be the final game for Jaguars in the widely mocked, two-tone helmet pic.twitter.com/4C3p2awA2Z

— Mark Long (@APMarkLong) January 28, 2018
Halle-freakin'-lujah!! It's not a surprise, as word of the Jags getting new uniforms has been circulating for months, but it's still great to get confirmation that the new set will include a new helmet. Whatever it is, it can't help but be a big improvement.
Long went on to say that the new lid would probably be solid black and that the new set would be unveiled in April (which presumably means it'll coincide with the draft, which takes place on April 26-28).
Here's one last look at the worst helmet in NFL history, as worn yesterday by Jags cornerback Jalen Ramsey: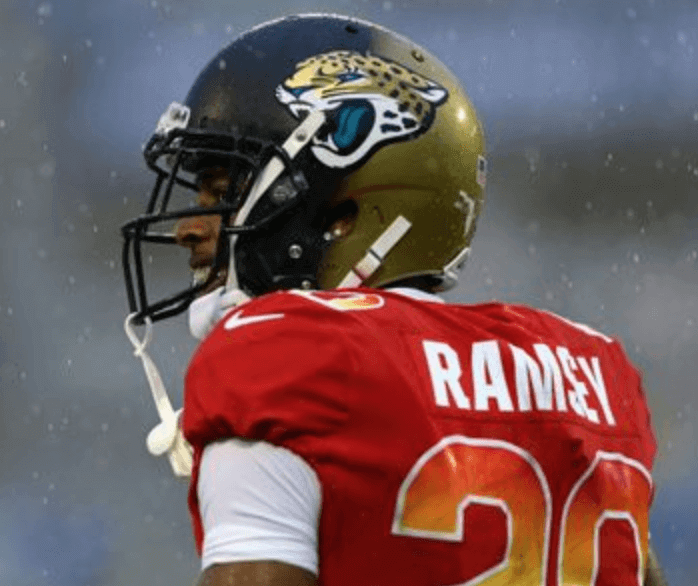 Meanwhile, the NHL All-Star Game also took place yesterday. The big surprise was that the Pacific team dressed in solid-white uniforms, which prompted broadcaster Doc Emrick to refer to them as "costumes":
@UniWatch @PhilHecken #nhlallstargame announcer Doc Emrick just said the "solid white costumes are worn by the Pacific division". Well said. #uniwatch pic.twitter.com/nLBgoZQ7qN

— Al N. Kreit (@tierknala) January 28, 2018
You can see lots of photos from the NHL game here, and additional Pro Bowl photos here.
(My thanks to Uni Watch alum Mike Chamernik for letting me know about Mark Long's tweet regarding the helmet.)
• • • • •
NBA Uni Tracking
By Collin Wright
This past week marked the first time all season that color vs. color games occurred more frequently than games where the home team wore dark and the road team wore white. Fourteen games featured both teams in dark sets, which was 32% of all games played for the week. Thirteen of those games came after teams began wearing their fourth uniform sets on Thursday (more on that in a second). Here's our updated chart, which you can click to enlarge: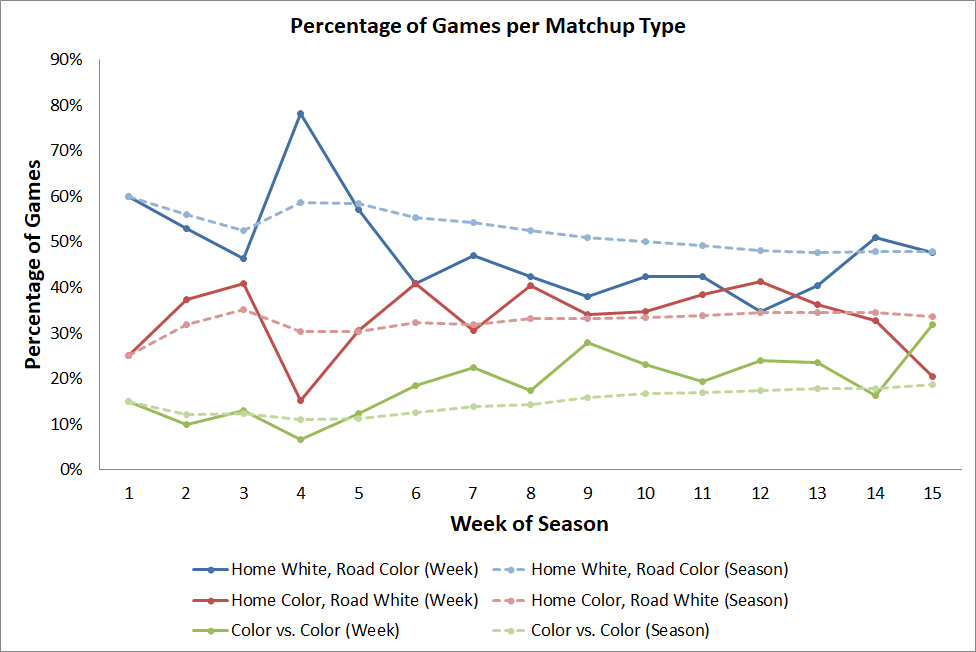 Fifteen teams have debuted their fourth uniform design. So far the fourth sets have been worn 19 times across 17 games. Two games saw both teams wearing the four designs: Kings/Heat on Jan. 25 and Bulls/Lakers on Jan. 27. The latter marked the first time all season that the Bulls wore a color other than red in a home game.
Twelve teams have debuted their fourth uniform during a home game. Only the Heat, Lakers, and Bucks wore them for the first time on the road. Eight of the games with at least one team wearing the fourth set were color vs. color matchups.
A few firsts occurred this week as well:
• On Saturday the Timberwolves became the first team to wear green at home against a team in grey (Nets).
• On Sunday the Spurs became the first team to wear grey at home against a team in purple (Kings). That was the first time a team wearing purple played an opponent wearing any color other than white or yellow
• • • • •
The Ticker
By Jamie Rathjen

Baseball News: New gear for Oregon, including helmets and caps (from Joe Nocella). … New uniforms for Auburn (from Clint Richardson). … The Brewers' racing sausages now have advertisements on their backs (from Zachary Loesl). … Also from Zachary: Brewers third base coach Ed Sedar said he'll switch to No. 80 from No. 6 next season. … New Mariners first baseman Ryon Healy will wear No. 27 (from Tim Dunn). … Following up from last week, Chris Flinn found another kids' book that "gets it." … Alan Borock sent us some vintage Padres cookbooks found on Amazon from 1984 and 1996. The latter one features the team's swinging friar mascot wearing a chef's hat. … Bruno Mars wore an A's jersey and cap at last night's Grammy Awards.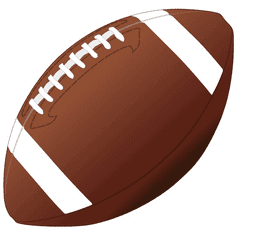 Football News: Reader Kevin Clark was watching Super Bowl VII highlights and noticed the difference in piping between the front and TV numbers on Dolphins DL Vern Den Herder (left) and LB Nick Buoniconti (right). … In a related item, that Super Bowl also saw the Dolphins wearing at least three different number fonts — note the various "2"s (from Dave Bertola). … In the 1986 Pro Bowl, Rams OL Kent Hill and Cowboys WR Tony Hill both wore FNOB, even though they didn't do so normally (from @BackAftaThis). … Here's a piece on the Ohio factory that makes the Super Bowl footballs. Longtime readers may recall that Paul wrote about that factory several years back (from Jason Hillyer).

Hockey News: Both the men's and women's teams from NCAA Division III Lebanon Valley (Pa.) College played outdoors at Hershey, Pa., on Saturday and wore special uniforms for the occasion. The men wore cream, while the women wore blue (from Mike Williams). … Italian Serie B team HC Merano wore a pretty bizarre combination of green helmets, pink jerseys, and black pants this weekend (from Matthew Klimberg). … The Oilers' AHL team, the Bakersfield Condors, wore Star Wars-themed uniforms on Saturday (from Brent Nelson). … Czech Extraliga team HC Sparta Praha wore camouflage yesterday (from Gary Abbott). … Lightning coach Jon Cooper is wearing a lapel pin to honor the lymphoma-stricken son of a team employee (from John Muir).

Basketball News: Wake Forest's jerseys and shorts were two different shades of gold in Saturday's road game against Louisville (from @DJinLOU). … Iowa State, which wore GFGS against Tennessee, was presented with a surfboard commemorating its participation in the Maui Invitational next season (from Kary Klismet). Kary also tells us that a fan was seen putting on a Tennessee jersey over his Iowa State jersey at halftime. … San Jose State once had to borrow opponents Duquesne's away uniforms when their own failed to arrive for a game on Dec. 21, 1972 (from Jerry Wolper). … From Andrew Cosentino: Virginia Tech's women's team went BFBS yesterday, which made for another color-vs.-color game with Miami (Fla.). … Kansas State women wore throwbacks for the team's 50th anniversary (from Randy Petersen). … Idaho State guard Geno Luzcando was wearing the Big Sky Conference's 50th anniversary patch on Saturday. The problem? That patch is from the 2013-14 season (from @GRTx3).

Soccer News: The sleeve patch shenanigans continued in England's FA Cup, where 17 fourth-round teams wore the patch and 15 (including four Premier League teams) didn't. The teams that did wear the patch only wore it on one sleeve, unlike in the last round, with the notable exception of Middlesbrough goalie Darren Randolph. … We mentioned Chelsea midfielder Callum Hudson-Odoi's double-decker NOB last week; well, it became one line yesterday in the font Chelsea use for cup and European competition (from @j_canales87). … Swiss Super League team FC Lausanne-Sport was recently bought by the British chemical company Ineos, which altered the team's crest to include some of its logo. Besides Red Bull, who are well known for remaking the teams they buy in their image, another example in the same vein is that English team Reading wore an away kit several years ago in the colors of their then-advertisers, the supermarket Waitrose. … Jordan Morris suffered a torn jersey during the USA's friendly against Bosnia-Herzegovina yesterday.

Grab Bag: The U.S. women's field hockey team is in the midst of a four-game series against the Netherlands at Stanford University, which has produced two different uniform matchups so far: blue/orange and red/black. Also, U.S. midfielder Erin Matson is wearing No. 1 during the series, which is rare for any non-goalie to wear in sports that have goalies. … Syracuse tennis has mascot Otto the Orange on its balls (from Michael Alper). … Roger Federer just won the Australian Open this weekend, but you can already buy a commemorative racket and shirt for his 20th Grand Slam title (thanks, Brinke). … Golfer J.B. Holmes was wearing what Zachary Loesl called "an arm band" during this weekend's Farmers Insurance Open.