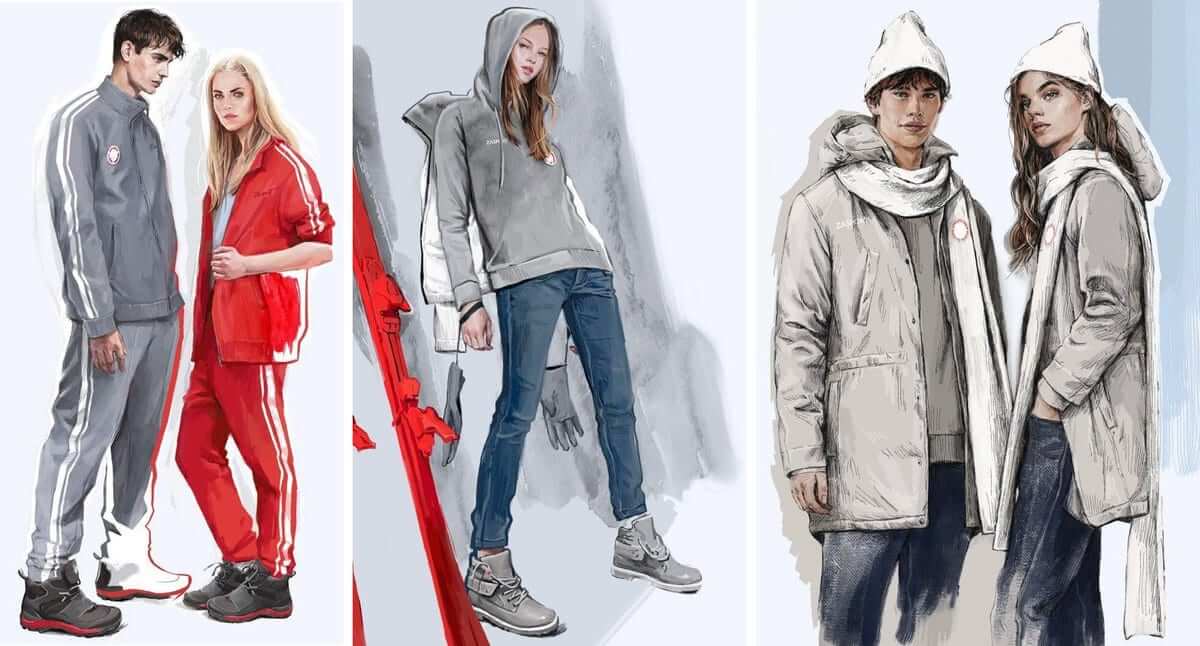 Click to enlarge
Four weeks ago, the International Olympic Committee released the uniform guidelines and logo for the "OAR" team — that's "Olympic Athletes from Russia." At the time, we were told that the uniforms would be forthcoming in due time.
That time turned out to be yesterday, when the Russian sportswear company Zasport released a bunch of new uniform renderings. In addition to the ones shown above, there are these: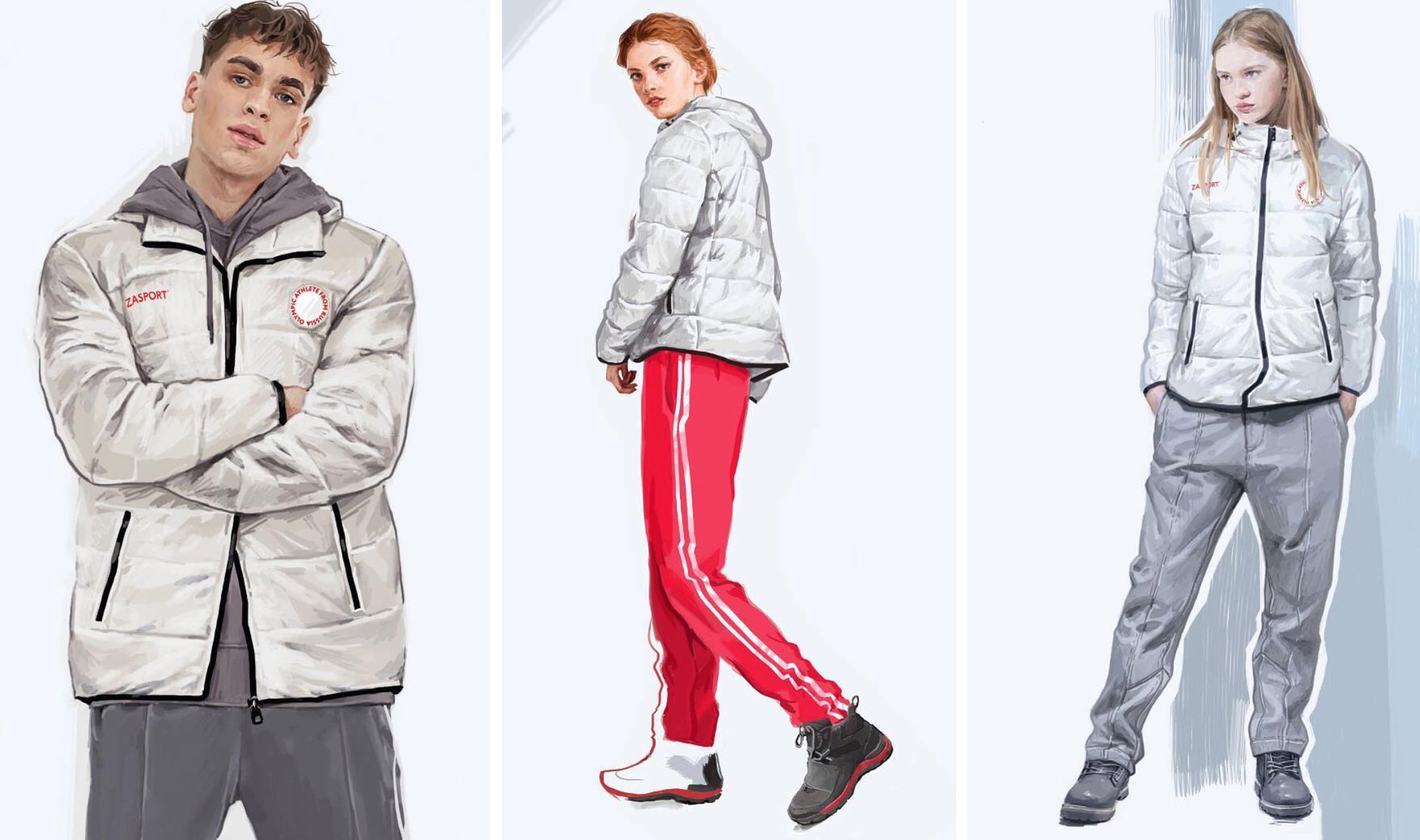 As you can see, Ralph Lauren won't have to work too hard to outshine these designs at the opening ceremonies. But that's by design — the whole point of the IOC guidelines was to keep the OAR uniforms as plain as possible.
It's still not clear who'll be wearing these uniforms, since the IOC hasn't yet announced which Russian athletes, if any, have been certified doping-free. But we'll reportedly be getting the word on that next week.
Meanwhile, has anyone heard anything about what the newly merged North/South Korea team will be wearing? I'm assuming there's no way that the North athletes would wear the South's uniforms, or vice-versa, so they'll presumably have to come up with a new set of attire on the fly, right?
• • • • •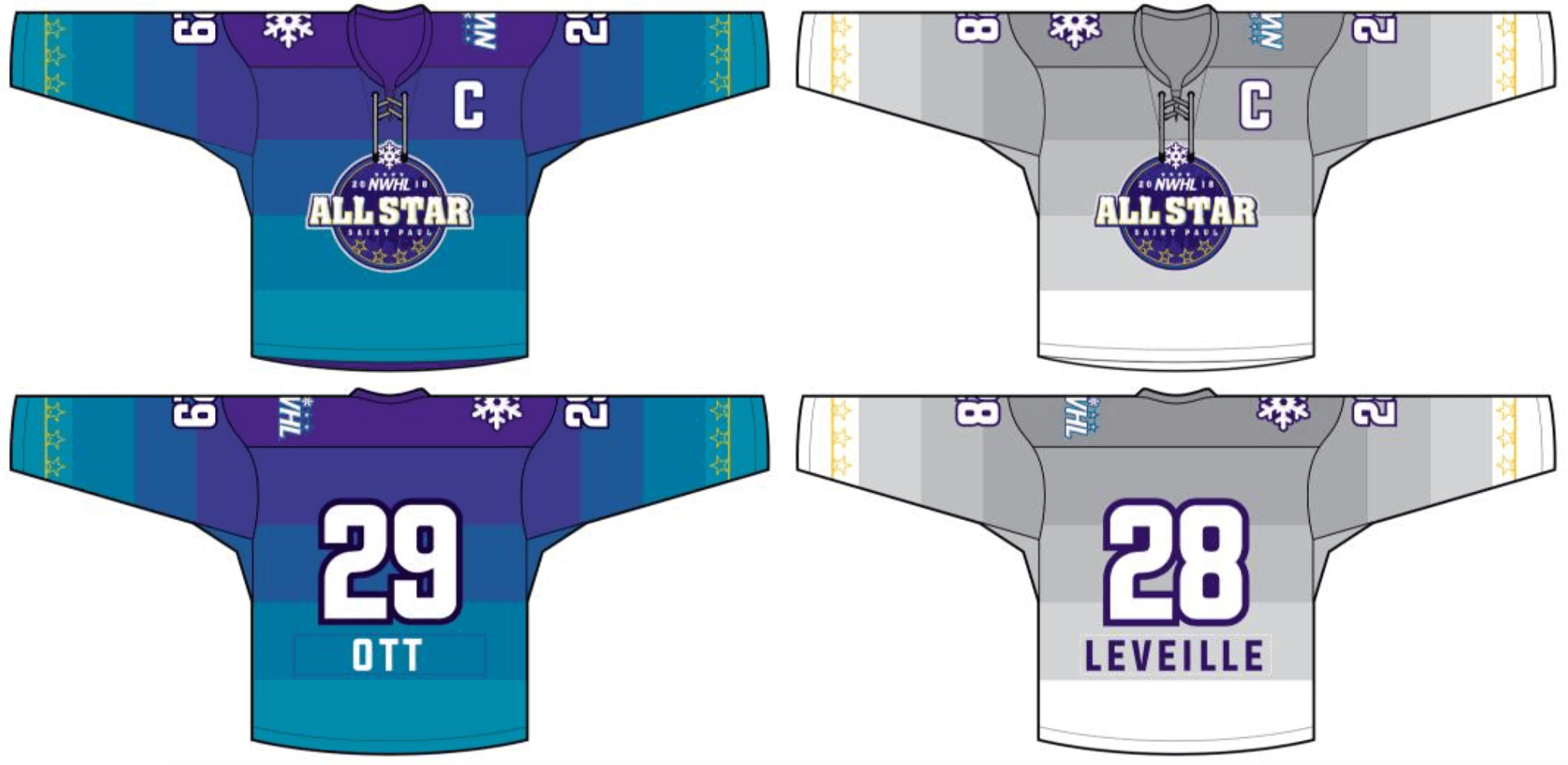 Click to enlarge
Uni Watch Exclusive — NWHL All-Star Jerseys: The National Women's Hockey League will hold its All-Star Game in Minnesota on Feb. 11, and Uni Watch has been given an exclusive first look at the jerseys. Additional info on the NWHL's All-Star weekend is available here.
• • • • •
The Ticker
By Kris Gross

Baseball News: Reader Daniel Carroll received a postcard regarding his Mariners season tickets with this logo. "It's the M's primary mark, without any letters, and all white space filled in with teal, including the baseball in the center," he says. "Never seen it before, struck me as odd." … The Baseball Hall of Fame used an obvious reverse photo of Hall of Fame candidate Livan Hernandez on their website (from Andy Chalifour). … Enjoy this video from @Cut4 featuring the Orioles and Angels in 1999 on Turn Ahead the Clock night (from Nick). … A follow up to yesterday's Ticker item about the Indianapolis Indians' "6672" sleeve patch recognizing the shareholders that kept the team alive: Douglas Brei passed along a note that the Rochester Red Wings had a similar "8222" patch for the same reason. They also retired No. 8222 "in honor of former team President Morrie Silver, who spearheaded the '72-day Miracle' community stock drive to purchase the team from the St. Louis Cardinals in 1956/57, effectively saving the oldest minor league franchise in all of professional sports." … Mikey Brethauer spotted a fan wearing this Twins/Vikings mashup cap during Sunday's Vikes/Saints game.

NFL News: Vicis has announced a price drop on their Zero1 helmet. As you'll recall, the helmet's price point was one of the issues that Vicis CEO Dave Marver discussed in his recent interview with Paul (thanks Phil). … Enjoy this time-lapse video of the Eagles re-sodding their field for the NFC Championship Game (thanks Phil). … The AFC Championship Game is between the Jags and… Celtics? Whoops! (from Robert Williams.) … Cross-listed from the baseball section: Mikey Brethauer spotted a fan wearing this Twins/Vikings mashup cap during Sunday's Vikes/Saints game. … With the Vikings and Eagles set to face off for the NFC title this Sunday, here's a look back at a memorable game between those two teams 40 years ago (from Mark Wilkes).

College Football News: This video shows Ohio State players getting custom-fitted for their helmets (from Moe Khan). … Here are some radical uniform redesigns (thanks Phil). … An interesting note from Andrew Cosentino: Half of Virginia Tech's opponents in 2018 wear gold helmets.

Hockey News: Goalie Joonas Korpisalo was recently called up to the Blue Jackets, and it looks like the equipment staff ran out of Ks (from Ted Levin). … March 24 is Nickelodeon Night with the San Jose Barracuda, AHL affiliate of the Sharks (thanks Phil).

NBA News: Most of the recent NBA team redesigns have been handled by Rare Design, a small branding firm in Mississippi. Here's a good interview with their CEO (from Jeremy Dalton). … Cross-listed from the NFL section: The AFC Championship Game is between the Jags and… Celtics? Whoops! (from Robert Williams.) … The Rockets gave away James Harden finger puppets last night (from @igTXSalazar).

College Hoops News: "Eye-scorching color versus color matchup for USC/Oregon" last night, says Andrew Cosentino. … K-State will wear lavender throwbacks on Saturday. … Colorado honored lacrosse player Julia Sarcona, who died in a car accident this past weekend, with jersey patches last night. … Michigan State women will wear grey and neon tomorrow. Woof. … Murray State and Belmont went color vs. color last night (from Josh Claywell).

Soccer News: Following the recent death of pioneering black player Cyrille Regis, all Premier League teams will wear black armbands this weekend. Regis will also be honored with a minute of applause (from Mark Caole).

Grab Bag: Skier Lindsey Vonn will race this weekend in a Captain America suit (from @ohhhsourry). … Golfer Jordan Spieth has a new signature shoe (from Zach Loesl).