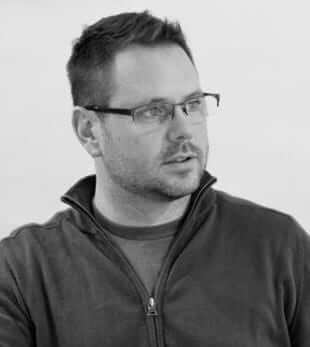 [Editor's Note: Today we have a guest entry from Rick Bakas, a graphic designer and creative director who spent eight years working for Nike early in his career. We hope that today's entry, which will serve as an introduction of sorts, will be the first of many contributions from him. Enjoy. — PL]
By Rick Bakas
As a kid growing up in Denver in the 1970s and early '80s, I remember having a distinct brand experience with Nike. In third grade, one of my classmates came to school wearing the royal blue Nike Cortez sneakers with the giant yellow swoosh. Until that moment, the only things that had generated as much buzz in our class were the Ataris we all got for Christmas.
Other kids might have wanted to be astronauts or firefighters when they grew up, but at that exact moment I decided I wanted to work for Nike. As luck would have it, my family moved to Portland, Oregon, during my senior year of high school. In fact, we moved to a house down the street from Nike's world headquarters.
After getting my design degree, I partnered with a friend to create a clothing line called AnyWear Gear, which was sold at Nordstrom on the west coast and was picked up in Japan by some skateboarding shops. As a 24-year-old, I was good at design but not at business — the brand was growing but we weren't making any money. Fortunately, someone at Nike noticed AnyWear, and that led to my being hired as a graphic designer in the Team Sports division of Nike apparel in October of 1995 — a dream come true. The company was expanding its apparel business on-field in an effort to be the authentic head-to-toe brand worn by pro and college athletes.
What I didn't know at that time was that I would be part of a small team of designers who would change the face of team sports through apparel innovations and a series of high-profile team identity redesigns.
Our ring leader was Ken Black, an art director who had studied at the pinnacle of design education — the ArtCenter College of Design in Pasadena. The architect and creative director for our team was Todd Van Horne, who was one of the coolest people a creative person could ever work for. He was part long board skateboarder, part soccer fanatic, and part "The Dude" from The Big Lebowski.
Just as the NFL had the so-called Bill Walsh coaching tree, producing legendary coaches like Jon Gruden, Dennis Green, Ray Rhodes, Mike Holmgren, and Steve Mariucci, our Black/Van Horne design tree produced designers like Scott Patt (currently head of design for the footwear brand Cole Haan) and Rodney Richardson (head of Rare Design, which has done many of the recent NBA team redesigns), and Eric Bodamer (currently doing NHL uniform design for Adidas). We may have joined Nike as a ragtag crop of fresh-faced graphic designers, but we came out armed with a deep understanding of sports branding.
During my time at Nike, I was fortunate enough to serve on the teams responsible for redesigning the Denver Broncos (very special for me, since I grew up in Denver as a Broncos fan), the University of Oregon Ducks, the New York Giants, the Florida State Seminoles, the Portland State Vikings and Team Jordan. Rodney Richardson and I also worked on logo and uniform concepts for the Portland Trail Blazers and Dallas Mavericks, although neither of those projects saw the light of day.
I left Nike in 2003, when I had to move back to Colorado due to a family emergency. I did some design work for the Sports Authority in south Denver and have done some other sports branding projects, including updating the brand for Sacramento State.
Why am I telling you all this? Because as I look around the world of sports branding and uniform design, it disheartens me to see where the trends are going. Timeless design and brand equity have given way to cartoony team logos, greed, and manufactured retail spikes. It's no longer a matter of creating a timeless iconic sports brand like the Los Angeles Lakers or the Green Bay Packers, who respect their team heritage by keeping a consistent brand year over year. Now it's all about changing team logos every five years and watering down the brand equity with multiple versions of a popular player's jersey. There are so many different Lebron James jerseys on the market that it's hard to know which one is the authentic version. Will the real Cleveland Cavaliers please stand up?
In the weeks and months to come, I look forward to drawing upon my experiences at Nike to share more thoughts about the current state of uniform design with readers of Uni Watch. If you have any particular questions, or topics that you'd like me to explore, please feel free to post them in today's comments.