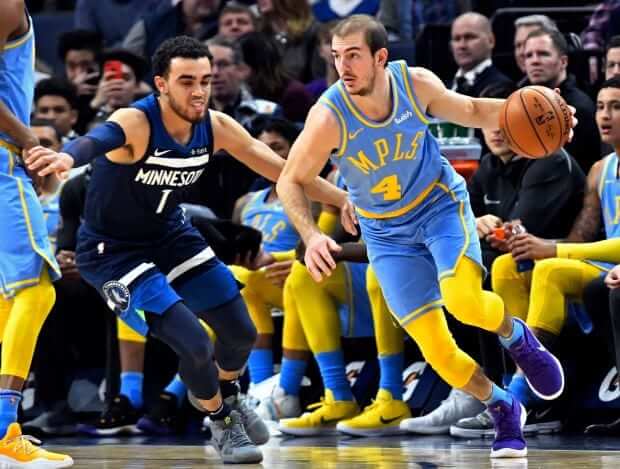 We are now about halfway through the NBA season, with its revamped uniform system. So today, with a big assist from Collin Wright (who's been providing our weekly NBA uni-tracking feature here on the blog) and a further assist from ESPN's Stats & Info department, I have a new ESPN column that takes a deep dive on how NBA unis have looked and performed this season, including how many color-vs.-color games there have been, how many blue-vs.-blue games there have been (that's one of them shown above, from Jan. 1), which uniforms are undefeated or winless, which colors have been worn the most at home and on the road, how ad-clad teams have done when facing ad-free teams, and a lot more. Check it out here.
Collin also provided some additional info that I ended up not using in my ESPN piece, including 30 pie charts showing the uni-color breakdown for each team so far this season (if you can't see the slideshow below, click here):
In addition, Collin provided info on the tights and socks worn by each team. Again, I didn't include this in the ESPN piece but I'm happy to run it here. Take it away, Collin:
I've tracked lower-body accessories for every game throughout the season. Unfortunately, I don't have data on compression arm sleeve colors, because it was a few weeks into the season before I realized teams could wear different-colored upper-body accessories, but I've tracked the leggings and socks for every game of the season. Some interesting things that have stood out regarding this data:

• Teams have gone with the unitard look (i.e., the tights and socks match the jersey and shorts) in 83.2% of all games played. That includes 96.4% of games featuring the primary white uniforms, , 90.8% for the primary dark sets, and 80% for the throwback sets.

• The initial alternate "Statement" sets see the most variation. Teams have only gone full unitard 63.4% of the time when wearing those uniforms. I believe this is intentional. Nike released promotional photos of every design in this set on Sept. 15, most of the photos showed contrasting tights. In only one of those photos (a shot of Minnesota's Karl-Anthony Towns) was the player wearing socks that matched the tights; in all the others, the socks matched the base uniform color.

• Four teams (the Cavs, Nuggets, Warriors, and Suns) have gone full unitard in every game they've played this year.

• On the opposite end of the spectrum, the Pelicans are the team most likely to break up their look, wearing contrasting leggings in 50% of their games. In fact, the Pelicans have worn contrasting leggings in 19 of their 20 games since Nov. 24. Their only unitard game since then was on Dec. 4, when they went all-white.

• If you count leggings and socks as part of the uniform, the Hornets have worn the most uniform combinations so far this season (10) in the league, followed by the Wizards (seven).

• As I said, I haven't actually tracked any data on arm sleeve colors, but I believe Oklahoma City probably has worn contrasting arm sleeves more than any other team in the league.
That there is some pretty heroic number-crunching. Please join me in thanking Collin for his fantastic work.
• • • • •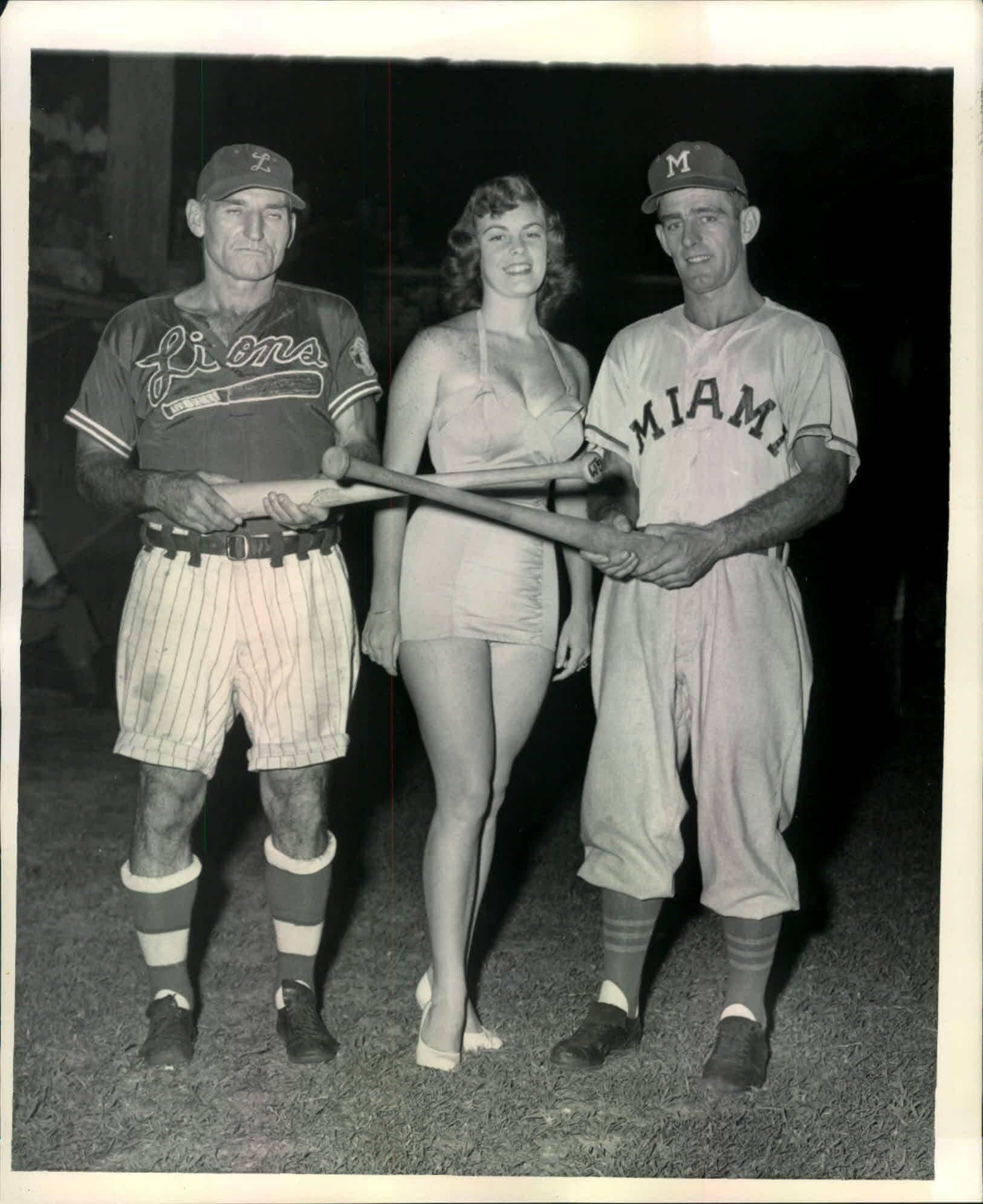 Click to enlarge
Another baseball team in shorts: If you can get past the gratuitous bathing beauty bullshit, this is a pretty great photo. It's from the 1950s, and the team on the left is the Ft. Lauderdale Lions of the Florida International League. Love the henley-style pullover jersey, which appears to be rayon or Durene. And the cuffed shorts are a nice touch.
The Miami uniform isn't as tasty, but note that it too includes a henley/pullover jersey. I didn't realize that was so common back in the '50s.
(My thanks to Blair Rifell, who spotted this photo of Ebbets Field Flannels' Facebook page.)
• • • • •
Click to enlarge
The most important news item you'll read today: Longtime readers may recall that I once developed a serious Diet Coke habit and kicked it by going cold turkey about six years ago. Since then, I've gradually allowed Diet Coke — or "the sweet nectar of the gods," as it's known here at Uni Watch HQ — back into my life. I don't drink nearly as much of it as I once did, but I do tend to consume some of it almost every day.
So I was rocked to my core when the news came down yesterday that Diet Coke is getting a makeover and introducing a bunch of new flavors. Some quick thoughts:
• In theory, I'm fine with the slimmer/taller cans and the new graphic design. In practice, though, I wonder if different can configuration will make it harder for delis and bodegas to stock Diet Coke alongside all the other sodas in conventional 12-oz. cans. Hmmm.
• The new flavors sound like something out of a Nike marketing meeting: "twisted mango," "zesty blood orange," etc. (Reader Kody Allenson jokingly suggested that the flavors will now actually be known as "editions": Association, Icon, Community, Athlete's Mindset.) "Feisty cherry" is particularly embarrassing, and some of the ad copy on the Diet Coke home page is even worse. But whatever — as long as they leave the original flavor alone, which they say they plan to do, I don't really care what they do with brand extensions.
• Speaking of which: Not many people realize this, but back in the 1970s, before Diet Coke existed, Tab (which was the Coca-Cola empire's diet cola at the time) rolled out a bunch of additional flavors. They all tanked in short order.
• The President is reportedly a big Diet Coke drinker. I assume the tweetstorm will be forthcoming shortly.
• • • • •
The Ticker
By Paul

Baseball News: New uniforms for Indiana. Phil will have more coverage of this and several other new Adidas college baseball designs this weekend (from @UIArtifacts). … The Charlotte Knights have a new logo marking their 20th season as a White Sox affiliate (from Lee Wilds). … Looks like MLB has a new Opening Day logo (from @brianspeaksnow). … Here's how the D-backs' 20th-anniversary sleeve and cap patches look on some fantasy campers (from Josh Pearlman). … The U. of Cincinnati is the latest team to go with a 3-D helmet logo. … Old baseball jerseys sometimes had vertical lettering down the contrast-colored placket (one of Phil's favorite design elements), but it's interesting to see a jersey with a contrasting placket but with no lettering. As noted in the photo, that was a team sponsored by American Optical, an eyewear company that was once the anchor of Southbridge, Mass. (from James Hayes).

NFL News: Former Cowboys QB Troy Aikman told SI's Peter King that he considered joining the Dolphins and Chargers at the end of his career, so SI Photoshopped him into those teams' uniforms. Period-appropriate, too (from Matt Dunn). … The Titans will once again go white over light blue for Saturday night's playoff game against the Patriots (from Lee Wilds). … Here's a fun video compilation of NFL equipment malfunctions (from Blake Fox).

Hockey News: The U.S. Army has filed a brief opposing the Vegas Golden Knights' trademark application, which could result in the team having to change its name. … Excellent news out of Buffalo, where the Sabres have announced that they'll wear their gorgeous Winter Classic uniforms three more times this season. … Milwaukee Admirals G Juuse Saros, who's been riding the shuttle between Milwaukee and Nashville this season, was wearing his Predators pants and pads last night. … Oh man, check out this incredible colorized photo of a Vancouver women's hockey team from 1914. Here's the original black-and-white version (from Will Scheibler).

NBA News: Is this a sneak peek at the NBA's All-Star uni? Let's hope not. For reasons I can't disclose here, I believe that the All-Star unis will indeed carry the Jordan logo rather than the Nike logo, so count that as a small point in favor of this leak's potential legitimacy. … Update: Looks like it probably is legit. … The Knicks finally made it official, unveiling the firefighter-themed alternate uni that everyone already knew about. It'll make its on-court debut on Jan. 30 against the Nets. I believe the only two teams that still haven't unveiled their second alternate unis (even though we pretty well know what they'll look like) are the Raptors and Heat. … The Wizards gave out John Wall and Bradley Beal M&M's to promote their All-Star candidacies (from Michael Kinney).

College and Rec League Hoops News: Blackout uniforms for Pitt. … The Vanderbilt women's team has added a "25 Strong Inside" memorial patch for Perry Wallace, the SEC's first black basketball player. The term "Strong Inside" refers to Wallace's biography (from @CMIVanderbilt). … The scandal involving the Cincinnati youth league league team with racist NOBs has now prompted the resignation of a school board member. … Not uni-related but still interesting: Georgetown is banning cell phones from one section of its arena for the Jan. 20 game against St. John's. … After Texas G Andrew Jones was diagnosed with leukemia, the team expressed support for him by adding an "AJ1" patch for last night's game against TCU (from our own Kris Gross). … 1985 throwbacks last night for Villanova. And with vertically arched NOBs, too (from Blake Fox). … New skyline jersey for Texas A&M-Corpus Christi (from Josh Hinojosa).

Soccer News: The USL's Harrisburg City Islanders will now be known as Penn FC (from Josh Hinton). … Also from Josh: New home kit for the USL expansion team Nashville SC. … Also-also from Josh: Nike has released its keeper jersey templates for 2018, which will include the upcoming World Cup. … France wore five different kit combos in six games while winning Euro 2000, and also had some badge discrepancies (from Denis Hurley). … The Philadelphia Union is hinting at a new color scheme (from Anthony Petrella and Mitchell Gladstone). … New gold jersey for Pumas (from Ed Żelaski). … Adidas appears to have a new team scarf template (from Moe Khan). … Here's a closer look at ATL UTD 2's logo evolution (Josh again). … G.I. Joke uniforms for the San Diego Sockers. … DC United teased a new uni unveiling, which will take place on Jan. 19 (from Joe C).

Grab Bag: American Airlines has finally come up with replacements for the uniforms that were literally sickening thousands of workers. … A Wisconsin high school has earned high marks, at least from one observer, for going with two-piece wrestling uniforms instead of singlets. … Here's more on the Team USA medal stand outfits for the upcoming Winter Olympics. … New IndyCar liveries for Alexander Rossi and Ryan Hunter-Reay (from Tim Dunn). … Pro tennis star Novak Djokovic has signed an endorsement deal with ASICS (thanks, Brinke).