I don't usually worry too much about logos that appear on retail merch. But we're going to talk about precisely such a logo today.
It all started when longtime reader Jimmy Lonetti pointed me toward an eBay listing for a vintage New Orleans Saints stadium jacket. What caught Jimmy's eye was this patch on the sleeve (for all of these photos, you can click to enlarge):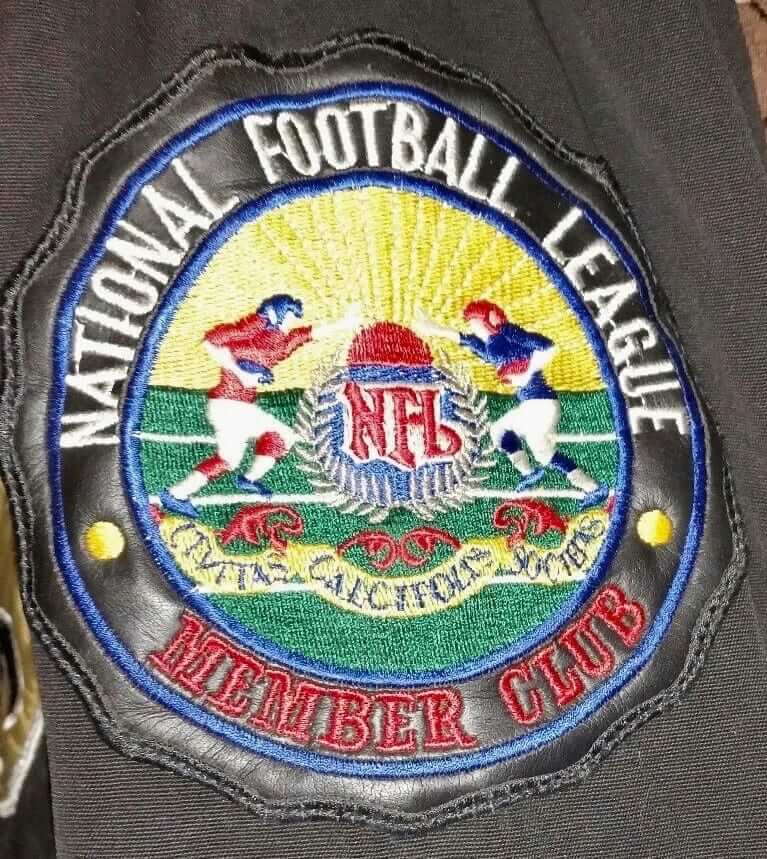 I'd never seen this "NFL Member Club" logo before, and I found it interesting on several different levels. For example:
• I've never seen the NFL logo lettering accompanied by laurel branches before.
• The logo appears to include Latin phrase: civitas calcifolis societas (which I've so far been unable to translate properly, because I can't find the proper translation for "calcifolis" — anyone..?). Again, I've never seen the NFL use Latin in any of its branding.
• The two players shown in the logo are going color vs. color!
I asked SportsLogos.net honcho Chris Creamer if he'd ever seen this logo before, and he said no. So then I went to our Collector's Corner columnist, Brinke Guthrie, who said he recalled seeing the logo on other merch. He then did what I should have done — he Googled "nfl member club patch" — and turned up a version with a completely different color scheme: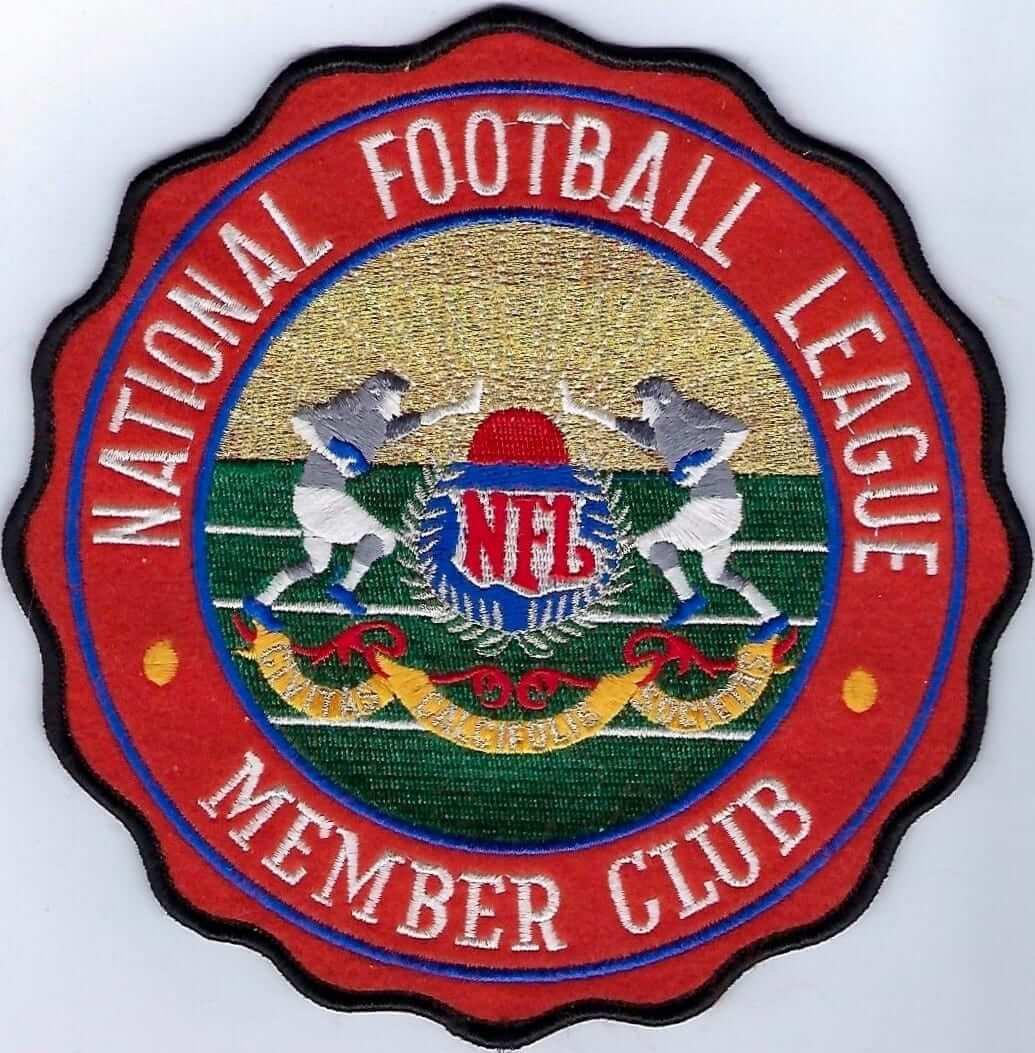 By this point I was intrigued, so I did a bit of Googling of my own and soon found a simpler version of the "Member Club" logo. This version included the laurel branches but omitted the other design elements: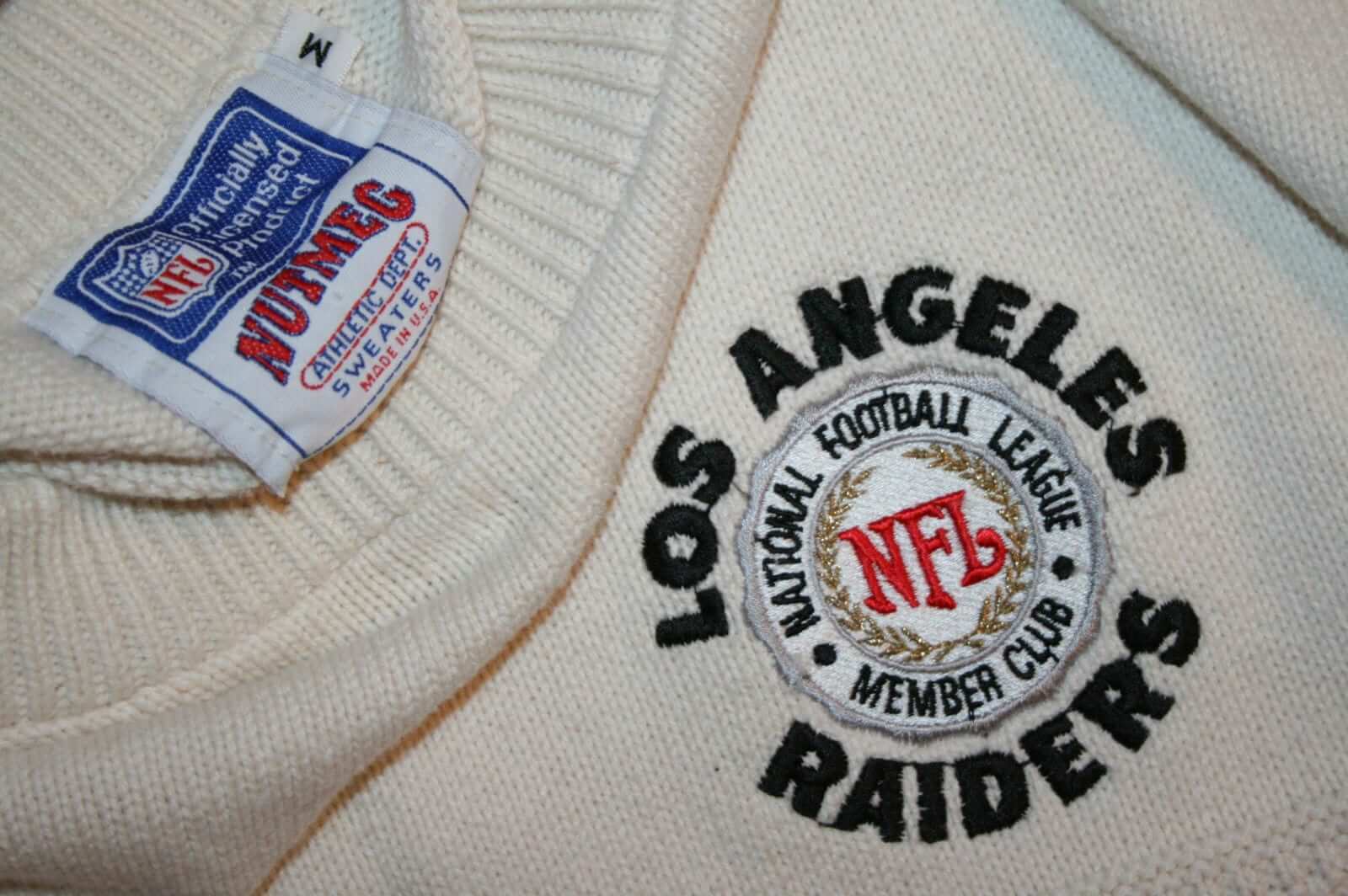 As you can see, the tagging on that sweater is from a brand called Nutmeg. I'd never heard of them, but I went to eBay and searched on "nfl member club nutmeg" — bingo.
If you look at those search results, you'll find about two dozen items with assorted versions of the "NFL Member Club" logo. Some are like the patch that got us started down this rabbit hole, as seen on this Giants sweatshirt):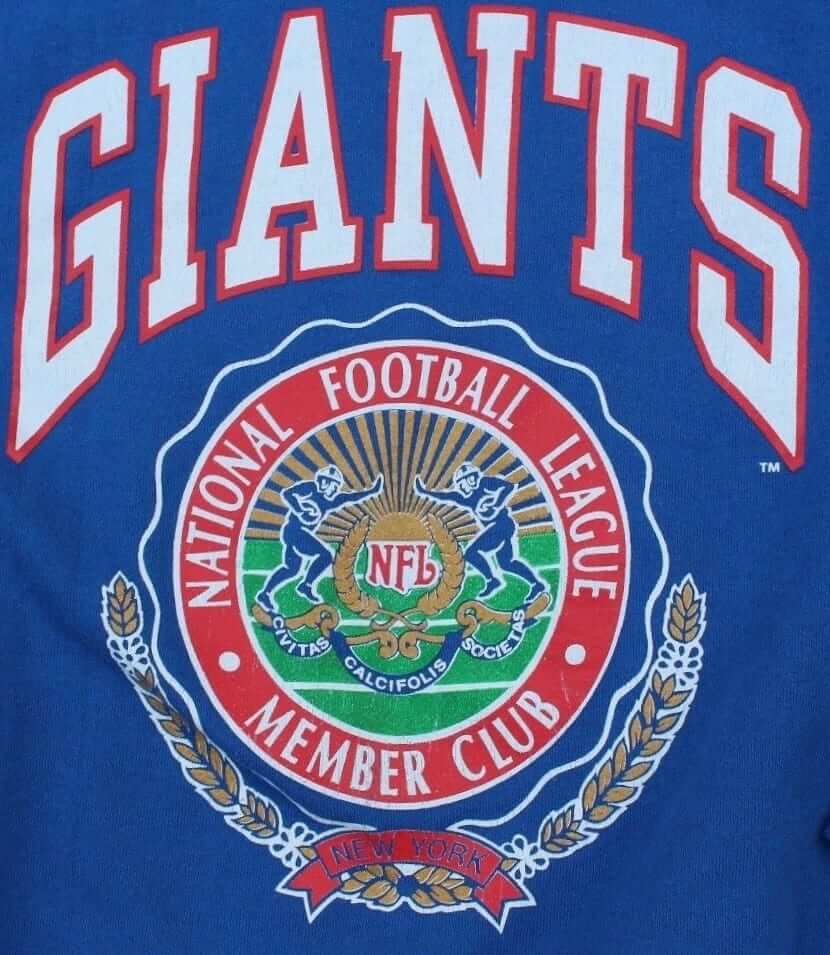 Others took a much more slapdash approach, as seen on this Patriots T-shirt: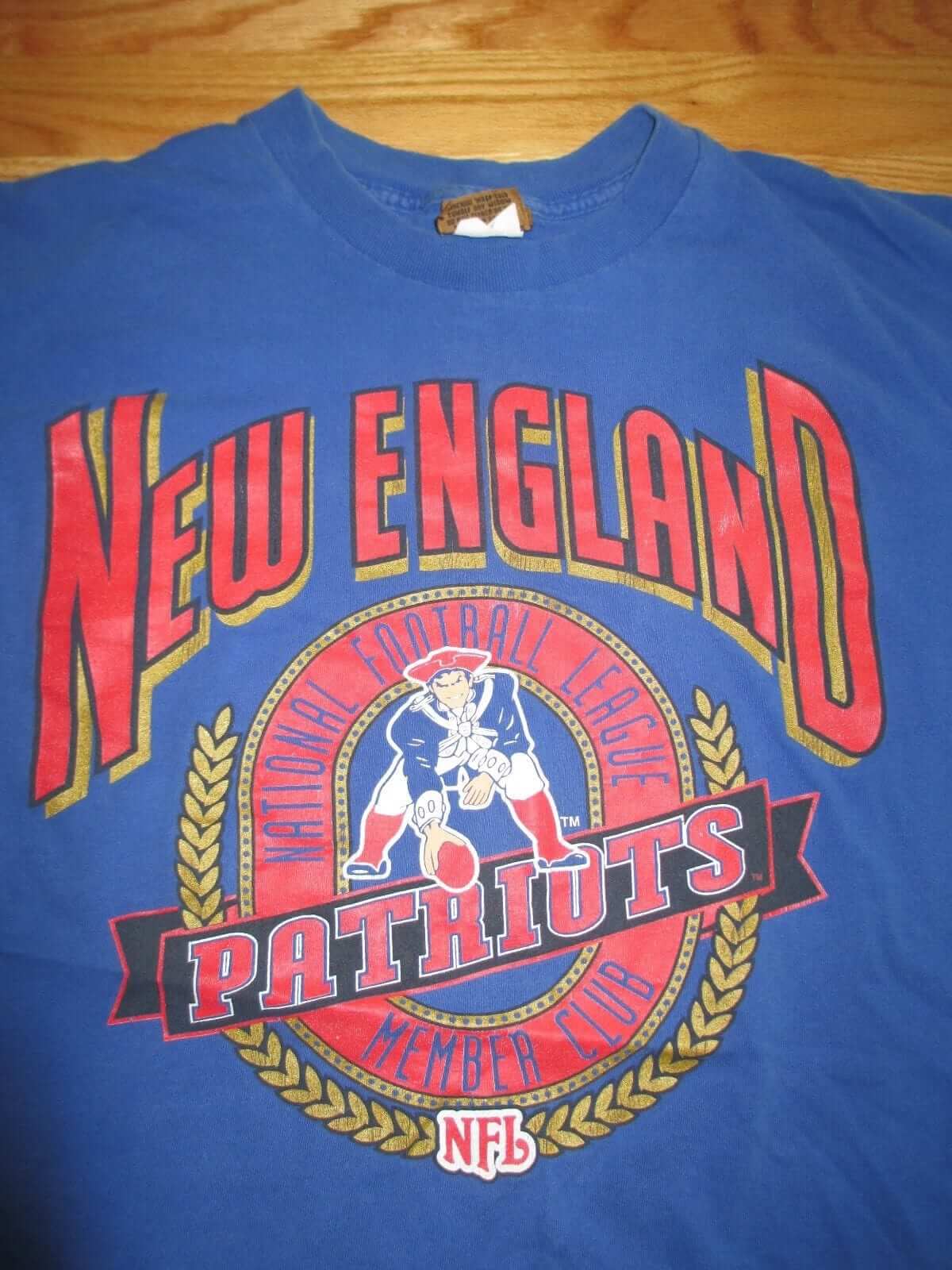 The only thing they all have in common is the use of the laurel branches. It's like someone decided, "Okay, when we use the laurel wreath thing, that means 'NFL Member Club.' Got it?"
Was this logo only for use at retail? Like, did any stadium personnel ever wear it? Did it ever show up on team letterhead? Anything else?
As for Nutmeg Mills, they were apparently a big deal in the 1980s and '90s, although I totally missed the boat on that. There's a really good retrospective available here — worth reading.
(Big thanks to Jimmy Lonetti for getting this ball rolling and to Brinke Guthrie for his research assistance.)
• • • • •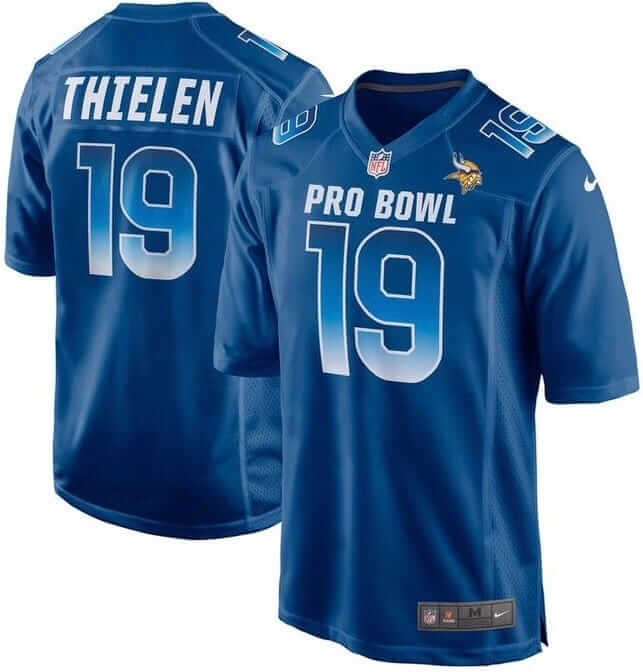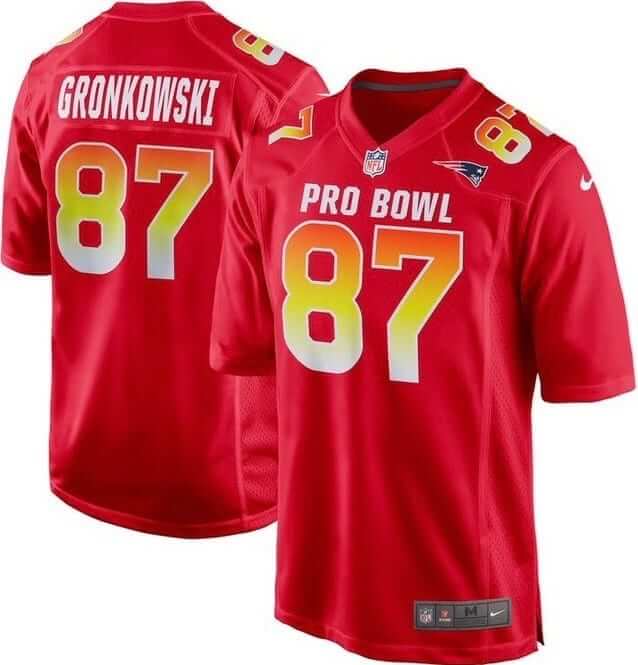 Click to enlarge
Pro Bowl jerseys apparently revealed: Although there's been no official announcement, jerseys purporting to be for this year's Pro Bowl are showing up at retail. The weird thing is that they show the old jersey template (note the shoulder seams) and don't have the Pro Bowl patch that we've seen in recent years. Hmmmm.
(My thanks to Eric Odden and Steve Heredia for letting me know about this one.)
• • • • •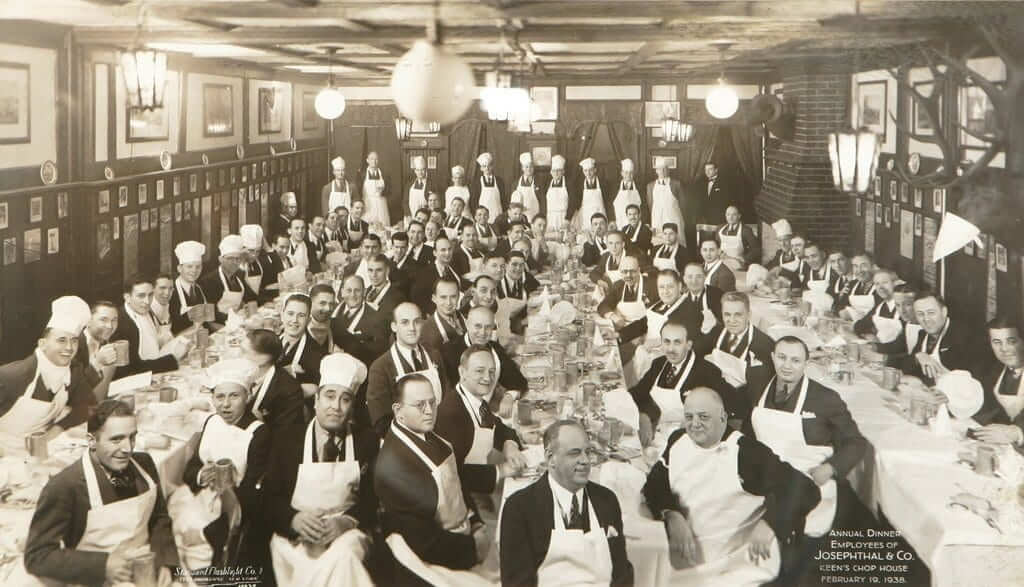 Beefsteak update: The Brooklyn Beefsteak guys have been on hiatus for the past two years or so. Fortunately, there are several other folks who are picking up the slack, including the good people at the Museum of Food and Drink in Brooklyn. They're throwing a beefsteak on Thursday, Feb. 1, and I'll be there as a guest speaker (and eater/drinker).
They're going pretty old-school with this one: No utensils, no napkins, and no chairs (everyone will be standing at high-top tablers) — just aprons, bare hands, and unlimited meat and beer. Tickets are $50 and are available here.
• • • • •
The Ticker
By Alex Hider

Baseball/Softball News: The Rangers' new stadium, slated to open in 2020, could include artificial turf. It'd be the first new stadium to feature fake grass since Tropicana Field opened in 1990 (from Brinke). … New softball unis for Virginia Tech (from Andrew Cosentino).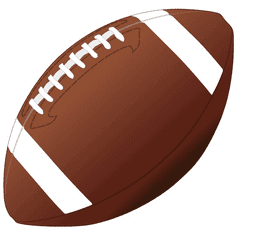 Football News: Eagles RB LeGarrett Blount posted a photo of himself on Twitter, but strangely, all elements of the Eagles uniform had been airbushed out. Perhaps it was some sort of ad agreement? (From Blake Fox.) … Shane McCartny found this 2005 photo of former Bengals WR Tab Perry, who was wearing Cincinnati's 1997-2003 pants with the team's current-era jerseys. … This blog breaks down the uniform history of the Saints and Vikings, who'll face off in the playoffs this weekend (from  @mnsportsidiot). … Hairy Dawg, Georgia's costumed mascot, apparently switched shoes from white to red during halftime of Monday night's National Championship game (from @willchitty4).

Hockey News: It's hard to tell in black-and-white, but this clip from the 1930s appears to feature the Canadiens and Rangers in a color-on-color matchup (from @EdSandheinrich). … Goalie mask artist Jason Livery posted this graphic showing the design guidelines for the Team USA hockey crest (from Ed Bauza).

NBA News: The Lakers' "Black Mamba"-themed alternate uniforms apparently have matching socks, which include the words "Lore Series" on the inside of the sock (from Alex Shedden). … The Mavs gave rookie Antonius Cleveland a commemorative basketball after he scored his first career point earlier this season (from Nick Angstadt). … BC Prienai, the team that LiAngelo and LaMelo Ball are playing for in Lithuania, is using a Big Baller Brand crest as its mid-court logo (from Blake Fox). … Speaking of BC Prienai, looks like the Ball brothers are going FiNOB (from Tony Madalone).

College Hoops News: It's rare to see Georgetown in anything but grey or navy, but the Hoyas wore light blue last night on the road against St. John's (from @bryanwdc). … Not just an NBA problem: Syracuse C Paschal Chukwu suffered a pretty significant jersey tear last night. Nice rec specs, too.

Soccer News: All of these are from Josh Hinton: The Rochester Rhinos of the USL announced plans to go on a one-year hiatus. … Indy Eleven is leaving the third-tier NASL and joining the second-tier USL. … The NASL announced a change to their calendar. They'll now play games from August to May instead of having separate spring and fall seasons. … Atlanta United's new USL affiliate, ATL UTD 2, revealed its colors and badge.

Grab Bag: This is what Team USA will wear on the medal stand in next month's Winter Olympics (from Robert Hayes). … Penn State will have new men's volleyball uniforms in 2018 (from Darian Somers). … This gallery breaks down how NASCAR drivers performed by their car's paint scheme (from David Firestone). … NASCAR driver Chase Elliott is switching his car number from 24 to 9 this season — and not all of his equipment has made the change yet (from @midnightvalley1). … Nevada is ahead of the curve, and has developed a special license plate for autonomous vehicles (from  Joshua Tretakoff). … Lewis Oliva, a Welsh cyclist, had his gym bag and cycling shoes stolen yesterday. Now, his teammates are asking eBay shoppers to keep an eye out for his stolen shoes (from Brett Baker). … Craig Ward was watching a YouTube video about the exploration of the Solomon Islands and spotted this awesome letterhead used by the local Geological Survey Department. … The new year has brought some new pro tennis endorsement deals (from Brinke).
• • • • •
Click to enlarge

What Paul did last night: My big brother Roy, who's 15 years older than I am, was born on Christmas Day. In order to avoid all the holiday overlap, I usually take him out for his birthday sometime in early January, either to a restaurant or to see music. This year he said he wanted to see the great saxophonist Lee Konitz, who was playing at Dizzy's last night.
Roy was a great big brother when I was growing up and taught me a lot about music, politics, baseball, music, movie, music, New York, music, etc. But he's a difficult, complicated guy (I'm sure he would say the same about me) and we often don't bring out the best in each other. Fortunately, he was in a great mood last night and said it was one of his best birthdays ever.
A lot of the credit for that goes to Konitz, who's now 90 years old. He alternates between sax and little scat-vocal improvisations these days (I assume he does the latter because he no longer has as much stamina for the former), both of which are completely excellent. He's no vocal virtuoso, but there's something really organic and human about his singing. Here's a bit of him dueting "Body and Soul" with pianist Dan Tepfer last night:
I'm reminded of a lyric by the great Chris Nelson of The Scene Is Now: "There's politics in every song / Just try and sing one that has no meaning."
A wonderful night.
• • • • •
By the time most of you read this, I'll be on my way to a doctor's appointment in Manhattan. I'll be back sometime in the late morning. Play nice while I'm away, yes? Yes. — Paul