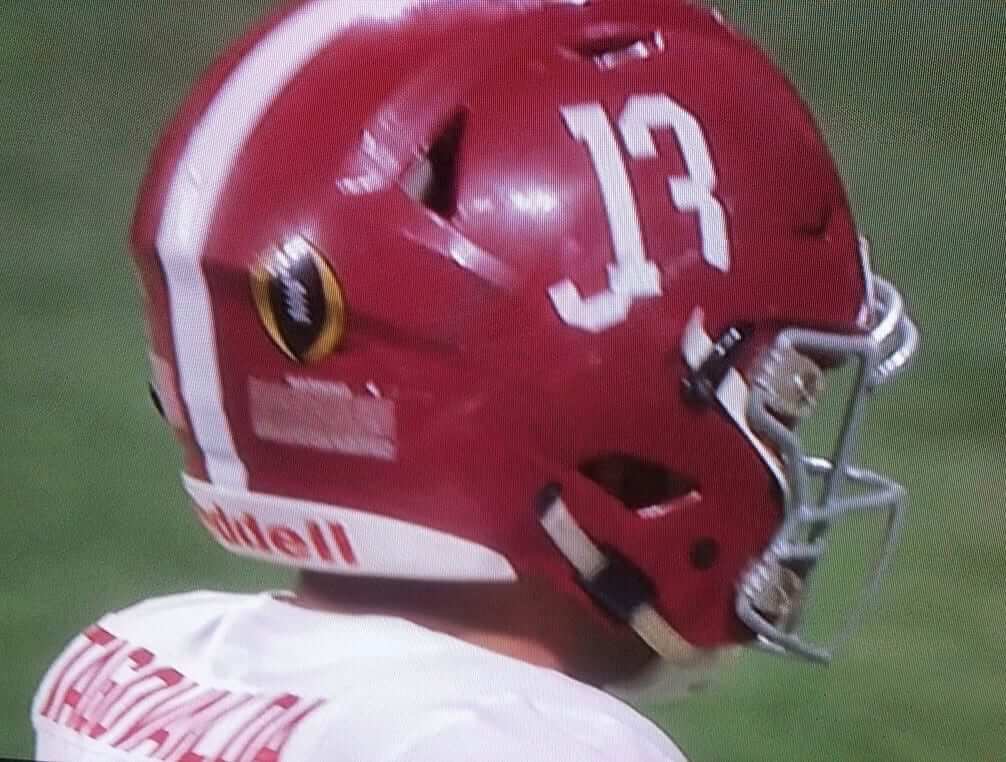 If 13 is bad luck, what about a torn No. 13? That was the situation on Alabama quarterback Tua Tagovailoa's helmet in last night's college football national championship game. Considering how the game turned out, maybe the torn numeral was good luck.
Aside from that, it was a pretty uni-uneventful game, but here are a few notes:
• Here's a good look at the cameras that were mounted on the officials' caps (click to enlarge):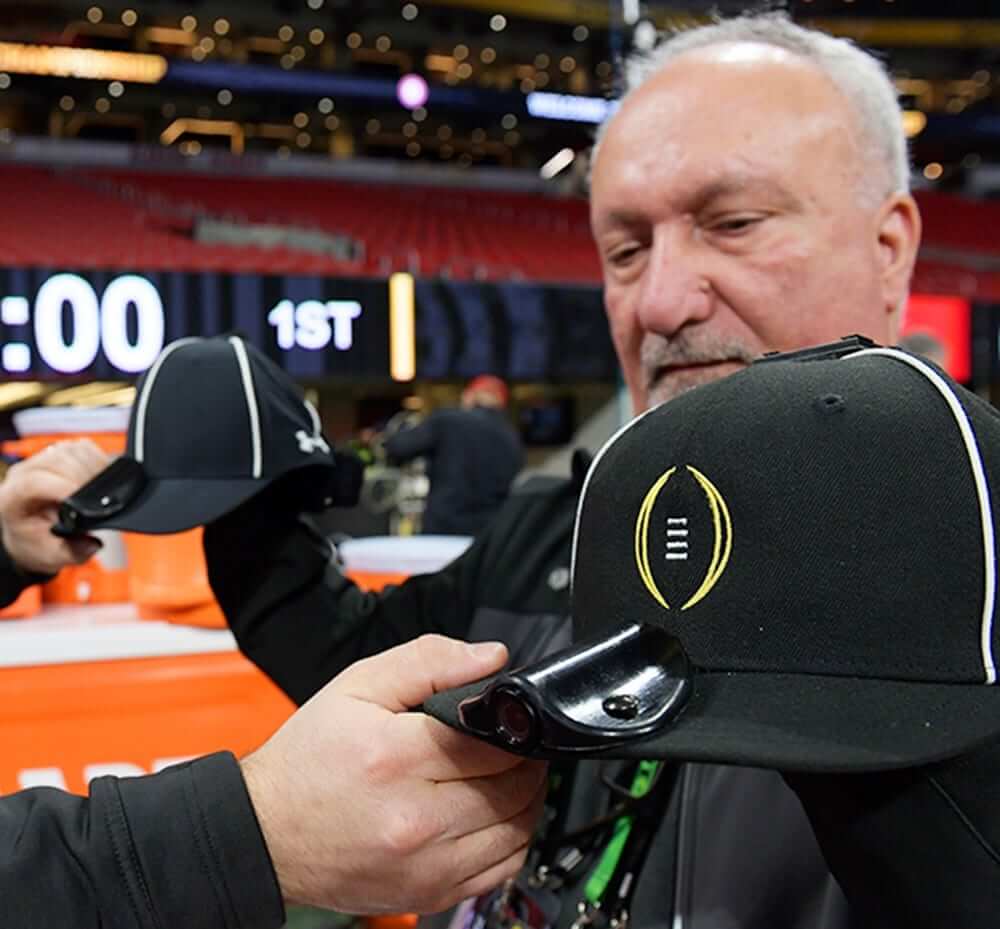 • A member of Alabama's color guard died yesterday morning after a long battle with a brain tumor. As a memorial gesture, both schools' marching bands wore grey ribbons on their uniforms last night.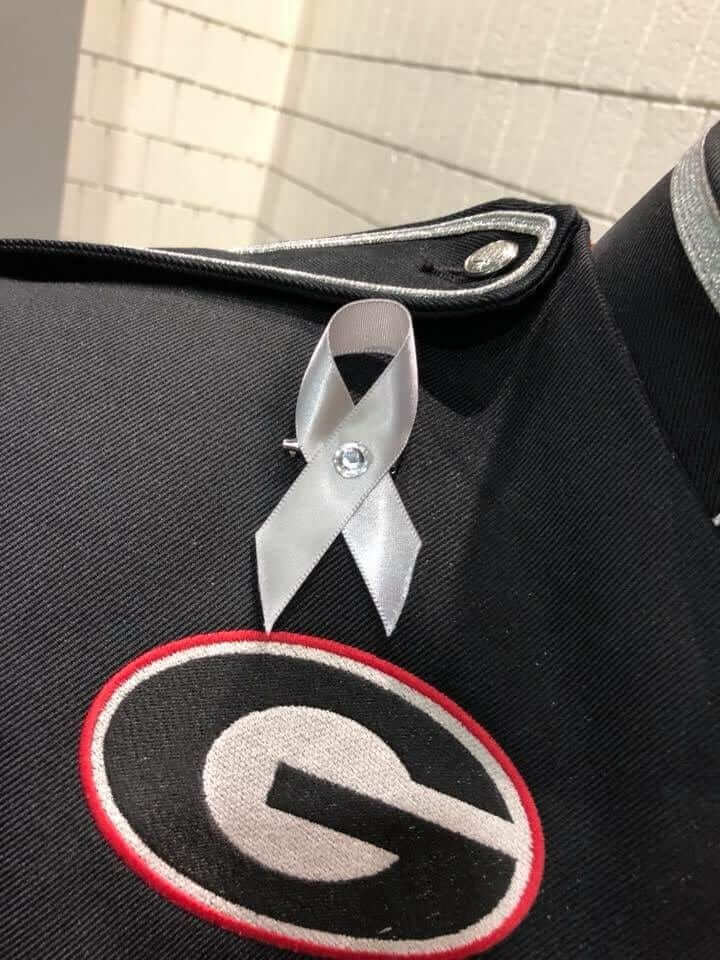 • This is pretty fascinating: Georgia's fight song is based on "Battle Hymn of the Republic" (NYT link), which was a rallying cry for the North during the Civil War.
• Alabama is the first school to win multiple titles in the CFP era, so their championship T-shirt shows two CFP trophies:
@UniWatch Two CFP Trophies on the Bama's Championship T-Shirt #rolltide pic.twitter.com/AAwc69NwOZ

— Goalline Stand (@Goalline_Stand) January 9, 2018
• ESPN updated the TV number on Alabama's helmet from 16 to 17, to reflect their 17th national title, but the numerals they used were too large:
ESPN using some cheesy knockoff decals for #Bama helmet after game.

As is customary, ESPN changed the number on their #Bama helmet display to reflect their 17th title (although NCAA only recognizes 15). But why are they so big? @UniWatch pic.twitter.com/6nWvQaupO1

— Cork Gaines (@CorkGaines) January 9, 2018
(My thanks to James Gilbert, Josh Hinton, Scott Hord, and Phil for their contributions to this section.)
• • • • •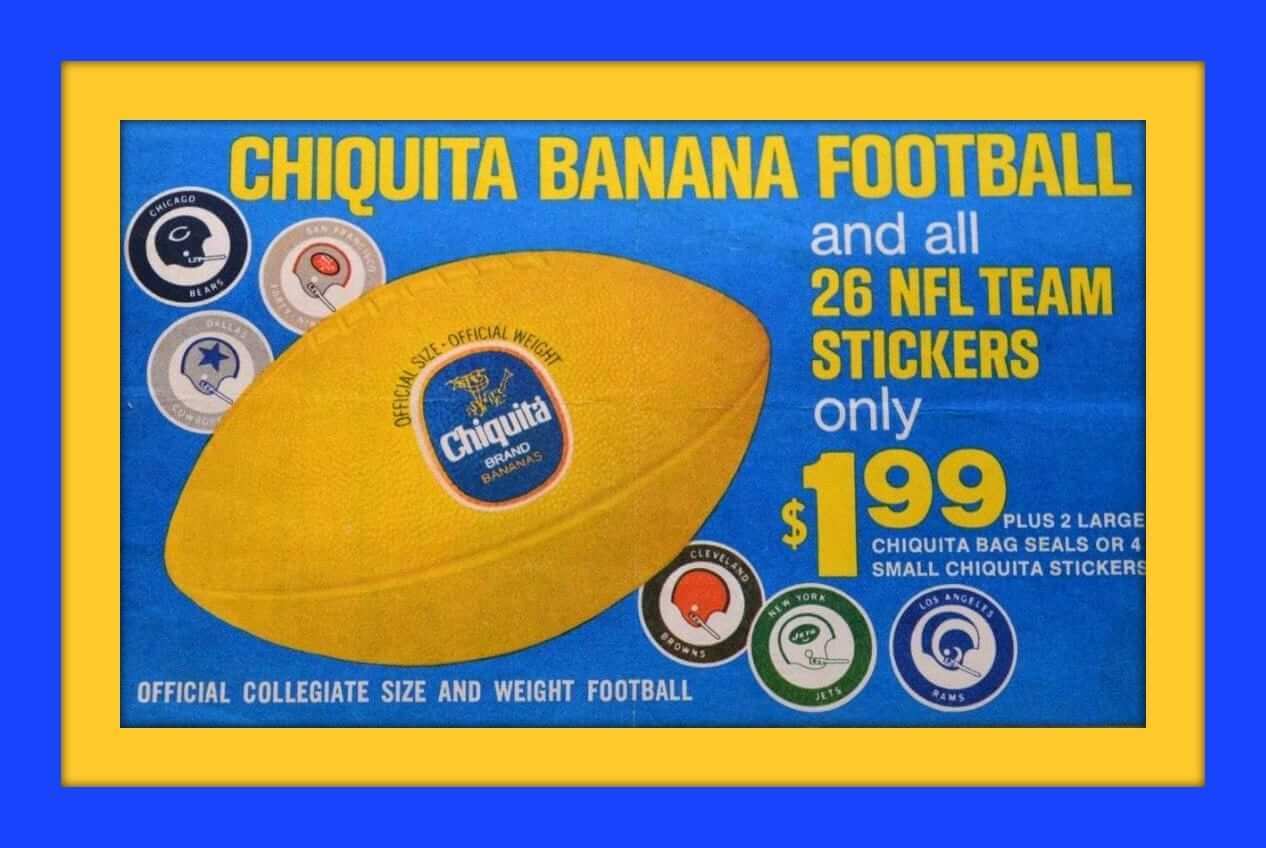 Collector's Corner
By Brinke Guthrie
Still recovering from a big ol' honking cold that has dogged me since before New Year's Eve, but I feel better when I look at this eBay auction for a Chiquita football and stickers. If you already had the football and stickers, all you needed was the radio (which I have right here) and this yellow Viewmaster thing (which I never heard of back in the day).
Now for the rest of the week's picks:
• From reader Matthew Dunn: Here's one of those neat 1969 "bicycle hub cap" helmet kits, this one for the Atlanta Falcons.
• Sticking with the bicycle theme, these MLB team reflectors snapped onto your bicycle spokes. These only came in five MLB team options for some reason: the Expos, White Sox (shown), Giants, Mariners, and Orioles.
• Caught myself humming some vintage NFL Films tunes more than once while watching the weekend playoffs, and if you're a fan of that music, you will love this box set. This was the NFL Films album that started me off, way back when.
• These 1971 IHOP NFL placemats take me back to my Dallas days. I can distinctly recall pulling into the IHOP parking lot and getting geeked up about their in-store helmet display. Pancakes? I was there for the helmets! Well, maybe the pancakes, too.
• Wow, check this out: a 1967 NFL "Western Conference" color-by-numbers set by "Venus Paradise." Looks like Dave Robinson squashing Dan Reeves, if memory serves. You get nine pencils, nine sketches, and a sharpener.
• I'm admittedly not an NHL guy, but I've spent a few Uni Watch years now on eBay, and I have to say I have never seen "Chuck Canuck" — as on this Vancouver Canucks pennant — before.
• This Padres shirt is from Nike's Cooperstown Collection. I have one of these for the Giants (circa 2000 or so) and it's the softest shirt I've ever owned, right up there with those epic 1990s soft-as-buttah Champion NFL Pro Line styles.
• Plenty of vintage logos on this 1960s NFL "twin blanket throw."
• The artwork on this 1970s New York Rangers poster is sharp, to say the least. Other teams available here.
• Here's an NFL mini-helmet clock — this one with Bucco Bruce. I have never seen these before! Now, the clock is ridiculously small, so you'll never be able to read it, and at first I thought this was a DIY. Nope, officially licensed!
• Just tell me what the art director was thinking when he/she approved the "Montreal" font for this Expos pennant.
• • • • •
Great sign making film: A friend on Facebook pointed me toward a 16-minute documentary from 2013 called Gentlemen of Letters, which is about sign painters in Dublin, Ireland. Highly recommended.
• • • • •
Bat giveaway: As you may have noticed in the right-hand sidebar, our friends at the Pillbox Bat Co. are planning to give away one of their gorgeous painted bats later this month. Full details here.
• • • • •
The Ticker
By Alex Hider

Baseball News: The A's opened their new team headquarters yesterday. Here are some photos of the new building. … The Cardinals have not announced which number new LF Marcell Ozuna will be wearing this season, but Lids is selling an Ozuna jersey with No. 23 (from Tony Hansel). …  A photo of the Giants' Fred Merkle, taken moments before he committed his infamous baserunning error that cost the Giants the 1908 pennant, has been uncovered (from Tom Ekstrand). … New uniforms for Samford (from B.J. Millican). …Texas A&M will wear stars and stripes uniforms next season (from Clint).

NFL News: With Martin Luther King Day less than a week away, this week's New Yorker cover depicts King kneeling alongside NFL protesters. … Whoops: Someone at Majestic forgot to proofread these Vikings T-shirts (from Gary Olson). … Here's a list of soccer kit concepts for NFL teams (from Doc Serph).

College Football News: Los Angeles Rams RB and Georgia alum Todd Gurley wore a Bulldogs frankenjersey ahead of yesterday's national championship game (from Ben). … Former Iowa coach Hayden Fry is up for induction into the College Football Hall of Fame. His full name is John Hayden Fry, but the Hall of Fame's website lists his full name as George Hayden Fry (from Kary Klismet). … HQ Trivia, a popular mobile game, asked a question about Oregon's football uniforms yesterday (from Griffin Smith). … NCAA D-III Gallaudet University's helmet is the best in college football, according to Helmet Tracker's fan vote (from Jeff Weld and Todd Usher). … Lots going on in these vintage Youngstown State photos: mismatched nameplates, crop top jerseys, and giant merit decals to name a few (from Robert Hayes).

Hockey News: There's no crying in hockey, either: The Rockford IceHogs of the AHL will wear Rockford Peaches-themed jerseys on Jan. 26, honoring the 75th anniversary of the All-American Girls Professional Baseball League. The Peaches were the team famously portrayed in "A League of their Own." … As mentioned in Saturday's Ticker, Penguins C Sidney Crosby used purple tape on his stick to raise awareness for the "Do it for Daron" organization. In that game, Crosby scored a goal and tallied three assists so he used purple tape again on Sunday for good luck (from Jeff Slater). … Joe Werner ordered an item on eBay recently from a Canadian seller, and his package came delivered with some awesome hockey-themed stamps.

NBA News: Last night, the Pacers wore their white Hickory throwbacks against the Bucks, who went BFBS (from Nate Thompson). … ESPN is using a photo of last year's T-Wolves unis in a commercial (from Patrick Lerentz).

College and Rec League Hoops News: Looks like Ohio State will wear grey throwbacks on Thursday against Maryland (from Ben Teaford). … Northern Kentucky and Oakland went black-on-yellow this weekend on Oakland's dark wood floor (from Derek Linn). … Robert C. Byrd High School in Clarksburg, West Virginia, will wear uniforms honoring Kelly Miller High School on Feb. 2. Kelly Miller was an all-black school that closed in 1956 (from Mike Gilbert). … A Cincinnati rec league team was suspended after wearing uniforms with NOBs that included "Coon" and "Knee Grow." The team itself was called the "Wet Dream Team." Additional info here (from Joe Owen).

Soccer News: Club America of Liga MX has a new kit (from Ed Żelaski and Josh Hinton). … Memphis will be getting a USL squad in 2019, and the team will play its home matches at AutoZone Park, the home of Triple A baseball's Memphis Redbirds (from Parker Lee). … New kits for Leones Negros of Mexico's second league (from Gilberto). … Repost: Here's a list of soccer kits concepts for NFL teams (from Doc Serph). … Real Sociedad of La Liga has signed an apparel deal with Macron, replacing Adidas (from Josh Hinton).

Grab Bag: Here's what the USA's Olympic ski team will wear next month in Pyeongchang (from Phil). … The Zambonis, the hockey-clad rockers that have been featured here on the site before, have teamed up with the band Vista Blue to produce a record about curling. They're taking pre-orders now for the 7″ vinyl record, and they're hoping to have the records delivered in time for the Olympic opening ceremonies. … Jeremy Brahm wrote a blog post discussing how teams handle volleyballs  in their logos. … This blogger is disturbed by Under Armour's speed skating uniforms (from Bryon West).