The NHL Winter Classic is always a visual feast, and that was definitely the case yesterday in Queens, as the Rangers and Sabres faced off. A few quick notes:
• Sabres goalie Robin Lehner wore a toque over his mask:
• Advance word was that Rangers goalie Henrik Lundqvist was going to wear pads with a design inspired by the Mets' skyline logo, but he ended up wearing a different design:
• The Sabres' uniforms looked particularly excellent. This is what they should be wearing full-time:
• Uni Watch reader and Rangers super-fan Alan Kreit was at the game and notes that the flags atop the Mets' stadium had been replaced with Rangers and Sabres flags (click to enlarge):
Lots of additional photos here and here.
• • • • •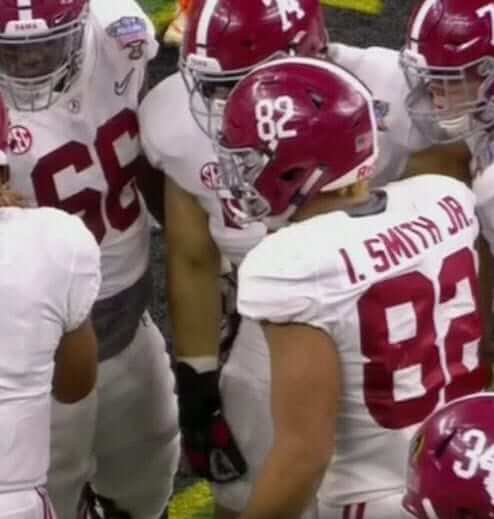 NOB job: Alabama tight end Irv Smith Jr., shown above during last night's Sugar Bowl, has FIOB and JrOB, which is pretty absurd.
There's one other Smith on the 'Bama roster — wide receiver Devonta Smith, who has FIOB but not JrOB. So there's really no need for either of them to wear a first initial, because Irv could just have "Smith Jr." while Devonta could just have "Smith."
Of course, there's no need for Irv Smith (or anyone else) to wear a generational suffix, because his surname is Smith, not Smith Jr. So the better solution would be for him to scrap the "Jr." and just go with "I. Smith."
There's also the school of thought that says first initials are unnecessary because the players have distinct uni numbers, so you could make that case as well. But any way you look at it, Irv Smith definitely doesn't need the initial and the generational suffix.
(Big thanks to Cork Gaines for the Sugar Bowl screen shot.)
• • • • •
NBA Uni Tracking
By Collin Wright
For the first time all season, traditional white-vs.-color matchups are now occurring in less than half of all games. As this week's graph clearly illustrates, things have been trending that way for a while now, but this week is the first time the yearly average has dipped under 50% (49.3%, officially; click to enlarge):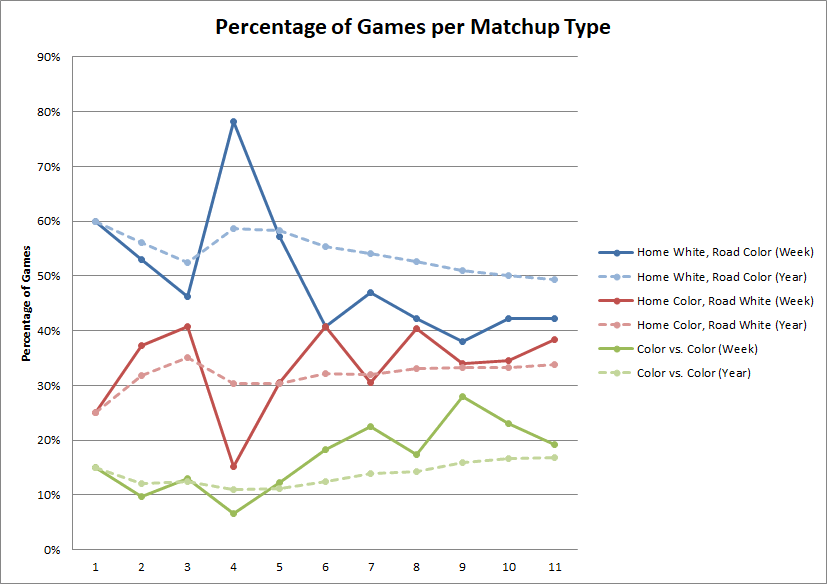 So when the home teams aren't wearing white, what color are they choosing? Perhaps unsurprisingly, the next most popular color is blue (17% of games) followed by black (13%) and red (12%). Green is being worn at home least frequently, which makes sense given that only three teams (Boston, Milwaukee, Minnesota) even have a green uniform and the Bucks haven't worn their at home. Below is a visual breakdown of how frequently teams are wearing each color at home: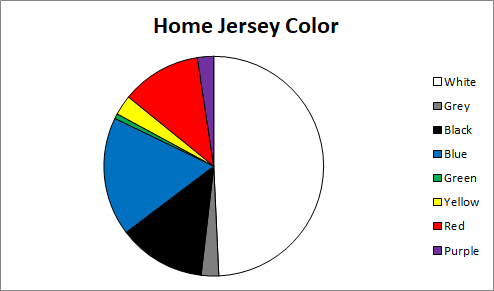 It will be interesting to see how these numbers change as teams begin wearing their recently unveiled fourth uniforms.
• • • • •
Sorry, no Ticker today. We'll get back to full-scale content tomrorow. Happy 2018! — Paul