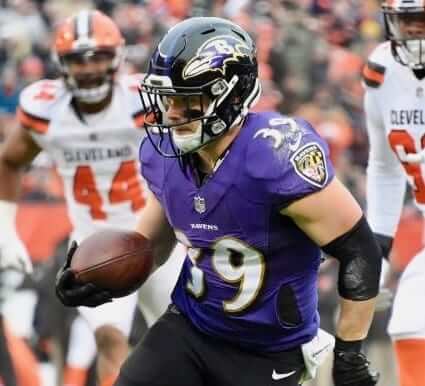 Yesterday's Ravens/Browns game featured the resurgence of a little-noted uniform detail that you rarely see nowadays: the sewn-in jersey pocket. Once fairly common, the sewn-in pocket has largely been supplanted in recent years by the strap-on hand-warmer pouch, but you'd never know that from watching yesterday's game in Cleveland. Ravens players with the sewn-in pockets included running backs Danny Woodhead (shown above) and Alex Collins, tight end Benjamin Watson, linebackers Za'Darius Smith and Matt Judon, safety Tony Jefferson, and cornerback Anthony Levine. And on the Browns' side of the ball, wide receiver Josh Gordon was pocketed as well.
The funny thing is that it wasn't all that cold in Cleveland, with temperatures in the high 30s.
In most other respects, it was a quiet day around the league. A few notes:
• The Jaguars went mono-black:
• Raiders wide receiver Cordarrelle Patterson wore striped socks: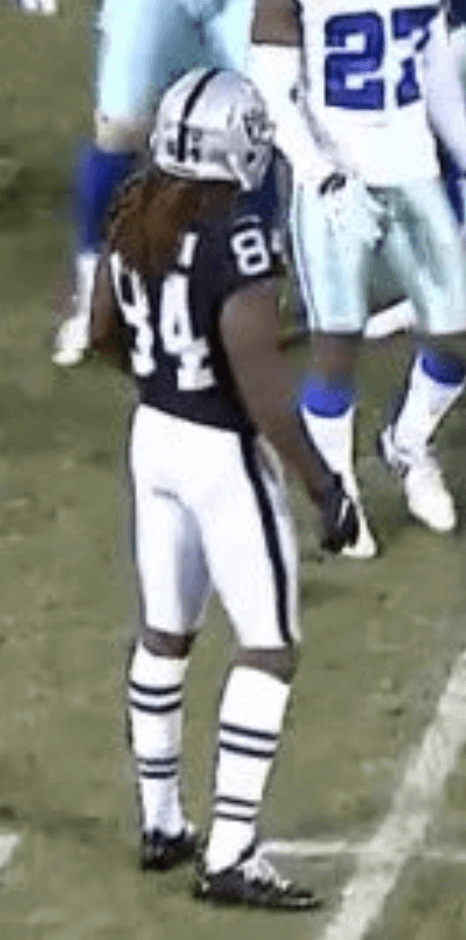 He's apparently been wearing that sock style for a few weeks but I hadn't realized or noticed until now.
• Speaking of Raiders hosiery, wide receiver Michael Crabtree suffered a torn sock:
@PhilHecken @UniWatch Torn sock for Crabtree. pic.twitter.com/Heh8btke9K

— Ƒunhouse (@BackAftaThis) December 18, 2017
That photo also shows Cowboys defensive lineman Maliek Collins sporting a truly absurd jersey-to-undershirt ratio.
• That Cowboys/Raiders game also featured one of the most bizarre moments in the history of first down measurement. Check this video, and then there's additional info available here.
• Only one team wore white at home: the Browns.
• Here's a list of players who protested during the national anthem.
Meanwhile, in case you missed it, both of Saturday's NFL games were uni-notable:
• First, the Lions wore their brutal mono-grey Thursday-night uniforms while the Bears wore their standard navy-over-white combo, resulting in a very rare sight: a non-Thursday game with neither team wearing white (additional photos here).
• And in a highly unfortunate development, the Chiefs went mono-red (additional photos here):
(My thanks to @clevelove1, Andrew Cosentino, and Pro Football Journal for their contributions to this section.)
• • • • •
Ebony and ivory: Interesting move by LeBron James, who began last night's Cavs/Wizards game by wearing mismatched sneakers — one white and one black. Both sneakers were emblazoned with the word "Equality":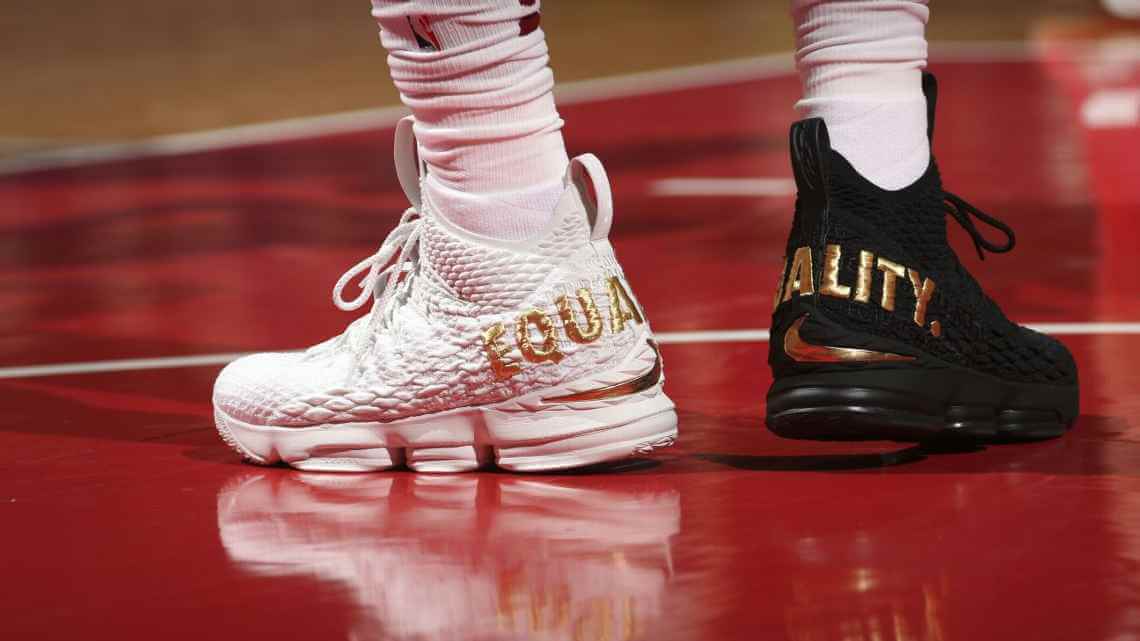 James changed sneakers at halftime, switching to a pair of matching red sneakers. It's not clear, at least to me, if he was told to stop wearing the mismatched pair or if he did so on his own. (Update: Reader/commenter Mike Engle came up with this article, which features the following postgame quote from James: "I didn't play well in the first half, and I'm very superstitious, so I took 'em off."
By coincidence, Arizona State forward Mickey Mitchell also wore mismatched footwear for yesterday's game against Vanderbilt, although there's no indication that he was trying to communicate any sort of sociocultural message:
@UniWatch @PhilHecken Mickey Mitchell of Arizona State is wearing two different color shoes pic.twitter.com/qzXye997ab

— Chris Howell (@ChrisHHowell) December 17, 2017
Update: Reader/commenter William informs me that Kyrie Irving of the Celtics wore mismatched shoes on Friday night.
• • • • •
NBA Uni Tracking
By Collin Wright
A season-high 14 color-vs.-color games were played this past week. That accounted for 28% of all games played, also a season-high. You can see those numbers reflected in this week's chart (click to enlarge):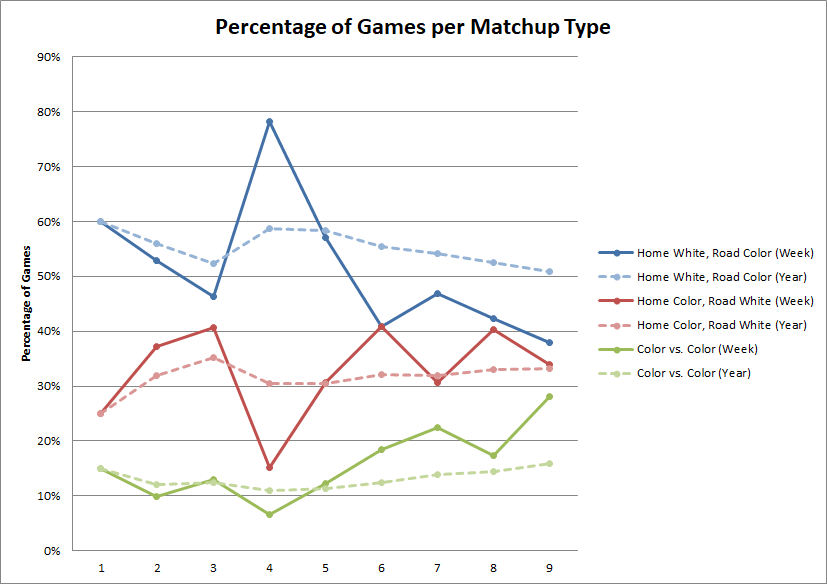 Of the 70 color-vs.-color games that have been played so far this season, the Rockets have played the most (11) followed by the Celtics and Bulls (10 each).
The Pistons, Timberwolves, and 76ers all debuted their third uniforms on court in the past week, so we've now seen all 90 uniforms for the first three "editions," as well as seven of the eight throwbacks. Only Atlanta's throwback set has yet to be worn in a game. Several teams have teased the on-court debut of their fourth uniform for games on or around Christmas, so we can expect to start seeing those within a week or so.
Meanwhile, now that each team has played at least 30% of its schedule, I thought it would be fun to see which uniforms have the best record. Considering only uniforms that have been worn at least two times, we have four undefeated designs: Cavs black (4-0), Warriors throwback (5-0), Rockets black (9-0), and Spurs silver (4-0).
Honorable mention goes to the Knicks and Pistons regular white uniforms, which have been worn in 13 victories each, the most of any set.
At the other end of the spectrum, the Hornets throwback, Lakers purple, Trail Blazers red, and Wizards navy sets are all winless to date.
• • • • •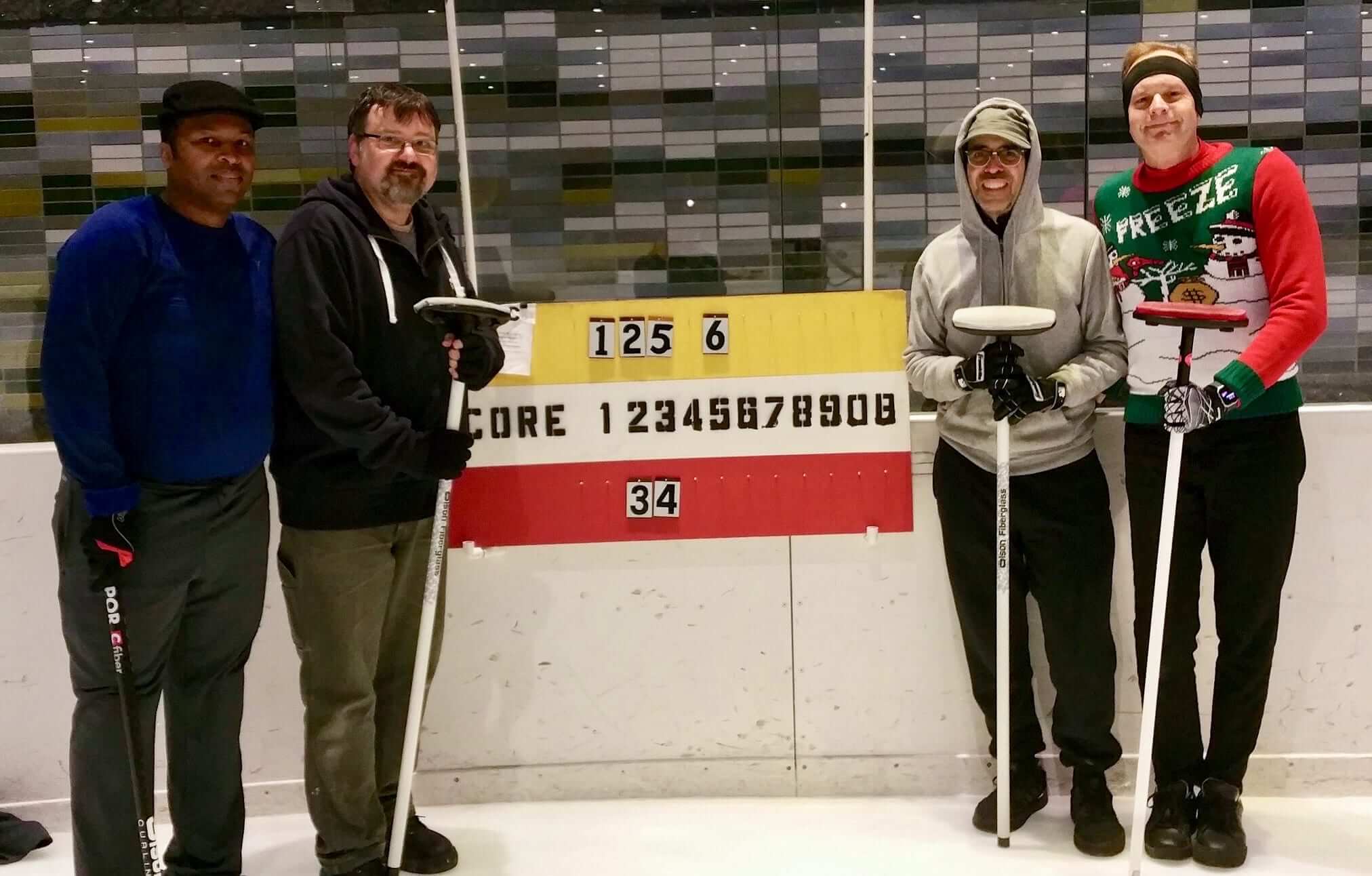 Curling update: I haven't had much to say about curling this year because our team, frankly, hasn't played well. But last night we finally notched our first win of the year (no thanks to me — I played like shit). As you can see, Phil wore a seasonally appropriate sweater for the occasion — nice.
• • • • •
Culinary Corner: I don't usually repeat recipes from previous Culinary Corner installments. But I make an exception each December for my favorite holiday preparation, homemade Irish cream. In other words, homemade Bailey's. In other words, melted ice cream that gets you drunk. It's super-easy to make, it'll make you the hero of whatever holiday party you bring it to, and lots of you have told me how much you like it. Here's how to do it:
Start with some decent Irish whiskey — Bushmills, Jameson, Tullamore Dew, something like that (but not super-high-end stuff, because the nuances will be lost in this preparation). Pour a pint of the whiskey into a large-ish container and mix it with a can of sweetened condensed milk; a pint of heavy whipping cream; a tablespoon of chocolate syrup; a teaspoon of vanilla extract; a teaspoon of instant espresso dissolved in two tablespoons of hot water; and a quarter-teaspoon of almond extract.
Mix well (if the container has a tight lid, you can just shake vigorously), refrigerate, serve over ice, and get ready to become the most popular person in the room. No need to thank me afterward, but you'll want to do so anyway — trust me.
• • • • •
Click to enlarge
Three of my favorite things: The Tugboat Captain (who took the photo while also modeling for it), Uni Watch girl mascot Caitlin (who spends an inordinate amount of time rolling over on her back), and striped socks. A win-win-win!
• • • • •
Raffle reminder: In case you missed it on Friday, our annual year-end raffle is currently underway. Full details here.
• • • • •
The Ticker
By Jamie Rathjen

NFL News: Someone put a Packers splash guard in a urinal in Chicago's Public Safety Headquarters. A reporter actually asked about it a police superintendent's press conference (from Mike Chamernik).

Hockey News: Several items from Saturday's NHL 100 Classic in Ottawa, all sent in by Wade Heidt: First, in this picture you can see that the Canadiens wore blue helmets, which are normally worn with their red jerseys, and Ottawa goalie Craig Anderson had new pads for the occasion. … The pre-game ceremonies featured the uniforms worn when the Canadiens and original Senators faced off on the first night of the opening NHL season. … The Senators alumni game on Friday night featured separate '90s throwbacks, at least for the jerseys (note the current logo visible on the shorts). The alumni game was played on a special rink on Parliament Hill with a view of the main Parliament building, the Centre Block. … I'd like to add to this that the ice markings were at times barely visible, even compared to other outdoor games. … One of the linesmen in yesterday's Golden Knights/Panthers game was wearing a numberless sweater (from Roy Bellamy). … Check out the great "Three Blind Mice" sign on the door of the officials' dressing room at the Dover (N.H.) Ice Arena (from Tris Wykes).

Basketball News: The Nuggets have officially unveiled their second alternate uniform. Here's some additional info and a photo gallery (from Robert Hayes). … The Lakers will retire both of Kobe Bryant's numbers — 8 and 24 — tonight. … New white alternates for Nevada.

Soccer News: Two different shoes, part three: shortly after coming in as a sub on Saturday, Manchester City striker Gabriel Jesus changed his boots in an attempt to improve his footing on the pitch. But out of haste or for whatever reason, he only changed one boot, wearing two different ones for the rest of the game. … In Scotland, the entire Hibernian away support were outfitted with green Santa hats for the trip to Aberdeen, thanks to the team's advertiser. Unfortunately, Hibs changed to black, denying us a festive red-vs.-green matchup. … Dutch team Ajax have put together some great matchday posters this season. … The fans of French team Stade Rennais did a Star Wars-themed display prior to playing Paris Saint-Germain. It says "Star Roaz," which is half of "Roazhon," the city of Rennes's name in Breton.

Grab Bag: The NLL's Saskatchewan Rush have new helmets with more lime green, says Wade Heidt. They were previously plain black. … Adam Herbst saw a poster for the Fistball Under-18 World Championships, to be held in Roxbury, N.J., next summer. What is fistball, you ask? It's apparently similar to volleyball, with teams of five players who can only use arms or closed fists to hit the ball. The ball can be hit up to three times before crossing the net, and it's allowed to bounce each time. It's played both outdoors (on fields) and indoors (usually on handball courts) on a much larger surface than volleyball.