By Phil Hecken
Follow @PhilHecken

The annual Army/Navy game featured two of the best looking alternate uniforms either squad has ever worn for "America's Game," (and they've worn alternate uniforms for a decade now). For a full explanation of the uniforms worn in yesterday's game, and for a look back at the unis worn from 2008-16, please take a look at yesterday's lede. It should answer any questions you might have about the unis you're about to see.
Not only was yesterday's game one of the best looking games, it was one of the best games in recent memory (decided on a last-second field goal attempt by Navy that sailed wide by about a yard), AND it was one of those rare SNOW games. Really, this one was a uni-watcher's dream.
The game has all the usual pomp and circumstance. From the bands to the playful intra-military trolling, to the leading of the teams on to the field. Sometimes the hype exceeds the action. Not so yesterday. Did I mention there was snow?
The game itself was a sight to behold. Army wore the all white uniforms honoring the 10th Mountain Division who wore all white uniforms during the winter months of World War II. It was fitting camouflage for yesterday's tilt.
Yes, they stood out against a dark background, but on a white field covered with snow…
I explained the significance of Army's helmets in yesterday's lede, but here are a couple good closeups:
Speaking of helmets, Navy's helmets were depicted in the hype graphics as roughly the same color as the uniform. In a pleasing development, they were considerably lighter than the uniform, more appropriately resembling a Blue Angels' helmet and flight suit.
Here's a couple helmet close-ups. One detail I missed (because it wasn't readily apparent) was in addition to the F/18 Hornets depicted on the helmet, there were also vapor trails!
The Commander-in-Chief often attends the game, sitting on one side for a half, and then joining the other side of the field for the second half. The current occupant of the White House was not in attendance at yesterday's game (he did attend last year as President-elect), but Secretary of State Rex Tillerson did attend. He's seen below speaking with the referees before the coin toss:
With snow before and throughout the game, the groundskeepers were kept busy trying to keep the yardage lines and hash marks visible:
When we get snowfalls nowadays, TV graphics people usually superimpose the yardage markers on the field over the snow. At the start of the game, this was noticeably absent:
@UniWatch @PhilHecken No fake yard numbers in Army-Navy Game! Great job CBS! pic.twitter.com/ZZd0LosOyC

— Blake Fox (@tennisblake) December 9, 2017
Unfortunately, it didn't last long, as the superimpositions happened shortly afterwards:
Yep, those are digital field numbers at Army-Navy pic.twitter.com/yhzMx2ZGeU

— SB Nation (@SBNation) December 9, 2017
The snow also messes with the "first down" and "line of scrimmage" graphics, because they have to account for a white, rather than green, background. When one team, such as Army, was wearing ALL WHITE uniforms, this made for some comical moments (actually, it occurred throughout the game):
The 1st down line on television is a problem with Army's all-white uniforms.#ArmyNavyGame pic.twitter.com/nLHBDhUvb8

— Ƒunhouse (@BackAftaThis) December 9, 2017
First down/LOS lines not working so well with these Army unis in the snow. cc: @PhilHecken pic.twitter.com/1SAbdi9z2k

— T.J. Harley (@tj_harley) December 9, 2017
Yeah, you could say Army was really camouflaged:
@UniWatch it's like that time the Stormtroopers faced off vs. the Rebels on Hoth! pic.twitter.com/OGntkKCf7D

— Thomas Fant (@Winston_Wolfe) December 9, 2017
This was a nice treat. The ball used by Navy for this game was personally thrown and hand marked by none other than Roger Staubach (a former Middie):
There were no uni mishaps that I noticed or were brought to my attention — save for one: this Army player was missing his flag patch:
@PhilHecken @UniWatch pic.twitter.com/utspxupN1R

— Brian Davis (@doremaniac) December 9, 2017
I understand not everyone reads Uni Watch daily (and there are even less on weekends). That explains why I received around a dozen of these tweets yesterday:
Flag facing the wrong way on @ArmyWP_Football jerseys. How does this happen? Reason maybe? @PhilHecken @UniWatch pic.twitter.com/meGSbIjVTV

— Lenny DeMalto (@RunItsTheCops) December 9, 2017
At least I got to refer them back to yesterday's post where it was explained that the patch was period correct for the WWII period which the team was honoring. The flag code has since been amended, but at the time, this was the way the patch was worn on the right sleeve.
Navy went with Player NOB while Army wore "SNOB" (School Name on Back). Or you could just say they said "ARMY"
All in all, it was a great game to watch and one I always look forward to ever year. The snow only made things better, and Army couldn't have picked a better year to break out all white uniforms honoring a winter military unit! I laughed when I saw this:
@UniWatch pic.twitter.com/h16zyO05Oe

— GuyOnABuffalo (@CityBuffPete) December 9, 2017
There's just something about football in the snow. Army/Navy in gorgeous uniforms in the snow? Priceless.
.

.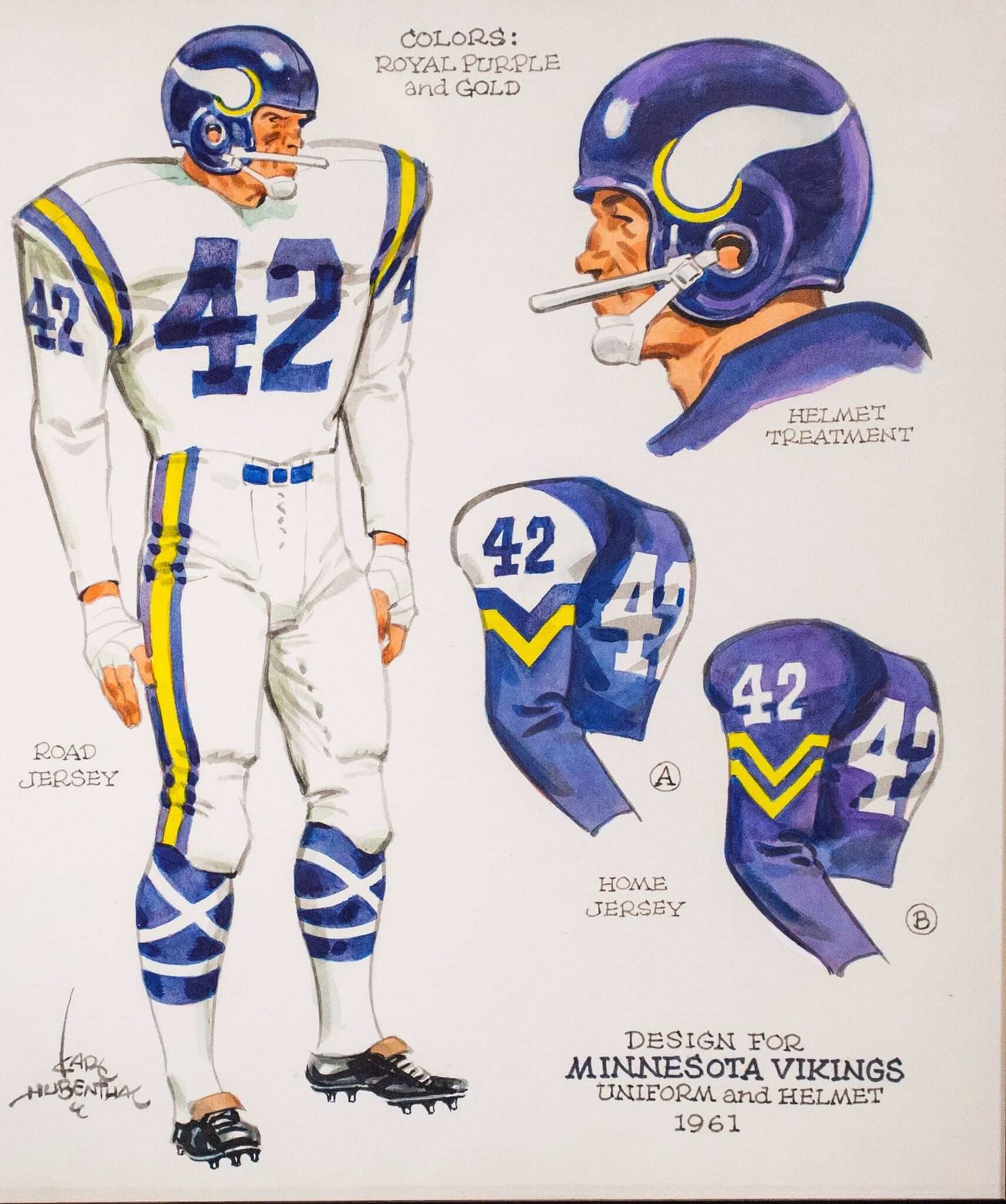 And now a few words from Paul
In case you missed it on Friday: Remember my recent ESPN piece about how cartoonist Karl Hubenthal designed the Vikings' uniforms, and how he used purple and gold because those were the colors of GM Bert Rose's alma mater, the University of Washington?
Several Vikings fans responded to that piece with counter-narratives — stories that contradicted the one I reported. So I went back and did a bunch of additional reporting (including an interview with former Vikings coach Bud Grant, who's now 90 years old), in an attempt to sort which stories were accurate and which ones weren't.
The result is a new ESPN follow-up column, which I think you'll find very interesting. Check it out here.
Also from Friday: When I recently announced that StickerYou had created a little Uni Watch shop on their website, several of you got in touch to say, "Stickers are great — but what I really want are magnets."
I'm happy to report that your requests have been heard. If you go to StickerYou's Uni Watch shop, you'll see that they're now offering three separate options: sheets of stickers, individual singles, and magnets. According to the StickerYou folks, this is the first time they've set up a shop like this for one of their partners. Nice!
Also, with Christmas fast approaching:
• If you want a Uni Watch membership card to be delivered in time for Christmas, I strongly urge you to order it now. (You can also buy a gift membership voucher, which your lucky recipient can redeem anytime.)
• If you want a Uni Watch mini-helmet in time for Christmas, you'll need to here.
• Remember, our Uni Watch Ugly Sweater T-shirt has been revived for the holiday season.
Okay, that's it. We now return you to your regularly scheduled weekend post.
.

.
Attention Graphic Artists/Photoshoppers!
I have a (somewhat) smallish project I'd like to undertake, but I need the skills of a graphic artist/photoshopper. If you're interested and would like to have your work featured on Uni Watch, please drop me a line and I'll give you the particulars.
OK? OK!
Thanks!
.

.
Uni Watch News Ticker
By Phil

Baseball News: As you're all (probably) aware by now, the Japanese two-way star Shohei Ohtani announced Friday he will sign with the Los Angeles Angels, and now we know he will wear the number 17 (from Mike Chamernik). Here he is at his presser wearing a goddam softball top alternate jersey (from Josh Claywell). … CROSSOVER ALERT (but not the good kind): Michael Franzman spotted this "hybrid" Chicago Cubs/Golden State Warriors wool(?) hat. Not sure if that's intentional or a printing mistake. Also posted in hoops. … Here's a great photo of Stan Musial wearing my favorite Cardinals uniform (from Bruce Menard). In fact, that *might* be my favorite baseball uniform of all-time. … OK, I admit, I LOL'ed at this (and Lids even replied!). From James Gilbert. … CROSSOVER ALERT II: KSR, a University of Kentucky athletics blog/website, is upset about ESPN using the UK-Monmouth game as a promo for MLB (from Josh Hinton). Also posted in college hoops.

NFL/Football News: The Eagles will be wearing green jerseys and white pants this week, on the road. That's because they're playing the Rams in LA, who wear white at home. The Eagles happen to be undefeated in green tops this year. … Up to 15 Steelers players got customized Shazier cleats for Sunday's Ravens game, according to artist Corey Pane, who works closely with Antonio Brown. Check out some from the collection (from Al N. Kreit). … As you're probably aware, the Dolphins will be throwing back on Monday. They used a cool faux-dot matrix scoreboard to announce it (from Robert Hayes). Even the coach wore a throwback logo on his hat yesterday (from Robert Hayes). Too bad it didn't match the logo on his shirt or the background. … Here's a look at Eli Manning's color rash jersey with the Payton award patch (from Jamie Burditt). Also from Jamie, the "throwback" helmets will have retro visor clip logos. … Less than a week after the Maine Mariners revealed the logo and colors they'll wear to play ECHL hockey in 2018, the folks who run Cross Insurance Arena introduced another minor-league sports team. This one will play arena league football in the same building (from Alan Shore).

College Football News: I didn't really expect there to be any non-Army/Navy College Football news, but yet, the Wofford kicker was wearing glasses with his helmet. Photo is post extra-point during game with NDSU (from Adam M.). … There's midfield logos and then there's this. Texas A&M-Commerce has one GIANT LION at mid half the field (from Robert Hayes). … This photo of a Michigan player was shown without context. The Beer Baron points out that uniform doesn't have TV numbers on the shoulders like the game uniforms. … Did you ever wonder why Baker Mayfield wears #6? Wonder no more.

Hockey News: On Friday night, the Michigan State Spartans hockey team wore these really nice script "Michigan State" sweaters (from Jordan Doddie). … You always wanted to see John Candy holding a cabbage patch doll with an Islanders sweater, right? Of course you did (from James Beattie). … Nice color-on-color action Friday night between the Danville Dashers and the Port Huron Prowlers (from @HockeytownSouth).

NBA/Basketball News: CROSSOVER ALERT (but not the good kind): Michael Franzman spotted this "hybrid" Chicago Cubs/Golden State Warriors wool(?) hat. Not sure if that's intentional or a printing mistake. Also posted in baseball. … Yesterday evening, the Milwaukee Bucks G-League team wore throwbacks to Oshkosh's CBA team, the Flyers (from Ryan Wozniak). Here's an "action" shot (from Ray Barrington). … Jimmer Vilk's favorite hometown team, the Akron Aviators, wore white uniforms with white numbers yesterday. In a rare good "ghosting" development, they were also wearing ghosted TNAC (Team Name Across Crotch) shorts.

College/High School Hoops News: It's bad enough when one team doesn't wear school colors, but both? That's what happened yesterday when Duke (BFBS) and Boston College (GFGS) squared off against one another (from Chris Howell). Here is another look (from Rex Henry). Boston College did have the Boston skyline on the back of their jerseys (from DukeStJournal). … Middletown (Ohio) High School closed the Wade E. Miller Gym last night after 65 years (Jerry Lucas played there). Middletown and their opponent, Hamilton, wore 1950s throwback uniforms (from Brian Henke). … The Oklahoma State Cowboys broke out throwback uniforms yesterday Here's a look at them (from Dan Medina). … During yesterday's action, #21 on Seton Hall had no name on his jersey and possibly different font (from @therealjoshf). …CROSSOVER ALERT II: KSR, a University of Kentucky athletics blog/website, is upset about ESPN using the UK-Monmouth game as a promo for MLB (from Josh Hinton). Also posted in baseball. … The University of Texas at Arlington had a pretty cool BFBS jersey yesterday (from Stephen Peters). … Beautiful color-on-color matchup yesterday between UCLA and Michigan (from Jon Deno). … Also a really nice color-on-color matchup: Minnesota State at Upper Iowa (from Myles Johnson).

Soccer News: The 2017-18 UEFA Champions League Group Stage is over, and with it the 16 participants for the first knock-out are definite. Here's a look at the kit makers Champions League Round of 16 (from Josh Hinton). … Also from Josh Hinton, here's a look at the kit makers of the Europa League. … One more from Josh: Here's a look at every MLS Cup Final's jersey. … Here's a Cleveland Force (Indoor Soccer), program from the '81/'82 season. This cover just screams "1980s" (from @History_Cle). … Charlton Athletic (red) wearing a special facsimile of their 1992 kit on the 25th anniversary of their return to their traditional home ground (from Michael Sprake).

Grab Bag: We can debate whether Santa is real (or even if he's a white guy), but this one's not up for debate: When Santa visits Chapel Hill, he wears Carolina blue (from James Gilbert). … "I went to the Pez factory in Orange, CT a few weeks back for a kids' birthday party," says Jim Brunetti. "Thought these might be Uni Watch worthy. Enjoy!" … The NLL (National Lacrosse League) opened on Friday night. Here are some notables from Wade Heidt: 1) 3 opening night games featured all the home teams wearing white. Last year home teams wore dark uniforms. Looks like the league has made switch to white at home (except Georgia who wear yellow as their light colour); 2) The jerseys now feature the league logo on the front just below the collar [I love those tiled stripes!]; 3) Previously the maker's mark had been in that spot and league logo was at the hemline; 4) The Toronto Rock are wearing 20th Anniversary patches on the right side of the hemline of their jersey; and 5) The Vancouver Stealth added their secondary fox logo to the shoulders of their white jersey. There had been no shoulder patches on the white jersey last season.
.

.