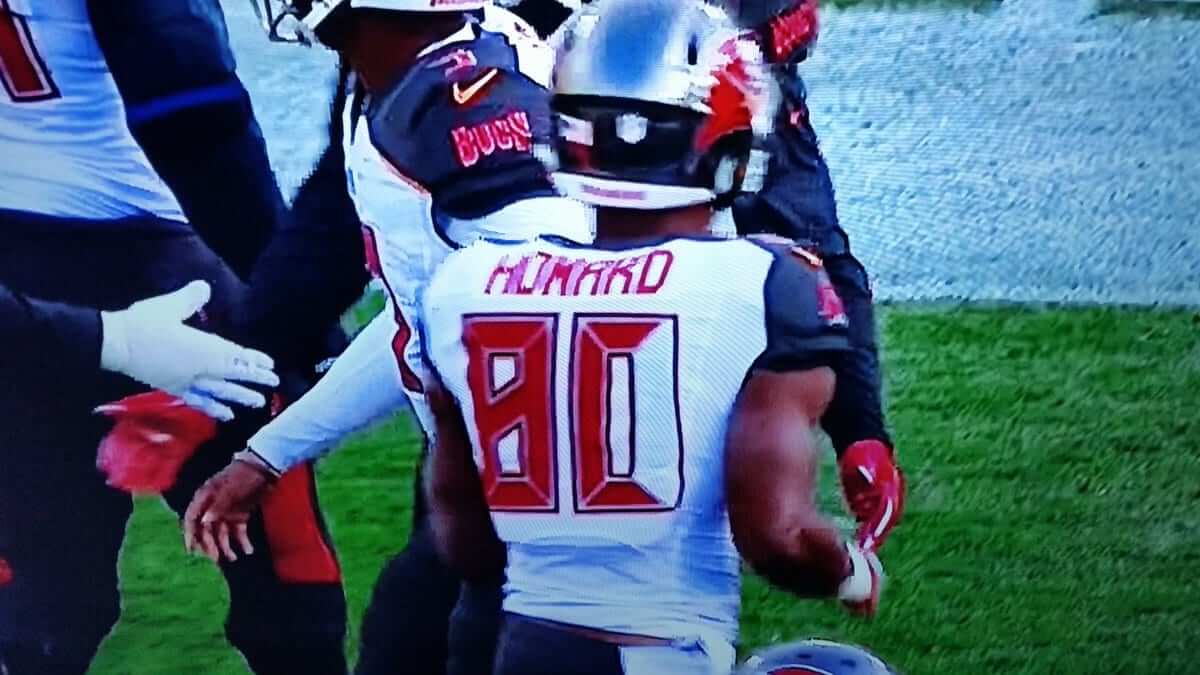 Click to enlarge
Several jersey snafus yesterday for the Bucs, beginning with tight end OJ Howard, who somehow lost one of the red panels on his 0 (or maybe one of the LEDs on his alarm clock went out). Don't think I've ever seen that particular uni glitch before.
In addition, linebacker Kendell Beckwith suffered a torn jersey: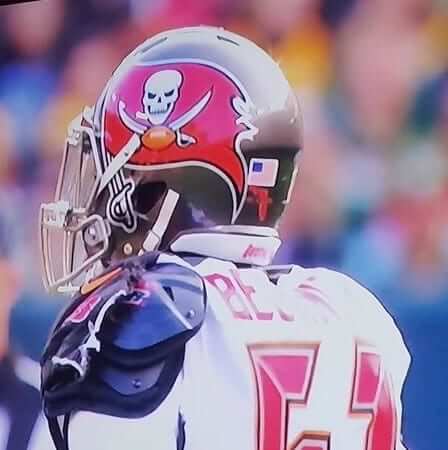 In other news from around the league yesterday:
• It was a big day for monochromatic uniforms, beginning with the Bills, who went mono-blue:
• The Titans went mono-navy:
• The Jags went mono-black:
• The Saints went mono-black yet again — ugh. Such a miserable look for a party town like New Orleans.
4th & goal, smacked with a block, and @a_kamara6 STILL finds the end zone.#SaintsGameday | #CARvsNO pic.twitter.com/CFd5HnfwlE

— New Orleans Saints (@Saints) December 3, 2017
• And in yet another mono move, the Chargers wore their Thursday-night uniforms on Sunday (click to enlarge):
An ELECTRIFYING run by @Melvingordon25!
⚡⚡⚡#CLEvsLAC pic.twitter.com/WKQTbEXZSg

— Los Angeles Chargers (@Chargers) December 3, 2017
That makes five different games with a mono-colored team (plus the Seahawks, but of course they always go mono at home).
• In Atlanta, the hashmarks for the Vikings/Falcons game were in the wrong spot. That was a carryover from the SEC championship game, which had been played on Saturday (click to enlarge; additional info here):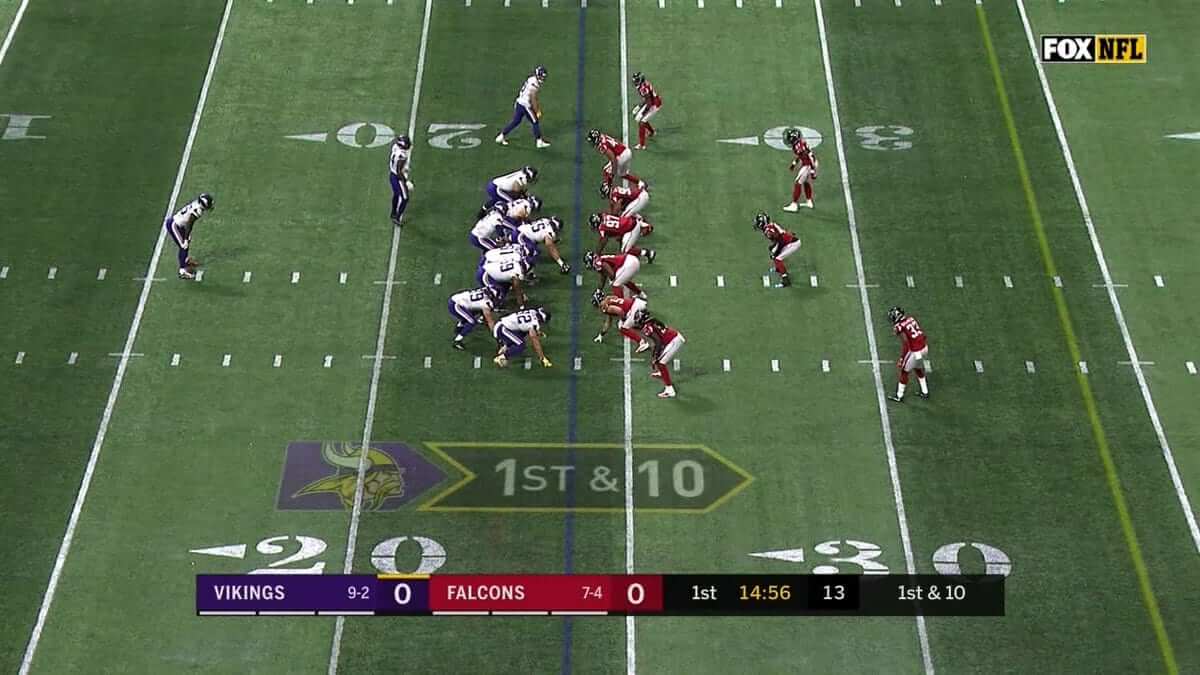 • In another field-related development, the Dolphins' midfield logo is usually outlined in white, but yesterday they added a navy outline (click to enlarge):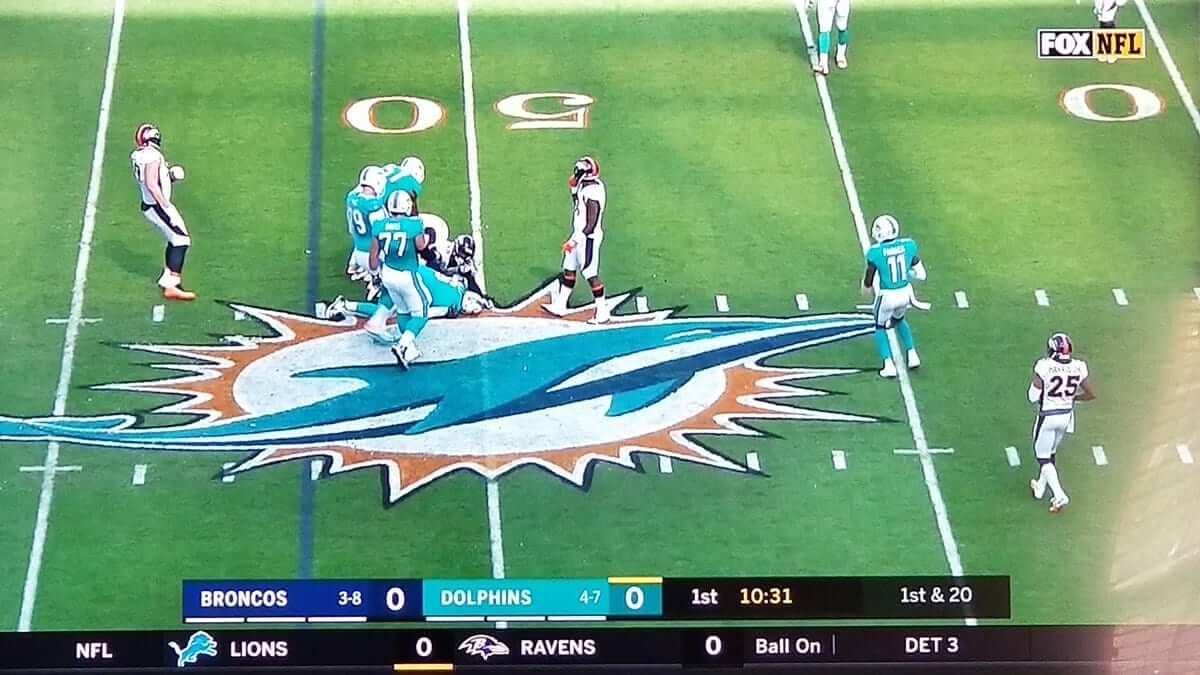 • In an apparent NFL first, Chiefs defensive back Marcus Peters was so upset about a penalty call that he threw the official's flag into the stands. He was flagged for unsportsmanlike conduct and then left the field, mistakenly thinking he'd been ejected. He later returned — without socks:
All my yrs of watching the NFL.. I don't think I ever seen a player do this. Marcus peters is wild for that pic.twitter.com/WqBooRlFoJ

— Skip Baeless ⚡ (@_TrueInMeans) December 3, 2017
(Update: Not a first after all!)
• As if the Rams on-field uniforms weren't enough of a mess, head coach Sean McVay was wearing the old gold-horned logo, which is no longer the team's official logo:
• There were lots of cleats for causes, although there didn't seem to be nearly as much buzz about this year as there was last year.
• Not a single team wore white at home.
• Here's a list of players who protested during the national anthem.
(My thanks to @aj_crisp21, Jamie Burditt, Preston Feiler, and Jonny Rockford for their contributions to this section.)
• • • • •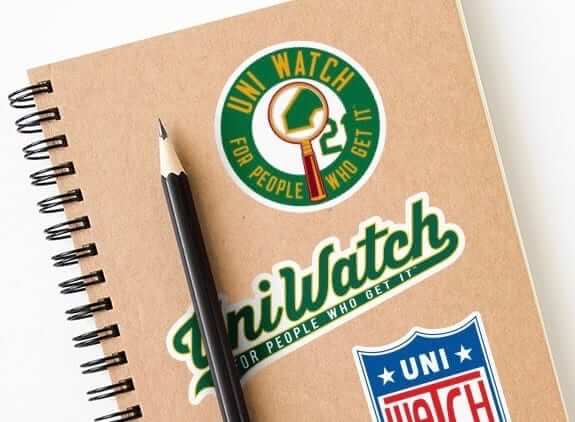 Stickers reminder: In case you missed it on Friday, our friends at StickerYou have now set up a little Uni Watch sticker shop on their site. If you click on the "Make Custom Stickers" button, you'll see that we're offering a bunch of designs that originally ran on our T-shirts. You can order a full sticker sheet of the same design, or build a mix-and-match variety sheet.
Are there other sticker designs you'd like to see? Would you like to see Naming Wrongs stickers? Anything else? Let me know.
Also: Remember our recently launched Uni Watch shield T-shirt? Rob Ullman, who designed that logo, went ahead and ordered a few dozen stickers of the shield, which he's selling on Etsy. You can buy those as individual stickers, instead of a full sheet. But once those few dozen are gone, that's it, so move fast.
• • • • •
Click to enlarge
Appointment required: On Saturday afternoon I went to the Prospect Park Zoo. Like many zoos nowadays, they have a set of peacocks that are free to roam around the grounds. This one didn't follow the rules about having an appointment.
• • • • •
Best purchase ever: Now that we've hit December, the plastic mistletoe that I bought in 1993 at the now-defunct Woolworth's in Herald Square has emerged from the cupboard and been hung in its usual spot. Twenty-five seasons and counting — not bad for something I originally bought for $2.99. Let the Yuletide necking commence!
• • • • •
The Ticker
By Jamie Rathjen

College Football News: May be hard to see, but Boise State's silver helmet numbers now have orange outlines (from Erik Hulme). … In the same game, only Fresno State had a Mountain West championship game patch, while Boise State didn't (from @bsuorangecrush). … Multiple readers pointed out that some Ohio State players had black stickers on the front and back of their helmets. Those are for "Zone 6," a proprietary name and logo for the team's wide receivers. … New Nebraska coach Scott Frost, who was a Cornhuskers QB from 1995-97, was given a helmet with his old No. 7 for photo ops (from Brett Baker).

Hockey News: The Panthers are inconsistent with their McNOB styling. It's unclear if this is a glitch or if it's because the players specifically request the raised or base-aligned "c." The team actually has four Mc/Mac-surnamed players (from Matt Campbell). … Matt also put together a comparison of the NOB habits of the McGinn brothers: Panthers winger Jamie, Hurricanes winger Brock, and Tucson Roadrunners (AHL) winger Tye. … The Stars are now 5-0-0 in their yellow laces (from Dennis Squrrth Jr.). … Quinnipiac debuted team-colored camouflage jerseys on Saturday. … David Firestone has an update on the crest of the Italian team HC Feltre from yesterday's Ticker. It's "clearly based on Mr. Horsepower," the logo of the auto shop Clay Smith Cams, he says. The team plays in Serie B, the third tier of Italian hockey behind Serie A and the Alps Hockey League (a joint effort with Austria and Slovenia).

Basketball News: Louisiana Tech wore grey and sleeves against Division II Miles College (from Chris Mycoskie). … Both matchups in a doubleheader at D.C.'s Capital One Arena were color (or grey)-vs.-color: Temple vs. George Washington (from Matt Eliot) and Georgetown vs. Coppin State (from @bryanwdc).

Soccer News: Southampton debuted a white/red third kit, which is, as last year's edition was, one-use-only to avoid a clash with fellow red-and-black-clad team Bournemouth. … On Saturday, Manchester United midfielder Nemanja Matić was wearing team-branded texting gloves; you can tell because the thumb and pointer fingertips are lighter (from @BandaBear15). … From the NCAA women's championship: Stanford has a pretty unique front number position. … Two examples of calendar-related number/NOB combinations: first, Scottish striker Stevie May signed with Aberdeen this summer. He was persuaded to wear No. 83 so that his shirt, "May 83," commemorates the month and year in which Aberdeen won the Scottish Cup and European Cup Winners' Cup 10 days apart. … The second one has no intentional meaning for its wearer, but if any of you need to remember when Paul's birthday is, the shirt of Brighton & Hove Albion midfielder Solly March will get you really close.

Grab Bag: Reader Jeremy Brahm found another team besides Alabama associated with a houndstooth pattern: Thai women's volleyball team Khonkaen Star. … Due to heavy air pollution in Delhi, several members of the Sri Lankan cricket team wore surgical masks during the current test match against India (from Graham Clayton). … A Chicago hotel has intalled a curling sheet on its rooftop (from Tris Wykes).