It was a tale of two throwbacks in the NFC North yesterday. We'll start in Chicago, where the Bears wore their Monsters of the Midway throwbacks. As you can see above, the Bears go about this the right way, using grey facemasks instead of their usual navy (additional photos here).
The same can't be said, unfortunately, for the Packers, who wore their throwbacks and once again stuck with their usual green facemasks, even though the throwback uni has no other green elements (additional photos here):
Green Bay's approach makes no sense. The NFL's one-shell rule allows teams to swap out their facemasks, so the Packers could easily go with blue or grey. Sticking with green, which they've done for several years now, just seems lazy. I've asked to speak with Packers equipment manager Red Batty about this, but they've declined to make him available to me. Too bad.
In other news from around the league yesterday:
• Good-looking game at the Meadowlands, as the Giants hosted the Chiefs (additional photos here):
• I reeeaaallly wish the Saints would stop going mono-black at home, but it seems to be their default look now.
• The Chargers went mono-blue — not my favorite look for them (additional photos here).
• Two teams wore white at home: the Dolphins and, of course, the Cowboys.
• Here's a list of players who protested during the national anthem. And in a related item: With the Pats/Raiders game taking place in Mexico City, Oakland running back Marshawn Lynch, who had sat during the national anthem for all previous games this season, stood for the Mexican anthem, prompting a scolding from President Trump.
• • • • •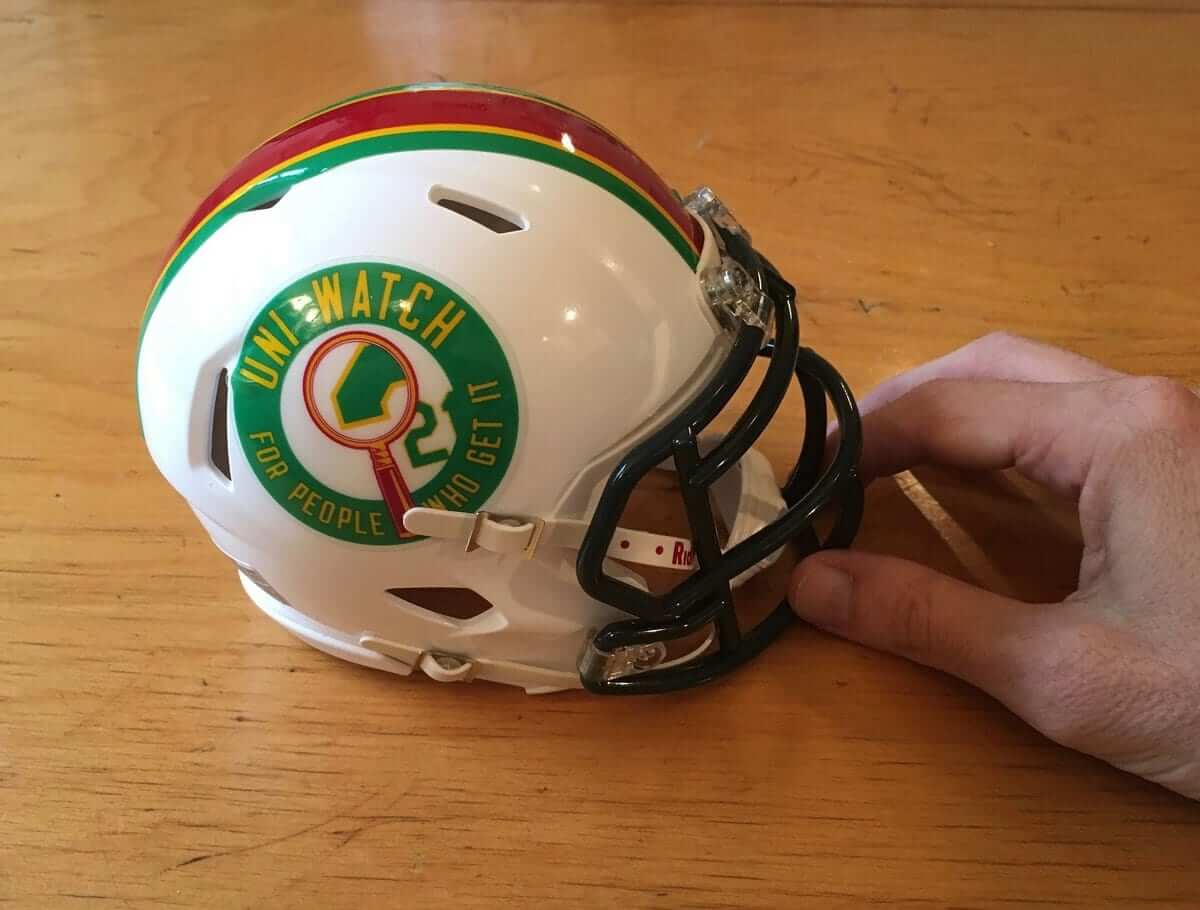 Mini-helmet reminder: Remember the Uni Watch mini-helmet is now available. The first customers who ordered have been receiving theirs and posting photos on Twitter. They look great! Get yours here.
• • • • •
The Ticker
By Jamie Rathjen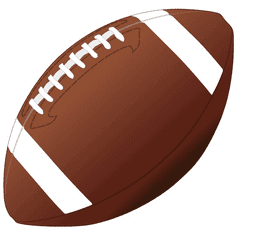 Football News: The Falcons livestreamed the implosion of the Georgia Dome this morning (from Bill Schaefer). … Some of the uniform combinations for the CFL division finals were sent along by Wade Heidt and Brett Kellington: The Toronto Argonauts wore mono-Oxford blue, as opposed to the more common white/blue/white. The Calgary Stampeders wore black alternates, while Edmonton created a new look with their white jersey and alternate helmet and pants.

College Football News: From Saturday: Iowa DE Nathan Bazata was missing his NOB. … Speaking of this, the North Carolina equipment people said on Twitter yesterday that they have a blank jersey on hand for any uniform-related problems, which was why a NNOB No. 45 was spotted on the sidelines (from multiple readers). … Meanwhile, Clemson coach Dabo Swinney was wearing camouflage pants (from Brad Darby). … Pitt DB Maurice Ffrench's last name is not a typo (from Yancy Yeater). … Division II Findlay (Ohio) has NOBs on their helmet stripes, rather than their jerseys (from Matt Brown).

Hockey News: One of the Rangers' power play units yesterday had a combined 47 letters across their five surnames. Can any of you hockey fans come up with a power play unit with even more letters? (From Josh Berger.)

Basketball News: Reader Chris Perrenot sent us a picture for the Grizzlies' upcoming holiday promotion, including a scarf giveaway. "Clearly Photoshopped," Chris says. Notice how a wedge is missing from the bottom of the scarf. … We had one of the first grey-on-grey matchups of the college basketball season in Division II between the women's teams of Cheyney (Pa.) and Bloomsburg (Pa.), who wore light and dark grey, respectively (from Matt Brown).

Soccer News: Scottish Premiership team Dundee debuted a previously revealed khaki third shirt which features both camouflage and yet another poppy. The team already wore a poppy two weeks ago. … Serie A side Napoli also revealed a mono-BFBS third kit on Saturday (from Ed Żelaski). I should mention that Napoli have in recent seasons worn camouflage and denim-patterned shirts, and another BFBS kit last season. … Also from Ed: New first-choice shirt for Chilean team Colo-Colo. … North Carolina FC will switch from the "third-tier" NASL to the "second-tier" USL next season, says Josh Hinton. … On the subject of expansion, the NWSL announced a new Utah team this week to be run by Real Salt Lake, but the team's name, logo, uniforms, etc. are all forthcoming.

Grab Bag: This New York City Subway worker has an old-school system map on his shirt and line marker buttons on his hat (from Alan Kreit). … Interesting observation I was reminded of this weekend: for field hockey teams that wear sleeveless shirts, which are more common among women's than men's teams but not universal, the captains wears the captain's "armband" around one of their socks. … NASCAR driver Dale Earnhardt Jr. ran his final race on Sunday, and his paint scheme threw back to his first one ca. 2000-2002. Additionally, the three other Hendrick Motorsports drivers wore variations of Junior's skeleton-themed gloves.