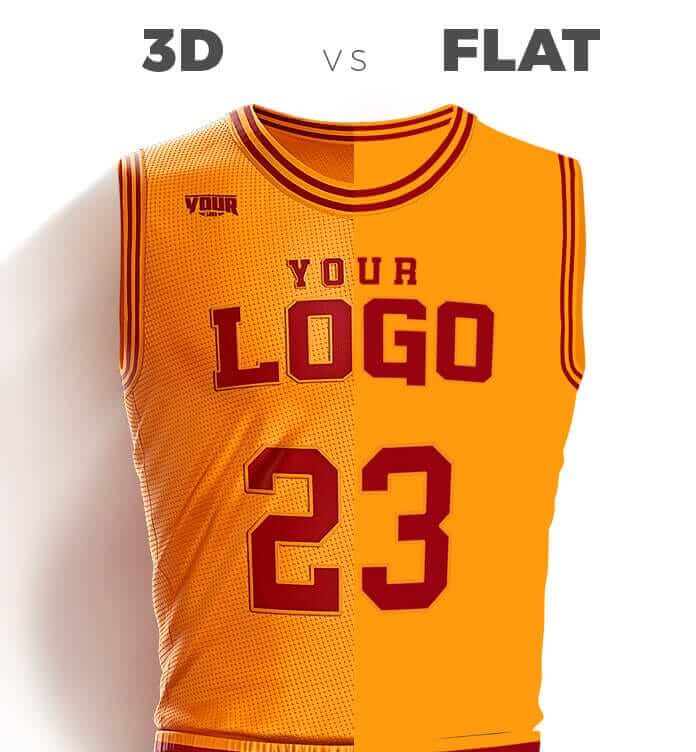 Greetings from Virginia, where I'm on a mini-vacation. I'll have more to say about that next week.
Meanwhile: Although I'm not a designer myself, I periodically run uniform-redesign contests over on ESPN. As a result, I'm exposed to all sorts of design presentations and templates that people come up with, ranging from crude crayon designs to fancy YouTube videos. And as I've said many times, presentation counts. That's not to say that a good presentation will save a bad design, but a bad presentation can sometimes ruin a good design. And when there are two designs of roughly equal merit, the presentation style or template can sometimes be the tiebreaker.
With that in mind, I'm going to surrender the floor to Ali Rahmoun. He runs the Sports Templates site, which has sometimes advertised here on Uni Watch. His templates aren't free, but they offer something extra, which I'll let him explain.

The Advantage of 3-D Templates
By Ali Rahmoun
The 3-D revolution can be seen everywhere — sports, cartoons, even in magazines. That Ikea catalogue that you flipped through is filled with computer-generated photos. In fact, up to 75% of its content is digitally reimaged.
Similarly, 80% of the car ads you see on TV are computer-generated 3-D graphics. They're so advanced that companies don't even need a physical car anymore.
Three-dimensional graphics can help your uniform concepts, too. Just look at the difference between 2-D and 3-D:

The helmet on the right may look like a photo, but it's not. It's a 3-D digital image. The 2-D helmet only shows you the basic design and the colors. The 3-D version, on the other hand, adds an entire new dimension — literally.
Now let's say you're doing a full uniform concept. Look at the difference between the 2-D and 3-D versions of the same design: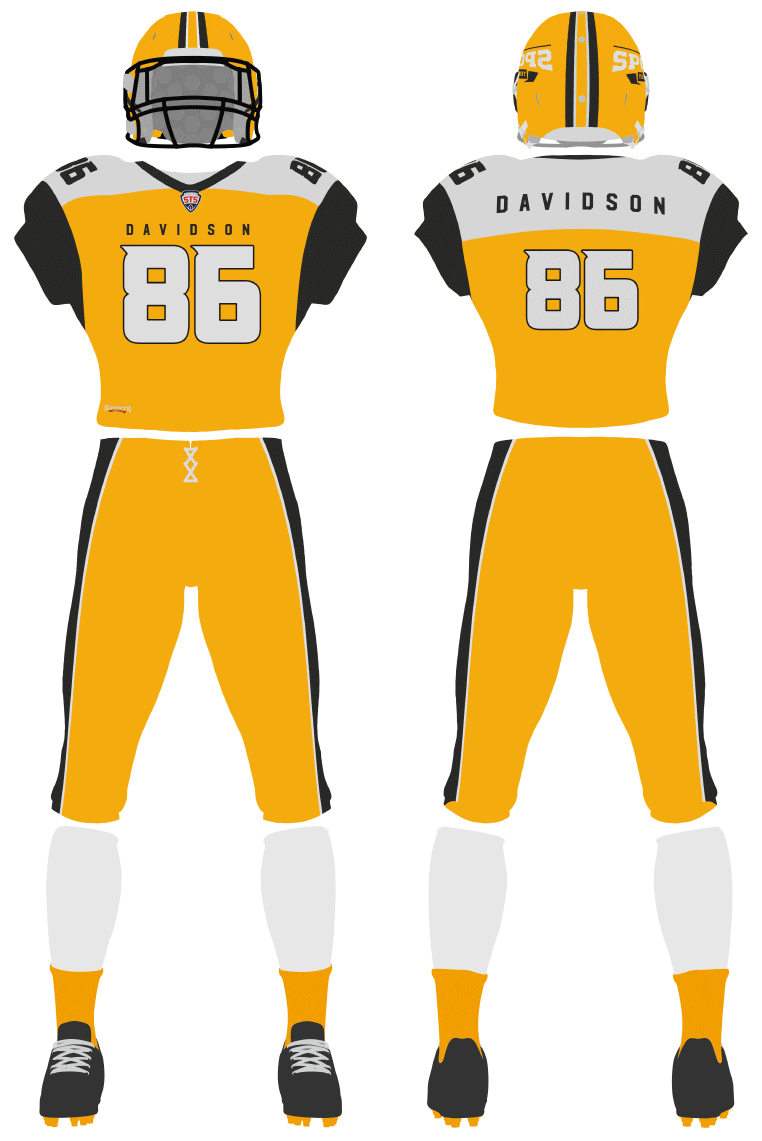 With 3-D, you can see texture, depth, and style. And you can manipulate the model any way you want, to show any angle, any perspective.
Similarly, let's say you're designing a San Francisco Giants concept. Compare the 2-D and 3-D versions shown below — it's a no brainer (click to enlarge):

But 3-D designs aren't just for amateurs or hobbyists. The NBA's Minnesota Timberwolves recently used 3-D images to create these images of their new uniforms. The images looked as good as the real thing.
Another sports team, minor league baseball's Toledo Mud Hens, used 3-D imagery — in this case, using a template that they had purchased from my website — to unveil one of their theme jerseys last season:
If you don't know how to do 3-D designs, there's a variety of ready-made 3-D templates available on my website. All you have to do is paste your logo or design onto the template, which can turn any 2-D sketch into a clean, realistic-looking 3-D image. (If you want to take things a step further and go beyond templates, Lynda.com and Skillshare.com have courses about creating 3-D designs, and there are plenty of free tutorials on YouTube as well.)
In short: Whether you're an aspiring professional, an enthusiast who enters contests like the ones Paul and Phil run on Uni Watch, or just someone who likes to see designs reach their fullest potential, 3-D is the way to go.
———
Paul here. While Ali's recommendation of his own templates may seem self-serving, his stuff really is good. I invited him to guest-write this piece because I truly believe in the product. Definitely worth considering if you're into making uni design concepts.
• • • • •
The Ticker
By Kris Gross

Baseball News: Did we almost have a minor league team named the "Scrambled Dogs"? Yep. Head towards the bottom of this article to learn more (from Marc Viquez). … The Saitama Seibu Lions of the Japanese Pacific League unveiled their 40th-anniversary logo (from Jeremy Brahm).

NFL News: Here is your Color Rash matchup from last night between the Titans and Steelers. … Some more nuggets from last night: Steelers WR Darrius Hayward-Bey wore striped socks (from Cole P). … Some Titans players hated last night's uniforms, because it makes them look like Smurfs (thanks Phil). … Drew Litton of GoComics sums up the Color Rash situation perfectly (from Kevin Weir). … Former Panthers WR Rae Carruth, who is in prison for conspiracy to commit murder, has his inmate number listed among his uniform numbers on his Wikipedia page (from Aaron). … Say hello to the National Arena League's newest franchise, the Massachusetts Pirates.

College Football News: This makes me much happier than it will Paul — Clemson will wear purple on Saturday (from Brad Darby). … Get more detail on Notre Dame's Rockne Heritage uniform (thanks Phil). … Here's what Miami, TCU, FAU, and Syracuse will wear tomorrow (from Adam Apatoff, Ayden Pierce Maher). … UAB will wear white helmets with a green chrome facemask this weekend. … Chad points out the weird spacing between the numbers and NOB on Southeast Louisiana QB Lorenzo Nunez. … Virginia Tech LB Andrew Motuapuaka will wear the No. 25 jersey in honor of Frank Beamer tomorrow (from Andrew Cosentino). … Following up on a Ticker item from yesterday about QBs with unusual numbers, Heath Hendricks passes along this image of North Alabama QB Tyler Jeffreys, who wears No. 33. … Old Dominion will wear jersey patches honoring the 100th anniversary of Naval Station Norfolk (from Jason Rhodes). … Now how about these pant stripes! Anyone know who they might belong to? (From Bill Kellick.)

Hockey News: Injuries to goalies caused the Golden Knights to call up Dylan Ferguson from Kamloops to play earlier this week. Ferguson wore his WHL mask and pads for Vegas (good spot by Wade Heidt). … Another Golden Knights goalie, Malcolm Subban, unveiled a new mask (thanks Phil). … One name you never thought you'd see here: Justin Bieber was spotted in a Tyler Toffoli Kings jersey (from Dylan B). … The Florida Everblades and Jacksonville Icemen of the ECHL will wear superhero jerseys tomorrow night (from Adam Childs).

Basketball News: Warriors F Kevin Durant wasn't happy that the Thunder gave his No. 35 to rookie PJ Dozier. Head a couple grafs down here (from Ryan Maquinana). … Celtics G Kyrie Irving wore Celtics-themed shoes last night (from Chowder & Champions). … Nebraska and Saint Louis went BFBS last night (from Joe Ryan, Brian Kunderman). … Clemson debuted their orange unis. … Here are the uniforms for the PK80, Phil Knight's basketball tournament (from Mike Lefko). … Squint to see the NOBs on Samford's jerseys (from Andrew Lopez). … New unis for Lees-McRae College. … Chris Perrenot noticed that the Texas/New Hampshire game broadcast used school colors on the telestrator.

Grab Bag: The Rochester Rattlers of Major League Lacrosse are relocating to Frisco, Texas and will be be called the Dallas Rattlers. … Bishop England High School in Charleston, South Carolina has an an awesome logo for their Battling Bishop nickname (from @Gillis44). … Are you or someone you know struggling with how to pluralize your last name? Benji King passes along this article to help you out.