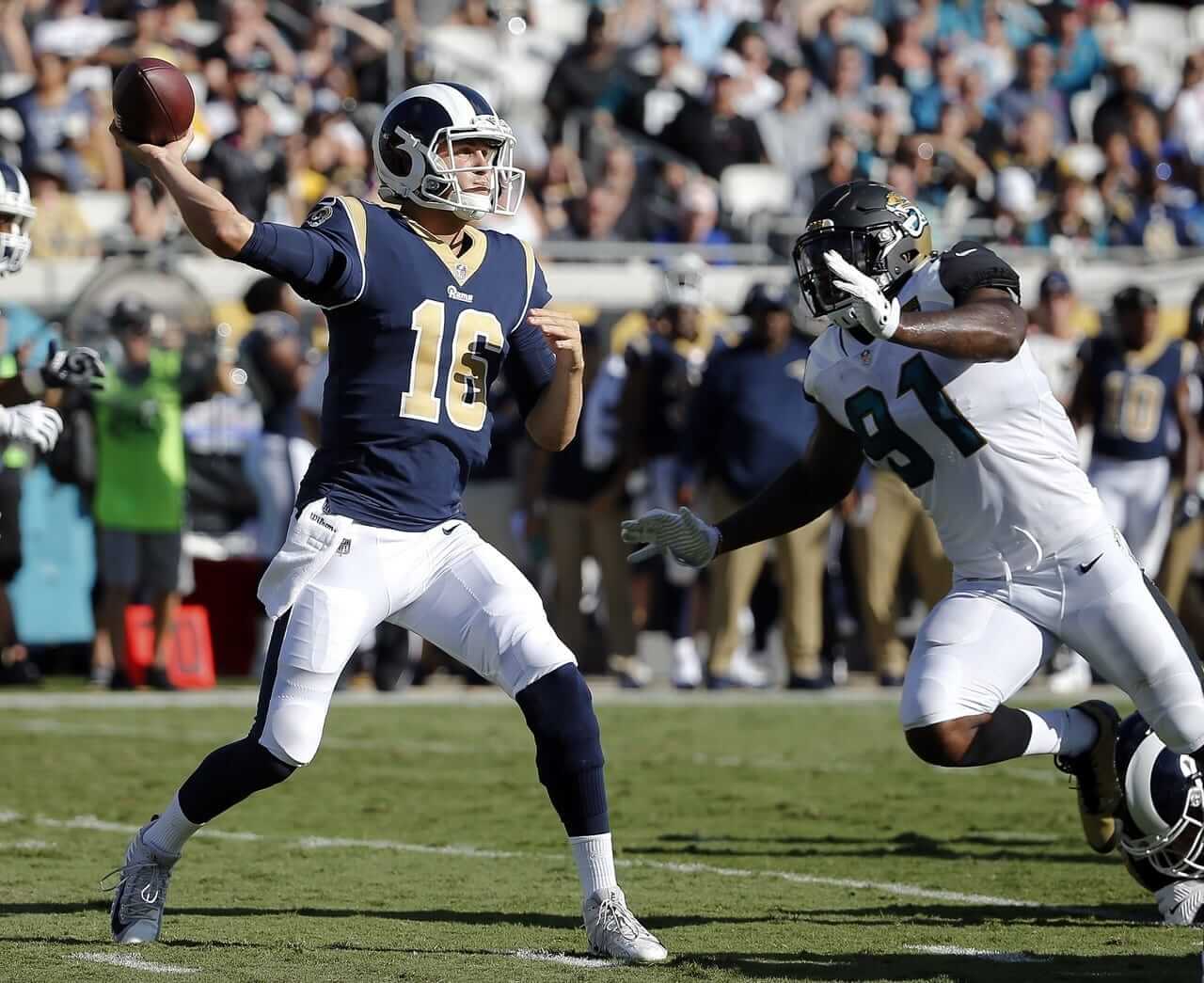 Click to enlarge
The bad news is that the Rams wore their blue jerseys again yesterday in Jacksonville, with the gold trim clashing badly with the helmets and pants (additional photos here). The good news, based on the Rams' remaining 2017 schedule, is that they probably won't be wearing the blue jerseys again this season. Phew.
Interestingly, the Rams know how bad they look in the blue jerseys and asked the league for a waiver to allow them to wear their royal/yellow throwbacks yesterday, but the league said no, because teams are only allowed to wear throwbacks or alternates for two games per season, and the Rams have already worn theirs once and have another throwback game slated for late December. What a mess.
In other news from a fairly uni-uneventful day around the league yesterday:
• If there's a worse NFL look than the Rams wearing blue, it's probably the Cardinals going BFBS with Pinktober accents, which is what happened yesterday (click to enlarge; additional photos here):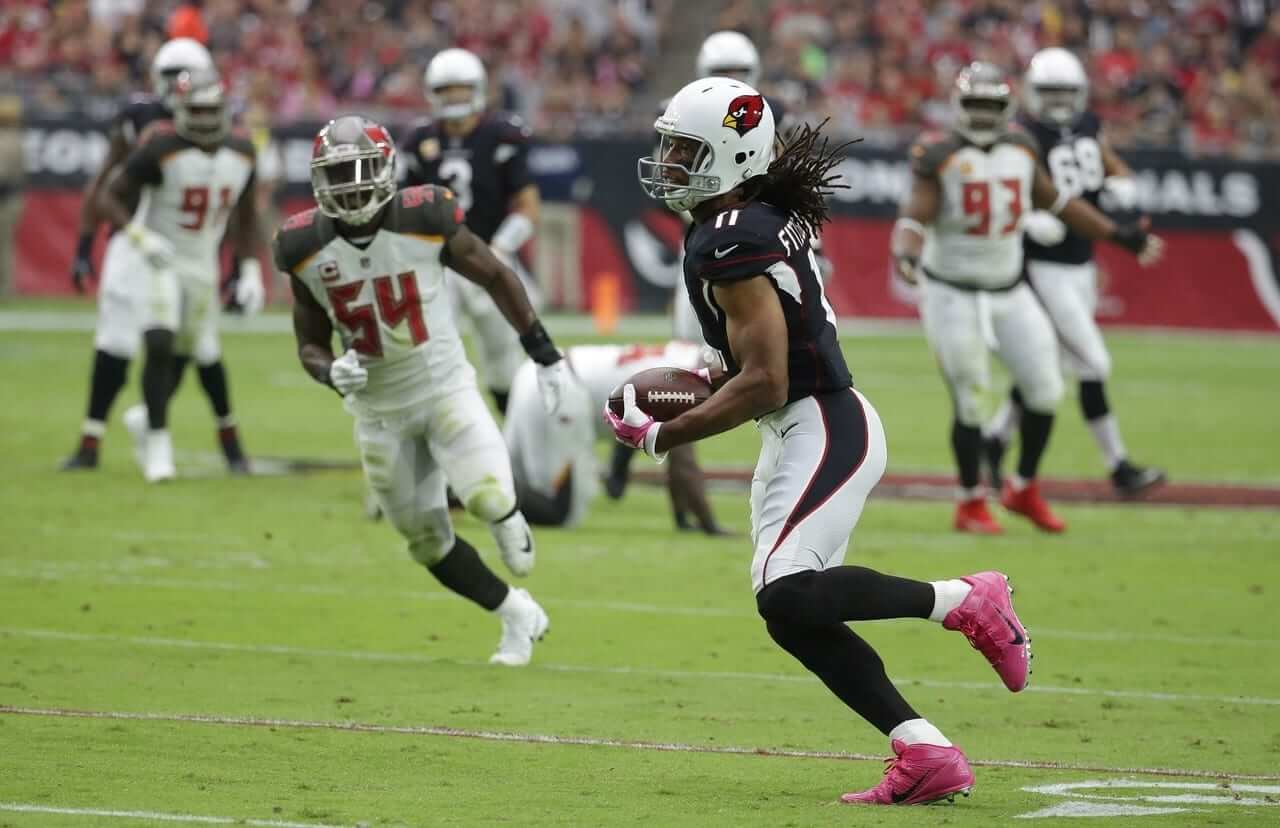 • Then again, maybe the league's worst look is the Broncos going mono-navy, which is what they did last night (additional photos here):
• I didn't hear any advance word about this, but I noticed that the Giants added a "14" memorial decal for former quarterback Y.A. Tittle, who died last Sunday (click to enlarge):
• The Texans went mono-navy. (And as an aside, the Browns have now gone mono-white for all six games this season.)
• Texans quarterback DeShaun Watson arrived for Sunday's game wearing a Warren Moon Oilers jersey.
• Only one team wore white at home: the Jaguars.
• Here's a list of players who protested during the national anthem.
And that's it. Quiet week.
(My thanks to @igTXSalazar and Phil for their contributions.)
• • • • •
The Ticker
By Jamie Rathjen

Baseball News: A nine-year-old Athletics fan who lost a lot of memorabilia in the California wildfires wrote a letter to the team, which will help him out with replacement gear (thanks, Brinke). … In a related item, all that was left of one 14-year-old fire victim was his Giants cap (from Tris Wykes).

Pro Football News: Here's a vintage (ca. 1966) magazine cover featuring Dolphins WR Howard Twilley wearing a facemask-less helmet (from Bob Gassel). … The Jaguars will wear teal for the first time in four years on Nov. 5 against the Bengals (from Samuel Lam). … Here's a mid-1970s shot of former Bills QB Jim Kelly and his brothers posing with a WFL Birmingham Vulcans pennant in the background (from Joe Pitzonka).

College Football News: Two items from Saturday's games: My dad noticed this one: NC State wore a helmet decal in memory of DL Darian Roseboro's father. … LSU had a black "Y.A." memorial decal for Y.A. Tittle (from Clint Richardson). The team also created a special locker for Tittle (from Jimmy Henry). … Reader Richard Giron sent along a collaborative ranking of the Pac-12's football uniforms done by The San Francisco Chronicle and The Seattle Post-Intelligencer. … Division II South Dakota School of Mines has a stadium that's a drive-in on one side (from Greg Enkers).

Hockey News: The Sharks became los Tiburones during warm-ups on Saturday night (from Daniel O'Leary). Here's how they looked in action (from @TheGoalNet45). … New mask for goalie Lukas Hafner of the Colorado Eagles (ECHL) (from John Muir). … New yellow or "gold" uniforms for Lake Superior State (from Patrick Thomas). As NCAA teams wear white at home, this resulted in color-on-color with Michigan Tech.

Soccer News: In a pretty comprehensive campaign, teams and officials throughout all levels of Scottish men's and women's soccer supported the charity Show Racism the Red Card this weekend. This included oversized cards with which the players posed pre-game, a smaller version of the same worn as a patch, and warm-up shirts. Lots of pictures here. … Bundesliga team Hertha BSC knelt before their game on Saturday against Schalke 04. … Spencer Hollis notes that three of the four Premier League teams who played yesterday are normally clad in vertical stripes: Brighton & Hove Albion, Newcastle United, and Southampton. However, Southampton have a different motif for this season, and Newcastle changed against them, leaving Brighton as the only striped team of the day.
• • • • •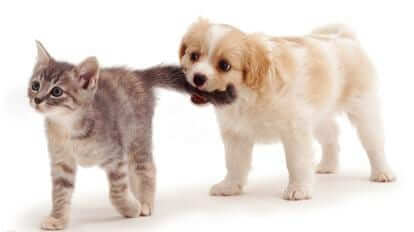 By the time most of you read this, I'll be on my way to Manhattan, where I'll be covering the shoot for the Puppy Bowl and Kitten Halftime Show — always one of my favorite experiences of the year. (I'll be going back for more tomorrow afternoon.) Unfortunately, the whole thing is embargoed until late January, so I won't be able to share any photos or stories until then. But still: Puppies and kittens! Play nice while I'm away this morning, okay? Okay! — Paul