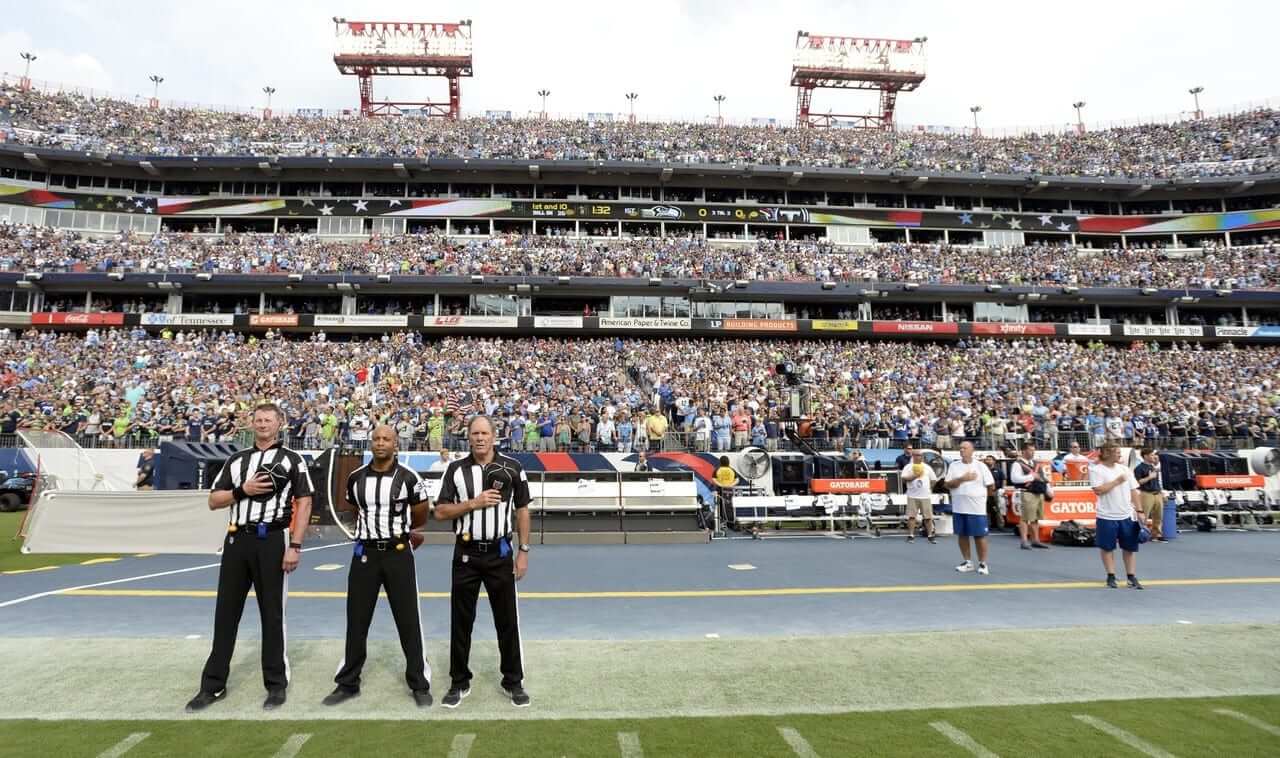 Click to enlarge
The most striking visual aspect of yesterday's NFL games was the sight of empty sidelines and benches during the national anthem, as the Seahawks (above), Titans, and Steelers responded to President Trump's recent comments in Alabama by staying in the tunnel while the anthem was played (further info here). Two of those teams, the Seahawks and Titans, were playing each other in Tennessee, leaving both sidelines empty during the anthem.
The Raiders, who were playing the night game in Washington, wanted to skip the anthem as well, but the logistics of the Sunday-night broadcast schedule made that impractical, as they would have had to miss the coin toss. Team owner Mark Davis issued a statement saying that he once opposed having his players protest while in uniform but now supports it. The statement was notable for including three references to the team's uniform.
In addition, as you've probably heard, many players throughout the league — by far the most ever — protested in various ways during the anthem. There's a good team-by-team rundown here, and a well-reported piece about the protests and reactions to them here.
It's worth noting, incidentally, that having the players on the field during the playing of the anthem is a relatively recent phenomenon. It didn't become standard procedure for all games until 2009; prior to that, the anthem was usually played before the teams came onto the field. Maybe it's time to go back to that, since the anthem has become, ahem, a political football.
(Some of you may be wondering "What does this have to do with uniforms?" Leaving aside Mark Davis's repeated uniform references, the anthem protests affect the visual culture of the game. If a team lined up in a weird formation, or in size order, or whatever, I'd cover that as well. Similarly, most MLB players line up on the baselines on Opening Day, but the Orioles line up in the infield, which is something I've often mentioned here on the site. All part of the visual culture of the game.)
In other news from around the league:
• The Bears wore their Monsters of the Midway throwbacks while playing the Steelers, which made for a very good-looking game (click to enlarge):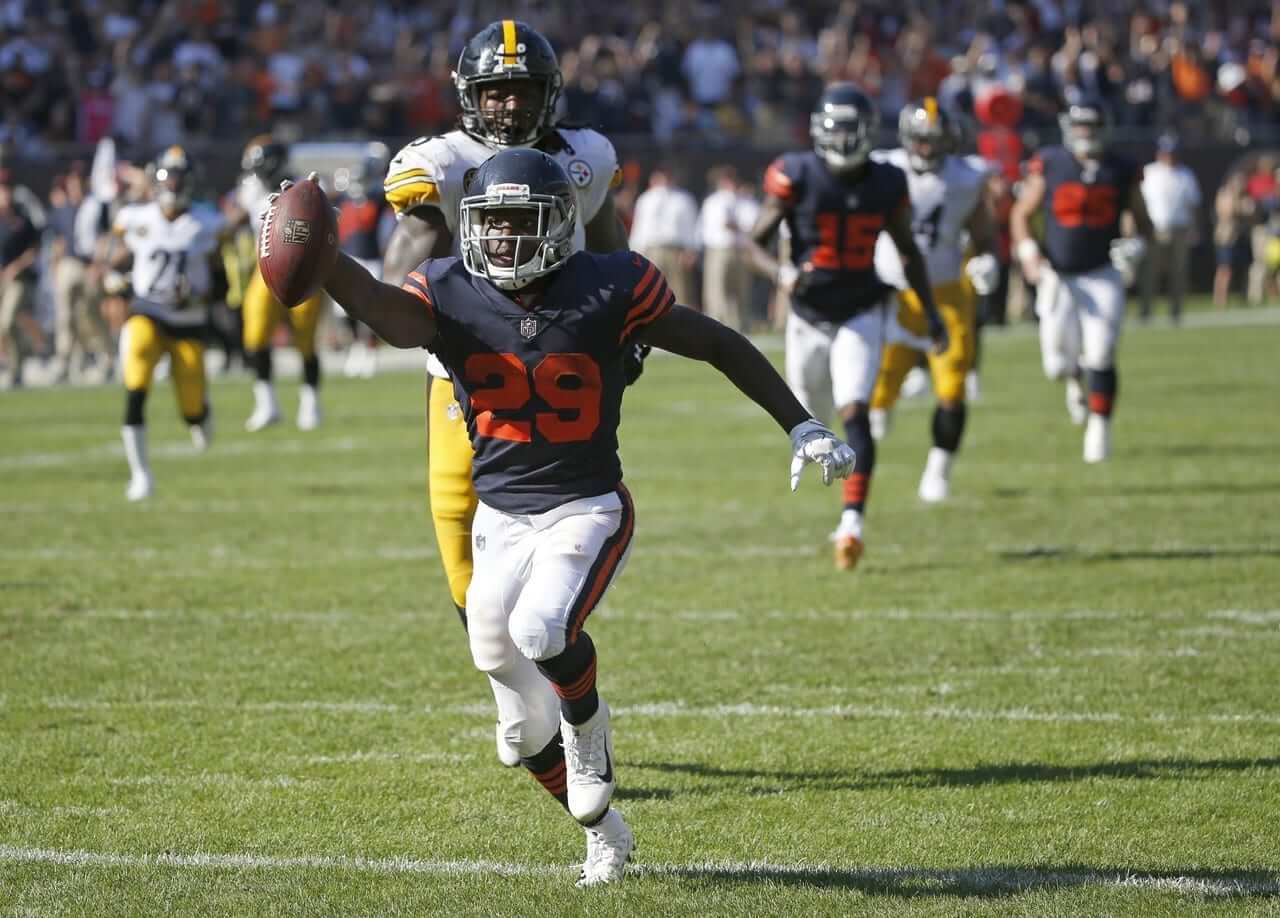 • Speaking of the Steelers, we had previously seen quarterback Ben Roethlisberger wearing a black jersey from Nike's old tailoring template. Yesterday the Steelers wore their white jerseys for the first time this season, and Roethlisberger was once again wearing the old template.
• And speaking of the old jersey template, several Bills offensive linemen continued to wear it, as you can see by looking at their collars here and here.
• Never thought I'd be saying this about a Bengals game, but I saw some of their game against the Packers at Lambeau, and the combination of the two teams' colors — green, yellow, orange, black, and white — worked really well. A pleasure to watch:
GERONIMO!

72-yarder from @AaronRodgers12 to @813Geronimo sets up the overtime victory!#CINvsGB #GoPackGo pic.twitter.com/UrClBU1DrL

— Green Bay Packers (@packers) September 25, 2017
• The Jaguars, playing the Ravens in the UK, went mono-black.
• The Eagles used midnight green end zones. Several fans said this is the first time they've ever done that, although I have not verified that claim (click to enlarge):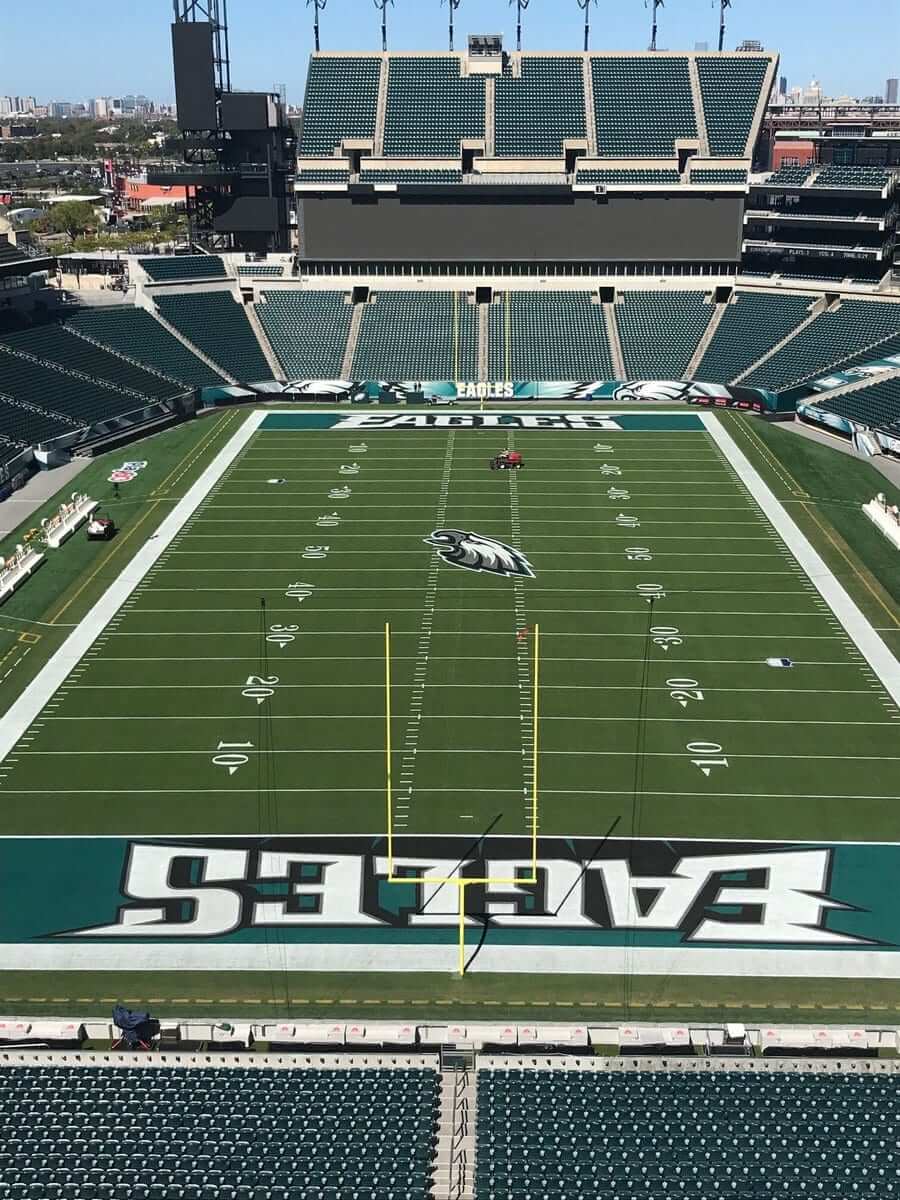 • I was surprised to see Texans linebacker Jadeveon Clowney going bare-handed. Some quick photo research shows that he usually wears gloves. Anyone know why he didn't wear them yesterday?
• We've all seen frankenjerseys, but how about a frankencheesehead:
Split loyalties. Go…tie! #GBvsCIN #Packers #Bengals #NFL pic.twitter.com/hgceK9vuHM

— Adam Wesley (@adambwesley) September 24, 2017
• Someone raised this point in the comments last week (sorry, I don't recall who it was): If players are wearing skintight jerseys with no sleeves because they don't want to provide a potential handhold to opponents, why are so many of them wearing untucked undershirts?
• Only two teams wore white at home: the Panthers and Chargers.
(My thanks to Jeff Ash and @BrosTrustTree for their contributions.)
• • • • •
Click to enlarge
Non-uniformity: I like pretzel rods and usually have them in the house. (I keep them in a Barbicide jar, but that's another story.) My preferred brand is Herr's, but my supermarket was sold out of Herr's the other day, so I bought Bachmann pretzel rods instead.
I'm surprised to see how varied in length they are. On the one hand, it's kinda refreshing to see a mass-produced product that isn't completely standardized. But it still seems weird. Like, wouldn't you expect their factory to produce more consistent results than this?
(For the record: There was one rod that was even shorter than any of the ones shown above, but I already ate it.)
• • • • •
The Ticker
By Jamie Rathjen

Baseball News: Reds C Johnny Bench dressed up as "Susie the Sweeper" (that is, wearing shorts and with broom in hand) before a game against the Braves on Aug. 14, 1972 (from Bob Gassel). … Chicago NPR affiliate WBEZ did a piece on the origins of the White Sox cap logo, a story that — tying into Saturday's entry — was prompted by an anachronistic White Sox hat in the film Straight Outta Compton (from Brad Kruizenga and Mike Chamernik). … The Rays' rookies have an annual tradition of a costumed road trip. This year, it was cat onesies with the team logo on the front (from Mike Edgerley).

Pro Football News: A picture in yesterday's Cleveland Plain Dealer featured Browns WR Rashard Higgins with an eye black advertisement (from Dan Monroe). … Reader Caleb Grabill found this Chiefs/NFC West football in a Kansas City Dick's Sporting Goods. … An Eagles fan put a "Kaepernick" nameplate on the back of his jersey (from Andrew Cosentino).

College Football News: Two late-night observations from Saturday: The officials in Air Force's game against San Diego State ended up wearing black coats (from Robert Baker). The game was lightning-delayed for 90 minutes in the second quarter, but before that there were no coats to be seen. … Ripped helmet decal for a Washington player (from Pete Carges). … You know how some baseball teams have racing sausages or racing presidents? Purdue now has racing alums, in period-appropriate uniforms. … The new PBS documentary series about the Vietnam war includes a scene that shows U.S. troops training in what appear to be football helmets with specialized facemasks (from Tris Wykes). … Mascots with outdated uniforms, part one: Eastern Michigan's Swoop is wearing a jersey that @AVKingJames thinks may be a decade or more old.

Hockey News: Mascots with outdated uniforms, part two: Blues mascot Louie still has a Reebok jersey (from Joe Barker). .. Wade Heidt shared the 100th-anniversary jersey for junior team the Regina Pats (WHL). The Pats are the oldest team (i.e., have gone the longest without changing nickname or location) of the 60 across the three major junior leagues. … Also from Wade: This video shows the Pats' uniforms and new white sweaters for the fellow WHL team Brandon Wheat Kings. … New, or rather, first mask for University of Denver freshman goalie Dayton Rasmussen (from John Muir).

Basketball News: NFL teams aren't the only ones choosing to skip the national anthem. Prior to last night's WNBA Finals game between the Los Angeles Sparks and the Minnesota Lynx, the Sparks — the league's defending champions — left the floor before the anthem was played.

Soccer News: In MLS, both D.C. United and the San Jose Earthquakes supported a Washington-area childhood cancer initiative on Saturday with yellow ribbons. The captains' armbands and the goal nets were also yellow.

Grab Bag: At the cycling world championships in Bergen, Norway, Slovakian Peter Sagan yesterday became the first rider to win the men's road race in three consecutive years. As world champion, Sagan will continue to wear the rainbow jersey for all of his road races in the next year; see the version presented on the podium (here worn by new women's holder Chantal Blaak) for a look at it unsponsored and long-sleeved. … Former pro wrestler Darrell Nickel was interviewed by David Taub, who notes that Nickel is YouTube-famous for once wearing "kissy tights," so named because they were covered with lips. … NASCAR team owners said they would not support protests during the national anthem.