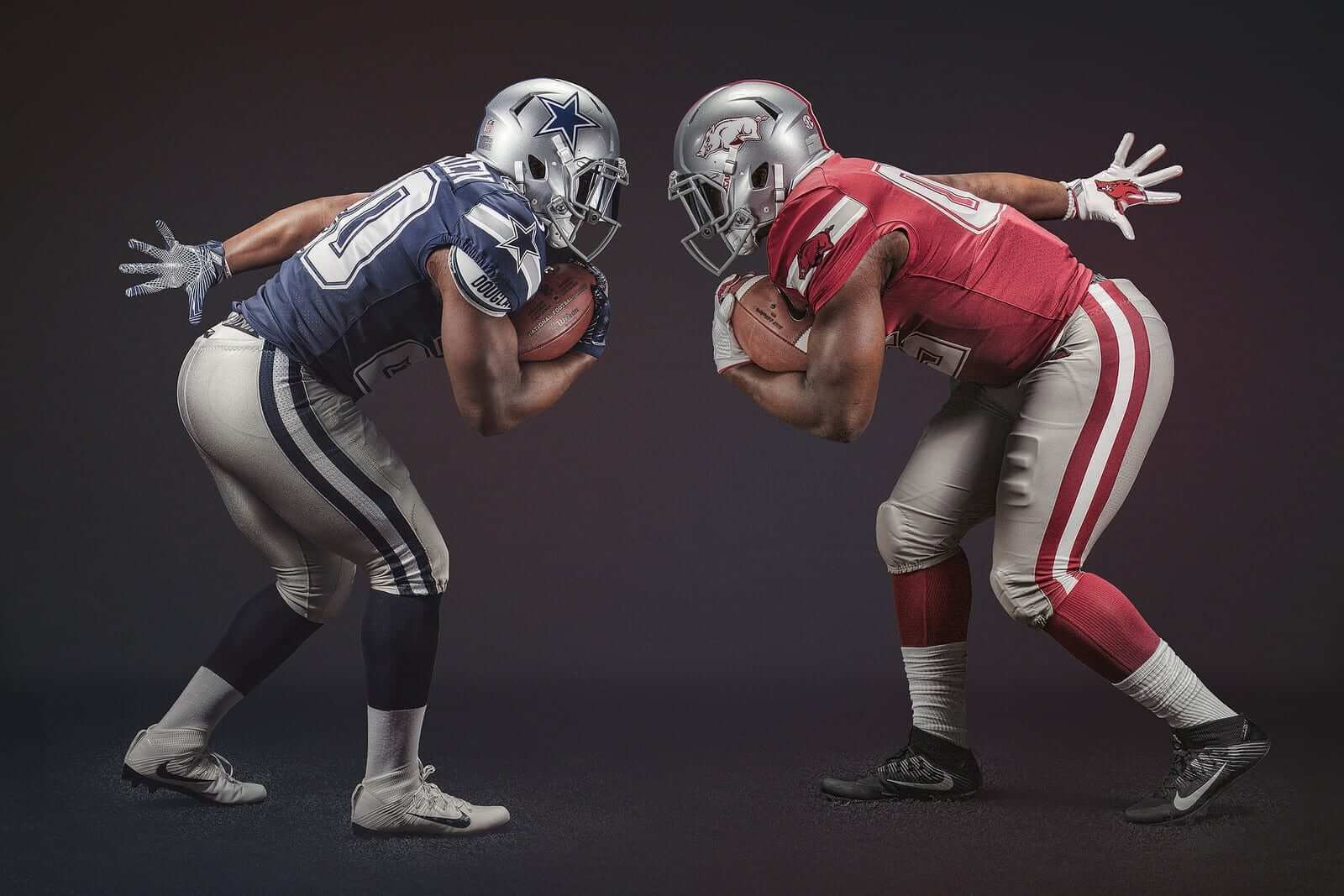 Click to enlarge
As I mentioned earlier this week, Arkansas will be honoring their most famous alum, Jerry Jones, by wearing Cowboys-style uniforms when they play Texas A&M at the Cowboys' stadium this Saturday.
On Tuesday I got to interview Arkansas equipment manager Jake Rosch, who filled me in on a lot of details regarding this uniform project. It was a tremendously enjoyable interview, and I think you'll enjoy it as well. Check it out here on ESPN.com.
I really ought to interview equipment managers more often. They geek out about this stuff just like we do.
• • • • •
The Ticker
By Paul

'Skins Watch: A high school football team in Virginia has the phrase "Hoka Hey" on their jerseys. That's a battle cry from the Sioux chieftain Crazy Horse. More info here (from Steve H). … Actress Danielle Panabaker attended last Sunday's 'Skins/Rams game and wore a cap expressing her thoughts on the team's name (from James Gilbert).

Baseball News: Twins P Jose Berrios, who's from Puerto Rico, responded to the latest hurricane by writing "Pray 4 PR" on his cap. … The Wisconsin Timbler Rattlers are selling nameplates from Brewers who were on minor league rehab assignments (from Scott Hurley). … Looks like Padres C Rocky Gale was wearing teammate Austin Hedges' chest protector yesterday. … D-backs 1B Paul Goldschmidt was wearing the Players Weekend socks last night.

NFL News: Following up on yesterday's entry about nose rings: Chiefs WR Tyreek Hill has a nose stud (from Coleman Brockmeier). … And from yesterday's comments, here's former Dolphins RB Ricky Williams with a nose stud (from John Cropp). … Looks like Cardinals RB David Johnson has his own personal logo (from Matthew Crooks). … A group of current and former NFL players have asked commish Roger Goodell to designate November as a month for activism awareness, similar to the current campaigns for cancer and the military. It's not clear to what extent, if any, this would involve uniforms or accessories. Goodell's response is also unknown, at least for now.

College Football News: Indiana will wear their "Hep's Rock" alternates this weekend (from Darrell Frazier). … Alternate cream unis this weekend for Oklahoma (from Sam McKinley). … 1997 throwbacks this week for Southern Miss. … Want to vote on the best San Diego State helmet of all time? Sure you do. … Military appreciation uniforms this weekend for Virginia Tech (from Andrew Cosentino).

Hockey News: Bauer, the hockey equipment brand, has come up with a new collar device that supposedly prevents brain damage. This appears to be similar to the device worn by Carolina Panthers LB Luke Kuechly (from Ted Arnold).

NBA News: The 76ers have announced a "Spirit of 76" campaign, which will feature a retro-style court and a new alternate uniform, with the uni to be unveiled later this fall. The promotion will also include three new statues of yet-to-be-named Sixers greats (thanks, Phil).

College Hoops News: Florida State's uniforms are staying the same for this season (from Ryan Kelly). … New court design for Creighton (from @CourtlandOlson).

Soccer News: Sporting KC wore their primary kits in the US Open Cup final last night (from @powerandfinesse). … The Portland Timbers have signed a five-year-old keeper (yes, really), and he'll wear No. 100 (from Mike Donovan).

Grab Bag: There's a new-ish book about the symbolism of national flags. … The great minutiae website Atlas Obscura has been doing an entire week of articles about pants. … Here's one observer's picks for the eight most iconic retro jerseys in rap videos (from Mike Chamernik). … With Toys R Us filing for bankruptcy, Robert Hayes found a graphic showing the evolution of the company's giraffe mascot. … This is interesting: an artist who produces handmade quilts from prison uniforms (from Marc Rivlin). … The University of West Georgia has inked a new apparel deal with Adidas (from Bo Childers).