[Editor's Note: Paul is on his annual August break from site. Deputy editor Phil Hecken is in charge from now through Aug. 25, although Paul is still on the clock over at ESPN and may be popping up here occasionally.]
By Phil Hecken
Follow @PhilHecken

…John Elbertson.
The Grand Rapids Griffins have culled over the 12 finalists as selected by you, Uni Watch readers, and they have made their decision.
Marissa Malson, the Griffins' Director of Digital Marketing, and who worked with me on this contest (this year as well as last year), said, "I'm thrilled by the number of entries we received! Choosing a winner was difficult, but we've selected John Elbertson as our winner." She adds, on behalf of the Griffins:
Thank you to all 119 of our designers who entered the contest and congratulations to our 12 finalists! It was a difficult decision, but the Griffins have chosen John Elbertson as our winner! John's design will be worn on "˜80s Fauxback Night on Jan. 12, 2018. He'll also receive a personalized version of his jersey and tickets to the game. Finally, thanks to Phil and Uni Watch for once again hosting a fantastic contest!
So congratulations to John and I also want to thank each and every entrant for their efforts. I know there were a few "hiccups" along the way, but I think the contest went smoothly for the most part. Each time I run one of these, I do my best to make it as fair and fun as possible, and I want to thank each and every reader for participating and for those who sent their feedback, either in the comments section or via e-mail, to make future contests better. You guys are all aces!
US Open Fashion, 2017
The U.S. Open (tennis) begins this Monday, right around the corner from me in Flushing Meadow, NY. I asked my doubles partner, Brinke Guthrie, if he'd like to give us a quick rundown of some of the uniforms outfits we'll be seeing on some of the star players this year. He obliged. Here's Brinke:
• • •
US Open Style
By Brinke Guthrie
Showtime in New York City for the US Open, starting Monday. As usual, the big names are rolling out the big guns for maximum exposure.
Nike has the highest profile, of course. Maria Sharapova missed last year's Open (pesky suspension, ahem) but returns in a Nike dress designed by Riccardo Tisci. Roger Federer also missed the Open last year (injury) but returns with a reprise of his 2014 Jordan Brand/Nike RF shoe, in a colossal corporate merger of mega-superstars. Jordan is the Federer of hoops. Or…Federer is the Jordan of tennis. Either way. The Nike Zoom Vapor Air Jordan 3 went on sale two days ago at a place called Kith in Soho — they opened up an RF pop-up store that will run through Sunday, supposedly.
Musician Pharrell Williams created a line for the adidas pros, which also includes Sascha Zverev and Wimbledon winner Garbiñe Muguruza, who used to wear the adidas by Stella McCartney line along with Caroline Wozniacki, who still does. (Shown above.)
Other major lines offering up new gear include Fila (headed by not-for-long world #1 Karolina Pliskova) and Lacoste, who lost their newly-signed flagship player Novak Djokovic to a season-ending injury, just one of several players who've been plagued by injuries this year.
No Serena Williams this year due to her pregnancy, but sister Venus returns, starring in her own EleVen line. And as far as hardware goes, Wilson's got a new thing where you can really customize your own frame – mine ended up looking like Miami Vice.
Now, would anyone like to bop over to that Soho store and find me a pair of Fed/Jordans in an 11?
• • •
Thanks, B!
.

.
Oregon Ducks Introduce New Uni
Ok — Oregon may have jumped the shark a couple years ago, but this is still pretty cool — on Sept. 9, Oregon plays Nebraska and will sport uniforms designed by a trio of cancer survivors from OHSU Doernbecher Children's Hospital. The Nike press release is full of corporate speak, but there are nonetheless some interesting takeaways. It's…
a brand-new Nike Vapor Untouchable uniform and cleat performance system designed in partnership with OHSU Doernbecher Children's Hospital to win the game and the fight against cancer. The head-to-toe look features inspiring graphics, modern use of color fades and camo patterns and motivating slogans personal to three brave childhood cancer survivors.
While the team has (along with Nike designers and developers), for the past 14 years, paired with Doernbecher Children's Hospital patients to create footwear and apparel collections "that have raised nearly $17 million to date to help fund pioneering medical research, purchase state-of-the-art equipment, recruit leading pediatric specialists and cover the cost of care for families most in need," this year they decided to let the kids take a much bigger role.
The full story behind this special partnership between @OHSUDoernbecher and @OregonFootball. Together we will overcome. #StompOutCancer pic.twitter.com/3415nVut85

— GoDucks (@GoDucks) August 24, 2017
The all white uniform will be worn at home against Nebraska, which Twitter tells me will be the first time the Huskers will be wearing red on the road since 1976, when they played LSU.
The Ducks will be bringing back the "winged" helmet (or a slight variation thereof), which they haven't worn since 2014.
New Oregon Wing helmets are sharpened up from the old design👌🦆#goducks @PhilHecken @UniWatch @sportslogosnet pic.twitter.com/Xf2ouh6ThL

— Adam Butler (@AdamB8) August 24, 2017
The uniform is a white jersey and pants, accented by yellow highlights and "features inspiring graphics, modern use of color fades and camo patterns and motivating slogans personal to three brave childhood cancer survivors." The second "O" in the OREGON word mark is replaced with a yellow cancer ribbon.
The pants have lots of words on them: "Win the day … Win the fight" are written down both sides where stripes would normally reside. They're embedded on sublimated gray 'wing' patterns:
One of the three kids (Joe MacDonald) who had a hand in helping design the overall look has much of his handiwork shown in the socks and shoes. The color fade, modern camo, socks and cleats were all designed by MacDonald.
Gloves that (I'm guessing most of) the players will wear have "OVER" and "COME" (OVERCOME) on the top side, with Puddles "stomping" out cancer on the palms:
In a season when the Ducks have announced they'll be wearing fewer uniform combinations, they've introduced a new one straight away. We'll see if this is the only new uniform in their arsenal.
As most of you know, Oregon's school colors are green and yellow, but they've pioneered the BFBS and GFGS trend over the past couple decades. And, when they don't wear any green on their uniforms, they are apparently not very successful:
If you think the #Huskers surrender whites are jinxed, Oregon has NEVER won a game when their uniforms don't include green. pic.twitter.com/nAIEA74s5A

— Big Red Fury (@BigRed_Fury) August 24, 2017
Hmmm.
Maybe a home game against the Huskers (and I would think is probably a nationally televised TV game) combined with "helping" kids fight cancer will be enough to erase the "no green=no win" jinx. We'll see.
It's Gonna Be A … Colorful Weekend
For the few of you who have (luckily for you) been blissfully unaware, today begins the wearing of the "Players Weekend" alternate caps and jerseys. We got our first look at those a couple weeks ago, and this past weekend, the Pirates and Cardinals wore them Sunday night (scroll down).
All 30 teams will be wearing the gear this weekend, beginning with today's games. Below is a slideshow of all the caps & jerseys. Remember, the players can also wear stylized shoes and protective gear, plus fancy socks. They're allowed to tweak their bats (and other equipment) as well. And of course, most jerseys will have NickNOBs. Remember how bad the TATC games were? Multiply that by 30. But it's coming anyway.
Enjoy.
If you can't see that, click here for the slideshow or here to see the set.
.

.
ESPN reminder: Paul here. In case you missed it yesterday, my annual college football season preview is available now over on ESPN.com. Enjoy.
•  •  •  •  •
Naming Wrongs update: Paul here (again). Although the Whalers no longer play in Hartford, everyone knows that Whalers fans are among the most devoted in all of hockey, so we wanted to do a shirt for their old home, which is now known as the XL Center. It's now available, in green, navy, white, and grey (click to enlarge):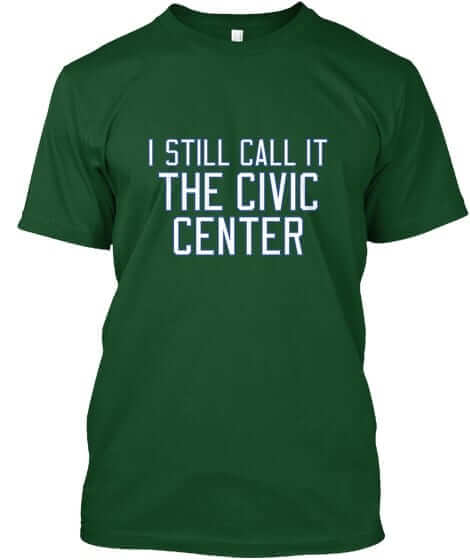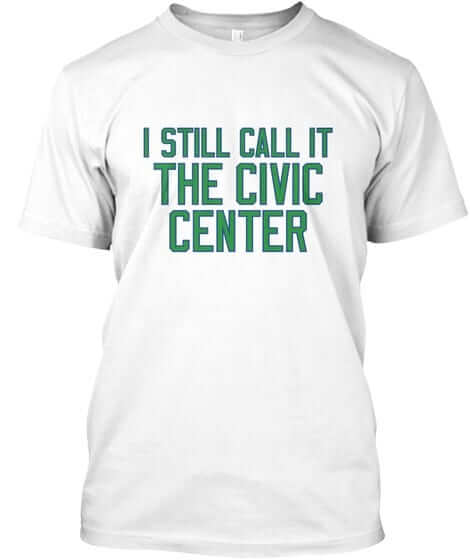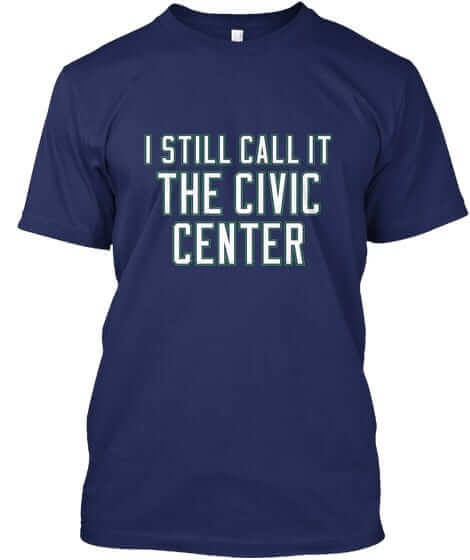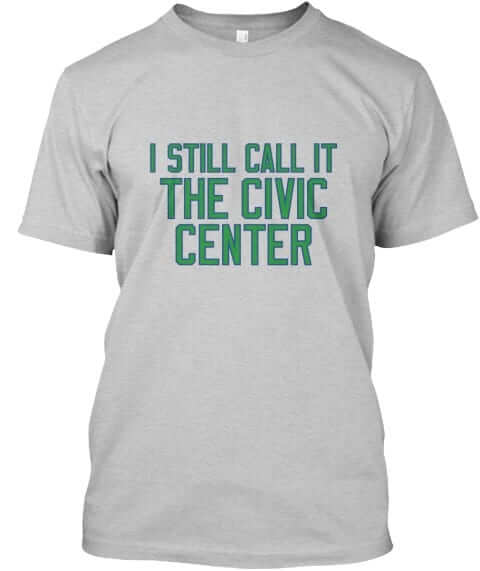 The green outlining on the navy shirt's lettering is a bit hard to see in that mock-up. Here's a better view of the lettering.
These designs are now available in the Naming Wrongs shop. They're also cross-listed in the Uni Watch shop, where card-carrying members can get 15% off. (If you're a member and need the discount code, send me a note and I'll hook you up.) More designs coming soon — stay tuned.
.

.
The Ticker
By Alex Hider

Baseball News:  The Rangers unveiled the  new corporate name for their new unnecessary ballpark (from Uni Review). … Not sure if this has been brought up before, but I love how Dixon Machado of the Tigers matches his striped socks to the team's home and road jerseys (from Beau Parsons). … Rockies P Chad Bettis recently made a rehab start with the Hartford Yard Goats, and wore his purple pinstriped Rockies pants with the Goats' white, green and blue uniform. Bad look (from  Steve). …  Full. Cream. Cheese.  Nate Reysen spotted this jersey at a wedding hall in Fillmore, Wisconsin in a display that paid homage to former Milwaukee Brave Warren Spahn. It's not clear if he ever wore the jersey. … The Charlotte Knights have new "Queen City" uniforms.

Pro Football News:  The Chargers fired Bob Wick, their longtime equipment manager of nearly 40 years yesterday (from  Mike). … Speaking of the Chargers, they're using their logo from the '60s prominently at their new practice facility (from Mandy Lopez). … For whatever reason, ESPN is using an old Saints helmet in Monday Night Football promos (from JJ Sledge). …  ESPN's Fantasy App is still using old logos for the Jags and Panthers (from  Omar Ezzat). … Looks like Target got its football teams confused (from  Chris Williams). … Check out this photo of an old Canadian football game. It looks like they're playing inside a cycling velodrome (from  Miles Filbert).

College Football News:  Indiana unveiled new alternate jerseys yesterday, which contain a large script wordmark and stone-patterned numbers modeled after Memorial Stadium's "The Rock." … Here's what Memphis will be wearing next season (from Kevin Maltzy). …Does UCLA have a navy uni in the works? Or is this just an edited photo clip? (From Aarik Woods). …  Looks like Boston College has a new end zone design this season (from  Mike Cappiello). …  Daniel Mayes  reviewed the new uniforms for his Jacksonville State Gamecocks.

Hockey News: The sheet of ice at the Minnesota Wild's home arena will now contain water from some of the state's  10,000 lakes (thanks  Mike). … New uniforms for the Mississippi RiverKings of the Southern Professional Hockey League (from  Mike Campos). … New home whites for Brandon Wheat Kings of the Western Hockey League (from  Matt).

Soccer News: Sadio Mané of Liverpool had some  patch problems  on Wednesday (from  Mike Chan). … Everton wore an ad for their charitable foundation on their jerseys yesterday in a Europa playoff game. They normally have an ad for an online betting service (from  Jim Howicz).

Grab Bag:  Golfer Tony Finau wore purple and gold Nikes yesterday on "Mamba Day," aka Kobe Bryant Day (8/24. Get it?) (from  James G). … New logo for the Baltimore Brave of the Women's Professional Lacrosse League (from  James Gilbert). … This Washington Post piece points out that many Confederate monuments are identical to some monuments of Union soldiers, except for the the belt buckle, which either reads US or CS depending on which side of the Mason-Dixon you're on (from Addison). … Fans of "Colorize This!" will definitely enjoy this Vox video on photo colorization (from  Chris Howell).
.

.

And finally…
Thank you, dear readers, for letting me come into your living rooms bring you a month of Uni Watching, weekday edition, once again. You guys have been great, and I'm especially thankful we have such a great community of like-minded (well, for the most part ;)) individuals. It makes it all worth it.
I say this every year, but I cannot emphasize it enough — just doing ONE month of Uni Watch borders on having a full-time job (which I already have, thank you) and it makes me appreciate all the more how awesome it is to have Paul guiding our ship year in and year out. We're lucky to have him, and I know he's got a LOT on his plate right now, I only wish I were able to have completed the month — unfortunately (for him, maybe not for you guys) I had a pre-arranged bit of home (condo) construction that will be taking place starting on Monday, so I'll literally not be around for the next couple weeks. I may check in from time to time, but there's no way I could have done any blog work next week.
I also want to thank the myriad contributors I had this month who helped me — either with content or giving of their time and energies to let me interview them and share a bit of their talents with you. I could have done without 15 or so NBA unveilings, but it is what it is. Because of that, I had lined up a bunch of other folks who DID work with me to produce content, but I was simply unable to get to their stuff this month. I'll definitely run those pieces when I return to weekends next month. I'm just sorry I couldn't get to share their efforts yet.
After my, ahem, vacation, I am pleased to let everyone know I'll be back with the SMUW (Sunday Morning Uni Watch) crew this fall: Terry Duroncelet, Joe Ringham, Rex Henry, Dennis Bolt, Kyle Acker and Ethan Dimitroff. These guys are awesome and invaluable in enabling me to bring you great college football coverage throughout the season and beyond.
Johnny Ek will take you through the weekend, and Uni Watch will return next week!
And with that, I am outta here.
Peace.
.

.