[Editor's Note: Paul is on his annual August break from site. Deputy editor Phil Hecken is in charge from now through Aug. 25, although Paul is still on the clock over at ESPN and may be popping up here occasionally.]
By Phil Hecken
Follow @PhilHecken

And now, the penultimate moment in the Griffins Fauxback Jersey Contest: the announcement of the 12 finalists. Tomorrow I'll announce who the Griffins have chosen as the winner of the contest, with all the trappings winning brings. But for today, we have our top 12* as selected by the readers. If you can't see the splash photo above the final 12 are here.
* Unfortunately, there have been two disqualifications — one for using a crest design that was deemed unoriginal by the Griffins, and a second, the "Peter Griffin" submission. Following the two DQs (one occurred in Group 1, the second in Group 3), the fourth place vote-receivers' designs were moved up into the finals. For this contest, I took a screenshot of the voting 24 hours after it opened. The three submitters with the highest totals each day (with the exception of the two DQs) advanced. I'll explain the DQ in the first group momentarily.
The winners:
GROUP ONE:
Roarke Boes (235)
Adam Cain (242)
John Elbertson (277)
You'll see that Zach Blackwell received the most votes. Unfortunately, it was brought to the Griffins attention that his "logo is a stock image with the Detroit Red Wings logo's wings stuck on." I asked the Griffins if this would be OK and they deemed it invalid. I hate that this happened, (I really liked Zach's design otherwise). Here's how that logo was determined to be unacceptable.
• • •
GROUP 2:
Kurt Gorecki (334)
Zach Grantham (342)
Dylan Gray (364)
• • •
GROUP 3:
Jason Mildren (334)
Clark Rasmussen (349)
Jordan Santalucia (345)
While humorous and a top three vote-recipient, Wes Rickards' entry has been DQ'ed due to copyright and other issues.
• • •
GROUP 4:
Ryan Schnabel (252)
Will Sinnott (289)
Ryan Tinnerman (262)
• • •
Congratulations and good luck to the 12 finalists. I'll be back tomorrow with the Griffins' choice for the overall winner.
And now I'll turn the remainder of this post over to Paul…
•  •  •  •  •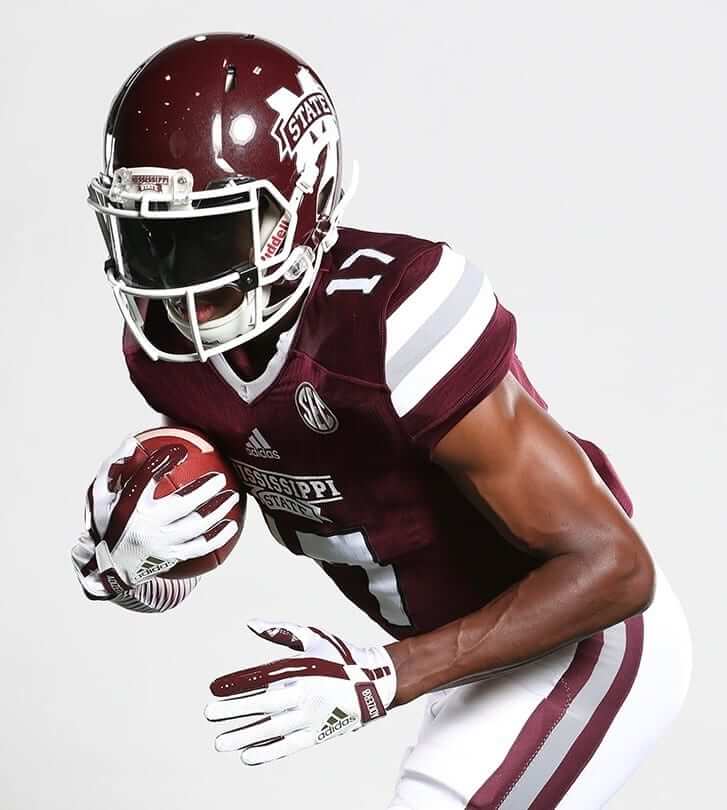 Click to enlarge
College football preview: Paul here, letting you know that my annual Uni Watch College Football Season Preview column, featuring news from over 100 FBS schools (including Mississippi State, whose new jersey, shown above, has gray sleeve striping to match the pants striping), is up now on ESPN.com.
This marks the beginning of my "busy season" on ESPN. Next up will be the NFL preview on Sept. 5, followed later this fall by the NHL, NBA, and college hoops previews. Never a dull moment!
•  •  •  •  •
End of an era: Paul here (again). During the winter of 1998-99, I had the idea to create a sports column about uniform design — an unheard of concept at the time. I spent months shopping it around to various places, but none of the editors I contacted were interested. (Well, except for one guy at Sports Illustrated — he was interested, but it didn't work out.) So I decided to approach The Village Voice, an alt-weekly here in NYC. They had a small, very eccentric sports section buried in the back of the paper, next to the phone sex ads. The content included a bi-weekly column about hockey fights, baseball articles based on advanced statistical metrics that nobody else was talking about at the time, and Yankees TV broadcaster Phil Rizzuto's bizarre ramblings set to verse (which was later compiled into a book), so I figured a uniform column might not be too weird for them. I was right. The sports editor, a guy named Miles Seligman, liked the idea, and the first edition of my new column, called "Uni Watch," appeared on May 26, 1999. That's the debut installment shown above (click to enlarge). The column continued to run in the Voice up through October of 2003, when the sports section was scrapped.
I mention all of this because the Voice has announced that it will be shuttering its print edition. This isn't particularly surprising (the internet has been utterly ruinous for the alt-weekly business model), nor is it a particularly great loss for humanity (the Voice's print edition has been reduced in recent years to the level of a glorified Pennysaver), but it still feels sad — not only because of my personal history with the Voice, but because of what the Voice used to represent to New York. It's hard to describe if you didn't live here prior to about 2000, and/or if you're not old enough to have experienced how the weekly rhythm of a print publication could shape the local culture, but the Voice was a major force in New York life. When the new issue came out each Wednesday, it always felt like a bit of an event.
Growing up on Long Island in the late '70s and early '80s, I'd read copies of the Voice that my older brothers often had floating around the house. The paper felt like a hub of really smart, really interesting people writing really provocative, creative stuff. It was journalism, but to a certain degree it also felt like art. My brothers would tell me, "Nah, it kinda sucks now. Years ago — that's when it was good." Maybe so, but I'd still imagine what the writers must be like and think to myself, "That's who I wanna be when I grow up." (Ironically, when I eventually became a writer in the mid-1990s, it was as a columnist for a competing alt-weekly, New York Press, whose mission at the time was basically to take down the Voice.)
The Voice was never perfect, even in its glory years. Hell, most people can't agree on when its "glory years" even were. But the Voice took a lot of chances. It published some seriously groundbreaking investigative reporting and some seriously important cultural criticism (a rare dual achievement). And at various points, it annoyed all the right people. That's about all you can ask from an alt-weekly. RIP to their print edition.
•  •  •  •  •
KRC update: Paul here (still). The latest Key Ring Chronicles entry is about a Las Vegas casino token. Check it out here.

Too Good…
for the Ticker
Got an e-mail yesterday from Tyler Maun on some "USA Baseball" unis (which are arguably better than the official USA Baseball unis, but not nearly as good as some of the jerseys submitted for the redesign the USA Baseball team contest).
Here's Tyler with more:
Hey Phil,

Hope you're doing well, man! Stumbled across something I thought you may find interesting. I'm going to Canada next month to broadcast games for the 2017 U-18 Baseball World Cup through the World Baseball Softball Confederation (think baseball/softball's FIFA) and was doing some research today for that and got swept down a rabbit hole looking at other international baseball stuff. The Summer Universiade Games are currently going on in Taipei, Taiwan, and I saw that a US team was on one of the schedules.

Since they're all university-level teams competing, I wondered if it was the official USA Baseball Collegiate National Team in that tournament, but it's not. Apparently the University of Iowa baseball team is the US's representative (which was evidently announced back in June), so it's not a team comprised of players from around the country as you might expect for an international competition. I'm not even sure who the governing body of this competition would be for the US, but it was announced by the International University Sport Federation, so it's I guess outside the scope of the IOC/WBSC jurisdiction. (Sorry, I'm nerding out here).

Anyway, they're over there in some unique US uniforms from Nike (attached some pictures from @UIBaseball) since they're not a sanctioned official USA Baseball team. (Side note, didn't think it was possible for US uniforms to get more bland than the current USA Baseball set, but apparently I was wrong). One cool thing is that while they've got USA on the jerseys, they've got a Hawkeye-logo patch on the sleeve and a stars-and-stripes Iowa "I" on the caps and helmets.

Just thought it was cool! Take care, and great work as always on the site, man.

Tyler Maun
Editorial Producer, MiLB.com
Thanks, Tyler! Below are some photos of the unis:
OK. Now, on to the ticker…
The Ticker
By Mike Chamernik

Baseball News: The ESPN broadcast team had jerseys with their nicknames for the MLB Little League Classic on Sunday night (from Kevin Wilson). … MLB commissioner Rob Manfred said that the baseball world will "survive" a few days without traditional Yankees pinstripes during the upcoming Players Weekend (from Phil). … Speaking of that, the Yahoo Sports staff ranked the MLB Players Weekend unis from 1 to 30 (from Phil). … The York Revolution will be called the Pretzels for Friday's game (from Phil). … The Mets presented a few of their ace pitchers with 4-foot garden gnomes of themselves (from Phil). … At 6-foot-3, 250 lb., Brewers first baseman Jesus Aguilar is a pretty bulky guy. His pants are big enough that two of his smaller teammates can fit into each leg, together (from Phil).

Pro Football News: The Titans will wear white at home for Sunday's preseason game against the Bears. … The Dolphins will wear their aqua throwbacks for their final two home games this season. … I dig this old CFL helmet sundae display (from @Super70sSports).

College Football News: As Paul alluded to a little while back, Missouri will have new white uniforms. Here's what they wore last year (from Jonathan Karberg). … Clarke University of the NAIA revealed the helmets for the school's new football program (from Adam Gardner). … The former St. Petersburg Bowl has a ridiculous new corporate name (from Wayne Koehler).

Hockey News: Here are a list of the best teams that can be assembled with players that share a jersey number. It's actually a complex thought experiment, given that goalies don't wear many common numbers, including 4 and 9. … New unis for the Erie Otters of the OHL. … The Everett Silvertips have a bear logo pattern in their red line. A silvertip is another word for grizzly bear (from Dave Sizer).

NBA News: Kyrie Irving will wear No. 11 with the Celtics. He wore No. 2 with the Cavs, but he had No. 11 in high school. Boston retired No. 2 for Red Auerbach in 1985, with the reasoning that he is the second-most important Celtic ever, with No. 1 retired for team founder Walter Brown. … Here's a look at the Pistons' new floor design (from Aaron Brandt). … A shoe industry writer ranked all of Kobe Bryant's signature sneakers. I've always enjoyed the absurdity of the Adidas Kobe II.

Grab Bag: Here are the liveries for this weekend's IndyCar race (from Tim Dunn). … Bunch of new rugby kits: Sale Sharks of the Aviva Premiership, Cardiff Blues of the Guinness Pro14, Italian Pro14 side Bennetton, and Welsh Pro14 club Dragons. Plus, here's every jersey in France's Top 14 league (from Eric Bangeman). … East Carolina University is in the process of being renamed just ECU (from Jon Chichwak). … New logo for the Ontario International Airport in Southern California.