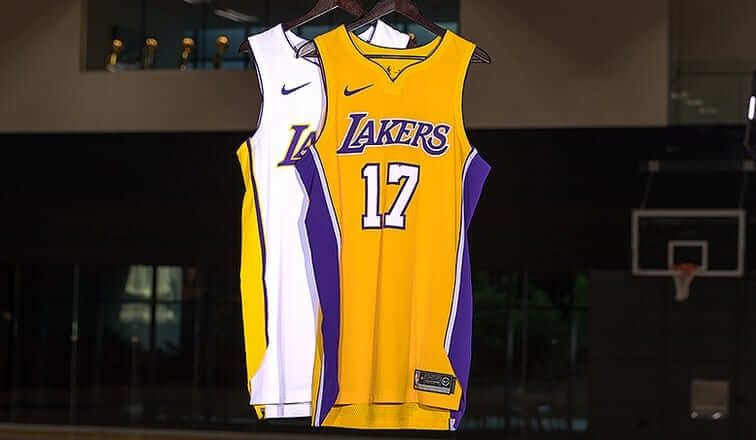 By John Ekdahl
Subtle changes for two of the most consistent uniforms in the NBA last night, with both the Lakers and Spurs unveiling their new uniforms. First up the Lakers:
The classics never get old. Introducing our Icon x Nike threads: pic.twitter.com/F7wjwXlF3s

— Los Angeles Lakers (@Lakers) August 11, 2017
Association. #LakeShow pic.twitter.com/lRLH0TKRJZ

— Los Angeles Lakers (@Lakers) August 11, 2017
Statement #LakeShow pic.twitter.com/ljoByuMFrv

— Los Angeles Lakers (@Lakers) August 11, 2017
As you can see, the purple and gold Icon and Statement jerseys have the same look and color scheme that the franchise has used for the past 50 years, with the notable exception of a large Nike swoosh on the right side. The Lakers kept their white uniforms, which they introduced in the 2001-02 season, but we've yet to see whether Nike will continue the "Hollywood Nights" black jerseys that the team has worn sporadically since the 2013-14 season as the team's fourth option.
And the Spurs:
The Spurs have consistently boasted one of the NBA's best jersey sets, rarely undergoing changes. Of course, it helps that they've been consistent title contender with their current design.

Their new Nike jerseys retain much of the same overall look. Their "Association" jersey is a slight re-design of the home white with the black away jersey becoming their "Icon" jersey. The only big change is the font of the name and number.
The Icon. pic.twitter.com/HWXA6WNKpu

— San Antonio Spurs (@spurs) August 11, 2017
The Association. pic.twitter.com/eJZHQkkBTV

— San Antonio Spurs (@spurs) August 11, 2017
+ + + + + + + + + + + + + +
Stripe changes on the Niners jerseys last night:
The 49ers made a slight alteration to their jerseys for 2017 that offers a significant upgrade.

San Francisco's uniforms, when done correctly, are among the best in the NFL. Their simplicity is classic while the red and gold combination has an iconic pop. No other team in sports can pull off those colors like the 49ers.
He's a #MON5T3R. 💪 pic.twitter.com/QwJDjgvo85

— San Francisco 49ers (@49ers) August 12, 2017
Be sure to check out the all-red Indians unis being worn tonight.
Sat night on @SportsTimeOhio The @Indians will wear the all-red unis against the @RaysBaseball 7p #Super70s pic.twitter.com/0XjR9dYHb4

— Matt Underwood (@stomattu) August 10, 2017
+ + + + + + + + + + + + + +
It's only because Paul is on vacation that I'm able to get away with posting this:
🎶 Purple Rain….Purple Rain… 🎶

Off to Minneapolis in style. ✈️ pic.twitter.com/OSXGv4mHqc

— Milwaukee Brewers (@Brewers) August 6, 2017
+ + + + + + + + + + + + + +
Apologies for the light coverage this morning. We'll have much more about the NBA changes tomorrow and this afternoon.