Click to enlarge
[Editor's Note: Paul is on his annual August break from site. Deputy editor Phil Hecken is in charge from now through Aug. 25, although Paul is still on the clock over at ESPN and may be popping up here occasionally.]
By Phil Hecken
Follow @PhilHecken

"All Rise"
"Don't You Know"
"Thor"
"Bringer Of Rain"
If you didn't know these NickNOBs (or even that the players associated with these nicknames had those nicknames), that's all going to change on games played between August 25-27, which MLB has designated as "Players Weekend." We knew this one was coming for a few months, but yesterday, MLB officially introduced the caps and jerseys (all of which will feature player nicknames on back — although not everyone has a nickname) for the promotion. This includes the Yankees, who have NEVER before worn any kind of NOB. The ghosts of Ruth, Gehrig and Steinbrenner are surely all rolling over in their graves.
What you see above in the splash is the backs of the jerseys — you'd be forgiven if you don't recognize some (many?) of the names, or even can tell which teams they are for. MLB has given all teams new pullover jerseys with contrasting sleeves and new caps (one assumes they will pair these with their regular pants or the special pants they were all given for earlier promotions like Mothers Day, Fathers Day or Memorial Day).
Nicknames. Custom gear. And the sickest jerseys you'll ever see.#PlayersWeekend is coming: Aug. 25-27. https://t.co/yHdg1ehoig pic.twitter.com/i9BEbcfaX1

— MLB (@MLB) August 9, 2017
The jerseys themselves are brightly colored, and in most cases will take colors from the team's color palette.
Those jerseys will also contain a patch on the right sleeve where each player can write the name of a person or organization that "helped them on their journey to the majors."
The pullovers (I have some extra tissues for Jimmer Vilk and Phantom Dreamer) are designed to look like "youth" baseball jerseys, and the vibe MLB is trying to give off is that baseball is fun and a kid's game.
Excited to participate in #PlayersWeekend Aug. 25-27!

Players will wear youth league-inspired unis, w/nicknames! https://t.co/yeE4vNjb9C pic.twitter.com/0GsOLZMchS

— Cleveland Indians (@Indians) August 9, 2017
(You will note in the above tweet and photo that the Cleveland team is getting the "Block C" cap)
Speaking of caps, they're all very bright (some would say "vibrant") as well, liberally using colors from a team's palate.
In some cases, the caps contain colors that do not come from the official team color list.
In keeping with the spirit of the unis/caps, the aforementioned patch on the players' right sleeves features a new logo, showing a player's progress from from Little League and to the majors.
MLB Players Weekend jerseys, to be worn 8/25-27, include patch for player to write in name of mentor/inspiration (photo by @sportslogosnet) pic.twitter.com/mMrg8JXVsb

— Paul Lukas (@UniWatch) August 9, 2017
All teams have now shown off their jerseys showing player NickNOBs, some stacking them widthwise across the screen, while others went for the more upright approach. In all cases, they showed the team's special cap and the front of the jersey, along with the backs of all NickNOB'ed players.
Of course, the players will get special socks to wear as well:
.
You can see more of the caps and jerseys here (in some cases, the caps have logos the teams have never worn before):
Two (lucky?) teams will also get to wear these uniforms on August 20th, as the Pirates and Cardinals will play a game in Williamsport, PA (home of the Little League World Series — but not on that field). They'll pair off on a diamond which is home of the Class A Williamsport Crosscutters of the NY-Penn League. More info on that here.
.@MLB announced the jerseys we'll wear for the 8/20 Little League Classic AND during Player's Weekend (8/25-27)! https://t.co/u2IYnZNf52 pic.twitter.com/ZEsiY2nm1v

— Pirates (@Pirates) August 9, 2017
Of course, aside from MLB cramming another weekend-long merchandise selling campaign promotion down everyone's throats (no matter how "bright" and "fun" these jerseys and caps are), we will be witnessing MLB history (and probably not in the way the team envisioned it), when the Bronx Bombers take the field wearing jerseys with NOBs. Here's a look at Aaron Judge's being created:
Not only will MLB be "relaxing" the dress code for the jerseys and pants, players will also be permitted to style — so the shoes, batting gloves, sleeves, and other protective gear will also be, should the player want, as loud or crazy as can be imagined. Basically it's going to be an everything goes, color bonanza. Jimmer Vilk may enjoy this, but I will likely be avoiding the TV for these three days.
There were far too many reaction tweets, but a couple caught my eye here:
Oh yeah, just imagine it… 😑😑 @UniWatch @PhilHecken #Yankees pic.twitter.com/zGqspIuR82

— B-Dilly (@Titan4Ever2488) August 9, 2017
Mets P Noah Syndergaard to wear "Thor" nickname for MLB Players Weekend. But Twins P Paul Thormodsgard already wore that back in late '70s! pic.twitter.com/mm8FjsxBDe

— Paul Lukas (@UniWatch) August 9, 2017
@UniWatch @PhilHecken one would think with the release of the jerseys today, @MLB wouldn't have included players no longer on the roster pic.twitter.com/sEkhKavYI9

— dennis werley (@denniswerley) August 9, 2017
so @AaronHicks31 has the best jersey for Players Weekend hands down. absolutely amazing @PhilHecken @KeeganMKey @KeyAndPeele @Yankees pic.twitter.com/3ZG5I6yKsE

— Deploraphil 👌🏼 (@deploraphil) August 9, 2017
Our pal Chris Creamer over at Sports Logos dot net appeared to have been given an exclusive, so he has a tremendous rundown of everything going on and lots of photos as well. And of course, a certain ESPN scribe had a column on these as well. If you haven't seen your team NickNOB's I know Paul's Twitter Stream has a lot of them covered.
While the new jerseys and caps are purely a greedy money-grab designed to encourage fan purchases, game-worn jerseys will be auctioned off at MLB.com after they are worn. According to MLB, "The league will donate 100 percent of the proceeds to the MLB-MLBPA Youth Development Foundation."
It's all a little too much fun for my tastes, but I can at least see where MLB is trying to raise fan interest (and drain fan pockets) with all this colorful stuff. I'd be much more OK with this if they just had one or two of the elements. But the special caps, jerseys, socks, NickNOBS, plus allowing the players to basically wear whatever accoutrements they please feels like overkill. God only knows what kind of mish-mash the "teams" will look like on the field. I'm all for making baseball "fun" again, but this seems like more forced fun than anything else, with a healthy dose of marketing thrown in. And, like the Mothers Day, Memorial Day, Fathers Day and Independence Day uniforms that were all worn two or three days too many — having this take place over three days is waaaaay too much fun.
YMMV. Discuss.
.

.
Jazz Unveil New Uniforms
The Utah Jazz unveiled two new uniforms yesterday (a white and a navy, with those funny names Nike has given them). They are essentially unchanged from previous unis, but still there are some differences.
The Note x The Swoosh

It's in the details: ➡️ https://t.co/N7gYFsC0Mj pic.twitter.com/yCqkkGrgwr

— Utah Jazz (@utahjazz) August 9, 2017
As mentioned above, the differences between these two new uniforms and their previous ones are slight. The white uniform has thicker trim around the arm holes and neckline than before. On the white jersey, the number is green. That uniform features (of course) the Nike swoosh on the right side of the chest, with a slightly different wrinkle: The "ad" patch is an ad for "5 for the Fight" — a campaign to fight cancer by asking people to donate $5 to "fight cancer."
.@Qualtrics x #5ForTheFight ✋

Join the fight against cancer: https://t.co/72tB4i4J9Z pic.twitter.com/RuHRNmnMyd

— Utah Jazz (@utahjazz) August 9, 2017
The rest of the uniform looks pretty much like the old uniform (with the exception of the collar and sleeve striping). The "Jazz" wordmark is unchanged, featuring a note made up of a basketball in blue, green and gold colors. The number on the jersey is now green. The pants are white with side stripes mirroring those on the jersey. A large Jazz logo is on the left side of the pants, and a waist logo remains.
The back of the jersey features the NBA logo atop a radially arched player NOB (rendered in solid blue lettering), with the uniform number in green.
How do these stack up compared to the previous uni?
Side-by-side comparison of Jazz's old and new white uniforms. pic.twitter.com/jhD2b8sQlq

— Paul Lukas (@UniWatch) August 9, 2017
The blue uniform is also almost unchanged from the past uniform, but it too contains the thicker striping and a one-color collar.
The back of the blue uniform basically mirrors the white, with the NBA logo atop the player NOB, and a gold number. Player name is in solid white radially arched lettering. Like every new Nike jersey, all stripes are truncated in the back of the jersey. Pants have a Jazz note logo on the left front leg.
And how do the blue unis compare to the prior set?
Side-by-side comparison of Jazz's old and new blue uniforms. pic.twitter.com/971nDG2UBn

— Paul Lukas (@UniWatch) August 9, 2017
So there you have it — almost no change from last year (of course, these are but two of the four uniforms the team will get).
Stay Tuned… pic.twitter.com/YXP1tNiRdX

— Utah Jazz (@utahjazz) August 9, 2017
Stay tuned…
.

.
Going, going…: Paul here, reminding you that today is the next-to-last day to order our latest limited-edition Uni Watch Artist's Series T-shirt, designed by the great Rob Ullman. Here's the base design, followed by a few of the many color options we're offering (click to enlarge):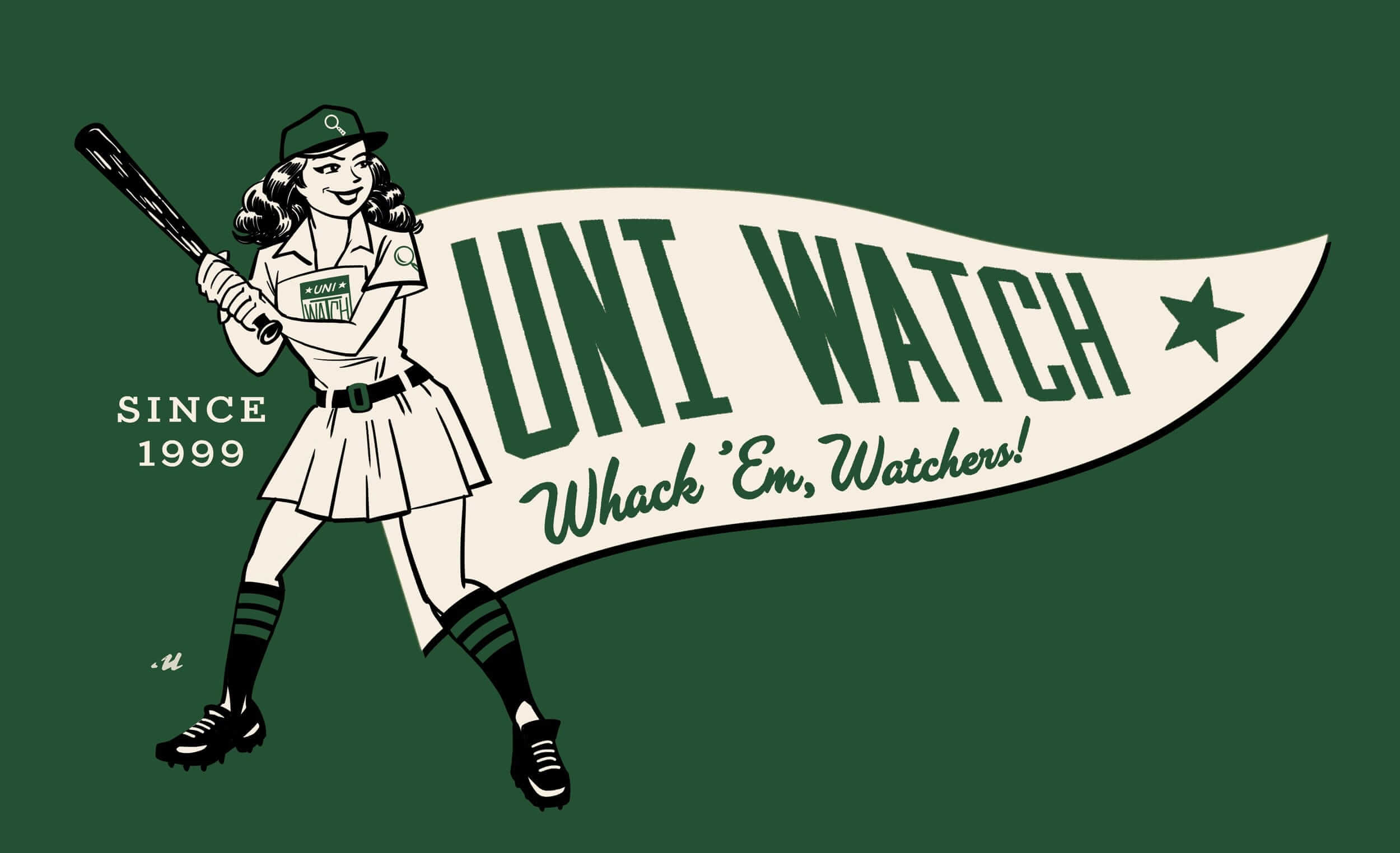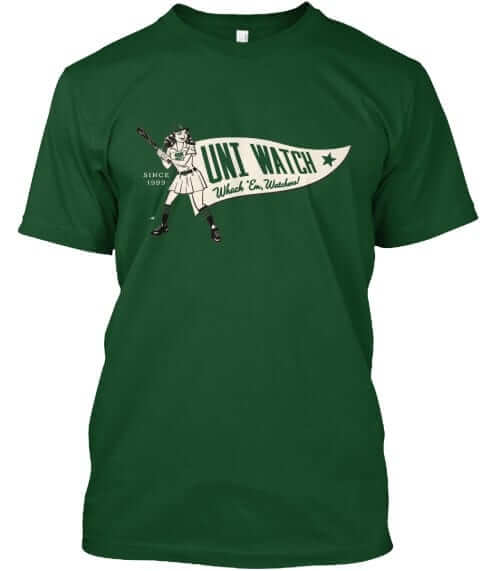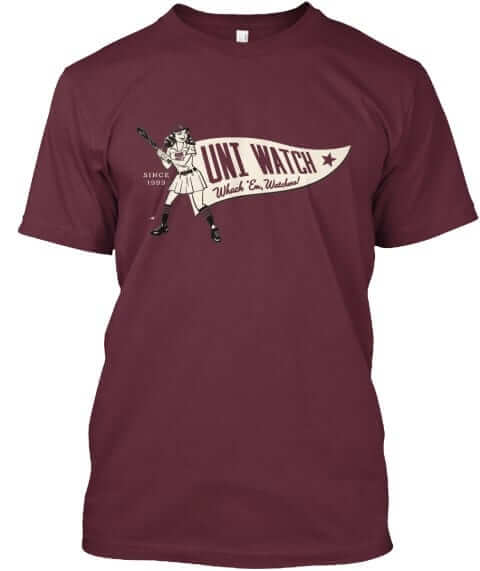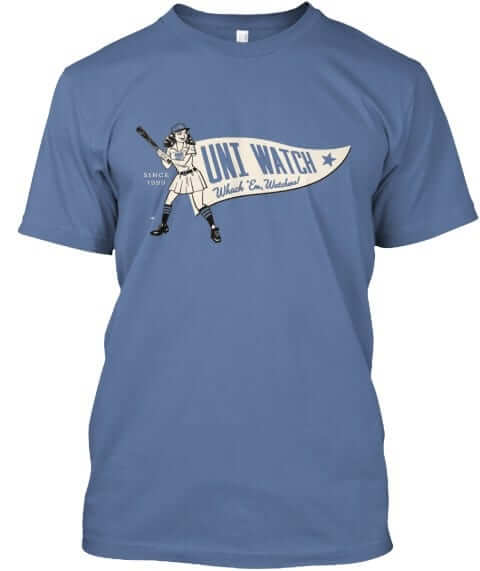 It's available through the end of tomorrow. Full details here, or just go straight to the ordering page. It's also available in women's sizes. My thanks, as always, for your consideration.
•  •  •  •  •
Naming Wrongs update: Paul here (again). We've just added a slew of new Naming Wrongs designs. One at a time:
Foxboro: Gotten a surprising number of requests for this one, which we're offering in royal, navy, red, and grey (for all photos, you can click to enlarge):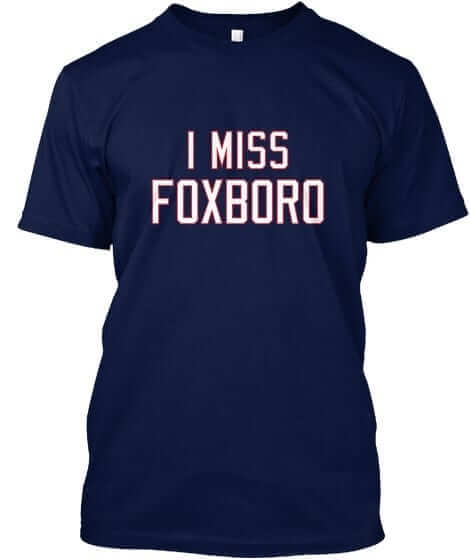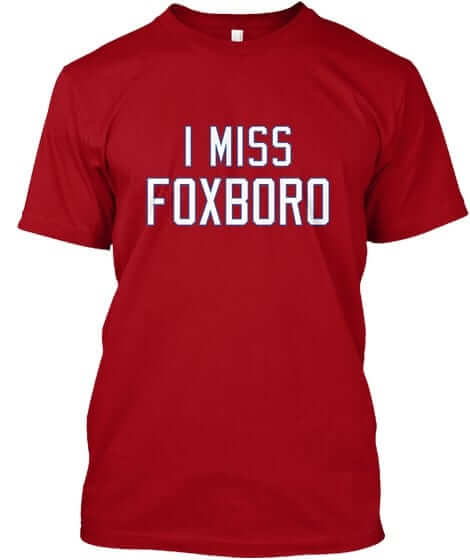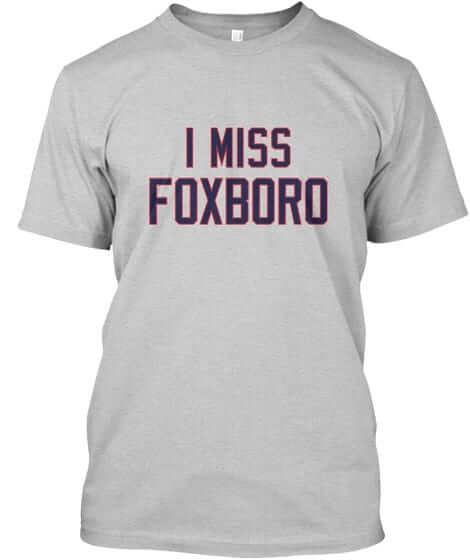 Boston Garden: Sticking with the Massachusetts theme here. We wrestled over the proper wording for this one, but lots of fans told me they really do refer to the new building as Boston Garden, so we went with "I Still Call It" (instead of "I Miss"). This one is available in black with gold/white lettering, black with gold lettering, grey with black lettering, white with black lettering, green, grey with green lettering, and white with green lettering: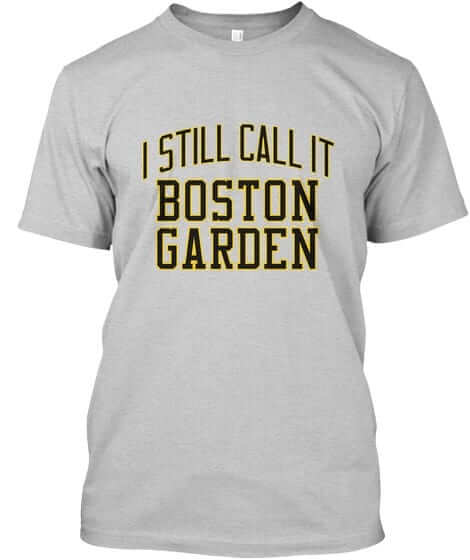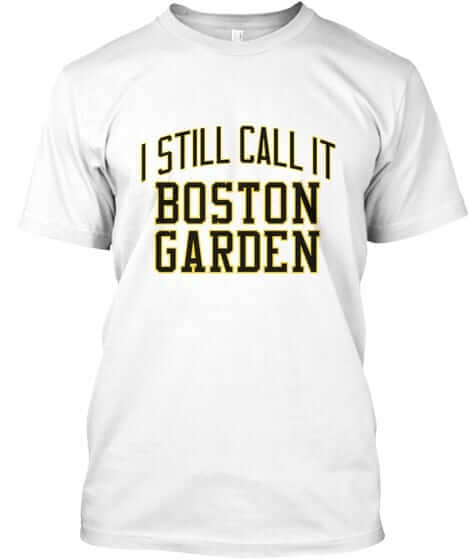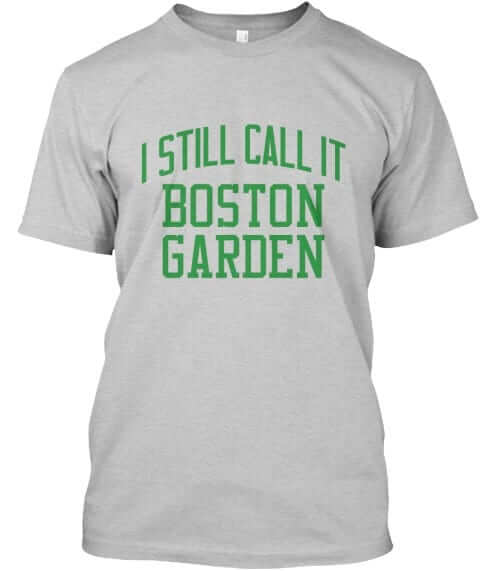 Metrodome: We've done shirts for the Astrodome, the Kingdome, and now this — we appear to be in our dome phase. We're offering this one in a wide variety of colors: purple with white lettering, purple with gold lettering, grey with purple lettering, navy, red, grey with red lettering, and powder blue (and in case you're wondering, I don't mind having purple on these shirts because they don't include the Uni Watch name):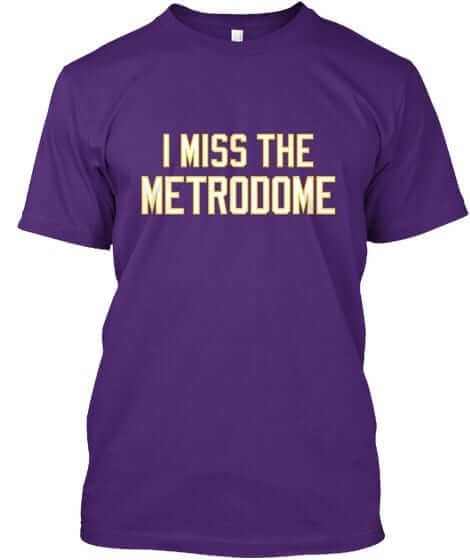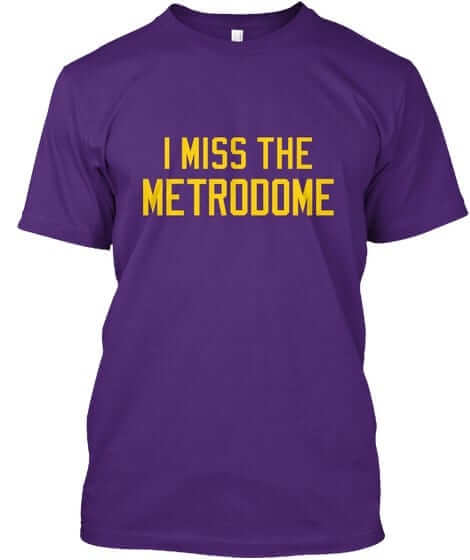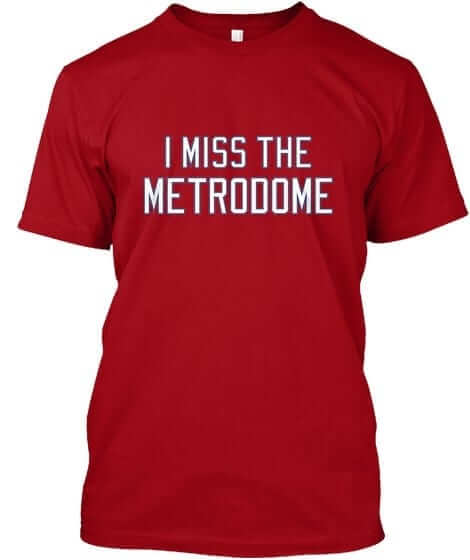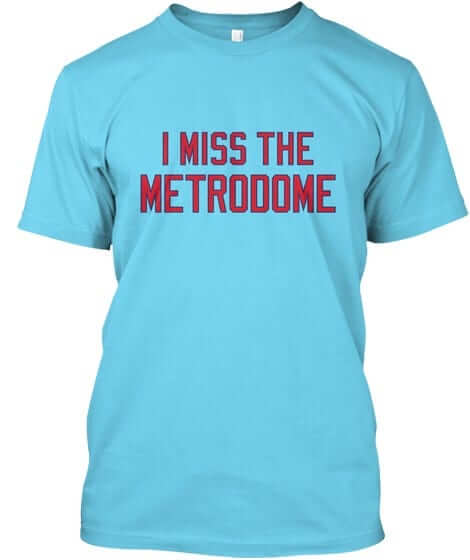 Aud: Buffalo fans have been pushing hard for this one. It's available in blue, white, grey, and orange: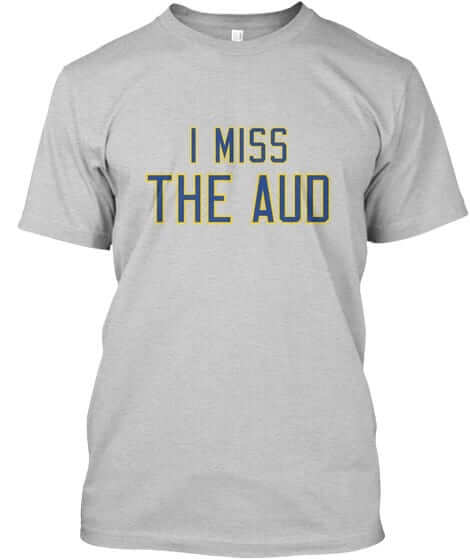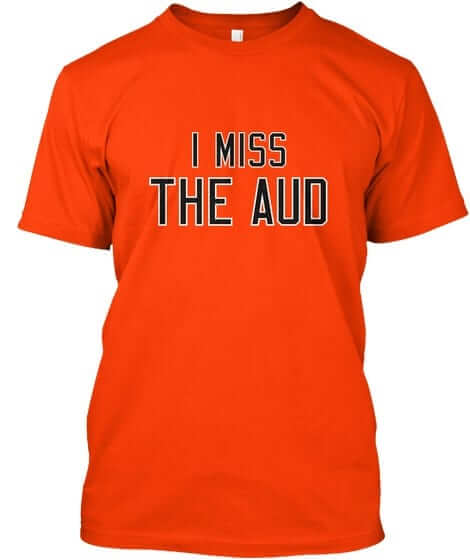 All of these designs are now available in the Naming Wrongs shop. They're also cross-listed in the Uni Watch shop, where card-carrying members can get 15% off. (If you're a member and need the discount code, send me a note and I'll hook you up.) Major, major thanks to my collaborator, Scott M.X. Turner, who's been working really hard on these. So hard, in fact, that we'll have more new designs very soon — possibly tomorrow. Stay tuned.
•  •  •  •  •
And yet another item from Paul: Please remember that I'm currently accepting submissions for an ESPN contest to redesign the Tennessee Titans. Details here.
•  •  •  •  •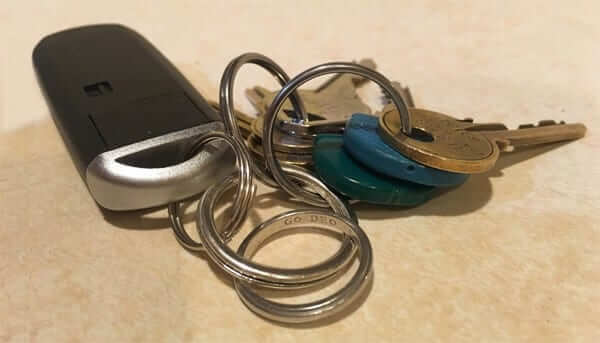 KRC update: Yes, it's still me. The latest installment of Key Ring Chronicles is about a wedding band with an Irish inscription — "Go Deo," which means "Forever." Powerful stuff. Check it out here.
Okay, that's it for me today. I return you to the capable hands of Phil, and the rest of the Uni Watch team.
.

.
Griffins Jersey Contest Reminder
In case you missed it, I'm again hosting a jersey design contest in conjunction with the Grand Rapids Griffins (an AHL affiliate of the Detroit Red Wings). All the details are contained in this post.
The deadline for getting your submission in to me is August 15 (at 6:00 pm Eastern Time), and we'll have reader voting on the concept jerseys beginning on August 17th! Last year we had 85 entries and I'd expect we'll equal or surpass that this year. Prizes include a custom jersey based on your design and tickets to the game that the Griffins will be playing in the jerseys you designed!
.

.

Too Good…
for the Ticker
He's back!
A couple days ago Gene Sanny shared with us some amazing electronic football figurines he had customized for the 1920 Duluth Eskimos; today he returns with a glimpse at another team from more recent vintage. (you can click the images below to enlarge).
Here's Gene:
"Ron Mix, 1960 Los Angeles Chargers.
"Sculpted sleeves, but the big experiment I tried on this one is in the 2nd picture…. on helmets without stripes, throwback helmets always look incomplete to me without the "ridge", and painting it never really looks real, so I printed a decal with really thin lines."
. . .
Thanks Gene! Another stellar job!
OK. Now, on to the ticker…
.

.
The Ticker
By Mike Chamernik

Baseball News: Angels players wore full NBA uniforms around the clubhouse before yesterday's game. Here's the entire team (from Kristopher Sharpe). … Pawtucket Red Sox utility man Tzu-Wei Lin has the flag of his native Taiwan on the knob of his bat (from @bucky1382). … How about this: An old-time team in throwbacks! The 1950 Terre Haute Phillies celebrated a half-century of the Illinois""Indiana""Iowa League by wearing uniforms from 1901 (from Marc Viquez). … Michael Raymer spotted a photo of Eddie Mathews wearing a flocked helmet with a hand-drawn "M" at the Braves' new ballpark. … Someone stole a framed Carlton Fisk jersey from a pub in New Hampshire (from Tris Wykes). … Oops! There was a baseball cap continuity error in Straight Outta Compton (from Leon Frager).

NFL News: The Chargers released their uniform schedule. Once again, they will wear white for the first month of the year, plus they won't wear their standard navy jerseys until late November (from Kenny Saidah). … Newly-acquired WR Anquan Boldin will wear No. 81 with the Bills. Boldin had worn the number throughout his career except for the last two years when he was with Detroit, where Calvin Johnson wore 81 (from Andrew Cosentino). … A few barbers were on hand at Bills camp to shave logos in the back of customers' heads. … The Panthers will not have a new uniform template this season (from Nick Lineback). … New Dolphins QB Jay Cutler swung a deal with backup QB Brandon Doughty to get back No. 6, which Cutler wore in Denver and Chicago (from Brinke, via Phil).

College Football News: Arizona State will host a "Stripe Out" game in late October where fans will wear gold or maroon based on the section where they are seated. Here are the rest of ASU's themed games this season (from Patrick Sesty).

Hockey News: After initially denying a trademark request in December, the U.S. Trademark Office has approved for the Vegas Golden Knights to continue to use its name for identification and competition purposes. The trademark to protect the Knights' logo on merchandise and sportswear is still pending. … After a few decades with white helmets, Team USA's U18 squad has switched to blue (from Harvey Lee).

NBA News: Unclear if this was intentional, but Andrew Wiggins leaked the Timberwolves new shorts design. … The T-Wolves asked people who work in their office to name their favorite basketball uniform. … Ryan Beth found a Scottie Pippen throwback jersey that has a Dennis Rodman tag on it. … The home of the Wizards, Capitals, and Georgetown hoops has a new corporate name (from JohnMark Fisher). … The NBA tweaked its logo last month, but the home office has yet to reflect that change. … New uniforms for the Argentina basketball team (from Moe Khan). … Also from the baseball section: Angels players wore full NBA uniforms around the clubhouse before yesterday's game. Here's the entire team (from Kristopher Sharpe). … The LA Clippers will be unveiling their new unis on Friday. The two middle columns spell out "BLUE BACK" (from ouɐlossǝd").

Soccer News: Puma will outfit five EPL clubs this season, the highest share among the eight manufacturers who have deals with teams (from Josh Hinton). … New dark green jersey for SE Palmeiras, a Brazilian club (from @griffinward). … "Lamar Neagle, who's from suburban Seattle, got traded back to the Seattle Sounders earlier this week," says Kenny Ocker. "He wanted back his former jersey number, 27. New teammate Bryan Meredith convinced Neagle he was giving up 27 and managed to extort a free breakfast for it. But Meredith has worn 35 all year."

Grab Bag: New kits for Edinburgh Rugby (from Adam Ingle). … A friend of Robert Brashear created a nifty Pittsburgh sports cornhole set. … Alan Peckolick, the graphic designer who created logos and typefaces for GM, Revlon, and Mercedes-Benz, has died.
.

.