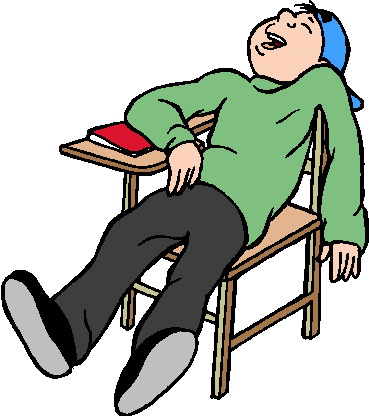 There are lots of stories out there that have essentially become Uni Watch 101. The Nats' "Natinals" typo in 2009, the Vikings wearing mono-purple due to a jersey mix-up with the Lions in 1964, Lou Whitaker wearing a replica jersey with a Magic Markered number at the 1985 MLB All-Star Game — we all know these stories inside and out by now. And even if you don't, I do. Hell, it's my job to know them.
Every now and then, however, there's a story that everyone else seems to know about, but for whatever reason it has somehow not been on my radar. It's like I was sleeping through my own class! That's the case with the story I'm going to write about today. There's a good chance you already know about it, but I only learned about it last month. The topic: Webster Slaughter and orange shoes of 1989.
The book Tales from the Cleveland Browns Sideline has a good rundown:
No receiver in Browns history had quite the colorful year that Webster Slaughter enjoyed in 1989.

Besides his record 1,236 receiving yards, Slaughter took on the rule of team stylist. He wore specialized orange wristbands and then spiced up his game-day outfit by spray-painting his football shoes orange [instead of the team's usual white].

Teammate Eric Metcalf asked him to paint his shoes for a nationally televised Monday night game against the Chicago bears.

The orange shoes worked like magic.

Slaughter hooked up with [quarterback] Bernie Kosar for a Monday Night Football-record 97-yard touchdown play and 186 receiving yards. [I have tried to find video of the touchdown play but have been unsuccessful. "" PL] And Metcalf ran for a touchdown and caught one. The 27-7 Browns win broke a two-game losing streak.

"Then everybody on offense wanted their shoes painted orange," Slaughter said.

As the playoffs approached, the NFL office notified the Browns that either everybody wore orange shoes or nobody wore them. So the team voted to wear orange shoes for the AFC championship game in Denver.

Slaughter was elected to paint them all. After practice the day before the game, Slaughter spent hours spray-painting his teammates' shoes in the visitor's locker room of Mile High Stadium.

"That gave me a big headache," Slaughter said 14 years later. "The fumes really bothered me. In fact, I have a big picture at my mom's house with me with a towel over my face, painting the shoes."
The photo Slaughter's referring to is presumably this one: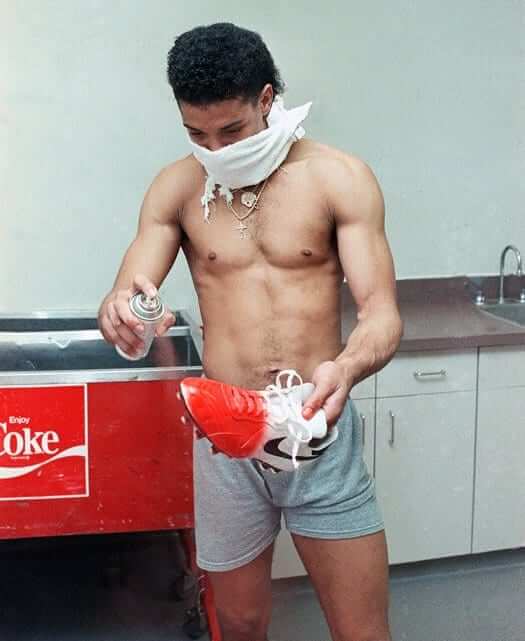 The AP's caption for the photo matches the story from the book.
The Browns lost that AFC championship game against Denver. The funny thing is, if you look at the photos from that game, you don't actually see much orange, because the Browns were all wearing white spatting tape, so it's almost like Slaughter huffed all those fumes for nothing (as an aside, this photo also shows Browns cornerback Frank Minnifield wearing his sock stripes down around his ankles, a style that was unheard of at the time, although it's fairly common nowadays):
In fact, it's difficult to find pics of any Browns players, including Slaughter, wearing full-orange shoes from that season. Here's a rare exception:
One odd note from this '89 @Browns-Bills game. Hanford Dixon & teammates wore painted orange shoes that got on the Commish's radar. pic.twitter.com/Zsl5xnRDuf

— Marc Sessler (@MarcSesslerNFL) June 7, 2017
"¨That tweet and some of the responses to it are what sent me down this rabbit hole. I don't know how I missed the boat on this story (or on that photo of Slaughter with the spray paint, which I gather has become somewhat legendary), but this chapter in Browns history is apparently a big deal in Cleveland, where it has even given rise to
this T-shirt
.
So tell me: Did everyone know about this story except me?
Update: You can see video of the long Slaughter touchdown play here. The image quality isn't great, but he appears to have been wearing a lot of spatting tape, so the orange paint job is barely visible.
(My thanks to Craig Ackers and Nick Shook for their research contributions.)
•  •  •  •  •
The Ticker
By Alex Hider

Baseball News: Matt Grace of the Nationals had some trouble with his 3D helmet logo last night. We've seen chips and cracks, but I think this is our first hanger. … New Yankee P Dave Robertson still had a White Sox logo on his glove when he took the mound yesterday. He also appeared to be wearing an old jersey, with a wide gap between "New" and "York." This is what the typical Yankee road jersey has looked like since last season (from Blake Rios). … Indians P Trevor Bauer dressed a baseball up like teammate Jason Kipnis, and even took note to give it a jersey number (from Robert Hayes). … WWE wrestler AJ Styles was at the Phillies game yesterday, and wore a jersey with the number "P1" "" a reference to one of his nicknames, The Phenomenal One (from Tommy Colosi). … The New York Post Photoshopped Mets 1B Lucas Duda into Yankees pinstripes for in a recent article (from Eric). … In the movie Mr. 3000, during a scene set in 1995, one Brewers bat boy is shown wearing the team's current uniform set (from Jonny). … It looks like a barber shop in Chicago poached the Sox classic "batterman" logo (from Pure West). … New unis in the works for Winthrop? (From Matt Levenson.) … Fuzzy the Bear — a character in a series of kids' books — gets it (from Chris Flinn).

NFL News: Check out this Carolina Panthers/Superman hybrid helmet, signed by former Panther Rod "He Hate Me" Smart, found at a flea market (from James Gilbert). … Looks like there's some NOB font inconsistencies in this shot of a 1989 49ers game. Could be that Bill Romanowski's last name was too long to fit on the nameplate (from Johnny Garfield). … Take a load off in this awesome 1970s Miami Dolphins helmet chair (from J. Williams). … We may have seen this before, but just in case: For the final game of the 1972 season, the Rams previewed their upcoming change in their color scheme by putting a yellow-horned helmet logo at midfield, even though the team was still wearing white horns at the time (from Bob Gassel). … A Raiders player showed up for training camp wearing a T-shirt showing a mash-up of Pittsburgh sports logos — including the Steelers! (From @NY_Raider.)

College Football News: UCLA went to the trouble of Photoshopping out the Adidas logo on every player's jersey in this photo (from Jonathon Craig Hays). … Reader Glenn Riley sent along a photo of a custom 1968-1970 fauxback Ohio State varsity jacket he put together. "Jacket made in Oregon, varsity patches in New Jersey, stitching and application Ohio, and custom buttons by yours truly," Glenn said. … Did you know Auburn almost changed logos in 1995? It's true. … BYU has released a chart showing fans which color to wear for each game this season. Weird that they're even giving color guidance — or maybe T-shirt buying guidance — for road games. … Georgia and Florida went color vs. color in 1966.

Hockey News: It's amazing that there was a time when it was a debate as to whether goalies should wear masks (from Jerry Wolper). … Has anyone noticed that Queen bassist John Deacon's Blackhawks jacket in the "We Will Rock You" video? (From Austin Gillis.)

NBA News: Warriors rookie and former Oregon Duck Jordan Bell caught Fanatics selling a fake version of one his college "game-worn" jerseys "" with the wrong number (from Michael McLaughlin). … UFC fighter Conor McGregor trolled his next opponent, boxer Floyd Mayweather Jr., by wearing a C.J. Watson Warriors jersey. Watson allegedly had an affair with Mayweather's wife (from Football Guy).

Grab Bag: The vintage snapback craze has made it to Iceland. Mike Wissman found these caps on sale for $50 bucks a pop. … Spanish soccer club Real Bettis is in the process of renovating its stadium. Included in the renovation is this mural, only visible when the stands are empty (from James Gilbert). … Hmmm, why would the final lap bell at this year's Tour de France have "2016" printed on it? The answer comes from Twitterer @redsoxfan426, who writes, "It's tradition to use the previous year's bell until the race is over. Then, a new bell is made to honor the competitive spirit."
•  •  •  •  •

What Paul did last night over the weekend: I had a really fun weekend upstate and would love to tell you all the details. But I got home late-ish, watched Twin Peaks (yet another fairly unsatisfying episode), and then it was time for bed, and I have a busy morning planned to boot, so I'm gonna cheat and just show you some Facebook embeds. Facebook photo/video quality isn't as good as Flickr and YouTube, but it'll have to do — sorry about that.