If you've been looking through the membership card gallery lately, you may have noticed Scott Wedemeyer's unusual-looking card (shown at right; click to enlarge to get the full effect), which was one of the many orders we received on Purple Amnesty Day.
Scott's card is based on the University of Michigan's football jersey, but with a twist: Scott has synesthesia, a condition that colors his visual perception of the world — literally. When he sees letters and numerals (among other things), they all have specific colors in addition to their "real" colors. His membership card, which we created based on his art direction, reflects the way a Michigan football jersey looks to him. It includes two flashes of purple, which is why he had to wait until Purple Amnesty Day to order it.
As you might imagine, having synesthesia has a big effect on Scott's perception of uniforms. I asked if he'd be willing to write something about this, and he readily agreed. I'll now surrender the floor to him.
Uni Watching with Synesthesia
By Scott Wedemeyer
From my earliest memories, letters and numbers have been inextricably tied to colors. Four: yellow. H: orange. Eight: purple. F: light green. Dates and times, too. Thursday is always blue/grey, September is teal, two o'clock is red (so is nine o'clock, although slightly darker). For me, these are fundamental chromatic truths, just like the sky being blue and green meaning "go."
It took nearly 20 years of my life for me to realize that these truths are entirely subjective, the result of the condition synesthesia (whose Greek roots mean "to sense together"). Numbers and colors, words and colors, intertwined permanently in the brain.
Flashes of color appear in my head as I read text. As I see a letter or number, I also instantaneously "see" it glowing in color in my mind's eye, suspended in a grey space. Much like the sun, it's impossible to look at directly; it's only glimpsed peripherally in the mind.
It's believed that as much as five percent of the population may have synesthesia. There are several different types, and I fall into the largest category: color-grapheme synesthesia (and the closely related ideathesia), in which written characters, and the idea of them, trigger an automatic hallucination of color. Exceptional cases of synesthesia involve people smelling sounds, or tasting words. Somewhat famously, math savant Daniel Tammet used his extremely vivid synesthetic perceptions to memorize and recite the first 22,514 digits of Pi. (If you're curious, 22,514 looks red-red-orange-blue-yellow to me.)
Some psychologists think synesthesia is a vestige of the excessive patterns our brains record in infancy, as our psyches are trying to learn meaningful associations like "orange means hot." As we mature, we cut the neural connections that serve no real purpose or meaning, except for some stray patterns that survive. No matter the cause, synesthetic responses are involuntary and consistent over time. S is always blue for me, and likely always will be.
This has major implications for how I watch a sporting event. When I watch a game, I see players' jersey numbers and names as having an additional layer of color. My beer-league hockey team's uniforms, for example, use a blue/white Maple Leafs template, but I still think of my jersey as being green because I wear No. 3. Growing up in Ann Arbor, I would see a Michigan lineman's No. 78 in yellow against the navy blue jersey, but I'd also perceive it in my head as warm-grey/purple-grey.
Occasionally, I'll come across a "perfect" uniform number, with the number's actual printed or embroidered color matching the synesthetic color in my head. Watching Red Wings hockey as a kid, I distinctly recall thinking that Dino Ciccarelli's No. 22 was perfect because 2 is red. Same with a No. 4 Michigan home jersey. (And for that reason alone, I couldn't resist buying one of them for 90% off during the Adidas-to-Nike apparel liquidation last year. I don't normally buy jerseys, but it just felt so particularly satisfying.)
Perfect numbers aside, it's really the imperfect color associations that make sports interesting for me. Every player has a secondary color scheme that, whether attractive or ugly, adds more visual interest to the game. Memories of entire games are painted in strings of color based not just on team colors, but on prominent players' jersey numbers and even last names.
My mind's pairing of names and colors goes beyond sports. In a sense, all of the people I know have "team colors" based on their first and last initials (which stand out in my mind more than the other letters in their names). For example, T.L. is dark green/dark grey; K.B. is purple/blue; J.P. is purple/kelly green (like the Mighty Ducks in the original movie). My own initials, S.W., give me team colors of blue and yellowish-tan. This isn't like how some people claim to see "auras" of color around people. Instead, the very thought or sight of a person's name triggers a flash of color that sort of washes around her or his identity in my head.
Synesthesia can be a distraction, but it isn't a handicap, and it's certainly not a superpower. In fact, I really don't think I'm that different from anyone else. All of our brains are pattern-making machines. We assign values to arbitrary symbols and make personal connections with them (yellow is my favorite color because I grew up a Pittsburgh fan; 73 was my dad's number in college; and so on), and we color them a certain way in our memories, to be called up and viewed in the mind's eye like a bright object that we can't see directly but is "right over there" in our periphery. For some of us it's just a bit more vivid. That's synesthesia.
Are there any other synesthetes out there, or anyone else with a unique mode of perception? How does it affect your uni-watching?
———
Paul here. What a fascinating story! Major thanks to Scott for sharing it with us, and for being such a pleasure to work with as we developed his membership card and this entry.
•  •  •  •  •
•  •  •  •  •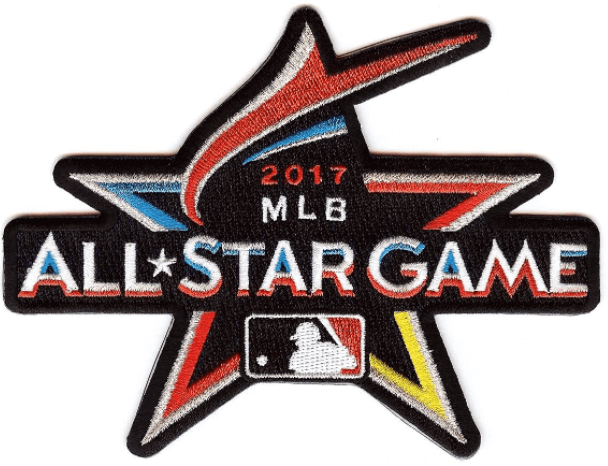 Too good for the Ticker: Every now and then MLB does something awesome, and yesterday was one of those times. They created two really simple but really satisfying infographics — one each for the National and American Leagues — showing the team logo of each All-Star Game starter, broken down by year and by position. It's really interesting to see, say, the long run of Cardinals logos at NL shortstop in the 1980s and '90s (for Ozzie Smith, obviously), or the surprising long run of Tigers logos for AL catcher from the mid-'60s to the mid-'70s (for Bill Freehan, who at one point was named to 10 consecutive All-Star teams — seven as a starter), among lots of other interesting bits.
The infographics are much too large to embed here on the site, so I'll just link to them — National League and American League. You can read a little more about the graphics here.
The graphics aren't perfect. The main issue is that they've used the current logos for all teams — even the ones that have moved. So all of the Giants players are represented by the interlocking "SF," even All-Stars who played for the New York Giants. Similarly, all Angels players, even from the 1960s and '70s, are represented by the team's current logo, which didn't even exist until 2002. That's not ideal, obviously, but I can understand why they did it, and some of the year-after-year logo repetition would have lost a lot of its cumulative oomph if they changed all the logos to be era-appropriate. And while it's a little odd to see Oakland's white "A" on a green background being used to represent a Philadelphia A's player from the 1930s, it's a good reminder that it's the same franchise.
Overall, I really like this. Kudos to all involved.
(Thanks to Charlie Kranz for letting me know about this one.)
•  •  •  •  •
Panthers relocate training camp to Area 51: With NFL training camps approaching, the Panthers have adopted a new logo to promote their camp, which takes place at Wofford College in Spartanburg, S.C. They're using the new mark, which features two silhouetted panthers' heads, as their social media avatar and have also put it on a flag, as you can see here:
#WoffordIsComing pic.twitter.com/VCmRRR8oxD

— Carolina Panthers (@Panthers) July 12, 2017
The only problem with that is, well, this: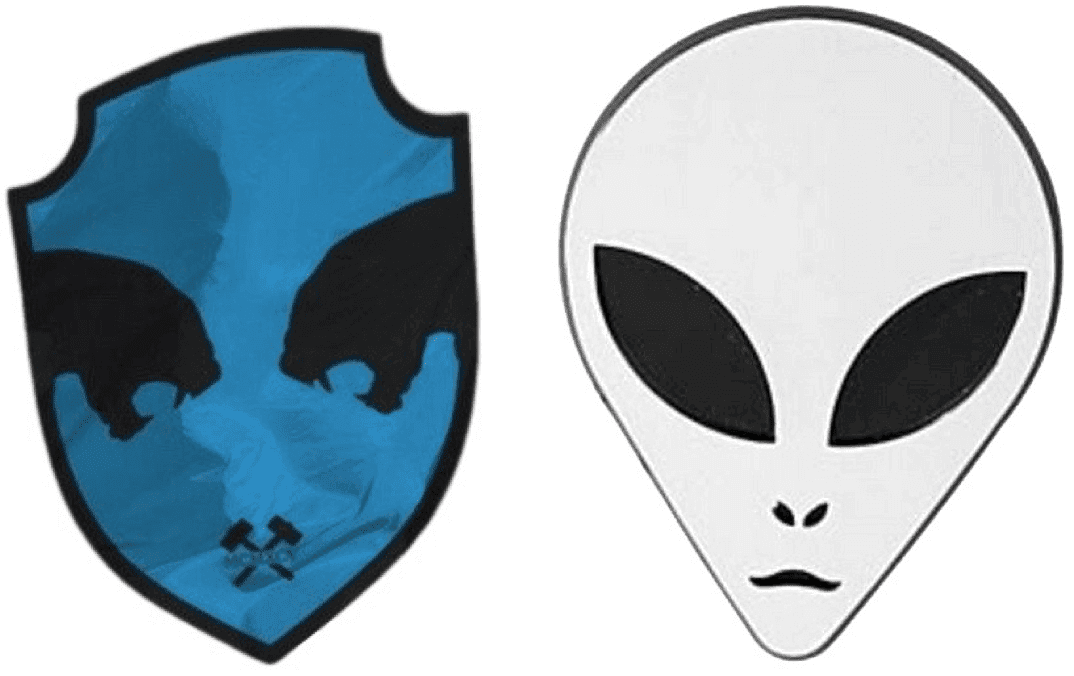 Honestly, how did they approve that logo? Even without the alien connection, it's such an odd design for an NFL team. Feels more like a European soccer club logo. I wondered if maybe it had some connection to Wofford College, but nope. Back to the drawing board, people.
•  •  •  •  •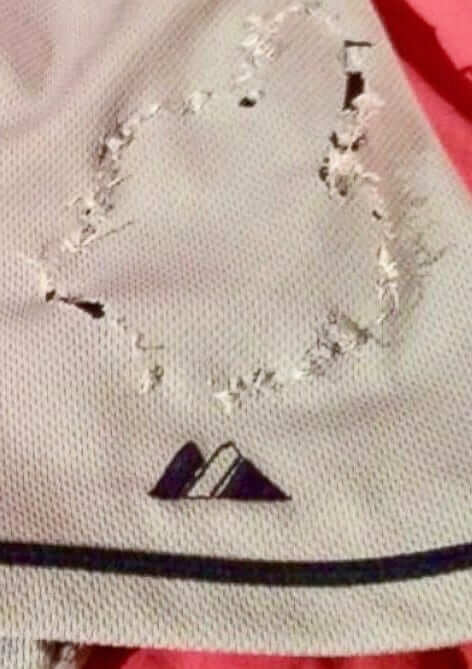 Wahoo update: League commissioners often given wide-ranging "state of the game" interviews during the lead-up to a championship series or an All-Star game, and MLB commish Rob Manfred did that on Tuesday afternoon, prior the MLB ASG. Later that day The Washington Post had a story about his remarks, which focused mostly on the spike in home runs. But there was also a small list of bullet points at the end of the story, the last of which is of interest to us:
[Manfred] said he has had an "ongoing dialogue" with the Cleveland Indians' ownership about phasing out the Chief Wahoo logo, which many think to be derogatory to Native Americans, but that it is unlikely to disappear completely this year.
This is a cagey statement, because I don't think anyone expected Wahoo to disappear this year. There have been several hints, however, that he might be mothballed next year. And by saying, "Nope, not this year," Manfred appears to be adding another hint to the pile. He's also making it clear that he remains in favor of Wahoo's retirement, which is an important thing for him to keep on saying.
(My thanks to Phil for noticing that item at the bottom of the WaPo article.)
•  •  •  •  •
The Ticker
By Mike Chamernik

Baseball News: The Brewers will celebrate the 35th anniversary of the 1982 AL Championship team by wearing home throwbacks for all three games of this weekend's series against the Phillies. the Phils will wear powder blue road throwbacks (from Phil). … A pizza shop in St. Louis has a poster of a phantom 1949 Cardinals World Series program on display. The Cardinals finished a game behind the Dodgers for the pennant that year (from Alex Spanko). … An Ohio sports columnist would prefer the road team in the All-Star Game to wear alternate jerseys instead of grey. Chris Creamer of SportsLogos.Net showed what a All-Star team full of alternate jerseys would look like (from Phil). … The Jackson Generals will have jerseys for Shark Week Night (from Phil). … David Westfall spotted some uni inconsistencies in the 1997 All-Star Game. First, Ken Griffey Jr. wore a sleeveless jersey while the rest of his Mariners teammates wore sleeves. Oddly enough, Griffey had a sleeved jersey hanging in his locker after the game. Also, Tony Gwynn had a gray Padres jersey, but teammate Ken Caminiti wore a blue alternate. … The Kane County Cougars wore camel jerseys for "Hump Day" yesterday. Here's another look (from @CraigCDMcigers). … The Chicago Police Department's baseball team wears charcoal grey uniforms. … Hmmm, what's wrong with this picture?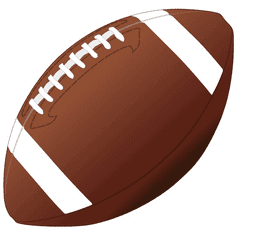 Football News: New crimson jerseys for Washington State (from @broc1984). … LSU's neck bumpers will have 3-D lettering this season (from David Roeder). … New gloves for Pittsburg State (from Scott Snyder). … North Carolina has new cleats (from James Gilbert). … Jordan Josoff was playing Madden 17 and he saw an odd tiger logo. Is that something for the Bengals, or for a fictional team in the game? Has anyone seen it before? … Some players trying out for the Rams have been wearing Reebok practice jerseys. … A writer at Pro Football Talk proposed a thought experiment: Would you accept ads all over the uniforms and the field if it meant getting rid of commercial breaks? (From Phil.)

Hockey News: New jerseys for the Everett Silvertips of the WHL. Additional info here (from Shayne Pasquino). … Onondaga County intends to sell the naming rights to War Memorial Arena, the home of the AHL's Syracuse Crunch. The new name will take the form of "[Advertiser Name] Arena at the War Memorial" (from Shane Bua). … Brad Bader still has a bunch of unused NHL pencils from the mid-1990s. He's fond of the Nordiques one, and I always enjoy the Red Wings' wordmark. … Here's a look at the Coyotes' logo history (from Phil).

NBA News: Fanatics, the apparel company that will make and sell NBA replica jerseys starting this season, aims to become a new sort of retailer that is part tech company, part e-commerce expert, and part manufacturer (from Phil). … New T-Wolves forward Jimmy Butler is selling his Chicago mansion. He apparently had a closet with more than 500 pairs of shoes. … Lakers rookie and budding sneaker entrepreneur Lonzo Ball wore Nike sneakers in a Summer League game last night. … Do you live in the New York area and have a golden voice? The Nets are holding auditions to choose a new P.A. announcer.

Soccer News: New shirts and new 70th anniversary badge for ÅšlÄ…sk WrocÅ'aw, a Polish club (from Ed Å»elaski). … Also from Ed: New uniforms for Cracovia Kraków, who have switched from Macron to Puma. … The Blackburn Rovers updated their away kit (from @moodonthepitch). … New home jersey for SSC Napoli of Italy's Serie A (from Edoardo Salvati). … Newcastle introduced a new third kit (from @NUFC_monkey). … Fans have expressed mixed reactions to Arsenal's new black and pink third kit (from Ted Arnold). … Two Red Bull clubs, Germany's RB Leipzig and Austria's RB Salzburg, have identical new jerseys (from mark Coale).

Grab Bag: Wimbledon has a strict all-white dress code. Yesterday, a doubles team was forced to change out of their dark-colored underwear (from Mike Styczen). … New flag for the city of Tulsa, Okla. (from Alex). … Time Inc. is considering a corporate name change. This reminds me of last year, when Tribune Publishing Co. changed its name to Tronc, a move that still draws ridicule in Chicago. … Michigan, a Jordan Brand school, is building a new indoor track, and a someone on the construction site has a Jumpman logo on his hard hat (from Tyler Crum). … A few newspapers, including The Tennesseean and The Detroit Free Press, have new mastheads and logos that reflect their new affiliation with the USA Today Network. … Here are the liveries for the Honda Indy Toronto race this weekend (from Tim Dunn). … Font-based scandal: Pakistan Prime Minister Nawaz is being investigated about a falsified property deed. Officials found that while the deed is dated 2006, the font used in it, Microsoft's Calibri, didn't debut until 2007 (from Harris Celsi). … Here's the story behind the personal logos for a handful of the players on the PGA Tour (from Joe Canales).