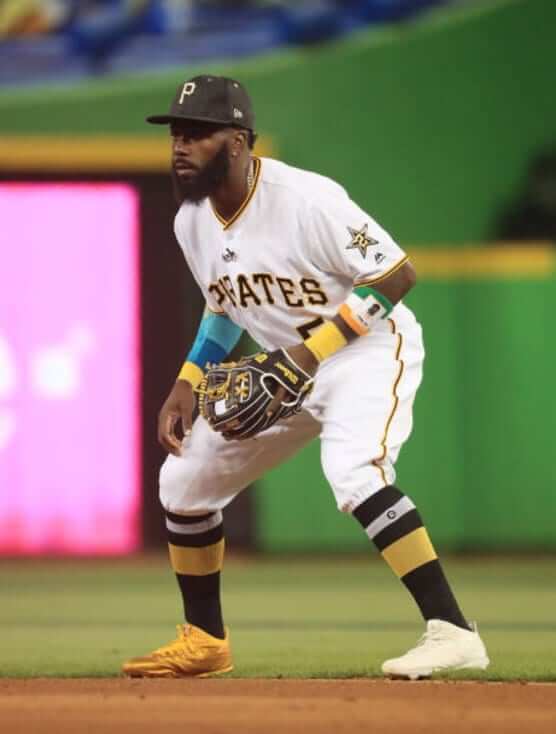 All-Star Games are usually footwear free-for-alls, but last night's Midsummer Classic was surprisingly light on shoe shenanigans — no neon, not many custom-painted jobs. One prominent exception, however, was Josh Harrison (shown above), who wore one gold shoe and one white. That's absurd, of course, but I kinda liked it! Both shoes went well with his throwback socks. It was almost like he was saying, "Hmmm, should I go with the gold shoes or the white shoes tonight? Eh, I'll just wear both." Looks like he may also have been wearing a wristband with a portrait of himself and an Irish flag motif. Anyone know more about that? (Update: Twitterer Timmy Westside has plausibly suggested that the wristband may actually be for the Ivory Coast, not Ireland. … Additional update: He was apparently wearing one of these.)
In other news from last night's game:
•  As usual, there were no alternate jerseys — all home whites and road greys. Given new commish Rob Manfred's evident willingness to tinker with the sport's look, I'm surprised they've stuck to the white/grey protocol. And if solid-colored alts have to exist, this is where they should be worn — an exhibition game where anything goes. Look at the team photos from the '70s — that seems to capture the spirit of All-Star fun a lot better than whites vs. greys, no? It's like they have it backwards: Allow the alts in the ASG (hell, let them wear throwbacks if they want) and save the whites/greys for the World Series.
•  As has become standard practice in recent years, memorial sleeve patches were moved to the chest to make room for the various All-Star sleeve patches.
•  I'm fine with the left-sleeve patch showing the player's number of All-Star appearances. In the case of the Phillies, that patch forced them to remove the TV number that's usually on that sleeve.
• Interestingly, the umps wore their usual sleeve numbers on the right side and the ASG patch on the left side. Might've been nice if they'd gotten to wear the "how many times an All-Star" indicator, showing how many ASGs they'd worked.
•  For the second consecutive year, the All-Star caps had gold, star-shaped grommets, and I still don't like them. They make the players look like they have rivets in their heads. Toss in the gold squatchees and it made everyone look like they're cyborgs or something. (Of course, the bigger issue is that there's no need for a special ASG caps to begin with — just let the players wear their regular team caps. But I particularly dislike the gold grommets.)
•  Another thing about the caps: The All-Star logo patch on the side often reflected rather oddly. On numerous occasions I thought it looked more like a sweat stain or a foreign substance. I think this is one of the downsides of the Chromaflex patch style: The patch has deeper ridges and almost seems to cast its own shadows.
•  The mismatched All-Star socks looked ridiculous. Just like last year, some players just wore their regular team socks and Bryce Harper wore Trusox (along with, as you can see in that shot, a tribute to fallen Marlins pitcher José Fernandez).
•  For reasons I can't even begin to fathom, starting National League catcher Buster Posey wore grey catcher's gear — a brutal look, especially against the Giants' cream uniform.
•  Posey's American League counterpart, Salvador Perez, went with gold gear. Interestingly, he wore a different set of gold-trimmed gear in last year's All-Star Game. (Perez was later outdone by Posey's replacement, Yadier Molina, who went full gold.)
•  Speaking of gold: Last year the Royals' players wore their Friday-night batting helmets with the gold logo. No photo, but this year they just wore their regular white-logo helmets.
•  American League skipper Brad Mills — subbing for Terry Francona, who had to miss the game due to medical concerns — got victimized by the old bubblegum prank. Amazingly enough, the gum wasn't gold! Someone's gonna lose their job over that, right?
•  Some idiot in the front row was wearing a Native American headdress.
•  Watching the parade of batting helmets from various teams, I was struck by how much I now prefer matte helmets over glossies. Best trend of recent years.
And that's a wrap. Come back next year for the final MLB All-Star Game of the pre-Under Armour era.
(My thanks to everyone who contributed pics and observations.)
•  •  •  •  •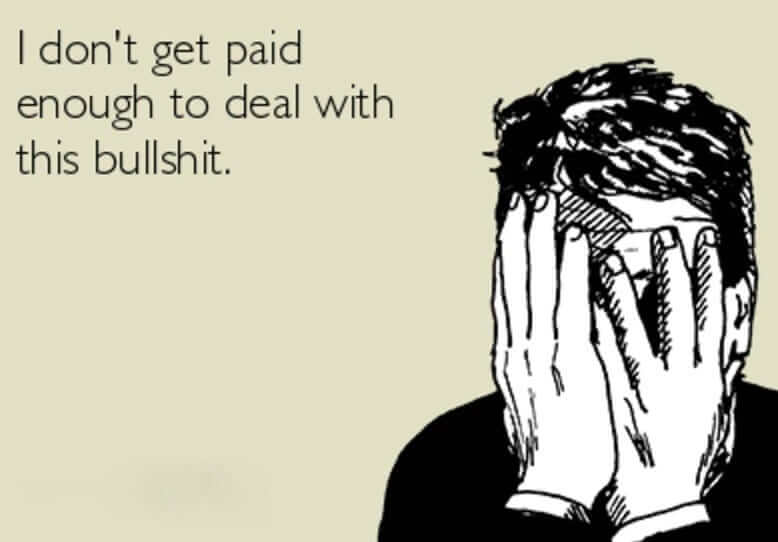 Election hacking apparently not limited to Russia: If you follow the site on weekends, you know that Phil has been conducting a series of very cool fauxback design contests. They're fun, and many of the designs have been excellent.
It has come to our attention that the voting in the current contest may have been compromised by the use of bots, which are apparently being used to pad the vote totals for certain designs. Do we have proof that bots are being used? No. But there's some pretty strong circumstantial evidence.
It is beyond pathetic that anyone would cheat on a fucking internet design contest, and I find it personally embarrassing that someone in the Uni Watch community may have done so. I can't believe I even have to waste my time on this nonsense, so I'm only going to say this once:
If you've been using a bot to rig the design contest vote, stop. Stop now. Or we'll shut down this contest and we won't run any more of them.
These contests should be fun — fun for the designers, fun for the readers, and fun for Phil (who puts a lot of work into these things). If it stops being fun, it's not worth it. So if we continue to see evidence of bots, we'll just scrap it and move on to something else.
And that's it. I've already devoted more time and brain cells to this issue than I care to, so I don't want to see anything about it in today's comments, I don't want to get any more emails about it, I don't want to hear about more secure polling software we could use, or anything else. If we can't run a simple contest on the honor system, that's a really sad commentary on the current state of things.
Now let's move on. Thanks.
•  •  •  •  •
The Ticker
By Paul

'Skins Watch (a few days early this week): I grew up on Long Island in the 1970s but have no memory of the Long Island Tomahawks, a box lacrosse team that played at the Nassau Coliseum in 1975. Pretty dreadful logo (from Kevin Brown).

Baseball News: What's even stupider than the embarrassing term used by the NFL for its Thursday-night uniforms? That same embarrassing term being used by MiLB teams. Sigh (blame Connor Jones). … Look at all the great players — and uniforms! — that showed up for the Padres' 1978 old-timers' day (from the great @BSmile). … The Nippon Ham Fighters' farm team in Kamagaya gave away a jersey-shaped coupon to celebrate the team's 500th home win. … Looks like the Brooklyn Cyclones were wearing throwbacks or retro uniforms with a heathered faux-flannel fabric (from Robert Hayes). … Also from Robert: Cleveland P Danny Salazar, on a rehab assignment at Mahoning Valley Scrappers, wore a jersey and pants with mismatched shades of white.

College Football News: I feel like we may have seen this before, but just in case: The footballs used by Wisconsin this year will have a Camp Randall centennial pattern (from Nate Neumann).

Hockey News: The Red Wings' new arena has a big, honking pizza ad on the roof. Gross. … New uniforms for the Birmingham Bulls. … Here's a good look at the Oilers' new dark-blue helmet, pants, and gloves. … The Markham Thunder have a new logo but are letting fans decide the color treatment (from Moe Khan). … The composer of the Hartford Whalers' popular "Brass Bonanza" fight song has passed away at the age of 94 (from Ted Arnold).

Basketball News: The Infor ad patch on the Nets' jerseys, which was originally red, has apparently been changed to black and white (from Robert Hayes). … The Kings are using their new team wordmark with their old number style on their Summer League jerseys. I wonder if it's because Adidas has a lot of extra numbers in stock that needed to be used, instead of cutting them out on demand with the available technology," speculates Dustin Pomprowitz. But hey, on the plus side: vertically arched NOBs! … James A. Garfield High School in Ohio has a new court design that's mostly charcoal and black. … Celtics rookie Jayson Tatum's mom has been wearing a Celtics jersey with the GE ad patch for the past week or so. Here's the best look at it so far. Gross (from Neal Hanson). … Repeated from the hockey section: Detroit's new arena, where the Pistons and Red Wings will play, has a big, honking pizza ad on the roof.

Soccer News: New home shirt for Napoli (from Ed Å»elaski"). … "The English championship team Sheffield Wednesday has not announced its new kit supplier yet," says Stefan Schubert. "However, a picture surfaced on Tuesday showing a player wearing gear from Lacatoni, a Spanish supplier owned in part by Wednesday manager Carlos Carvalhal. I cannot think of a soccer coach who owned (part) of the outfitter in recent years." … Puma will be releasing new kits for 23 teams today. Many of the designs will be black. Here's a teaser (from Josh Hinton).

Grab Bag: SI has launched a new site devoted to the intersection of sports and food. … Logo tweak for Famous Dave's (from Pete Woychick). … The Ford Mustang's "corralled pony" logo is returning to the 2018 edition of the car. … A Chinese airline has debuted a set of haute couture flight attendant uniforms (thanks, Brinke). … Conor McGregor, promoting his upcoming fight with Floyd Mayweather Jr., wore a suit with "Fuck You" pinstripes. Classy (from Andrew Cosentino).