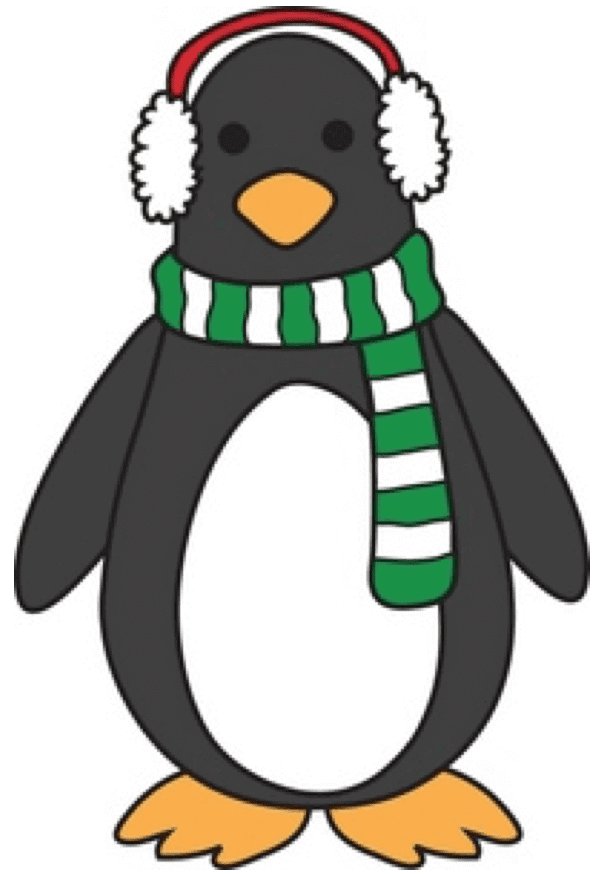 There are certain uni-related storylines that have sort of become Uni Watch 101 — stories that have become famous enough, at least for Uni Watch readers, that we're all familiar with them.
Every now and then, though, I come across a story that seems like it should fall in that category but is totally new to me. We're going to talk about one of those today. (And hell, maybe all of you know about this story already and I'm the only one who missed the boat. If that's the case, then I apologize in advance for telling you something you already knew about.)
The year was 1970, and the Penguins were playing the Blues in St. Louis, where the fans had a reputation for being rowdy and loud — so loud, apparently, that Pens coach Red Kelly determined that some sort of pre-emptive action was necessary. He had his players wear … earmuffs. And just to show that he could practice what he preached, Kelly wore the muffs as well.
Yes, really (click to enlarge):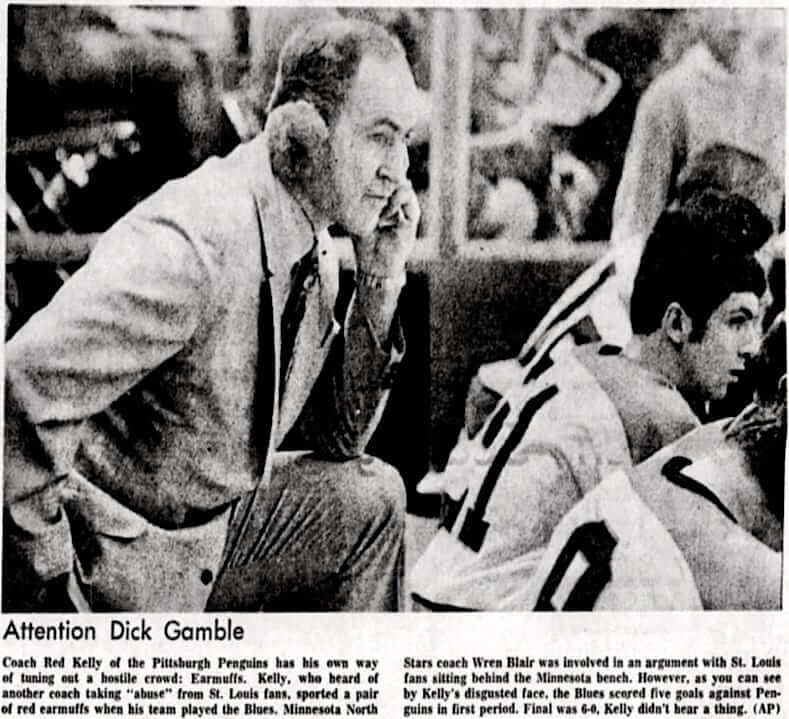 .
Pretty wild, right? How is it possible that I'd never heard about this until reader Bob Gassel brought it to my attention the other day?
Bob also provided this short AP piece, which indicates that the earmuffs didn't work out too well: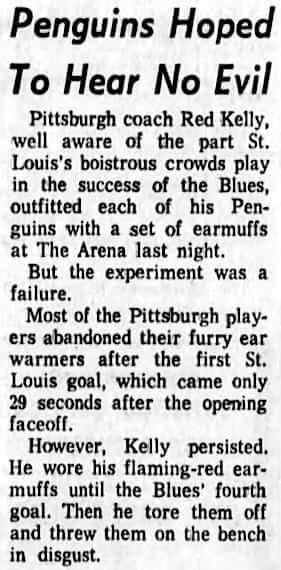 There's some additional info here, indicating that the muffs were not mandatory and that only about half of the players wore them. But that page and the AP item both fail to address a key question: Were the muffs worn on the ice, or only on the bench? I found the answer in the book Tales from the Pittsburgh Penguins Locker Room, which includes the following account (click to enlarge);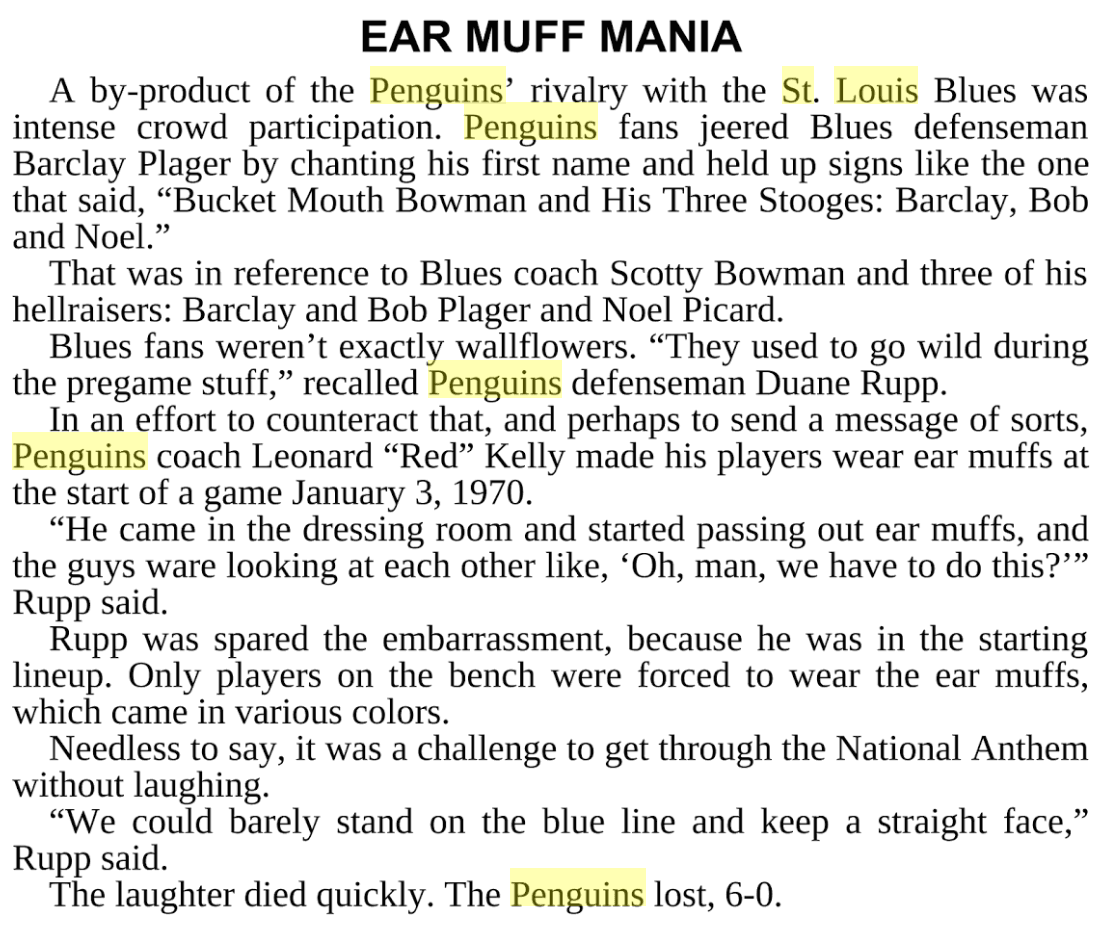 A few additional thoughts:
•  Obviously, this all took place well before the days of mandatory helmets in the NHL. It's not clear if the Pens had any helmet-clad players back in 1970, or if any such players wore the muffs over their helmets. A subject for further research!
•  If you go back up to the third photo I posted in this entry, you'll see that the photo had a little headline: "Attention Dick Gamble." I didn't understand what that meant, so I googled Dick Gamble and learned that he's a former NHL player. It's not clear what he has to do with earmuffs, though. Anyone..?
•  When I hear about athletes trying to block out boos or heckling, I immediately think of how Rafael Palmeiro of the Orioles wore earplugs in 2005 — a move that pretty much blew up in his face. Six years later, Milton Bradley of the Mariners also wore earplugs. And NFL players have sometimes worn earplugs when playing on the road at particularly loud stadiums, like in Seattle. I'm sure there are other examples — anyone..?
•  If you want to learn more about the Penguins incident, you'll need a more targeted Google search term than "Pittsburgh Penguins earmuffs." If you search on that, you end up with a lot of stuff like this. And let's face it, it would've been awesome if that's what the Pens had been wearing on the bench back in 1970.
(Big thanks to Bob Gassel for bringing this one to my attention, and to Mike Chamernik for research assistance.)
•  •  •  •  •
Click to enlarge
Culinary Corner: Picture-perfect weather in my backyard yesterday, as a bunch of friends gathered for an Independence Day cookout. As you can see above, there was a bit of an art-imitates-life moment (or was it the other way around?) as I carved a boneless sirloin steak while wearing just the right T-shirt for the occasion.
There was, of course, quite a bit of meat, including steak, spare ribs, chicken thighs, and many kinds of sausages:
But there were also more unusual offerings. Most notably: I grilled an octopus! Never done that before. Turned out pretty well. In the first shot below, it's accompanied on the grill by some cactus, which my friends Jon and Karen brought for making tacos de nopal. Not really my thing, to be honest, but they sure look pretty on the grill:
And my friend Sujan, who's Korean, made bulgogi sliders:
And we even had some clams, which turned out really well:
For dessert, I had purchased about three pounds of sour cherries at our local farmers market a few days earlier. The night before the party, the Tugboat Captain and I pitted all of them, and then I used them to make a sour cherry crisp. Used my mom's recipe for the topping — brown sugar, butter, oats, walnuts, and a bit of flour. So good!
Finally, let the record show that I wore the proper holiday hosiery:
All in all, a swell time. However you spent your Independence Day, I hope it was a good one.
•  •  •  •  •
The Ticker
By Paul

Baseball News: The Single-A Greensboro Grasshoppers became the Hoppin' Hound Dogs for a day on Sunday. … Anyone know why the Dodgers' 1977 NL championship ring design has an airplane on the side? (From David Firestone.) … Nats INF Adrian Sanchez appears to have had his helmet logo taped onto his helmet on Monday night. … The Rangers' batboy has his first name and "BB" on the back of his jersey (from Stephen Hayes). … A Chicago Tribune columnist thinks MLB's plethora of "special" uniforms is wearing thin (from Mark Ament and Jerry Kulig). … Umpire Ryan Blakney, who worked the plate in yesterday's Pirates/Phils game, had a stars/stripes mask (from John M.). … The Yankees' 40-man roster currently includes four different players designated as No. 30: Giovanny Gallegos, Ronald Herrera, Kyle Higashioka, and Clint Frazier. Only Frazier is on the active 25-man roster (good observation by David Feigenbaum). … Latest food-based minor league makeover: The Rochester Red Wings will become the Rochester Plates for one day in August. That's a reference to garbage plates, a local specialty (from @BSoup42). … Fun fact: MLB clubhouses typically include a "lost and found" locker, and players will sometimes use the old clothing that accumulates there (from David Cline). … Here's a weird one: Why would Teddy Ballgame be making a catch up against the Green Monster while wearing a Red Sox road uniform? Anyone..? (From David Finer.)

NFL News: Longtime Uni Watch contributor/pal Michael Princip, who's been designing helmets for Schutt, recently checked in with the following: "My latest project has been a redesign of the classic Adams chinstrap cups. Schutt purchased Adams a while back, so they own all of the patents for the Adams helmet, shoulder pads, and chinstraps." … The Eagles might be getting new Thursday-night uniforms (thanks, Brinke). … Pretty cool Steelers helmet-themed VW Bug in an Independence Day parade yesterday. … Good view clip showing former Cardinals CB Norm Thompson's unusual facemask. … And here's another good video clip, this time focusing on Greg Pruitt's tearaway jerseys.

College Football News: Interesting story about a Maryland high school's use of Georgia Tech's logo. I've said it before and I'll keep saying it: Poaching someone else's logo instead of coming up with your own is (a) lazy, (b) a terrible lesson to impart to your students, and (c) so much less satisfying than coming up with your own logo design. But Georgia Tech alum Michael Rich says, "I completely agree that there's really no good excuse for high schools to poach pro and major college logos, but to me this feels like a big bully picking on a smaller, weaker kid. It also feels like Georgia Tech is expending resources, which as a state university includes taxpayer funds, to pursue these lawsuits instead of using those funds to the greater mission of the Institute. To me, this is one of those instances in which no one comes out a winner."

Hockey News: Check out this rare shot of the Maple Leafs using NOBs in the early '70s. Here's another view. Obviously, this was well prior to the famous ghosted NOBs in 1978. Who knew? (Steve May, that's who.)

Basketball News: The Timberwolves used to play this annoying wolf hound sound when the opposing team was shooting free throws. Red Kerr and Phil Jackson were not fans of that tactic (thanks, Mike). … A 75-year-old Pennsylvania man has been reunited with his high school basketball jersey, which was found in a suitcase in the basement of a sporting goods store (from Doug Keklak).

Grab Bag: Soda case artwork has gotten a bit out of control (from David Firestone). … New city flag for Montpelier, Vt. (from John Pritchard).
• • • • •
Click to enlarge

What Paul did last night on Friday: When I was about five or six, my older brother Henry (who at that time would have been a junior or senior in high school) went through a mobile-making phase. He used wire and cardstock to make mobiles that he hung in various rooms of our house.
I didn't realize it at the time, but Henry was clearly inspired by the mobiles of the great Alexander Calder (like the one shown above). This isn't so surprising "" while I don't think we had any Calder artwork in the house, our parents were very into Modernism,  and the whole aesthetic of our home was, in retrospect, rather Calder-esque. Years later, Henry and his wife bought a beautiful Calder print. After they died, it was one of the few possessions of theirs that I wanted, and I still have it today.
All of which is a long way of saying that I've been very excited about the new Calder exhibit that recently opened at the Whitney, which  my friend Carrie and I went to see on Friday. The point of the exhibit is that they've put a lot of his mobiles and other sculptures "in motion," which is nice. But really, so many of the pieces look Just Right even when they're static. I loved seeing them, in part because they're so beautiful and in part because they remind me of those mobiles my brother used to make, which I hadn't thought about in a while. He would have loved this exhibit. You can see some photos I took in the slideshow below (or by clicking here):