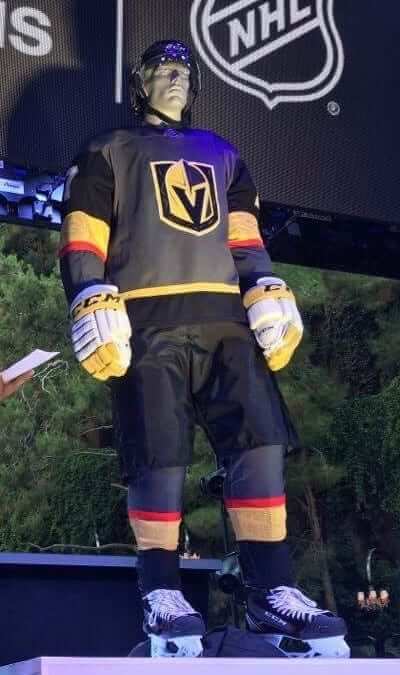 Photo by Chris Creamer
Good morning! I'll still be asleep when some of you see this entry, and then I'll be on an airplane for a big chunk of the day, but let's not let that get in the way of a good entry, shall we?
So: The most surprising moment of last night's NHL/Adidas unveiling event in Las Vegas was when the Golden Knights' home uniform was revealed and you could sort of feel everyone mentally processing the fact that the team will be wearing white gloves. Bizarre, right?
I was never in love with that Golden Knights logo, and I still don't much care for it. I do like the uniform's color scheme, however (grey, black, gold, and red work really well together). But ugh — those gloves. That's not gonna work.
I interviewed several Adidas and NHL execs, all of which was interesting. I hope to be able to tell you more about that later on, but one takeaway was that NHL branding czar Brian Jennings told me flat-out that uniform advertising is not on the table for the NHL. That doesn't mean it'll never happen, but he seemed pretty serious about it as we discussed it. (Yes, I'm aware that Deadspin more or less declared NHL jersey ads to be a done deal yesterday afternoon. But if you read the piece, you'll find that the writer's entire evidence for this is that "it seems inevitable." He also asserts that NHL jersey leaks were pre-orchestrated inside jobs, again with no evidence. Draw your own conclusions.)
One major frustration is that the league and Adidas did not provide a summary of all the design changes by the various teams. When I asked about this, they said, "We need to let the teams tell their own stories." It's nice that they're deferring to the teams, but come on — you can't unveil 31 new uniforms without giving us some kind of road map. It's just too much information for reporters and fans to process on the fly. I did my best to summarize some of the more significant changes, and also gave an overview of the new Adidas template, in this ESPN news piece, which I wrote right there at the event. It was published as I took a cab back to my hotel.
If you want more detailed team-by-team information, I recommend the following:
•  Most of the information and photos floating around out there are only about the jerseys, not about the full uniforms. But I took full-body photos of all of the uniformed mannequins at the event. You can see those by scrolling through my Twitter feed.
•  SportsLogos.net's Chris Creamer managed to get access to the designs in advance and therefore had time to put together an excellent overview of the team-by-team changes. He also has some good photos on his Twitter feed.
•  There's also lots of good info and imagery (mostly retweets, but still) on the Icethetics Twitter feed.
So what did I think? Here are some very quick reactions:
1. The new hemline format is a big improvement.
2. I hate the new collars with that pentagon of fabric to showcase the NHL logo. When the pentagon is contrast-colored, as it is on many of the jerseys, it's as bad as the old Ree-box. (This is sort of like the NFL's changeover from Reebok to Nike in 2012, when the most visible aspect of the new outfitter was the annoying new collar format.)
3. Not a fan of the dimpled fabric on the shoulders. Here's hoping it isn't visible on TV.
4. I love the Wild's new home uni, hate the Devils' new sleeve stripes (waaaaay too wide — it's like one of those Stadium Series designs where they make everything oversized so the guy sitting in the upper deck can see it), and am agnostic about the Bruins new black socks (which don't look bad in a vacuum but seem kinda silly because now the Bruins look too much like the Penguins).
5. Last week I mentioned that the Red Wings appeared to be moving away from direct-sewn lettering for their NOBs and were using a nameplate instead. But the mannequin at last night's event had direct-sewn letters — no nameplate! I asked an Adidas exec about this and he confirmed that teaser photo was wrong and that the team would not be using a 'plate. A nice surprise.
There's more, but I have to pack and get ready for my flight home. See you tomorrow!
•  •  •  •  •
Click to enlarge
Two new NBA uni advertisers: The Magic announced yesterday that their uniform advertiser for next season will be Disney. Given that the team's name was inspired by Disney's nearby Magic Kingdom, and that there's actually a cruise ship called the Disney Magic, this one makes a certain amount of sense, even though it's still disappointing and unacceptable.
Meanwhile, the Timberwolves have announced that their uni advertiser will be Fitbit. The patch design won't be revealed until the unveiling of the T-Wolves' new uniform set later this summer (no specific date yet on that), but you can see various iterations of the Fitbit logo here, so the patch will presumably look something like one of those designs. The patch will also appear on the uniforms of the Timberwolves' D-League G-League affiliate, the Iowa Wolves.
I had expected most of the NBA advertisers to be lifestyle brands like Disney, but the Fitbit deal continues the trend of teams partnering with advertisers who specialize in data and analytics. Other teams going that route have included the Nets (whose jersey advertiser will be Infor), Celtics (GE), and Jazz (Qualtrics).
The press release, straining for a local tie-in, notes that "Minnesota is home to many like-minded companies, clients and partners of Fitbit, including UnitedHealth Group, providing additional opportunities for collaboration in the future." That's nice, but Fitbit itself is headquartered in San Francisco, so there's no local connection here for the Timberwolves.
•  •  •  •  •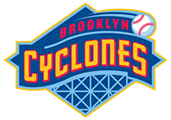 Brand-new opportunity: Yesterday I received a very nice note from a representative of the Brooklyn Cyclones, as follows:
Good morning, Paul. My name is [redacted] and I work for the Brooklyn Cyclones. Our home season is starting tonight, 6/20/17 and wanted to reach out to you to see if you would be interested in bringing the Uni Watch brand out here to MCU Park to co-brand with the Cyclones via ballpark signage and website inclusion. I have just a few signs left for the taking and can cut you an unbelievable discount to get this done. Please call me today at [redacted] to discuss. I can turn-key this for you and make it happen on a very quick turnaround.

Being a huge fan of your site, and bringing the brand out here to MCU Park in Coney Island would be a fantastic way to get our fan base acclimated to Uni Watch and your "U-Watchers". Thank you, in advance, for your time and consideration.
Now, I'm not gonna lie and pretend that it wouldn't be fun to have some sort of Uni Watch sign out at the ballpark. And the guy sounds polite and sincere. But man, that's a whole lot of "brand"-speak, eh?
A few hours later, at the NHL unveiling, I bumped into a writer whose work I've long admired. We'd emailed many times over the years but had never met in person, so it was a treat to shake his hand and get better acquainted. Things were going really well, and then he said, "So has ESPN been good for your brand?"
I realize there's an increasing tendency for all of us to be in our own little bubbles. And my bubble is probably worse, because I work by myself at home (well, except when I travel to the desert for a hockey event). But still, all this chatter about branding, always with a straight face — is that really how people talk these days?
•  •  •  •  •
StripeRite update: I'm extremely happy to announce that the latest batch of StripeRite socks (shown at right; click to enlarge) is now available from American Trench. I really like these designs, and I hope you will too. Supplies are limited — seriously, they are, that's not just a sales pitch — so move fast if you want to get in on these.
And remember, most of the designs from the first and second StripeRite batches are still available as well.
•  •  •  •  •
The Ticker
By Alex Hider

Baseball News: Rangers announcers made note of P Nick Martinez's stirrups last night. … Speaking of the Rangers, OF Carlos Gomez was wearing Superman cleats (from Todd Oliver). … ESPN's Tim Kurkjan wrote a piece hypothesizing what baseball will look like in 20 years, and he included this passage: "… long before 2037, all that space on a player's uniform will be used for free marketing and advertising purposes, à  la NASCAR." (From Kary Klismet). … Tigers fans: Jason Werth needs your help in tracking down one of these Michigan/Old English D shirts. … This artist has a number of famous fans "" namely, the Toronto Blue Jays (from Ted Arnold). … Cool photo of the Reds' Johnny Temple testing out an early batting helmet in 1959 (from Sports Paper). … Speaking of batting helmets, Ben Matukewicz" found this old photo of a Red Sox player wearing a batting helmet with the team's "hanging sox" logo. … We may have shared this before, but there is a statue of the Padres' Swingin' Friar made out of Lego at Legoland in California (from Sean L.). … The Hartford Yard Goats wore green caps last night, but at least one player was wearing a blue cap in the dugout (from Ricky Schumaker). … Looks like the Staten Island Yankees have some number font inconsistencies (from Jeremy Posner). … A player for the Mahoning Valley Scrappers was missing his Chief Wahoo patch on his sleeve last night. This is what the jerseys is supposed to look like (from Collin Kelly). … Some TCU players are wearing an "M" patch on their caps during the College World Series. Anyone know what it means? (From Jonathan Hall). … Louisville wore tequila sunrise jerseys last night, but the red numbers on red stripes really ruined what could have been good jersey (from Dave Cohen). … No photo, but the Brewers will wear their gold "Cerveceros" jerseys on July 1 (from Kurt Krowley).

NFL/CFL News: The Ravens have worn "Arm & Hammer" merit patches on their practice jerseys for years to signify that they've attended 85 percent of OTAs in the offseason. But according to Bryan Duklewski, they've added more patches this season: Stars apparently signify how many seasons they've been awarded "Arm & Hammer," AFC logos to signify AFC North Championships and a Lombardi Trophy to signify a Super Bowl. But does anyone know what the final row of patches mean? … Actor Ashton Kutcher wears an Ottawa Redblacks shirt on his Netflix show, The Ranch (from Ted Arnold).

Hockey News: Here's a good Q&A with the Canadiens' equipment manager. He discusses assigning numbers and the weirdest piece of equipment he's ever seen (from Moe Khan). … Marian Hossa of the Blackhawks may have to retire due to a "serious allergy" to his equipment (from Mike Chamernik).

NBA News: The Bucks' new D-League G-League team, the Wisconsin Herd, will be officially unveiling their logo tomorrow, but it has apparently leaked.

College/High School Hoops News: KJ Smith, son of former North Carolina standout Kenny Smith, is transferring to his dad's alma mater, and donned his old jersey to mark the occasion (from James Gilbert). … New floor for Fargo South High School in North Dakota (from Greg Enkers).

Soccer News: The NBA may be adding ad patches next season, but we in America are still light years ahead of the state of unis in South America. Thom Gibbs shared a photo of a jersey for Bolivian team The Strongest that his sister brought back for him from South America "" 14 different ads!