Padres manager Andy Green hinted last week that the team might soon be experimenting with nickNOBs. Turns out it's an MLB thing, not a Padres thing, and it's part of a three-day promotion that will also involve a crazy quilt of colored shoes and other accessories, along with jersey patches saluting formative influences in the players' lives.
Jeff Passan of Yahoo Sports broke the story last night. Here are the key bits:
The event, called Players Weekend, is planned for Aug. 25-27 and was negotiated between the league and MLB Players Association. Players long have sought to express their personal style on the field and capitalize on the intersection of fashion and sports in a way other leagues don't allow, and the result will be a test of boundaries baseball may be inclined to stretch in the future depending on the weekend's success.

Players will have the option to wear a jersey with a nickname — though they are limited to just one, according to the memo, and "inappropriate or offensive" nicknames will be banned.

The items with minimal color restrictions include spikes, batting gloves, wristbands, compression sleeves, and catcher's masks. The colors, according to the memo, must avoid interfering with the game and an umpire's ability to make a call. White gloves, wristbands and sleeves are prohibited.

Each jersey will feature a patch with space for a player to personalize it by "writing the name of an individual or organization that was instrumental to his development," according to the memo.
A few thoughts:
•  This seems rather transparently modeled on the NFL's 2016 move to allow custom-painted shoes for one weekend last season, although that promotion was limited to footwear and tied to charity. For better or worse, the leagues are letting players exercise a bit more personal style.
•  The program also echoes the NBA's move to allow nickNOBs for a few select games during the 2013-14 season.
•  NickNOBs, of course, are not new to MLB. A scattering of players wore them in the 1960s and early '70s (mostly for the A's, but not exclusively), and the 1976 Braves took the concept about as far as it can go. It's funny that the prime movers behind those initiatives — Charlie Finley and Ted Turner — were considered renegade owners at the time. The world has finally caught up with them.
•  Speaking of the Braves, infielder Johan Camargo currently wears No. 17. He wasn't born yet in 1976 and has probably never heard of Andy Messersmith, but there's really only one possible nickNOB for him to wear. Here's hoping the Braves make it so.
•  Mets pitcher Noah Syndergaard will presumably wear "Thor" (well, assuming he's off the DL by late August, which is not a sure thing). If the Mets are smart, they'll have former Twins pitcher Paul Thormodsgard on hand for some sort of photo op, because he wore that same nickNOB back in the late 1970s.
•  I'm not necessarily opposed to nickNOBs. But like so many other initiatives these days, this one feels like it's following the rule that states, "Anything worth doing is worth overdoing." Is it really necessary to stretch this out over a three-day weekend? Also, does it really make sense to mix the "personal style" thing with the "formative influences" thing? Or to put it another way, if you're writing the name of an important person from your past onto a jersey patch, is that person really going to feel honored if you're wearing orange shoes, a plaid compression sleeve, polka dot socks, neon batting gloves, and a goofy name on your back? Maybe. But it doesn't seem like the best fit.
•  What exactly are the Yankees going to do about the nickNOBs? Or about all the other flair?
•  While we're at it: The Red Sox, who go NNOB at home, have a weekend series at Fenway on Aug. 25-27. Will they add nickNOBs or will they stick with their standard home jerseys? (The Giants also go NNOB at home, but they'll be on the road that weekend.)
•  Timing is everything: The just-announced fight between boxing champ Floyd Mayweather Jr. and MMA champ Conor McGregor will be taking place on Aug. 26, so that may suck up a lot of the sports oxygen that weekend.
•  I find it hilarious that the promotion is called "Players Weekend." Come on, now — when you're paid millions of dollars to play a game, every weekend is players weekend, no? Reminds me of this Peanuts panel. (And yes, this is the second time in the past two weeks that I've referenced Peanuts. I guess it made a big impression on me when I was growing up.)
Anyway: This promotion is still more than two months away, so there's plenty of time for the Earth to be hit by an asteroid by then it'll be interesting to see how the nickNOBs develop during that time.
•  •  •  •  •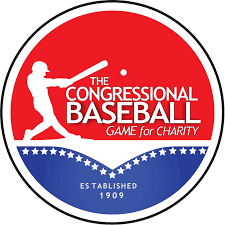 A very nice gesture: In the wake of yesterday's alarming shooting of Louisiana Congressman Steve Scalise, which took place during a practice for the annual Congressional baseball game, an excellent uni-related response has emerged.
First, some quick background: Players in the Congressional ballgame usually wear the uniforms of teams from their home district or state. (Former Congressman Ron Paul, who represented a district in Texas, went so far as to go tequila sunrise with FNOB [too bad about the two-in-ones, though].) In Scalise's case, he was known for wearing LSU uniforms.
And now it turns out that both teams — Republicans and Democrats — will honor Scalise by wearing LSU unis for this year's game, which will go on as scheduled today.
Although I doubt they planned it this way, all that LSU purple will be doubly appropriate, because purple has become the color of nonpartisanship — a mix of Republican red and Democratic blue. So the implicit chromatic message, intentional or not, will be, "We're all in this together," which is something Washington could surely use more of.
Update: Reader/commenter Dane Drutis points out that there won't be that much purple after all. According to the linked article, they'll be wearing LSU T-shirts for the game, and "Republicans will wear black, Democrats white." I'm thinking there'll still be purple graphics, though.
•  •  •  •  •
But it's a dry heat: The NHL and Adidas will be unveiling their new uniforms next Tuesday in Las Vegas. I'll be heading out there to cover the event in person, and I'm thrilled, just thrilled, by the weather forecast for the three days I'll be Sin City:
That's something, eh? I've experienced 100-degree heat before, but not 110, and definitely not 116. The whole idea of it is upsetting. I mean, people (and most other living things) aren't supposed to be exposed to that, right? I'll be indoors most of the time, of course, but still. And what if the power grid goes down? What if they shut down the airport and I'm stuck there? (Actually, that wouldn't be so bad, because the temperature's slated to down to only 112 a few days later. Downright chilly!)
"¨There's something really perfect about all of this happening as part of a hockey event. Sure, the NHL in the desert on the summer solstice — what could possibly go wrong?
•  •  •  •  •
Contest and Father's Day reminders: Phil here. In case you missed it last weekend, I announced our latest jersey design contest (design a fauxback jersey for a team born 1990 or later). If you have any questions about whether a team you'd like to design meets the parameters, feel free to shoot me an email. Deadline is next Tuesday, June 20.
Also, Sunday is Father's Day, and I'll be continuing my annual tradition of posting photos of "Dads In Uniform." It's something I began doing in 2013, and continued in 2014, 2015, and again last year, and I'm looking forward to keeping it going strong.
If you'd like to have a photo of your dad (or granddad!) featured this Sunday, please send me an email along with a photo (just one, please) and description. I'll run all submissions this Sunday.
•  •  •  •  •
The Ticker
By Mike Chamernik

Baseball News: The Padres wore their splendid 1990s throwbacks yesterday, which were even better without the New Era logos on the caps. The Padres also used retro graphics on their scoreboard (from several readers, including @chrisinleucadia and Brandon Wright). … Gabriel Luis Manga designed a cap that combines two similarly named New York institutions: the Mets and the Met. "The woman who designed the new Met museum logo even found me and bought two of them," he says. … The Fresno Grizzlies will wear Simpsons-themed jerseys on June 29 against the Albuquerque Isotopes, a team that took its name from a Simpsons episode. … A little tough to see, but vendors at Minute Maid Park wear Astros tequila sunrise throwbacks (from Rob Snyder).

NFL News: Jeremy Maclin will wear No. 18 for the Ravens. He wore 19 with the Chiefs, but that number is retired in Baltimore for Johnny Unitas — which is a little weird, since Unitas played for the Colts, not the Ravens, but anything Colts-related is still a loaded topic in Baltimore (from Andrew Cosentino). … Odell Beckham Jr. wore cleats with the logos of ESPN, TMZ, and the New York Post crossed out. The media had made a big deal this offseason about the WR skipping the Giants' voluntary OTAs. … It seems that the Bengals are changing the collar color on their black jerseys to solid orange. You have to click on the second photo to see beyond the Twitter default cropping.

College Football News: Michigan State will wear all-white, including white helmets, for a Sept. 9 home game against Western Michigan. As @broc1984 notes, the helmet decal has a sublimated Greek key meander pattern on it. The Spartans last wore white helmets in 1954. … On a related note, here is a collection of the best Michigan State uni combos since 2007, and the worst Spartans uniforms since 2000 (from Phil). … The LA Coliseum, home to USC and the Rams, added new video boards (from Phil).

Hockey News: Team USA will wear Buffalo Bills-styled jerseys against Canada at the 2018 World Junior Championship, which will be played at New Era Field in Buffalo in late December. Here's an illustration of the jerseys. As Paul notes, the jersey's collar style doesn't match the Bills' new collar. … The Kootenay Ice revealed their new uniforms (from Brad McLeod). … When a ring on the Stanley Cup gets full, it gets removed and sent to the Hockey Hall of Fame and another fresh ring is added. If all the rings had been left in place, the Cup would be more than six feet tall (from James Gilbert).

NBA News: The Clippers are expected to announce plans for a new arena in Inglewood today. It will be financed entirely by team owner Steve Ballmer. … A Detroit ice cream truck has a logo that's based on the Pistons logo (from @RickyH174). … High-top basketball shoes are fading away. For years it was believed that they better prevented ankle injuries, but players such as Kobe Bryant prefer lightweight soccer-inspired low-top sneakers that make it easier to cut, change directions, and start and stop (from Tommy Turner). … We've seen this before, but the Lakers had a lot of problems with mismatched shades of purple back in the day. In addition to the jerseys not always matching each other, they often didn't match the shorts.

Soccer News: Here's a look at every new kit in the Premier League for the upcoming season (from Josh Hinton). … New font for Real Madrid. … New third kit for Borussia Dortmund.

Grab Bag: Root Sports will become the AT&T Sports Network, and adopt the familiar AT&T ball logo. [No plans for an "I Still Call It Root Sports" shirt. "" PL] … Here's everything that goes into how logos are selected, arranged, and priced on those big blue lodging, food, and gas signs that you see along the Interstates (from Joel Mathwig). … New uniforms for the Boston Crusaders drum and bugle corps. This promotional video shows more (from Don Martinez). … A handful of amateur vexillologists redesigned San Francisco's flag. Some critics think the city's current flag is unattractive. Consider this a mini-Question of the Week: What's your favorite, and least favorite, city flag in the U.S.? (Thanks to Joshua Tretakoff for the San Francisco link.)
•  •  •  •  •
Special thanks to Ken Weimer. He knows why. Enjoy your vacation, Ken!