Longtime Uni Watch reader/contributor Bruce Menard, who tweets tons of great vintage baseball imagery as @BSmile, came across something really interesting yesterday — the photo shown above of Tigers outfielder Al Kaline, waiting on deck prior to a plate appearance. There's a similar shot, clearly from the same juncture, here. According to Getty Images, the photos were shot at Fenway Park and are from "circa 1963" (which you should take rather loosely, as Getty tends to take a rather expansive view of the term "circa").
There's a lot going on there. First, Kaline's helmet was flocked. That's really rare. In fact, out of the many dozens of Kaline photos in the Getty archive, there appears to be only two other shots — here and here — that show him in a flocked lid. Those photos, also taken at Fenway, are dated 1961.
For that matter, it's rare to see any Tigers wearing flocked helmets. Bruce and I both did some photo research on that and came up with only one other example: this shot of outfielder Bill Bruton. That's from the same game as the 1961 Kaline shots. (Too bad flocked helmets weren't more common, as I really like how the textured flocking complemented the texture of the grey flannel uniforms.)
Now let's take a closer look at the shot of Kaline on deck: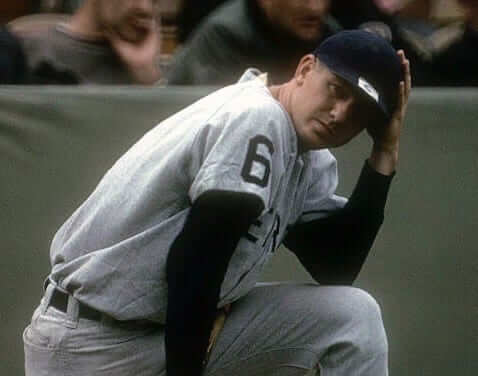 As you can see, the "D" logo was AWOL from his helmet. Moreover, his helmet brim had a large white label with his uniform number, 6. The whole thing feels sort of endearingly rinky-dink. In the 1961 shots of Kaline and Bruton, the "D" logo was missing but there was no uni number label on the brim.
Meanwhile: While looking at Tigers photos, I came across this remarkable shot of pitcher Denny McLain (the last man to win over 30 games, don'tcha know; click to enlarge):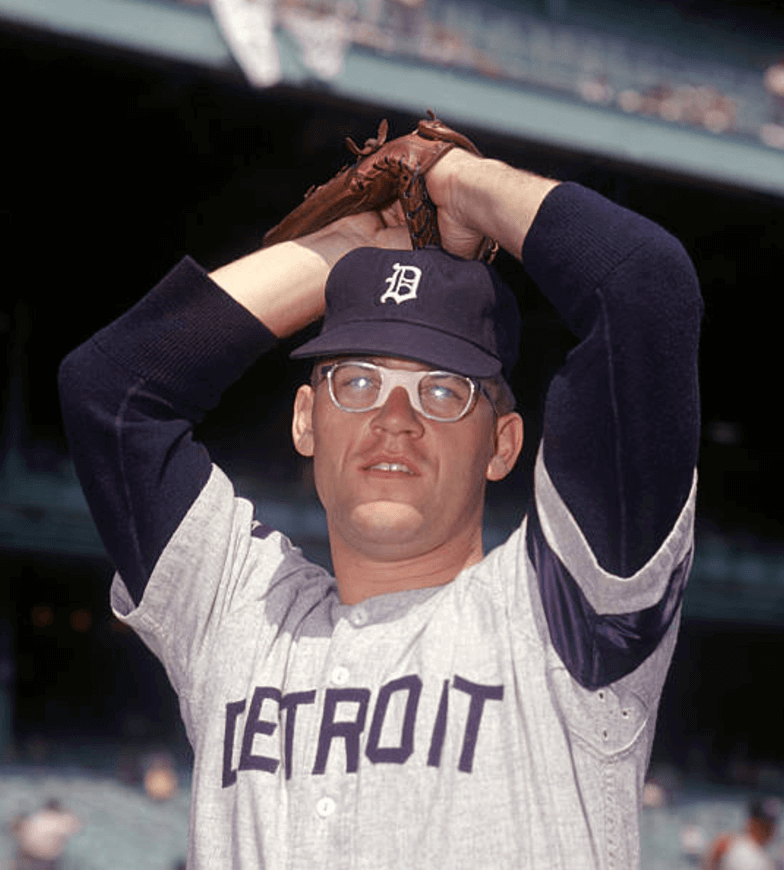 At first I thought his eyeglasses had some really industrial-looking frames. But upon closer inspection, it looks like the frames were taped up at the center, with the tape extending into the lenses. Also, it looks like these may actually be clip-on lenses..? Very odd.
Also notable is McLain's very thick memorial armband. According to Dressed to the Nines, the Tigers wore that in 1966 for former manager Charlie Dressen. Obviously, it was a lot more prominent than the armbands seen in later years. Here's how it looked on McLain during a game:
Oddly, I've been unable to find shots of any other Tigers wearing this armband. Anyone..?
(Major thanks to Bruce Menard for finding the flocked helmet photos.)
•  •  •  •  •
Contest and Father's Day reminders: Phil here. In case you missed it, over the weekend, I announced our latest jersey design contest (design a fauxback jersey for a team born 1990 or later). If you have any questions about whether a team you'd like to design meets the parameters, feel free to shoot me an email. Deadline is next Tuesday, June 20.
Also, Sunday is Father's Day, and I'll be continuing my annual tradition of posting photos of "Dads In Uniform." It's something I began doing in 2013, and continued in 2014, 2015, and again last year, and I'm looking forward to keeping it going strong.
If you'd like to have a photo of your dad (or granddad!) featured this Sunday, please send me an email along with a photo (just one, please) and description. I'll run all submissions this Sunday.
•  •  •  •  •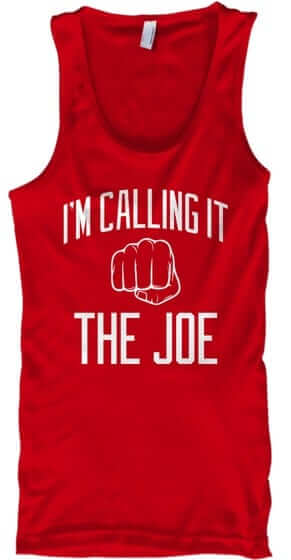 Naming Wrongs update: I got a Naming Wrongs request over the weekend from reader Justin Howland, who asked if our "Joe fist" design would be available as a tank top. That was an easy request to grant, and the tank is now available in our Naming Wrongs shop.
I hadn't previously offered tank tops for any Uni Watch or Naming Wrongs shirts, mainly because nobody had ever requested them so I didn't think anyone cared. But if you'd like to have one of our designs on a tank top — or, for that matter, on a sweatshirt, a hoodie, a V-neck tee, a women's tee, a women's tank top, a kid's size tee, or a onesie — it's easy enough for me to do. Just ask and I'll set things up for you.
Also, so far I haven't offered the Naming Wrongs designs on coffee mugs, because I figure the whole point of these designs is to wear them in public and, you know, be seen. Then again, maybe some people do want mug versions. They might make good gifts, too. So if there's a design that you you'd be interested in purchasing in mug form, let me know and I'll get on it.
Also-also, I've created a Naming Wrongs FAQ page, to address some of the recurring questions and feedback.
• •  •  •  •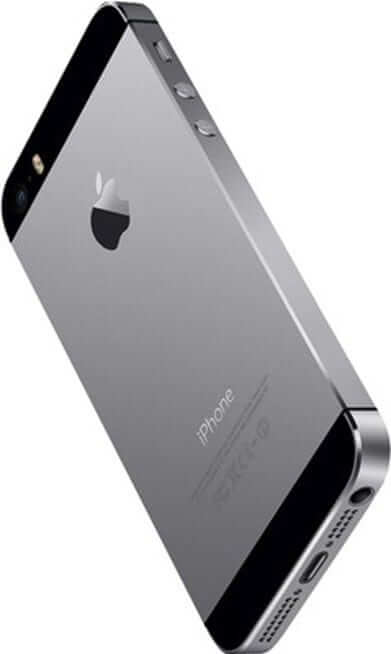 Phone call: If anyone out there has an old but functional 32gb iPhone 5s, preferably in black, that you'd be willing to part with for a reasonable price, please get in touch. A 64gb iPhone 6 would also be helpful (but not the 6 Plus). Thanks.
• •  •  •  •
The Ticker
By Alex Hider

Baseball News:  Cubs P Jake Arrieta wore teammate Kris Bryant's batting gloves during yesterday's game (from Jake Cilek). … The Red Sox had a rainbow version of their logo on the mound yesterday for Pride Month (from Cole P.). … Speaking of the Sox, ESPN ran out of room on their graphic to include all of the pennants on the Fenway Park facade, so they had to cut out the banners for the 1903 and 2013 World Series (from  Steve McDermott). …  Yankees slugger Aaron Judge was wearing quite the shirt during a postgame interview yesterday. It's apparently called the "Great Hambino" shirt, referencing the 1993 classic The Sandlot. You're killing me Smalls! (From  Jorge Cruz.) …  The Braves gave away a Bartolo Colon bobblehead doll on Friday, depicting him wearing the team's cream-colored alternate jersey. According to  Austin Gillis, Colon has never worn that jersey in his five home appearances  with the Braves this season. … TSN has been using the jersey version of the Tigers Old English "D." The Tigers began using the cap version of the logo for their primary mark in 2016 (from  Jeff Pollock). …  Ryan Christoffersen  found  what appears to be a misspelled NOB on a Garrett Richards Angels jersey. … Speaking of the Angels, when your official team name has five words and two locators, people are inevitably going to have problems with it (from Paul Deaver). …  Rich Loup found a This Week in Baseball clip from 1982 of an Astros home game where the home plate umpire was wearing Astros gear — one of those situations where the umps' luggage was lost or delayed and they had to wear team gear. According to Rich's research, that ump is most likely Joe West, who's still umpiring big league games today. … Color-on-color matchup in college baseball between TCU (purple) and Missouri State (maroon camo) (from Ivor van Esch). … Wrestler Dasher Hatfield wears a baseball-themed costume in the ring, including what appears to be stirrups (from  Mark Coale). … Only in the '70s: Oscar Gamble and his massive 'fro taking batting practice while wearing a visor (from Robert Hayes). … Looks like Tigers C James McCann has some extra stitching in his pants' buttocks area. Probably to provide extra support from all that squatting (from Matthew Duprey). … Rare sight on Saturday, as notorious super-high-cuffer Hunter Pence went pajamist as a slump-buster move. It didn't work, so he went back to going high-cuffed on Sunday and promptly broke out of his slump (from Brinke).

Football News:  The Patriots' Super Bowl rings contain 283 diamonds, apparently referencing the 28-3 deficit the team overcame against the Falcons to win the Super Bowl (from David Firestone). …  Here's a good look at how Nike's new jersey template will look in Madden 18 (from  Garrett Beatty). … We've seen this before, but check out some of the number and striping discrepancies on the early-'70s Dolphins unis (from CJSFFL Commish). …  New  number assignments  for the LSU Tigers. … Some Twitter account says TCU's uniforms are the best in Texas. Sure. (From  MWS). … The Calgary Stampeders of the CFL went red-on-red during a preseason game last night. … Mike Reilly, the QB of the CFL's Edmonton Eskimos, honored former Eskimo Larry Highbaugh by giving up his No. 13 and wearing No. 0 last night. Highbaugh wore No. 13 when he played for the Eskimos between 1972-83.

Hockey News:  A shot by a Predators' player in Game 4 of the Stanley Cup Final left a mark on the logo of Penguin G Matt Murray's jersey. Last night during Game 6,  the mark was still there, ….  Check out the jersey David Firestone found on eBay: It's a Red Wings-style jersey rendered in St. Louis Blues colors, worn by former Blue Doug Gilmour during a charity game during the 1994-95 lockout. Via the eBay post: "We got the jersey from his brother's restaurant and the info was limited, so we hope somebody will help out with some info."

NBA News:  The Spurs will reportedly have a new secondary logo next season in addition to their  new wordmarks  (from @Alexaitis). …  The shoes Michael Jordan was wearing when he won his first Olympic gold medal have been sold at auction for $190,000. … Looks like a Lids store in San Francisco is jumping the gun a bit in declaring the Warriors the 2016-17 NBA Champions (from  Eric Odden). … Here's an assessment of Kevin Love's personal logo (from Jason Hillyer).

Soccer News:  The U.S. Men's National Team wore blue shorts with their white kits yesterday against Mexico. Looks nice paired with that blue shoulder yoke (from Eric V.). …  New kits for English soccer sides  West Ham United and Sunderland (from  Josh Hinton).

Grab Bag:  Roland Garros tennis club unveiled a new logo to commemorate Rafael Nadal's 10th French Open title (from Darrel Marusek). … NASCAR driver Jimmie Johnson wore this helmet during this weekend (from David Firestone). … Members of the Oregon women's track team wore green lipstick to match their green uniforms during the national championships yesterday (from Matt Shevin). …  Adidas recently took over making the kits for the French national rugby team, but it appears they're already having problems  keeping the numbers on the jerseys (from  Ian McPhee). …  Ricky Shumaker  found  this  dual-logo sticker with a Memphis Grizzlies motif at a gym in Richmond, Va. … Yet another yellow-clad champion: the Georgia Swarm of NLL (from E.P. Conrad). … In China, wearing a green hat is associated with being cuckolded (from Daniel Littlewood). … Friday night's winner on Jeopardy! wore an Iowa State letterman sweater (from Douglas Ford).