Click to enlarge
Great news yesterday out of New Orleans, where the Saints posted a bunch of photos showing their rookies wearing jerseys with Nike's new tailoring template, thereby indicating that they are finally kissing the toilet seat collar good-bye. And not a moment too soon. (At the risk of raining on my own parade, does anyone else think that the new collar is too thick? Still better than the old collar, but not as good as it could be.)
If I'm not mistaken, the only other team that was still wearing the toilet seat last season was the Rams. It's not yet clear, at least to me, if they'll be switching over to the new template, although it's worth noting that their online retail shop currently shows a mix of the new and (mostly) old styles. Here's hoping they make the transition so we can stamp out this collar style once and for all.
Speaking of NFL collars: We've known for over a month now that at least two teams — the Patriots and the Bills — will have truncated collar striping due to the new template (it was first apparent in this photo). Here's a good look at how that's going to look for those two teams (click first photo to enlarge):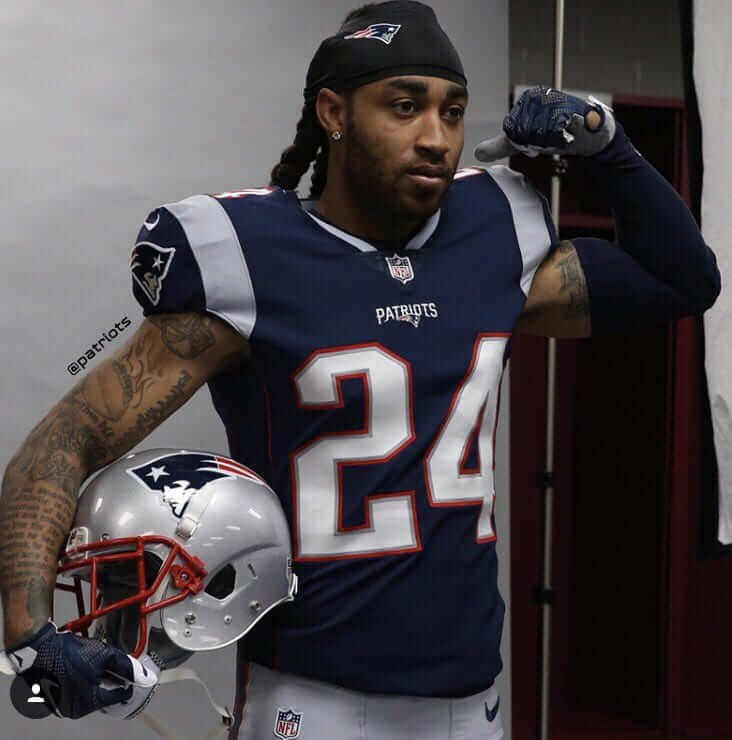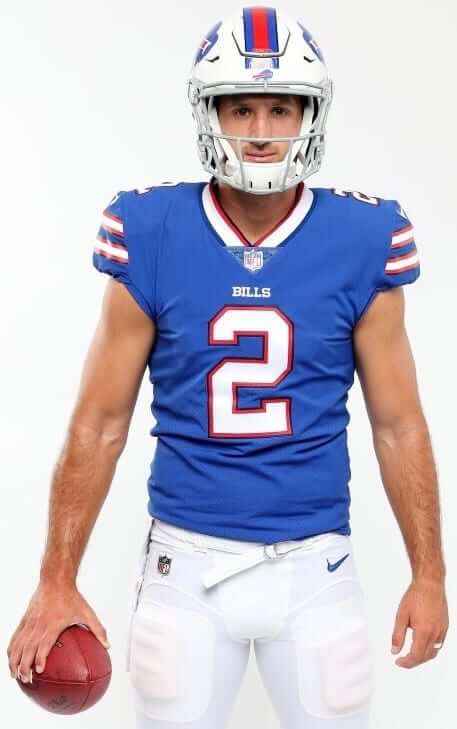 As far as I can tell, those are the only two teams whose collar striping will be affected by the new template. If I'm wrong about that, please speak up.
Update: Longtime reader David Sonny points out that the Bengals also used the toilet seat as of last year.
•  •  •  •  •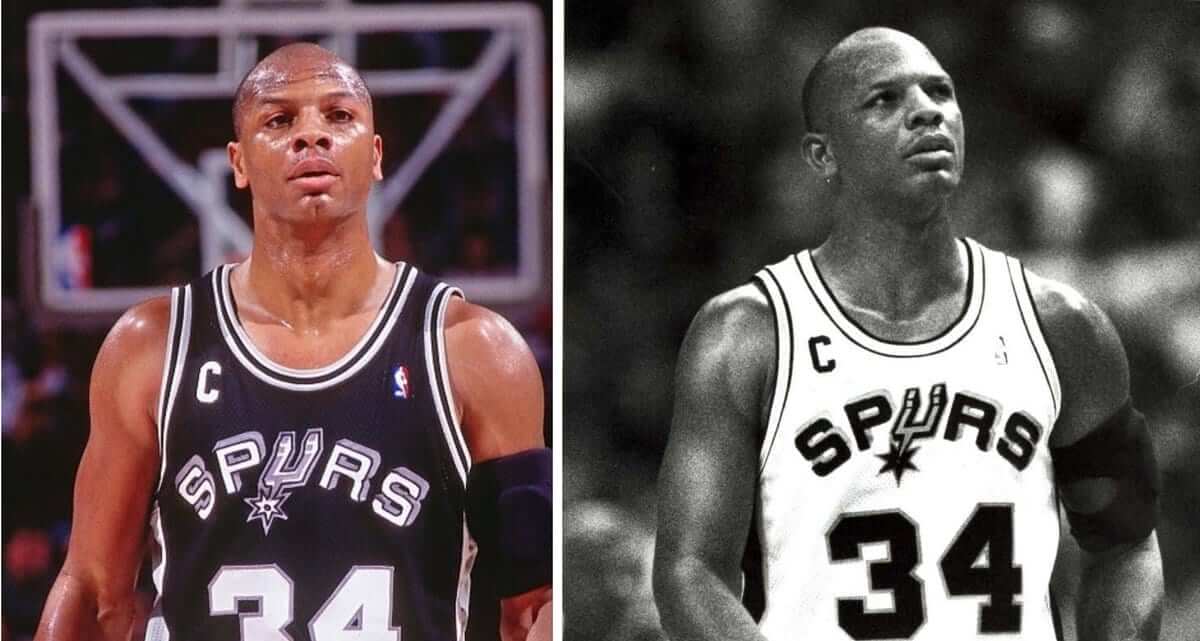 Click to enlarge
C section, continued: My list of NBA players who've worn the captain's "C" has a new addition: That's Terry Cummings of the Spurs, who apparently wore the C for a brief time during his stint in San Antonio. I say "brief" because the vast, vast majority of photos that I could find showed him C-less.
(Big thanks to reader Travis York for spotting the black-and-white photo of Cummings, which in turn led me to find the color shot.)
•  •  •  •  •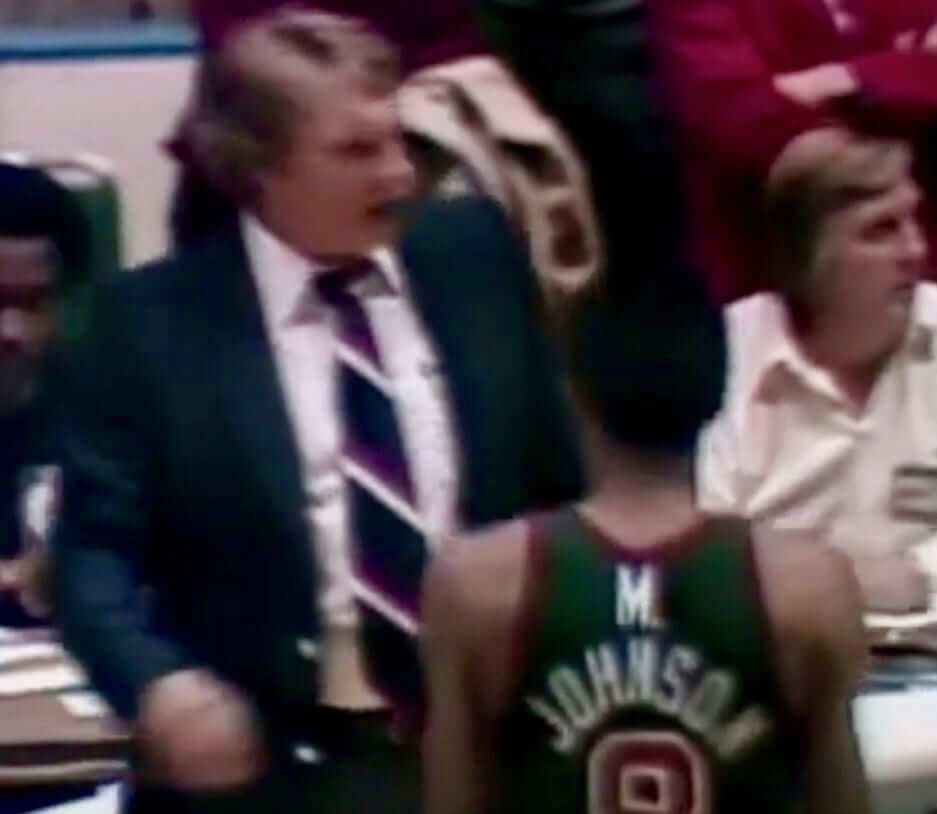 But you doesn't hasta call me Johnson: I knew Marques Johnson of the Bucks had worn a double-decker FNOB during the early 1980s (teammate Mickey Johnson had done likewise, and we even did a Uni Watch membership card based on that look). Until now, though, I didn't realize that he'd also worn a double-decker FIOB treatment.
In fact, I'm not sure I've ever seen anyone wearing a first initial that's just standing there, all by its lonesome. Is anyone aware of any similar examples?
(Mega-thanks to Eric Griffith for this one.)
•  •  •  •  •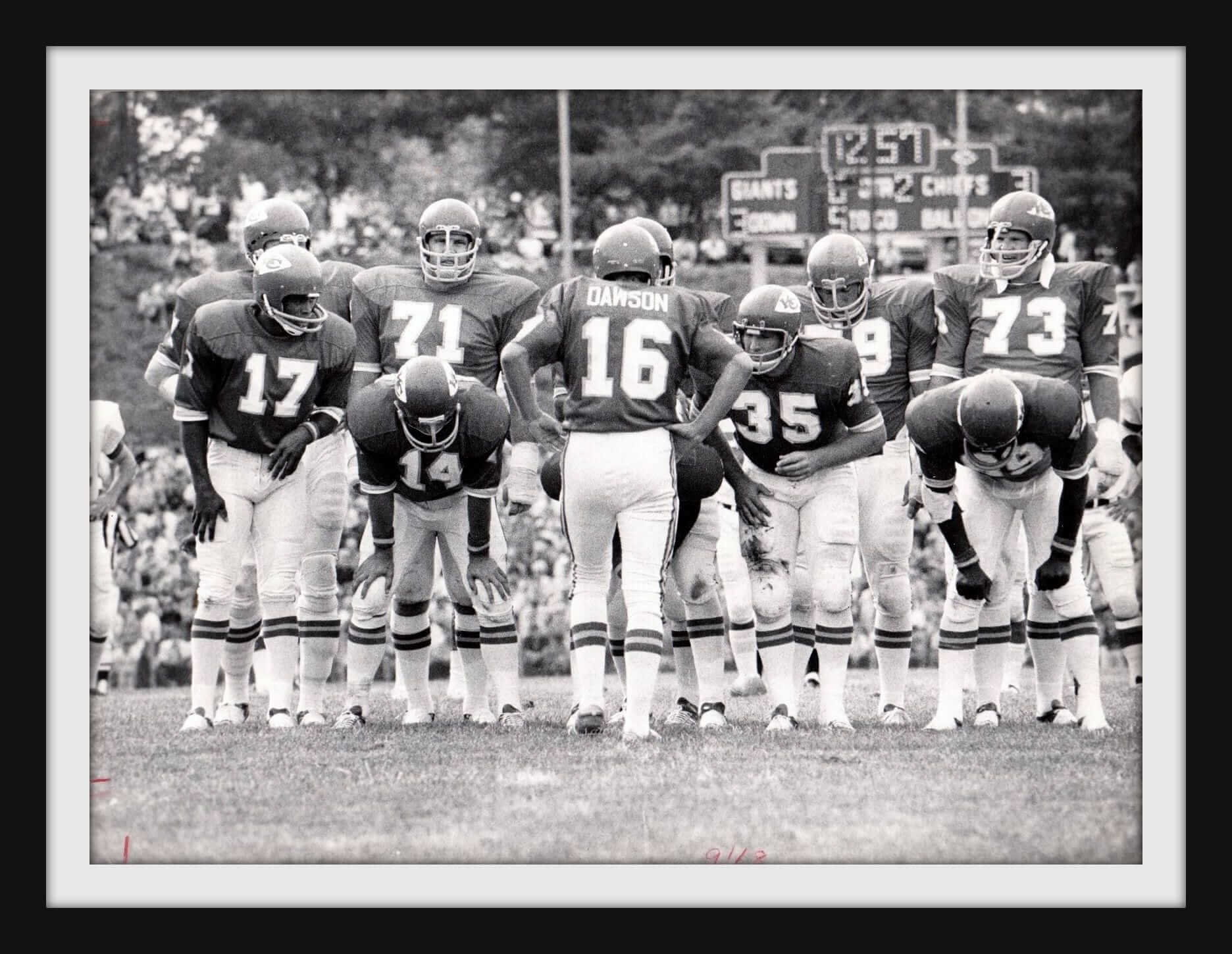 Click to enlarge
Collector's Corner
By Brinke Guthrie
Now, this is as classic an NFL uni photo as you're likely to see. Len Dawson calling the play in the Chiefs huddle. Ed Podolak (14) and Otis Taylor (89, far right) among the stars in that huddle. Don't know exactly when this is from, but the scoreboard says they're playing the Giants, and it looks like some kind of preseason game with fans sitting on the hillside or something. (As an aside: As a kid I was always fascinated by how the Chiefs went with this this huddle style of having the 10 players face the quarterback, as opposed to the more traditional format of huddling in a circle. "" PL)
Now for the rest of this week's picks:
•  As far as my sports memories go, Chatham, N.J., was the home of Orange Products, which made these wonderful kits for the four major sports. This MLB Mini Sport Caps N Bats Kit is in great shape.
•  Last week I featured a New York Mets switchplate, and mentioned that you see NFL versions of these fairly regularly, but not so much for MLB. So of course, I found some MLB designs for this week. We've got the San Francisco Giants and the Philadelphia Phillies, and a pair from the NBA, too: the Knicks and the Sixers.
•  Ford Country is also Sabres Country, according to this 1970s bumper sticker.
•  Classic Fouts/Air Coryell imagery on this 1970s NFL Chargers Damac poster by Chuck Ren.
•  Lotsa classic logos on this 1970s NHL beach towel.
•  While this 1970 helmet sign is for the Washington Senators, it would work just as well for current Nationals fans. (Or fans of Walgreens, if such people exist.)
•  In the 1960s-1970s, the NFL had a licensing deal with a brand of men's clothing known as Curlee. Here's a men's double-breasted size 42 jacket, and you get the NFL shield on the inside pocket.
•  Got a set of 1970s Gatorade NFL bottle caps right here — 24 of the 26 teams!
•  I don't think I'd ever seen the Zubaz treatment given to baseball caps until now. Here's what happened to the basic, classy St. Louis Cardinals cap when Big Z got ahold of it.
•  Love the font on this "1984 Eastern Division Champion" Cubs T-shirt. It would still be many years before The Curse would lift, however.
•  •  •  •  •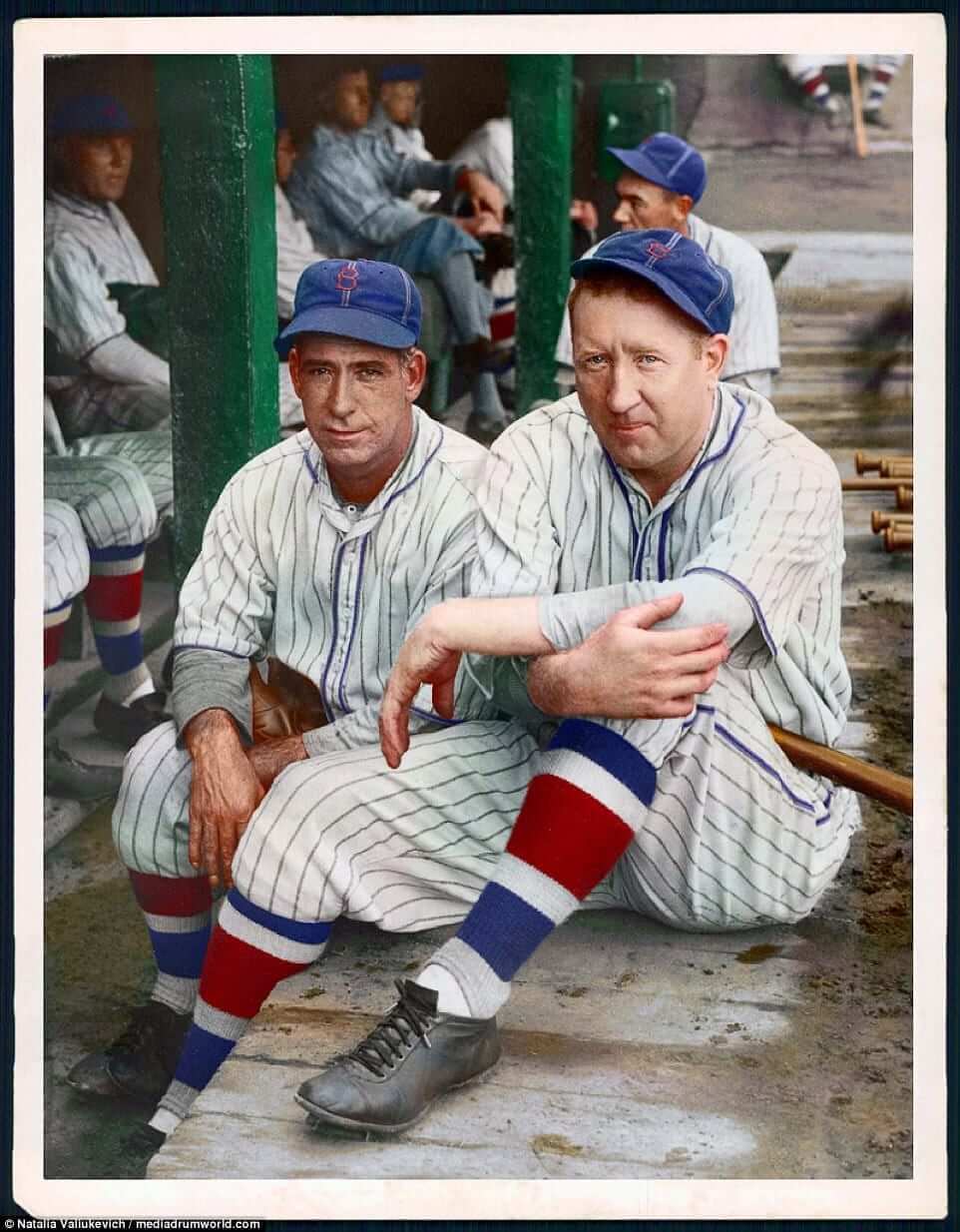 Click to enlarge
Too good for the Ticker: Colorizations are usually Phil's domain (he devoted an excellent entry to them this past Sunday), but I love them too. The Daily Mail recently showcased a bunch of spectacular colorizations of old baseball photos (including the shot of Brooklyn Robins players Dolf Luque and Dazzy Vance, shown above). They're among the best colorized pics I've ever seen — not to be missed. Check them out here.
(My thanks to reader Patrick O'Neill for this one.)
•  •  •  •  •
The Ticker
By Mike Chamernik

Baseball News: Cubs P Eddie Butler came to bat in the second inning of last night's game with a blank helmet (from Zack Pearson). … During that same game, former Cubs OF Andre Dawson led the seventh inning stretch while wearing a Cubs jersey that still had a hologram sticker on it (from Mark Wiley). … Reds P Raisel Iglesias inscribed a Jose Fernandez tribute on his cap (from @SteveSnowmn). … The Toledo Mud Hens will wear these cool Dream Team-themed jerseys over Fourth of July weekend. … The Charleston RiverDogs will wear jerseys that celebrate their local area code over the next few days. … MLB is using a "distressed" logo for its social media avatars. It's not clear why, but it might have to do with the league now selling "heathered" red, white, and blue gear (from Brinke and Nate Morrow). … Someone recently found a box of unopened 1948 Bowman baseball card packs in his attic. The cards, which are expected to fetch nearly $1 million at auction, may include rookie cards of Yogi Berra, Ralph Kiner, and Stan Musial. … MLB's partnership with Stance has gotten more players to think about their socks (from Brinke). … New Era is sponsoring a contest to choose the best minor league cap (from @iheart_miKA).


NFL & College Football News: ESPN will bring back Hank Williams Jr. to sing his "Are You Ready For Some Football" intro for Monday Night Football. The song had been shelved in 2011 after Williams made disparaging remarks about President Obama and Vice President Biden. … The Titans updated their wordmark, at least on their website, during this offseason (from Geoff Barrett). … The Colts will wear their all-blue Thursday-night unis in December. The jerseys appear to use the team's old number font, which is subtly different than their current one (from Brinke). … The context is unknown, but Jets QB Al Woodall once used tape to turn No. 15 into 18 during a photo shoot. Woodall wore No. 18 for all five seasons he played for the Jets from 1969 to 1974 (from Gene Sanny). … New gold alternates for Dakota State (from Paul Vold).

Hockey News: The cover of a 1965 edition of Hockey Illustrated features an illustration of the Maple Leafs' Eddie Shack battling a Canadiens player. The illustration was based on this photo of Shack and a completely different player — Jean Guy Gendron of the Bruins. Also, the illustration credit is for Jack Davis, better known for his work in Mad magazine. He also did the poster for The Bad News Bears (from Kevin Vautour).

NBA News: The 76ers' Doug Collins wore red-and-yellow striped socks in the 1977 NBA Finals. My guess is that those are socks from his college days at Illinois State, where he graduated from in 1973 (from Kevin Clark). … The Nuggets hung up some framed retro jerseys at their practice center. That display really speaks to how many different looks the Nuggets have had — and they left out jerseys from the eras of Antonio McDyess, Alex English, Carmelo Anthony and Allen Iverson, and David Thompson. … Draft prospect Lonzo Ball's father and Big Baller Brand frontman LaVar Ball spoke about how his meetings with Nike, Adidas, and Under Armour fell apart (from Brinke). … When the Cincinnati Royals moved to Kansas City (and Omaha) in 1972, the team held a naming contest so that they didn't have the same name as the city's baseball team. Fans could choose from 10 names, which included the Dukes, Plainsmen, Steers, and the eventual winner, the Kings (from Gregory Mays).

Soccer News: New ball for La Liga (from Patrick Thomas). … The Charleston Battery of the USL will wear memorial jerseys on Saturday for the two-year anniversary of the Charleston church shooting (from Ed Å»elaski). … The USA pre-match shirt for this summer's Gold Cup has leaked (from Brinke). … "To get the English soccer team bonded and ready for an upcoming World Cup qualifier versus Scotland, the coach decided to take players to train with the Royal Marines, dressing them up in real camo while running military drills," says reader Greg. … New away kit for Flamengo. … The new Palmeiras away kit has leaked.

Grab Bag: New logo for WCIU-TV, the "U", a Chicago TV station. … Adopting a "uniform," or a similar style of dress every day, leads to more productivity and confidence at work (from Tommy Turner). … As a follow-up to yesterday's post on hockey goalie gear, Brice Wallace notes that digitally printed graphics are now quite common on drum kits. … Rugby news from Eric Bangeman, who writes: "The British and Irish Lions began their tour of New Zealand on Saturday with a game against the New Zealand Barbarians, an invitational team made up of players from New Zealand's provincial sides. As is traditional for barbarians sides in rugby, each member of the Baa-Baas wore socks from his home club." … New logo for the city of Canton, Ga.. … Major League Lacrosse revealed its All-Star Game uniforms (from Lax Sports Network). … Microsoft has filed a trademark for an "S" logo in advance of the unveiling of the Xbox Project Scorpio console this Sunday. … Eau Claire, Wis., held a contest to design a new flag. A winner has been chosen (from Joel Mathwig). … The University of Washington, whose teams are currently outfitted by Nike, will be able to start negotiating a new apparel deal next February (from Greg, who didn't give his last name).