[Editor's Note: Today we have a fascinating guest entry from Jon from TheGoalNet.com, who's going to tell us how high-res digital printing is transforming goalie pad design. "" PL]
By Jon from TheGoalNet.com
I am goalie, and it's in my DNA. Identifying goaltenders' equipment is sort of my uni-watching superpower. If you show me five goalies from 1990 to the present, I can probably tell you the make, model, and color of what four of them are wearing.
I've been playing the position since I was a child have seen major changes in goalie gear during that time. I've lived through brown leather, synthetic leather colored pads, custom graphics, deer hair-stuffed pads, foam-stuffed, solid molded foam core pads, specifically engineered leather-like materials, and now high-resolution digital printing technology.
Goalies whose currently have their own signature graphic, like Jaro Halak or Scott Darling, have the graphics generated by the old cut-and-sew method. The manufacturer will design the graphic on a computer, print a template, have pieces of synthetic leather cut based on the template, and then finally sew everything together onto the pad to complete the graphic. This time- and labor-intensive process is why custom graphics are so costly, and why the lead times are long. Pads will fully bespoke graphics from one of the major brands can take 12 to 14 weeks to get at the retail level and are a $200+ upcharge. It's why the average goalie drools over custom-designed gear graphics but cannot obtain it.
But that is now changing, thanks to high-res graphics that are printed instead of being cut and sewn. It's a topic I became interested in a few years ago, when I saw teaser photos of this blocker from the manufacturer Brian's: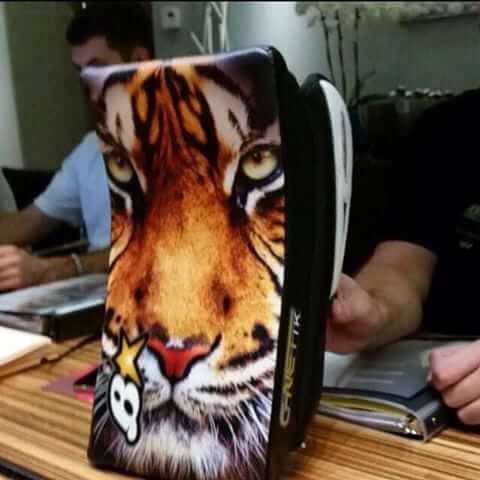 Then came the retail release of the Bauer Supreme 1S OD1N line of equipment. Frankly, I found the graphic on these pads boring, but it's another example of high-res printed graphics: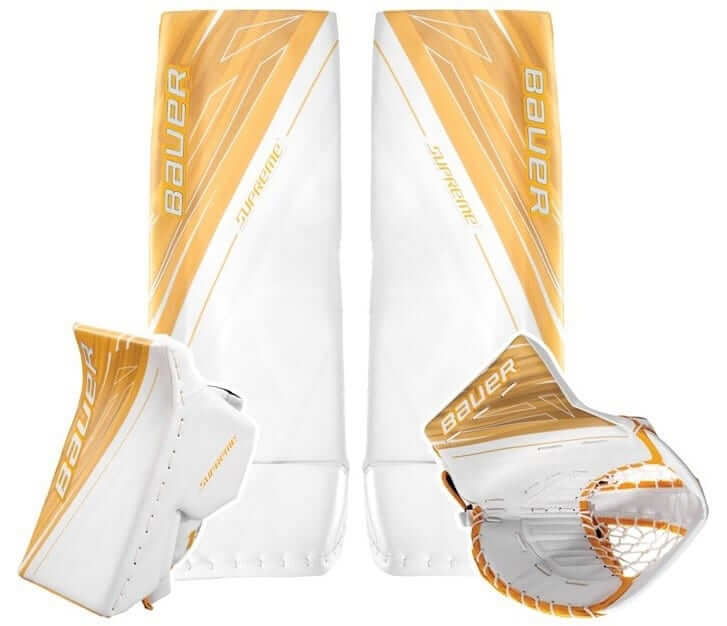 I believe this kind of printing is going to revolutionize what we see on pads, how graphics are applied, and even the where graphics are applied. It's just a matter of time until the floodgates of creativity and personalization explode. The benefits are far-reaching and the design possibilities are endless.
Aside from design freedom, high-res printing on goalie gear will allow a new level of customization, supply chain streamlining, and manufacturing efficiency. This will also completely democratize pad graphics and, eventually, pad artwork. In the future, any kid with a Photoshop-like iPhone app will be able to design his pads with the same level of detail as an NHL mask with ghosted logos. He will then email the CAD file to the equipment manufacturer and get his completely customized pads in a couple of weeks. Heck, for NHL mask painters, like the world-famous Daveart, the next area for expansion is probably pad art.
There are currently two ways to for custom pad graphics to be applied. The first method entails printing graphics directly onto the pad itself by the pad manufacturer during the manufacturing process. The second form is done with an aftermarket sheet fabric made by Pad Skinz and applied by an equipment manager, a retail store, or a DIYer.
Let's start with the first method. The interesting thing about fully printed pad graphics by the equipment OEMs is that they have major implications for the surface of the pads. To see what I mean, let's look at traditional pad graphics, which are typically applied by sewing together many pieces of cut synthetic leather to create an image or geometric design: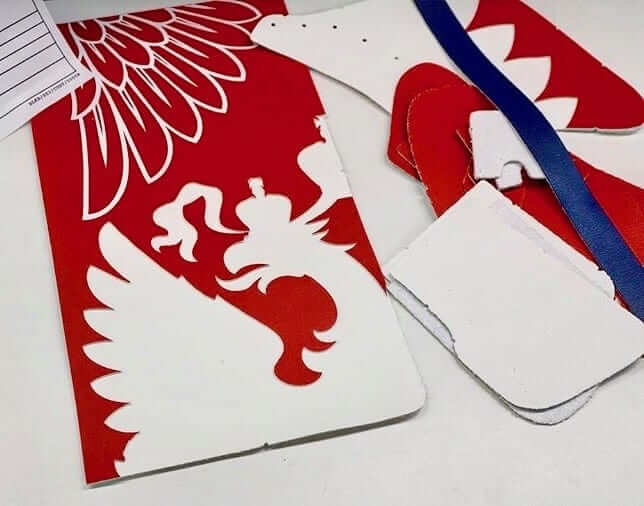 This method creates many different levels of materials, tight surfaces, and seams on pads. If you want to customize your pads, there's the previously mentioned aftermarket product called Pad Skinz, which allows you to apply a durable adhesive fabric over top of your pads' stock graphics and color, but you have to cut multiple pieces of the fabric to size and fit them into small spaces on top of the seams, laces, and stitching, so the results often look bumpy.
But retail pads that already come from the manufacturer with fully printed pad graphics give the pads a perfectly flat surface, which opens the possibility for better home-customization and graphics changeover. This will be awesome for kids who keep gear for more than a single season and change teams or a want to quickly customize their gear to match a special one-off jersey.
As for the other method: The latest version of Pad Skinz allows for graphics to be printed onto the "skin" material before it's applied to the pad. Some great examples of this are Toronto Maple Leafs goalie Frederik Andersen's set of St. Pats throwback pads, or YouTube star Trav4's Felix Potvin theme.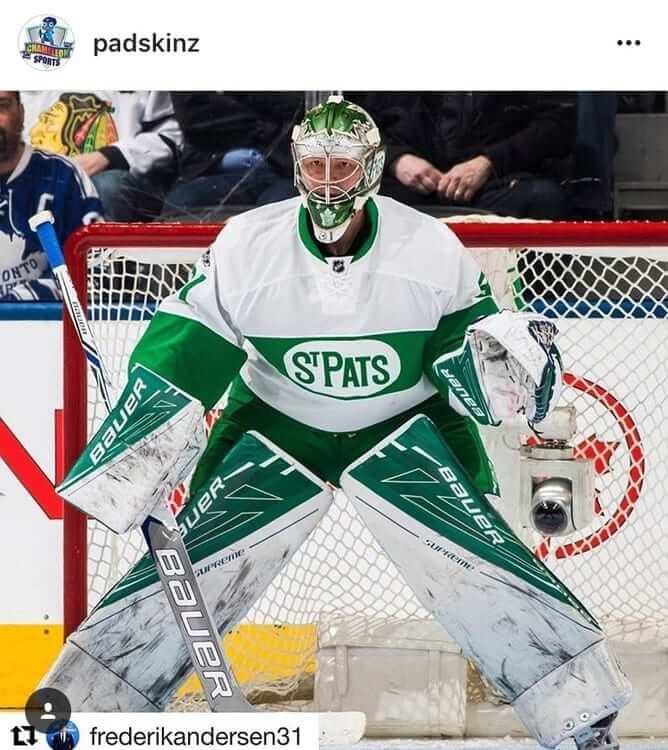 These are the highest-quality applications of Pad Skinz to date, and they show how good the graphics can look when one large piece is applied to a smooth surface. This is a huge improvement compared to the cut-and-sew method.
Once more manufacturers go this route, companies could manufacture all their gear in white, with a smooth seamless pad face, and then ship it to stores. Stores could then use Photoshop or some other graphics program to design bespoke customer-specific graphics, use a large in-house printer to print them on a blank sheet of Pad Skinz, and apply them. This should improve the manufacturability of equipment because the pads shipped from the factory can all be white. There will always be a market for pads customized by the equipment maker, because they are perceived as higher quality, but the continued evolution of Pad Skinz combined with digital printing will make DIY gear customizing a lot more affordable, higher quality, and more fun.
But as cs cool as the Pad Skinz technology is for the common goalie, it will not be widely adapted at the NHL level. It will only be used in temporary circumstances to make existing equipment match special one-off jerseys, like Andersen's St. Pats setup, or for use immediately after a trade until the goalie's new team-colored pads are available.
In the NHL, all the graphics will be eventually be digitally printed directly on the pad. This will occur during the manufacturing process by the equipment maker. Unfortunately, it's going to be awhile before we get there. Henrik Lundqvist is the only person in the NHL using his own signature printed graphic right now. Only Bauer is offering the technology in a stock graphic to pros or a retail product line.
One reason this technology hasn't yet been more widely adopted is consumer perception. For the past 20 years, low-end retail models have had screen-printed graphics while the high-end NHL-quality pads had cut-and-sew graphics. The latter method requires the work of true craftsmen, which adds perceived value to the product. Screen-printing the graphics on the pads is generally perceived to be a lower-quality cost-cutting maneuver. But the new high-resolution digital printers will eventually make the difference and change this perception.
The second issue delaying adaption is the color quality. Rhe current printing technology tends to lead to more washed-out colors. Until the colors are properly dialed in, it will continue to alienate retail customers and that will stop manufacturers from putting their pros in printed graphics. When these two issues are taken together, I think it will be at least seven to ten years before this technology fully takes over.
When I think about the future of graphics of themselves, there is only one reason I can see for stock graphics (as opposed to custom designs) to exist in the future, and that is brand marketing. Companies will still want that brand recognition, and stock graphics make it much easier to identify who's wearing what. Beyond the brand-recognition marketing benefit, I see no reason why each goalie won't have his own custom graphic with the same level of detail he has on his mask. As the marketing people within gear companies are pushed to generate more buzz via social media platforms and attention-getting press releases, that will drive them to loosen up on the idea of stock graphics.
The average NHL goaltender goes thru two to three mask paint jobs per season. Some goalies get the same imagery every time, but most of them mix it up. They also go through two to three sets of pads and gloves per season, and it makes sense for each new set of gear to have a customized graphic to match the paint job theme. It fits perfectly with the hype-driven 24-hour news cycle that now dominates so much sports coverage.
•  •  •  •  •
Black to the drawing board: Paul here. Last week, when the Cavs announced that they'd wear blue for Game 1 of the NBA Finals, they said they'd save their sleeved black uniforms "for the right moment." That turned out to be last night, as they wore the black T-shirts for Game 2. It wasn't much of a good luck charm, as they lost by almost as great a margin as in Game 1.
Game 3 is scheduled for Wednesday night in Cleveland.
•  •  •  •  •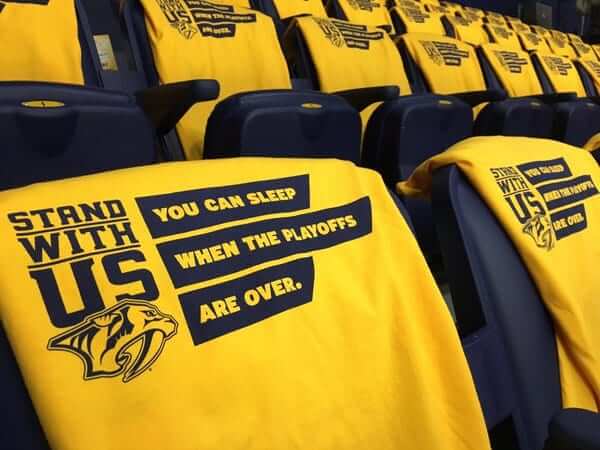 Yellow: It isn't just for the players: Last week I had an ESPN piece about how all four teams in the NBA and NHL finals wear a lot of gold yellow. Now The New York Times has written a really good piece about how all that yellow is affecting the worlds of giveaway T-shirts and rally towels. For example, is it a good move to have your fans wearing your team color if it's also the opponent's team color? And what happens when shirt and towel suppliers run low on yellow inventory? Good stuff — check it out here.
•  •  •  •  •
A very Uni Watch garment: I was shopping at one of my favorite vintage shops the other day when I came across the item shown above. Check out those colors — it could easily serve as the official Uni Watch blazer!
It fit me like a glove, too. I thought about buying it but ultimately put it back on the rack, because (a) it cost a bit more than I wanted to pay, and (b) I don't have that many occasions to wear blazers, and I already have more of them than I need.
Still, it sure is a beauty. Maybe I'll go back and visit it later this week. You know, just to make sure it's still okay.
•  •  •  •  •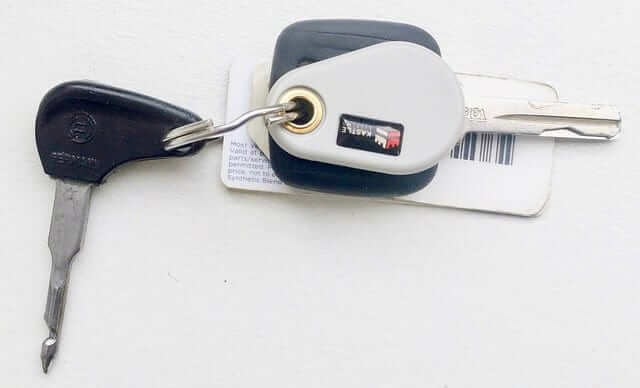 KRC update: The latest installment of Key Ring Chronicles is about an unusual key that worked in a whole series of buses. Get the full story here.
•  •  •  •  •
The Ticker
By Alex Hider

Baseball News:  For two games this weekend, the Dodgers wore their  gray pants without piping   with their "Los Angeles" script road jerseys. The sans-piping pants are usually reserved for the "Dodgers" script road jerseys (from  Allen  and  Owen Hill). …  Couple of color-on-color games in the MLB yesterday in  A's/Nats  and  Reds/Braves. …  Ubaldo Jimenez's NOB looked to be a bit off-center when he pitched on Saturday (from Burrill Strong"). … A Mets fan wearing a "Fire Terry Collins" shirt was ejected from Citi Field twice last week (from  Brinke). …  Calvin Mallow  spotted a  Robin Yount frankenjersey at the Brewers/Dodgers game in Milwaukee yesterday. … A Target in the Philly area has put up this Phillies-themed soda display (from MJ). …  The Louisville Bats wore  Muhammad Ali jerseys  yesterday to honor the anniversary of The Greatest's death. More photos here. (from  Barrett Lindsey). … Pablo Reyes, a shortstop for the Altoona Curve, wore his sunglasses upside down for a significant portion of warmups yesterday (from Malcolm MacMillan). … Rice Coach Wayne Graham was wearing the cap from his team's 2016 trip to Cuba  during a recent College World Series game against LSU (from Chris Mycoskie). …  Deer Park High School in Texas has been sporting tequila sunrise jerseys (from  Clark Haptonstall"). …

Pro Football News:  Check out this story in a  1969 edition of The Pittsburgh Post Gazette, which describes how much tape the Steelers use. The trainer estimated the team used 14 miles worth of tape before the season even began (from  Jerry Wolper). …  Miles Filbert sent along some photos from his extensive collection of Canadian Football League memorabilia.

Soccer News: Real Madrid wore purple kits during the Champions League Final but  switched to white jerseys  during the postgame celebration (from  Venomous Snake) … New away and third kits for Arsenal next season (from  Patrick Thomas). … Dortmund will wear these jerseys during Champions League play next season (also from  Patrick Thomas).

Grab Bag: NASCAR driver Jimmie Johnson honored former driver Cale  Yarborough on his helmet at Bristol Motor Speedway this weekend. Johnson is one win away from tying Yarborough on the all-time wins list. … Rapper Kanye West reportedly wants to design the athletic uniforms for  Calabasas High School in California (from  Chris Faulkner). … Here's a mini-doc on wrestler Sarath Ton, the guy who makes much of the clothes worn by WWE wrestlers (from  Anthony Nuccio).