May 17, nine days ago, was the 11th anniversary of the first entry on this website. But today is another important day on the Uni Watch calendar: It was 18 years ago today — May 26, 1999 — that the very first Uni Watch column appeared in the now-defunct sports section of The Village Voice. Here's how it looked (click to enlarge):
It was essentially the first installment of what we now think of as my annual MLB season-preview column, except it wasn't really a preview because it appeared in late May. But there had never been anything like Uni Watch up until that time, so the whole idea of chronicling the season's uniform changes seemed novel and interesting, even if the season was nearly two months old.
I wrote another column four weeks later, and another one four weeks after that, and that's how Uni Watch got started. The Voice killed their sports section in the fall of 2003 (my editor left the news for me on my home voicemail, which I heard while calling in from a payphone at the Lightning Field — I'll always remember that), so I briefly moved the column to Slate. Then I convinced ESPN to give me a shot in the summer of 2004, and I've been with them since then. This website, which was designed to supplement the ESPN column, launched in May of 2006.
If I had been smart, I would have waited nine days to launch this site, so the site's anniversary and the larger Uni Watch anniversary would sync up. I've sometimes wondered if we should just split the difference between May 17 and May 26 — either May 21 or 22 would work — and call it Uni Watch Day, sort of like the way Lincoln's and Washington's birthdays have been merged into Presidents Day. But then I think, "Nah, I like getting to celebrate two anniversaries," so there you go.
Anyway: Uni Watch has now turned 18! That means Uni Watch can now:
•  Buy cigarettes
•  Vote (thanks, 26th Amendment!)
•  Enlist in the military
•  Serve on a jury
•  Get a credit card
•  Get a tattoo, in most states
•  Be held in an adult jail
•  Donate blood
•  Go skydiving
• Buy a lottery ticket
•  Buy a car
And so on. Pretty amazing that this media project has lasted this long. A lot of the credit for that goes to you folks. Thanks for all your contributions, for all your ideas and suggestions, for all your support and encouragement, and just for showing up here each day. And that goes quintuple for those of you who've been Uni Watch readers all the way back to the Village Voice days. You're the best.
•  •  •  •  •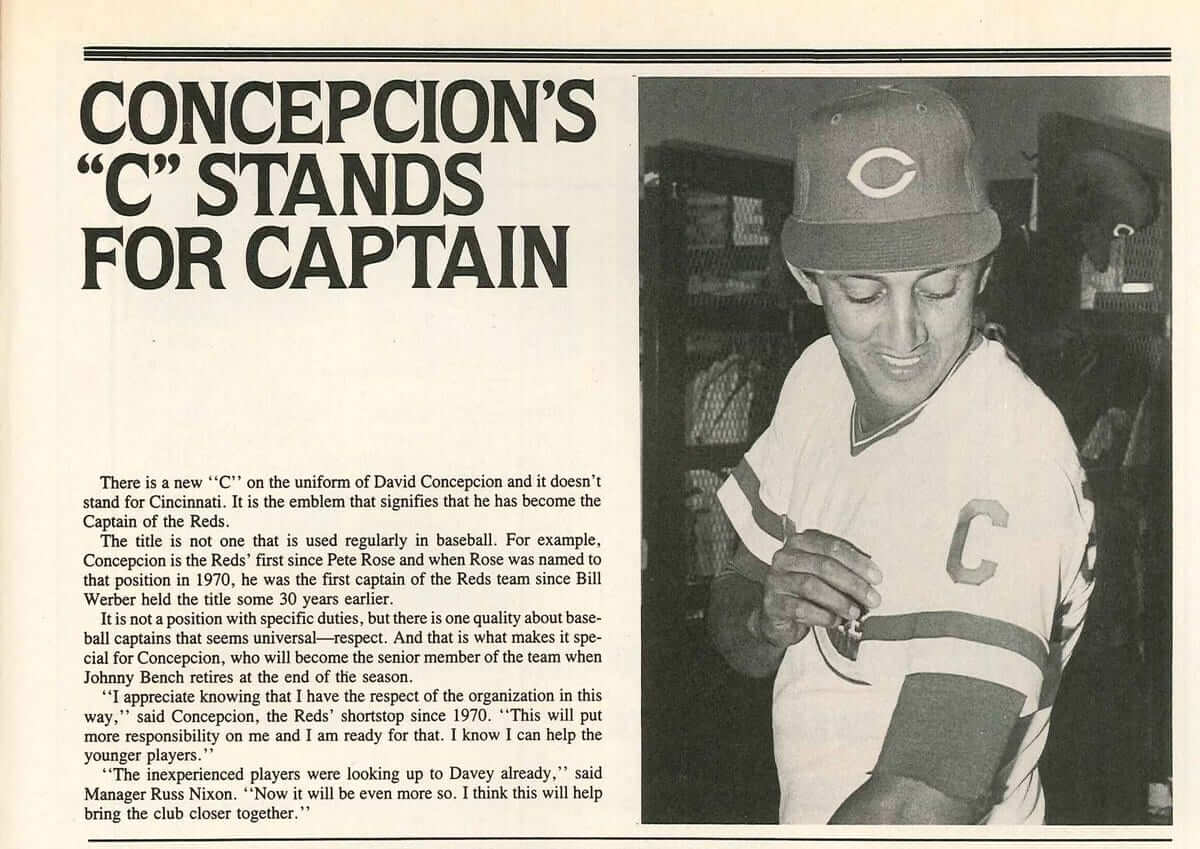 Click to enlarge
Friday Flashback: Last week I did a blog entry on MLB players who've worn the captain's C. Today I have a new ESPN column that expands upon that piece, with new players added to the mix (turns out that the first C-clad captain was Dave Concepcion in 1983, shown above) and more historical context (can you guess who is the only player to have worn the C in a World Series?). Check it out here.
•  •  •  •  •
The Ticker
By Paul


'Skins Watch: If you go to this page and search on "Now the 57's," you'll get a story on how the Swift Current team in the Western Major Baseball League — a Canadian collegiate summer league — has changed its name from the Indians to the 57's. If you scroll down one item below that, you can see how the club was soliciting new team names from the public (from Ron Yaworski).

Baseball News: I know it's pretty common now to see all sorts of teams wearing tequila sunrise jerseys, but the ones being worn by Chatsworth High School in California look particularly sharp. … Most facemask attachments on batting helmets these days are the solid plastic extension, but LSU's Greg Deichmann wears a series of molded bars (from Alex Allen). … I don't drink wine or root for the Orioles. But if I did, I'd totally be into these awesome Orioles bottle stoppers, which the O's will be giving away on July 22 (from Andrew Cosentino). … Adidas has produced a new Memorial Day cleat, which over 100 MLB players will be wearing this weekend. Interestingly, the design does not feature any camouflage. Instead it features a red poppy — an interesting choice, since poppies are used by UK commonwealth countries for Armistice Day, which takes place on Nov. 11 and is their version of Memorial Day. So for once, we have a design that's actually about memorializing the dead, not rah-rah-ing the living — nicely done. I do think it's a bit odd to employ a symbol associated with other countries for a holiday that takes place in November, but whatever — any non-camo approach is an improvement (thanks, Phil). … The Corpus Christi Hooks are in the midst of a three-game run wearing Dia de los Hooks uniforms (from Edward Lopez). … Great cross-sport promotion by the Hartford Yard Goats, who have Whalers Alumni Weekend jerseys (from @MiLBPromos). … Check out that mask that Japanese player Takashi Toritani is wearing after suffering a broken nose. Never seen anything like that on a baseball diamond before. … Astros SS Carlos Correa is the latest MLB player to wear a faceguard attachment on his batting helmet (from @mws621). … I assume this is a standard Nike template, but the U. of Iowa has an odd jersey format that results in a truncated headspoon (from Kary Klismet). … The visitors' dugout in Toronto — and, I'm assuming, every other MLB dugout — has signs listing the guidelines for cell phone use and permissable personnel. Interesting that there's a ceiling on the number of coaches — I hadn't been aware of that (from Marc Bauche).


Pro and College Football News: Here's the story behind why 49ers rookie Solomon Thomas wears No. 94 (thanks, Brinke). … Interesting move by the Saints, who memorialized Cortez Kennedy on their helmets during OTAs yesterday. Kennedy played his entire career with the Seahawks, so this is a pretty big gesture of respect by another team (thanks, Phil). … Dolphins QB Ryan Tannehill was practicing this week in shorts with the team's throwback logo. "Makes me hope they'll get rid of the current unis and go with the sweet throwbacks full-time," says Coach Ed. … With the NFL loosening the rules for touchdown celebrations, here's one observer's picks for the 30 greatest celebrations of all time (blame Kary Klismet). … New uniforms for New Mexico Military Institute (from Rob Montoya). … The latest baseball luminary to be stuck wearing the Hall of Fame's lame-o induction jersey is none other than Homer Simpson. That's a promo towel from this weekend's "induction" event (from Tyler Kepner).

Hockey News: As a few jillion people have pointed out, it's going to be a very yellow Stanley Cup Final. … Speaking of which, the Final logo has been added to the Predators' ice surface (thanks, Alex). … Meanwhile, where will the Penguins be wearing the Final patch, since they already have a 50th-anniversary patch? When asked about that back in January, Pens equipment manager Dana Heinze said the anniversary patch would move to the shoulder in order to make room for the Final patch (from Jared Grubbs). … SportsLogos.net is reporting that 12 NHL teams will have some sort of uniform change as part of the Reebok/Adidas changeover, although the article says, "these changes could be very minor, even as minor as just an already existing alternate uniform being 'promoted' to a full-time home uniform." In other words, let's not go too crazy until we see what's what. … I had this in the baseball section, but it works here as well: Great cross-sport promotion by minor league baseball's Hartford Yard Goats, who have Whalers Alumni Weekend jerseys (from @MiLBPromos).

NBA News: Looks like the Hornets have throwbacks in the works. That would presumably be their original design, created by menswear mogul Alexander Julian (from Craig Kirkpatrick).

Soccer News: New third jerseys for Chelsea and Manchester City. … New kit for Hoffenheim. … New home kits for West Bromwich and Melbourne City (from Josh Hinton).

Grab Bag: Over 100 athletes, including over 80 Americans, were given defective medals at the Rio Olympics. … Best click you'll have all day is this absolutely heroic article on a regionalism I hadn't been aware of: In L.A., donut boxes are always pink. Tremendous piece of work — highly recommended (big thanks, Brinke). … Two breweries have new logo and packaging designs: Lakefront Brewery in Milwaukee and Cape May Brewing in New Jersey (from @gimarmet). … Copperplate Gothic is a badly overused and dated typeface, but there's one place where it's very appropriate: outside a historic copper mine (from Andy Garms). … The U.S. Navy will soon start selling a new "fitness suit." Key quote: "All the other military services have had fitness suits for years. Issuing a Navy version is a milestone sailors have long wanted. The Navy approved the official fitness uniform in 2007 and officials started development multiple times, only to scrap the efforts and start over. This time, officials say, they've got it right." Or as reader Chris Bisbee puts it, "It took the world's largest nuclear navy 10 years to design and field a fucking track suit." … This week's New Yorker has a faaaaascinating feature article about sand. Yes, sand! You might not find sand as interesting as I do, but the first few hundred words of the article are about the very exacting specs for the sand used in beach volleyball courts, so it's right in the Uni Watch wheelhouse. … "Kicking people in the shins is an actual organized sport in Great Britain," says Kary Klismet. "The uni-related tie-in is that the only protective equipment allowed is straw tucked into the competitors' trouser legs."
•  •  •  •  •
If you're traveling for the holiday weekend, travel safe. If you're working, thanks for keeping the world spinning while the rest of us enjoy some time off. And if you're mourning a fallen service member for Memorial Day, please accept my condolences for your loss.