No tooth, no problem for @Isaiah_Thomas ⬇️#Celtics #NBAPlayoffs pic.twitter.com/1krx1lmjSf

— NBA.com (@NBAcom) April 30, 2017
Crazy moment in yesterday's Wizards/Celtics game, as Boston guard Isaiah Thomas took an inadvertent forearm to the face from Washington forward Otto Porter Jr., resulting in one of Thomas's teeth being knocked out. Play continued, and then Thomas calmly picked up the wayward tooth after the next whistle. He continued to play gap-toothed, and then the Celtics later announced that he "had his tooth repositioned," but it reportedly came back out during the second half, and he plans to have it reinserted by a dentist. (Footnote: Thomas led all scorers in the game, with 33 points.)
Some NBA players wear mouthguards. It'll be interesting to see if Thomas starts wearing one.
I played youth league basketball and can't recall any of the kids wearing mouthguards. The only sport I wore one for was football. I can still remember boiling the mouthpiece in a pot on the stove and then biting down on it so it would mold to my teeth.
I've had a few dental incidents involving sports. I had a tooth knocked out while tossing a baseball around with my next-door neighbor when I was eight or nine. My parents rushed me to a local dentist, who was able to reattach the tooth. I still have it today. Later on, during high school, I was playing paddleball with my best friend and knocked out one of his teeth with the follow-through to one of my backhand shots. We looked all over the paddleball court, trying to find the tooth. I think we eventually located it, and his mom tried to get it reattached, but it didn't take and he ended up having to get a crown.
•  •  •  •  •
Click to enlarge
An even dozen: Uni Watch mascots Tucker (left) and Caitlin turned 12 years old yesterday. Tucker's had some health issues over the past year but seems to be in good shape now, and Caitlin is still in forever-kitten mode, so we were all in the right frame of mind for birthday festivities.
Their best present came from the Tugboat Captain, who made them a catnip sock monkey. How sweet is that? Lucky kitties! Here are a few additional shots:
•  •  •  •  •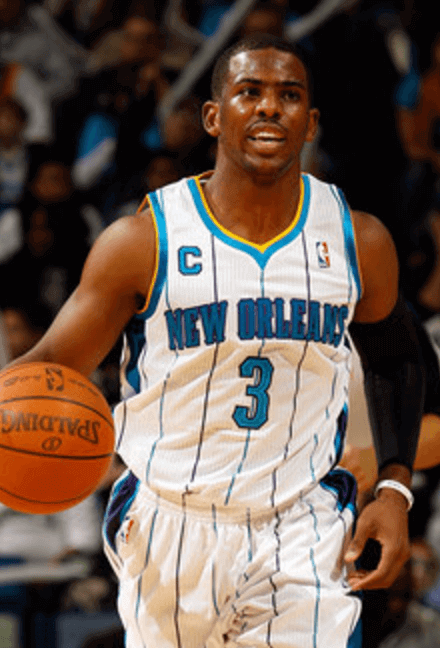 "C" section: No NBA player has worn a captain's "C" since 2011, when Chris Paul (shown at right) and David West did so for the Hornets. Lately I've been trying to update my list of "C"-clad NBA players. I'm currently up to 35 of them, as follows:
• Milwaukee Bucks (7 players): Vin Baker, Andrew Bogut, Blue Edwards, Desmond Mason, Michael Redd, Erick Strickland, and Tim Thomas

•  Denver Nuggets (5): Antonio McDyess, Nick Van Exel, Reggie Williams, Bryant Stith, and LaPhonso Ellis

•  Golden State Warriors (4): Tim Hardaway, Mitch Richmond, and Chris Mullin (co-captains), and Avery Johnson

•  Los Angeles Clippers (3): Danny Manning, Ron Harper, and Mark Jackson

•  Portland Trail Blazers (3): Jerome Kersey, Terry Porter, and Damon Stouadamire

•  Seattle SuperSonics (3): Tom Chambers, Jack Sikma, and Downtown Freddie Brown

•  New Orleans Hornets (2): Chris Paul and David West (co-captains)

•  Kansas City Kings (2): Nate Archibald and Sam Lacey

•  Atlanta Hawks (2): Shareef Abdur-Rahim and Theo Ratliff

•  Indiana Pacers (2): Vern Fleming, Reggie Miller

•  Orlando Magic (1): Tracy McGrady

•  Minnesota Timberwolves (1): Christian Laettner
If you know of any other NBA players who've worn the "C," please speak up. Keep in mind that there have been lots of NBA captains who've never worn a "C" (the Celtics alone have had 15 of them), but I'm not interested in those players. Only interested in ones who've worn the "C" designation. Thanks!
•  •  •  •  •
Click to enlarge
Real strawberries, fake cherries: I had a few people over in the backyard on Saturday. I really like how the yellow on the tablecloth I used is slightly out of register. I always find something oddly reassuring and endearing about slight registration errors — a nice reminder that printing doesn't happen by magic. It's a real-world process, it's tricky to get right, and sometimes it's a little bit off.
•  •  •  •  •
Click to enlarge
Tray of goodness: My friend Robert saw this Happy Steak tray in a Texas thrift shop, thought (accurately!) that I might like it, and brought it back to NYC for me. Isn't that nice? Should come in handy for future backyard gatherings.
I'd never heard of Happy Steak, but some rudimentary googling indicates that it's a now-defunct chain of cheap-steak eateries, based primarily in the west. Anyone ever eaten there? What exactly was a "golden spud"? Like, was it just a baked potato wrapped in gold foil?
Quite the riot of typographic styles on the tray. What is the "H" supposed to be?
•  •  •  •  •
New T-shirt reminder: In case you missed it last week, our latest limited-edition T-shirt in the Uni Watch Artist's Series, designed by the great Scott M.X. Turner, is now available, and it's a doozy.
Here's the concept: If Uni Watch had a bowling team, what would the team be called? The Athletic Aesthetics, of course! And what would the team wear? A classic bowling shirt with chain-stitched embroidery, of course!
Scott's T-shirt is based on that idea, with a simple "Uni Watch" insignia faux-chain-stitched on the front-left chest and a spectacular design faux-chain-stitched on the back (for all of these images, you can click to enlarge):
How great is that?! An anthropomorphized magnifying glass wearing a ballcap and stirrups — tremendous! The graphics really capture that old-school bowling shirt style, too. Even better, the design works well in a wide variety of shirt colors. Here are some of the ones we're offering (there are several more on the sales listing page), just to show how flexible the design is:
Like all of our Artist's Series shirts, this one is a limited edition, available through 11pm Eastern this Thursday. You can order it here. My thanks, as always, for your consideration.
•  •  •  •  •
The Ticker
By Paul, pinch-hitting today for Alex

Baseball News: The Binghamton Rumble Ponies wore "Art in the Park" jerseys yesterday. They were designed by a local fourth grader and will be auctioned off to benefit local arts programs (from @213MFS, @Astromets, and Lou Flynn). … A Massachusetts high school has managed to combine tequila sunrise with red/white/blue patriotism (from Andrew Peterson). … Rangers OF Carlos Gomez had his left shoe fall off while he was legging out a double the other night (thanks, Brinke). … Mariners P Chase DeJong's NOB includes a small-cap "E," which doesn't feel like it's the right weight. The letterform strokes seem too thick/heavy compared to the other letters (from Kenny Ocker). … Braves 1B Freddie Freeman has some issues with the lighting at Milwaukee's Miller Park (thanks, Mike). … Florida softball is the latest team experimenting with 3D helmet logos (from David Roeder). … Hey, remember how MLB was going to replace dugout phones with cell phones a few years ago? That one didn't quite work out, eh? … The Hartford Yard Goats wore their new Sunday uniforms for the first time (from Max Reiss). … The Dodgers had a kids' helmet giveaway yesterday, and the helmets had a matte finish and a 3D logo, just like the real helmets. … With the Blue Jays wearing their red alternates yesterday, P Aaron Sanchez wore a red glove with blue trim (from Seaver Sheets). … Crazy situations for the two New York teams yesterday, as the Mets put a position player on the mound and the Yankees had a pitcher play first base.

Pro Football News: The Vikings' new stadium, which is only nine months old, has a lot of physical defects. … Back in the 1960s there was an AFL running back named Billy Joe. That was his full name — William "Billy" Joe. He played for a number of teams, including the Dolphins in 1966. It's a little hard to see, but he had FNOB. Here's another view. … CFL news from Wade Heidt, who writes: "The Montreal Alouettes may have uniform changes in the works. Promotional videos and photos for the upcoming season show Alouettes players wearing their white helmets and white pants with the dark home jersey. CFL teams usually wear their primary home uniforms in these photos and videos, so this may be the new primary home uniform combination, with the white helmets and pants replacing the silver helmets and pants that had been part of the primary home look." … The Falcons' Snapchat account shared some videos of players visiting a local school. The players wear Falcons jerseys, but for some reason the NFL logo at the base of the collar was blacked out (from Britton Thomas). … Here's a look at jerseys people wore to the NFL draft (from Kurt Esposito).

NBA News: The Jazz and Warriors' uniforms have changed just a wee bit since the last time they met in the playoffs (from Jacob Marrocco). … Last night's episode of Veep took place in Georgia — the country, not the state — and featured a guy wearing a Chicago "Balls" knockoff sweatshirt (from Will Shoken).

Soccer News: Good article about how soccer teams dare not change their team logos (from Ken Traisman). … New home kit for Oxford United (from Nate Hargis). … New kit for FC Buffalo (from @DrewCanady). … Check out this youth league game with both teams wearing black. Are they supposed to tell each other apart from the uni numbers? From the socks? Jeez (from Teddy Ice).

Grab Bag: Longtime NASCAR artist Sam Bass has been facing a series of health problems that have led him to bankruptcy, ultimately resulting in a court-ordered auction of his artwork (from Tommy Turner).