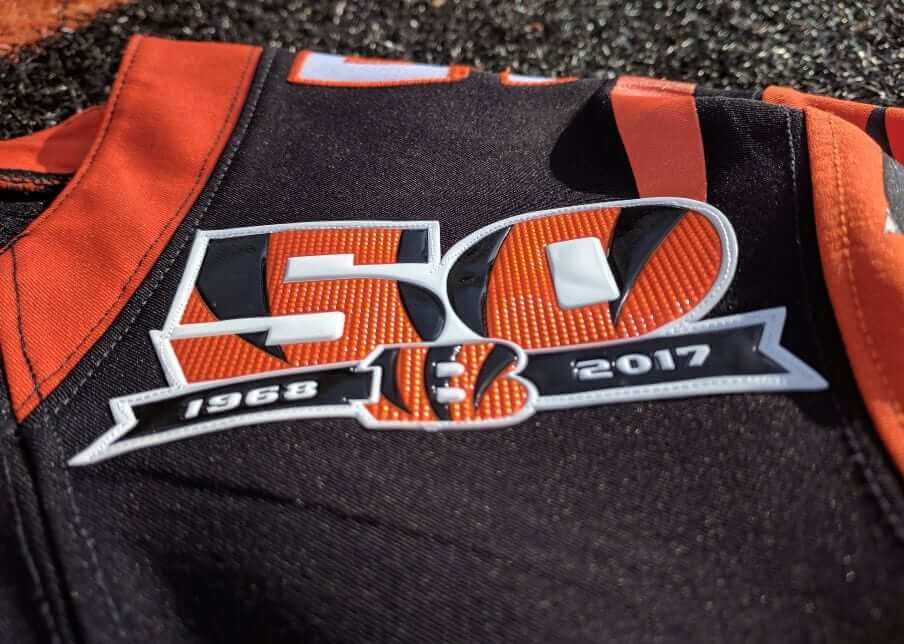 Click to enlarge
This fall will mark the start of the Bengals' 50th season, and yesterday the team announced a series of moves to mark that milestone, including a new jersey patch.
The interesting thing, as you can see above, is that the patch isn't embroidered. I'm not sure if it's Chromaflex or some other newfangled process (I'm trying to find out). For now, let's just call it plastic.
These plastic patches have been knocking around the uni-verse for a few years now. The leagues clearly like them, not only because they seem high-tech but also because they're harder to counterfeit. They've mostly been used for postseason logos (the Super Bowl, the World Series, the MLB playoffs, etc.) or for other special occasions (like the team logos on this year's MLB Independence Day caps). But I think this may be the first time a Big Four team has gone the plastic route for a basic commemorative patch. And that raises a question: Are embroidered patches on the way out? And if so, is that a good thing or a bad thing?
It probably won't surprise you to hear that I'm a big fan of traditional embroidery. But I can also see that plastic patches offer some advantages, primarily because they can reproduce small details more faithfully. Having had a bit of experience with patches myself, I know first-hand that embroidery can be tricky. And even if you've never designed or produced a patch, we've all had that experience of seeing a flat-color jpg of a great-looking patch design and then being a bit underwhelmed by the embroidered version. Take, for example, the patch that the Braves are wearing this season to mark the opening of their new ballpark (for both images, you can click to enlarge):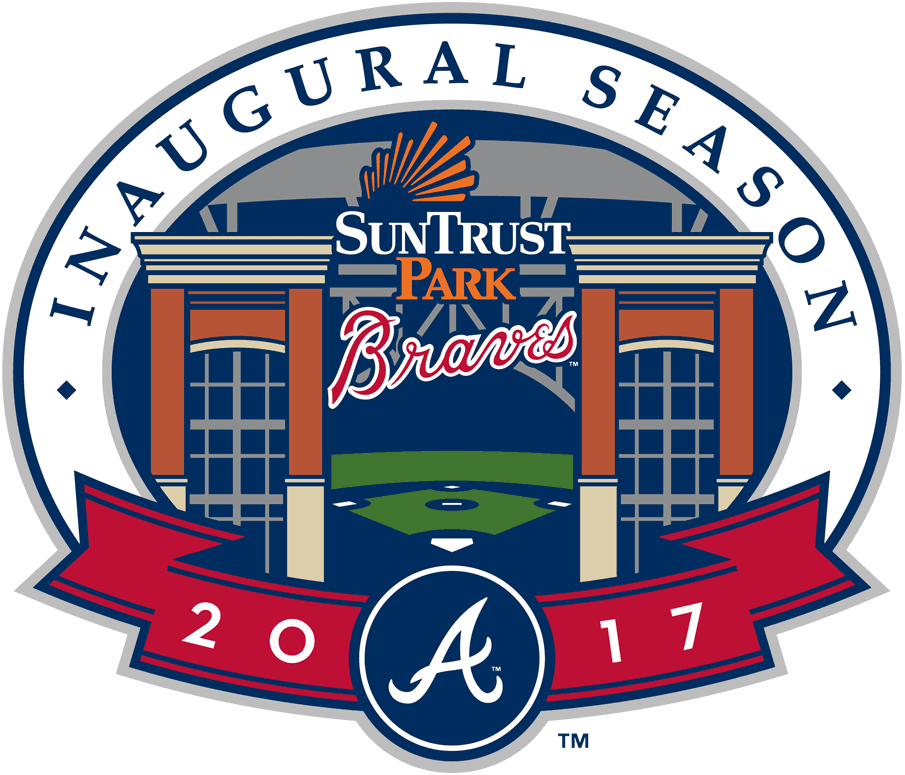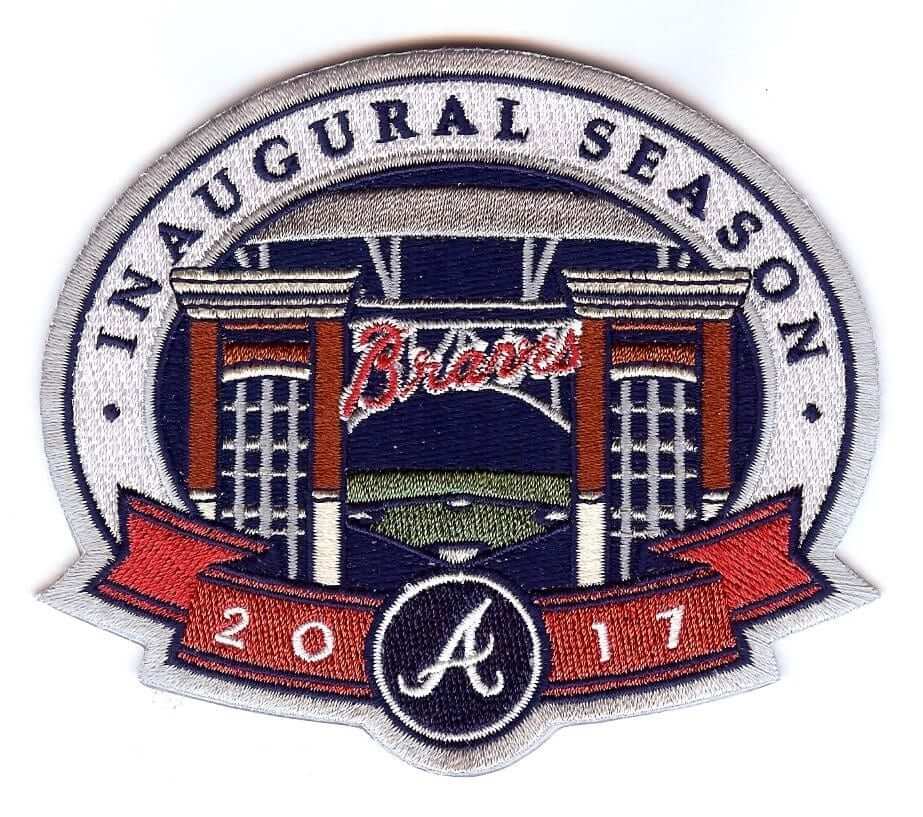 Leaving aside the fact that the embroidered version doesn't include the ballpark's name (that's due to MLB's longstanding prohibition on corporate advertising on uniforms), it's pretty obvious that certain aspects of the digital design didn't translate particularly well to the embroidered version — most notably the Braves' own script! I'm pretty certain that would have looked better if the patch had been rendered in plastic.
Longtime Uni Watch pal/ally Todd Radom has designed many a patch over the course of his design career, so I asked him about this. His response:
I always design with the "Will it embroider?" question firmly in mind. I've never been tasked with an assignment knowing that the most visible application of it would be in plastic, at least not yet. Even if I knew that the patch would be plastic, sleeve patch logos are utilized extensively across all kinds of other stuff, so it wouldn't necessarily affect my design.

Seems to me that there are varying levels of execution here, much like embroidery. I generally like the Super Bowl patches — the design decisions that involve texture and use of lines can enhance the overall look if done well. Lighting matters, as witnessed by what the World Series patches looked like in the dim lights of an illuminated Wrigley Field, as opposed to what these might look like during a day game (or indoors).
All very interesting, and something to keep in mind as the embroidery-vs.-plastic situation plays out in the months and years to come.
Meanwhile: I find it disappointing that the Bengals are celebrating an ordinal instead of an anniversary. Look at the dates on the patch — 1968 and 2017. So unsatisfying! Would've been better if they'd waited to do a proper anniversary patch in 2018.
•  •  •  •  •
ESPN reminder: My latest ESPN column, which went up yesterday, looks at various reader-submitted proposals to redesign the Raiders.
•  •  •  •  •
The Ticker
By Paul

'Skins Watch: In Virginia, where 'Skins owner Daniel Snyder wants to build a new stadium, two candidates running for the state's Democratic gubernatorial nomination both oppose the team's name (from Tommy Turner). … Student leaders at San Diego State have narrowly voted to keep the school's "Aztecs" team name. There had been a movement to change it because it was viewed by some as being culturally insensitive. If the motion had passed, it would only have been a non-binding recommendation that would have been passed along to the school's administration, which has resisted previous efforts to change the name (from Daron Nowak).

Baseball News: Red Sox P Chris Sale, who famously took a pair of scissors to a throwback uniform last summer, now appears to have cut a small notch in the back of his cap (great spot by Kyle Barber). … New ALS-awareness uniforms for NC State. Note that the "Strikeout ALS" NOB is grammatically incorrect, because "strikeout" (one word) is a noun, not a verb. The proper form would be "Strike Out ALS" (from James Gilbert). … The Twins are showing their players wearing civvies on their scoreboard this season (from Peter Burns). … The Pirates had planned to do a Starling Marte replica jersey giveaway in July, but that promotion has been scrapped in the wake of Marte's PED suspension (thanks, Phil). … Earlier this week we Ticker-mentioned that the St. Paul Saints are changing their name to the Duck Duck Grey Ducks later this season. Here's an article with mockups of the other finalists for the name change contest (from Michael Blomquist). … The Nationals are providing uniforms to DC-area Little League teams. … As an aside, that last item refers to the new unis as "new digs." I see that usage semi-frequently and don't understand it. "Digs" is slang for a place to live. I think the slang term for clothing that people mean to be using — but for some reason aren't using — is "duds." … Padres players Ryan Buchter and Hunter Renfroe wore team jerseys while serving as baggage handlers at the airport yesterday. Some of the baggage must have belonged to SDSU lacrosse players, because that video includes a shot of Buchter trying on a lacrosse helmet (from Jared Buccola). … Here's the uniform that the Albuquerque Isotopes will be wearing later this season when they become the Albuquerque Green Chile Cheeseburgers for a day. Additional info here (from Rob Montoya). … New pink anti-cancer uniforms for Northwestern State softball. … The Rangers tweeted this photo of baseballs at their ballpark. But if you look closely, you can see that some of the balls have the Mariners' 40th-anniversary logo. "Might have been left over from the last trip," says Drew Solka). … They showed a close-up of Phillies INF Andres Blanco's personalized bat knob decal during SNY's Phils/Mets broadcast last night. "Gary [Cohen] and Ron [Darling] then mentioned the Billy Ripken 'Fuck Face' incident," says Dave Rakowski. … Pretty funny backwards jerseys last night for the Fresno Grizzlies. … If you watch this video clip, you'll see a Nike maker's mark in an unusual place: on the brim of the cap (from Zachary Loesl). … Yesterday's Ticker had a photo of Copa Airlines plane with an MLB logo as part of its livery. Trent Guyer points out that this is because Copa is MLB's official airline for Latin America and Canada.

NFL News: Here's an old shot of Eagles QB Ron Jaworski with a badly off-center NOB. … The investigators who tracked down Tom Brady's Super Bowl jersey also recovered Broncos LB Von Miller's helmet from Super Bowl 50. … Giants QB Eli Manning angrily denied recent allegations that he provided fraudulent "game-used" gear to a memorabilia dealer. … Lots of great old NFL posters, ads, and other visuals on this Pinterest page. That sound you just heard in the background was Brinke Guthrie drooling. … Here's this year's Thursday-night NFL schedule, which was released yesterday. I haven't had sufficient time or masochism to map out what the Color Rash pairings will be, but I'm sure someone out there is already taking care of that, yes? … The Lions' sideline mascot, Roary, has made his first appearance in the team's new home uniform (from @dmoon).

NBA News: With Carmelo Anthony's days as a Knick apparently numbered, SI imagined what he might look like as a Piston. But the photo they chose to Photoshop was from a game when he was playing against the Pistons, so the resulting image was Pistons vs. Pistons (from Austin Fowler). … Here's a time-lapse of the giveaway T-shirts being laid out at the Pacers' arena (from @tasty_magic). … And here's a similar time-lapse for the Grizzlies' rally towels (from Kendall Cruse). … The Bucks wore their black alts and used their alternate court design for last night's playoff game against the Raptors. And although there's no time-lapse, here are the T-shirts they gave out. … Down in Mobile, Ala., there's a landscaping company called Laker Man. They use the Lakers' logo, and the guy in that photo is even wearing a Lakers cap! (From Stephen Rains.) … The Wizards' stars/stripes uniforms, which they're wearing for home playoff games, are sold out, so fans can't buy them during the playoff run (from Craig Kirkpatrick).

Soccer News: A Korean team, Gangwon FC, has a ski jump at one end of its stadium, thanks to the Pyeongchang Olympics (from Saurel Jean Jr.).

Grab Bag: Back in December, American Airlines flight attendants said that their new uniforms were causing bad skin reactions. Now AA's pilots are saying the same thing about their new uniforms. … New 45th-annivesary logo for the World Wide Fund for Nature Malaysia. … Long Beach, Cal., has updated its city signage with a more user-friendly design (from Andy Garms). … Star Trek bathing suits? Sure, why not. … More "family friendly" uniforms on the way for Hooters (thanks, Phil). … Here's an interview with the designer who created Air Canada's new black-centric livery (from Edward Hahn). … Police uniforms in Wichita, which had been khaki, are changing to blue. … Duquesne athletics is switching from Adidas to Nike. … A Chinese court has fined Puma about $420,000 for creating a "Year of the Goat" logo that infringed on the trademark of a Chinese company (from @GKG_77).