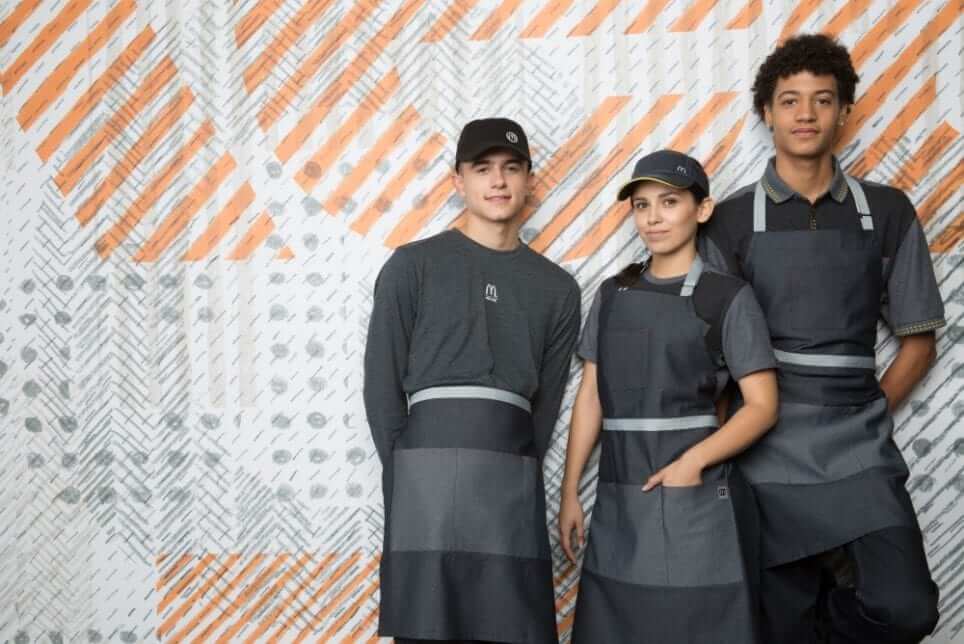 Click to enlarge
Sports teams aren't the only organizations that wear uniforms. And they're apparently not the only ones who go BFBS, either.
That's the obvious conclusion to be drawn from the latest news out of McDonald's HQ, where the burger chain recently announced two new sets of uniforms, both designed by high-profile fashion designers — an apparent fast-food first (additional info here). But if the idea of McDonald's dipping its toe into the world of fashion is a head-scratcher, the resulting designs are even more surprising: They're heavy on the black and grey, with nary a hint of the company's signature red/yellow color scheme.
Here are a few more pics: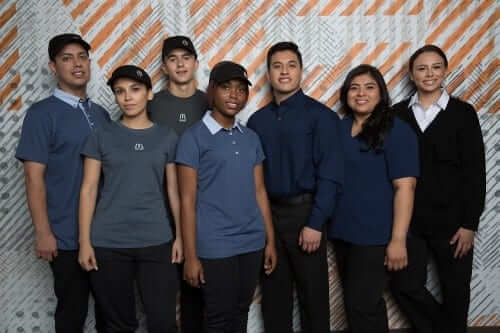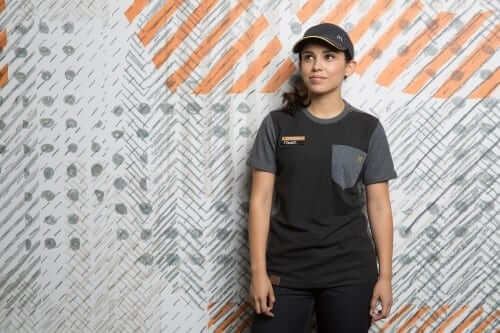 As word of the new designs spread around the web yesterday, there was lots of feedback from the uni-verse's peanut gallery. Among the comments and tweets I saw:
•  "Should allow McDonald's to recruit at a whole new level. Kids love the anthracite look."
•  "Just waiting for Burger King to go for matte hats with 3D logos."
•  "Can't wait for Thursday's reveal of the weekend uniform combo."
@PhilHecken Are they going to have throwbacks on Thursdays or Fridays? They're not as fierce or moisture-wicking as the new ones but they're still great pic.twitter.com/qCBgV7uv5v

— Jim Vilk (@JimVilk) April 17, 2017
@PhilHecken You mean they didn't go in this direction? 😳 pic.twitter.com/sXmXhi4X4n

— Jeff (@j_tasca) April 17, 2017
Snarkiness aside, I think these uniforms look pretty nice. They just don't look like McDonald's uniforms, at least to me. Then again, McD's is doing all sorts of counterintuitive marketing these days, so maybe the uniforms are just part of that approach.
Of course, I haven't been inside a McDonald's in well over a decade, so what do I know? For those of you who interact with the golden arches more frequently than I do, what do you think?
(Big thanks to Phil for getting this ball rolling.)
•  •  •  •  •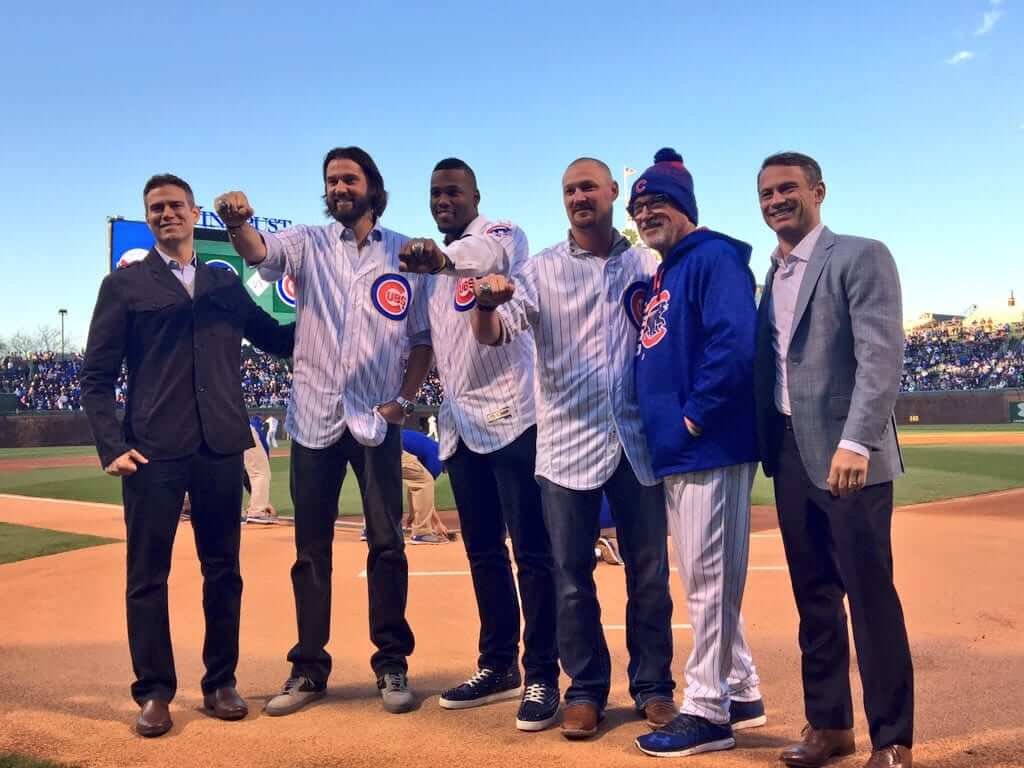 Click to enlarge
Cubs again, if only for a day: The Cubs had a home game last night and the Royals had an off day, so Jason Hammel, Jorge Soler, and Travis Wood, all of whom played for the Cubbies last season but now play for KC, showed up at Wrigley to receive their World Series rings. There's nothing particularly unusual about that — similar scenes play out each season for players who've changed teams after being on the Series-winning squad. But as you can see, Hammel, Soler, and Wood all wore Cubs jerseys for the occasion (the gold-trimmed version), and I'm pretty sure that is unusual.
Or is it? Has this happened before, where a player who's currently on Team A wears the jersey of Team B while receiving his Team B ring?
Update: Reader/commenter Jim Noble points out that Derek Lowe wore a Red Sox jersey when returning to Fenway to receive his World Series ring in 2005, even though he was with the Dodgers by that time:
(My thanks to Max Wagner, Bob Gassel, and our own Mike Chamernik for bringing this one to my attention.)
•  •  •  •  •
Click to enlarge
Collector's Corner
By Brinke Guthrie
Here we have a Sir Saint bank, in very good condition, from NFL Licensee Quinco. Kinda has that Jay Leno look, no? And look — the uniform number is actually a letter. "S" for Saints!
Now for the rest of this week's picks:
•  From reader Will Scheibler, here's a 1975-76 California Golden Seals schedule poster, their final year in Oakland. Rinkside tickets, just $8.50!
•  Helmet buggy alert! Here's the Buffalo Bills edition, still MOC (mint on card) after all these years.
•  These 1970s Brow-Dri Pittsburgh Penguins sweatbands are still sealed in their package.
•  Ah, look at that terrific logo on this repro Carolina Cougars T-shirt. (For you kids out there, they were a short-lived ABA franchise.)
•  Twenty-five different NFL helmet plaques in one auction! (Thanks to @Helmet Addict twitter for this one.)
•  This Herschel Walker beach towel is an NFLPA item, so no team logos on it, although that navy blue border looks suspiciously like it wants to be a Dallas star. And they did get his Adidas shoes right.
•  This late-'60s/early='70s San Francisco 49ers poster is in great shape! Perfect for framing at Uni Watch HQ.
•  Your Imperial Esso Dealer was the spot to score one of these Toronto Maple Leafs "Hockey Talks" records. Edition #1 featured a fellow named George Armstrong.
•  Here's a Mets Starter wannabe jacket from Felco. The listing says 1970s-1980s, but I'm fairly certain they never used that font, am I right, PL? [Correct. "" PL] And I would guess this was a licensed item, what with the MLB patch.
•  It seems that St. Louis Blues season ticket holders in the 1970s got this pom-pom ski cap along with their seats.
•  •  •  •  •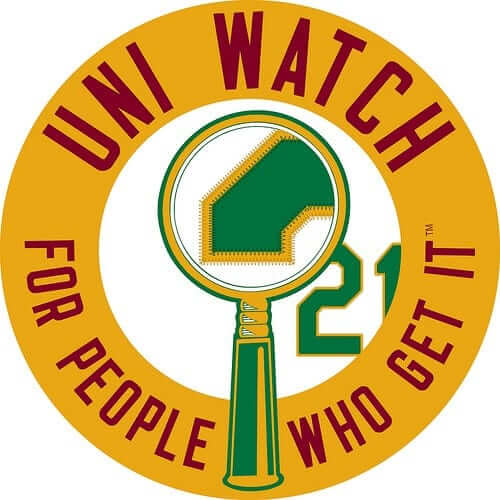 More merch offerings: As I noted throughout last week, the Uni Watch social media avatar (a caricature of me, designed by Larry Torrez) is now available on assorted T-shirts, sweatshirts, coffee mugs, and more. But several of you responded to that by saying, "No offense, but I don't want to wear your face on my chest. Ya got anything else?"
"¨Say no more. Our classic magnifying glass logo, designed by the great Scott M.X. Turner, is now available on a variety of goods. There are two versions of the logo — one with a gold outline, as shown at right, and one with a green outline. We have shirts and related products for both versions: gold here and green here.
I'll be gathering all of these offerings, plus a few others, into a new Teespring storefront shortly. That will replace our old Zazzle store, which I've never spent much time curating or promoting. I hope to make the Teespring shop more focused than the Zazzle shop has been.
My thanks, as always, for your consideration.
•  •  •  •  •
The Ticker
By Mike Chamernik

Baseball News: The Red Sox wore their Boston Strong jerseys yesterday morning for Patriots Day. … Speaking of the Sox, Hanley Ramirez applied his eye black to to look like whiskers. He had also done that on Sunday, and many people assumed it was an Easter Bunny thing. No explanation for why he kept doing it yesterday. … While looking for something else, I found a 2015 pic of the Rangers' Rougned Odor wearing teammate Yu Darvish's elbow guard. … Lids is selling MLB team hats that have anniversary patches from past seasons (from Chris Fyfe). … There's a good reason why this amateur baseball team in Texas wears Blue Jays-inspired uniforms. They were designed by Vernon Wells Jr., the father of Vernon Wells III, the longtime Blue Jay. Mark Rybczyk says that Wells Jr. has been playing amateur ball in Texas for more than a quarter-century, and that he has his own sports art studio. Wells Jr. has a logo that plays off of the MLB mark. … Good article on longtime A's equipment manager Steve Vucinich, who's been with the club in various capacities for 50 seasons — the second-longest tenure in franchise history, after Connie Mack (from Terry Mark).

College Football News: Oregon's football equipment administrator said that the Ducks will "stick to more traditional colors this year" (from @duckitecture). … During the Oklahoma State spring game, the black team wore black OSU helmet decals, while the orange team wore traditional orange decals (from Brian Murphy). … Here's how a Rutgers football helmet is made, from molding to painting to safety-testing (from Steven A. Knowlton).

Hockey News: Capitals owner Ted Leonsis wore a Alexander Ovechkin jersey to last night's game (from Alan Kreit). … Baseball Hall of Famer and Oakland A's legend Rickey Henderson wore a customized Sharks jersey to Game 3 against the Oilers the other night. … As for Game 4, here are the rally towels the Sharks will give their fans (from James Paterson). … The guy singing the national anthem last night in Calgary had a musical note instead of a sleeve number (from JP).

Basketball News: French comic book artist Asur Misoa created illustrations for each of the first-round playoff matchups. This is the third year she has made these drawings. Expect new illustrations as the playoffs continue (from Max Wagner). … The Sixers had a bunch of notable hairstyles this season. … Classic Kicks, a digital magazine dedicated to the evolution of sneakers and sportswear, has launched. The first edition has essays, travelogues, and interviews with notable sportswear execs, along with some neat artwork (from Nick Santora). … A YMCA in Paris has the world's oldest surviving basketball court, from 1895.

Grab Bag: The Clermont Pin Company, a small shop in Iowa, has been refurbishing wooden bowling pins for around 50 years (from Aaron Telecky). … New unis for the West Coast Eagles, an Aussie rules football club. … Wichita State athletics is changing from Nike to Under Armour. The new deal goes into effect on July 1 (from Daniel Woods). … Check out the sweet uniforms for the Team USA sled hockey team, which is currently competing at the world championships in Korea. "They usually wear the same uniforms as the traditional Team USA hockey team," says Steve Fidrych. "I hadn't seen them wearing this design before."