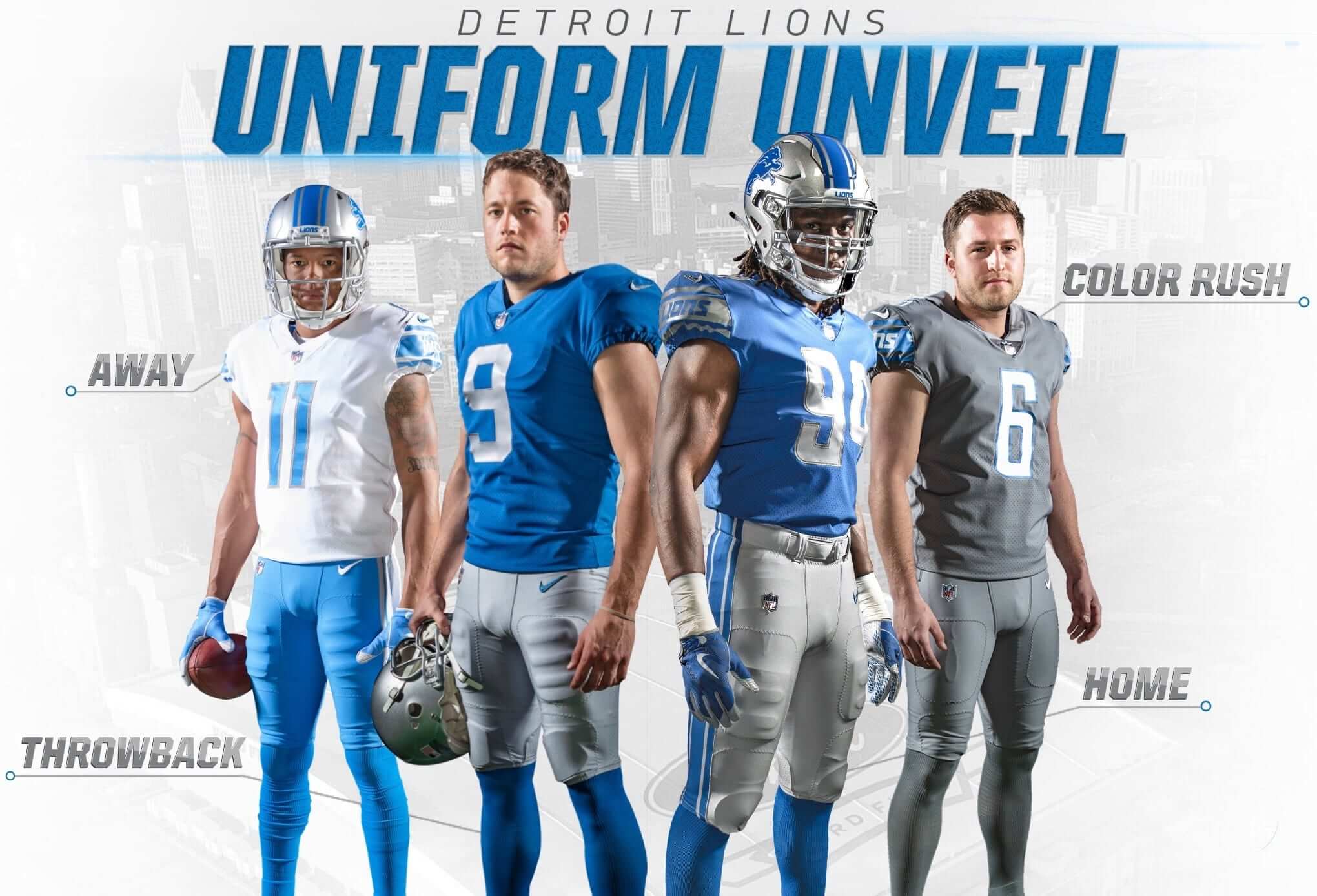 Click to enlarge
The Lions unveiled their new uniforms last night. They're not perfect, but they're definitely an upgrade. You can read my full assessment in in this ESPN piece, which was posted last night. If you want more, there's lots of good info and images here and a few dozen photos here.
Speaking of the Lions, check out this sleeve patch that they wore in 1951: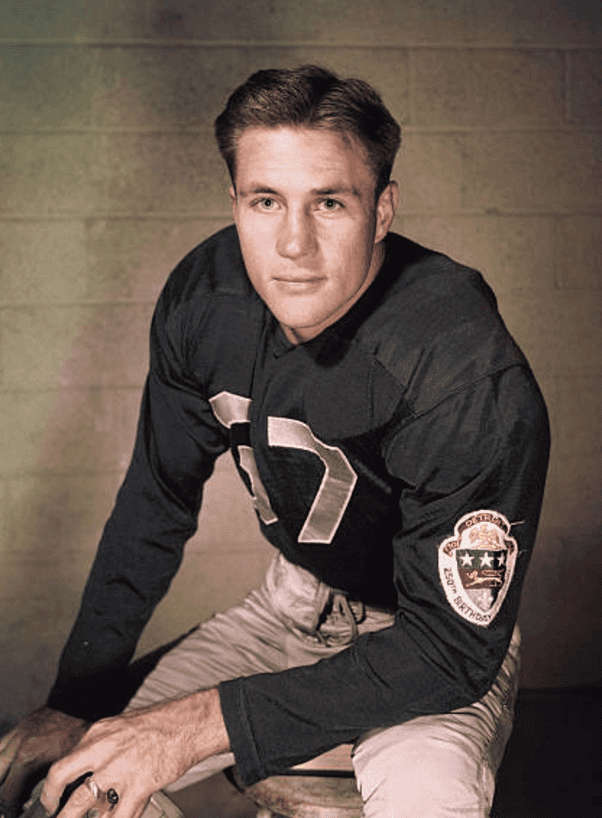 What is that? It's the Detroit sestercentennial (250th anniversary) logo. The Tigers wore it that season as well (and so did the Red Wings, although I've been unable to find a good photo of them doing so):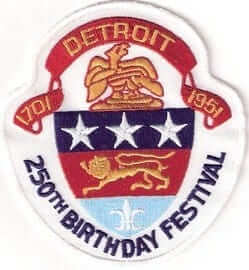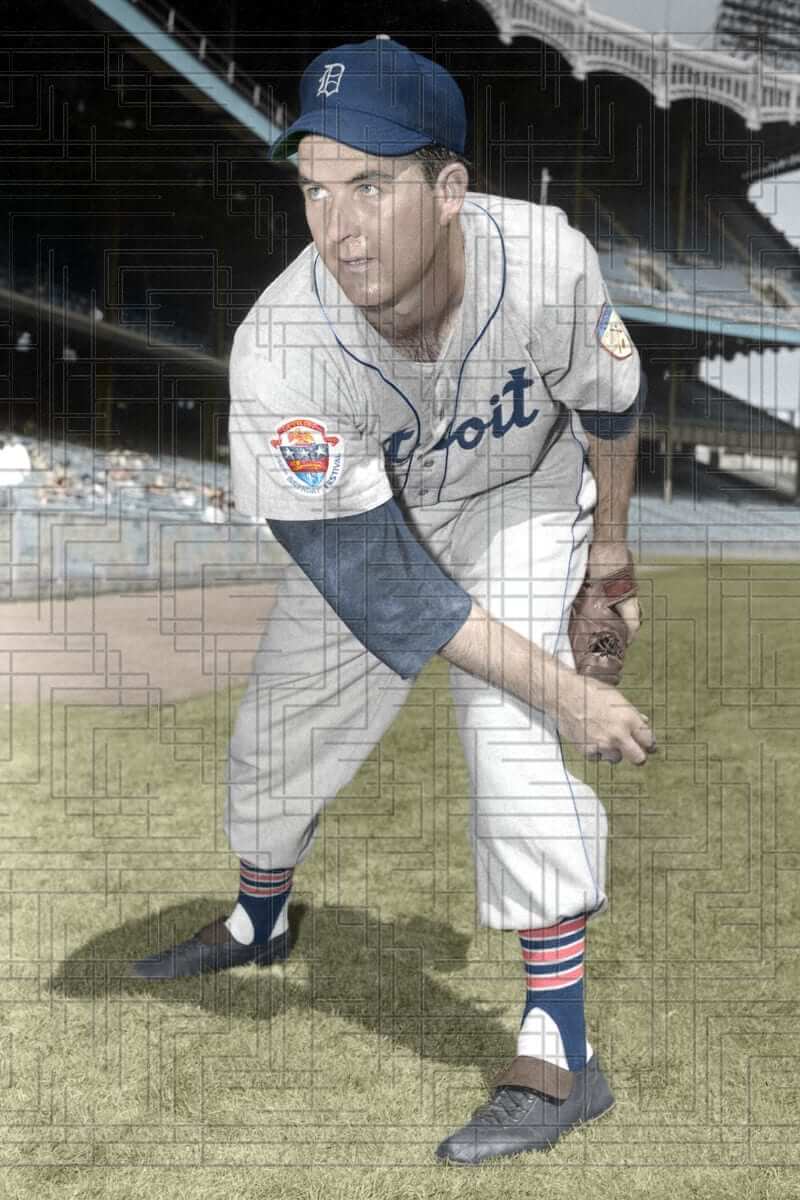 (My thanks to @dmoon for reminding me about the Lions' 1951 patch.)
•  •  •  •  •
LAST CALL for the jacket raffle: Today's the last day to enter the raffle for the free varsity-style satin jacket from Stewart & Strauss. Full details here.
Merch reminder: In case you missed it earlier this week, the Uni Watch social media avatar (shown at right, click to enlarge), designed by the great Larry Torrez, is now available on a variety of shirts, sweatshirts, coffee mugs, tote bags, and stickers. They're all available here.
•  •  •  •  •
The Ticker
By Paul

'Skins Watch: MLB commish Rob Manfred is reportedly putting pressure on the Indians to transition away from Wahoo. … Here's something I didn't know: Back in 2014, Etsy banned listings for products that contain the 'Skins name or logo (from Mickel Yantz). … There were delays on I-75 two days ago when boxes of Braves foam tomahawks fell off a truck and spilled onto the freeway (from James Beattie).

Baseball News: Dodgers fans will want to check out these cool new T-shirt designs. … Here's an early shot of Robin Yount wearing Adidas cleats with the stripes blacked out (from Brian Wulff). … Great spot by Brian Cheung who noticed that the MLB logos on Reds INF Jose Peraza jersey and pants don't match. The one on the jersey, with black on the left and red on the right, is the team's official MLB logo rendering. The one on the pants is wrong. … Jackie Robinson Day is tomorrow, so all MLBers will be wearing No. 42. Some minor leaguers will also wear 42, but the Daytona Tortugas will wear No. 9, which is the number Robinson wore when he played for Daytona back in 1946. … LSU will retire Todd Walker's No. 12 today. … Comedian Jeff Garlin was in the Cubs' broadcast booth yesterday and wore a House of David jacket for the occasion. … The Orioles expressed city pride regional pride yesterday by wearing Washington Capitals T-shirts (from our own Mike Chamernik). … An Arizona man has painted MLB team logos on a series of small rocks and hidden them in Papago Park in Phoenix (from @AZjoshM). … Virginia will mark the 10th anniversary of the Virginia Tech campus shootings with a helmet ribbon. Virginia Tech has been wearing that same ribbon on the front of the helmet (from Andrew Cosentino). … Cleveland was getting blown out last night and brought in INF Michael Martinez to pitch, resulting in a new addition to the single-digit pitchers' club (from Robert Hayes). … Great throwbacks last night for the Nashville Sounds (from Chris Howell). … The Mariners unveiled a Junior Griffey statue yesterday. … Columbus High School in Georgia has a very Cubs-esque uniform design (from Mike McLaughlin). … The Hall of Fame has requested several 2016 World Series items from the Cubs, but the team has not provided any of them.

NFL News: Check out this Tim Couch Browns bobble with an oddly off-center uni number (from Martin Hick). … New personal logo for Cardinals RB David Johnson. … Court papers obtained by The New York Post indicate that Giants QB Eli Manning and equipment manager Joe Skiba were part of a scheme to sell phony "game-used" gear through an auction house. … New uniform number assignments for the 49ers (thanks, Brinke).

College Football News: Here's a tidbit we missed from a few days ago: Clemson players received their championship rings last Saturday (from Kary Klismet). … A new NCAA rule will require that pants cover the knee and include a knee pad. Up until now, knee coverage was recommended but not required (from Jason Hillyer and James Gilbert, respectively).

Hockey News: What if NHL teams were actually football teams? The results might look like this (from @Jimmy64). … Love this awesome old jersey from the 1930-31 Philadelphia Quakers (from slightly0better). … There's a taxi company in Atlanta that appears to have poached an old Stars logo. … This was in the baseball section, but I'll put it here as well, just in case: The Baltimore Orioles expressed city pride regional pride yesterday by wearing Capitals T-shirts (from our own Mike Chamernik).

Soccer News: New home uniform, including a fifth-season patch, for the Portland Thorns (from Jeremy Brahm). … New 125th-season crest for Newcastle (from Ryan Walters).

Grab Bag: New uniforms for Japanese table tennis (from Jeremy Brahm). … Here's a visual timeline of Kings Xi Punjab cricket uniforms. … There's a controversy in an upstate New York town, where the local police force has put the logo of the comic book vigilante superhero the Punisher on their squad cars, despite opposition from the mayor and some residents. … This is pretty awesome: meticulously carved artwork made from orange peels (from Mary Bakija). … With the summer Olympics set to take place in Tokyo in 2020, Japan is adding English language road signs (from @GKG_77). … Check it out: a lacrosse ref with a zebra-striped headband (from Tris Wykes).