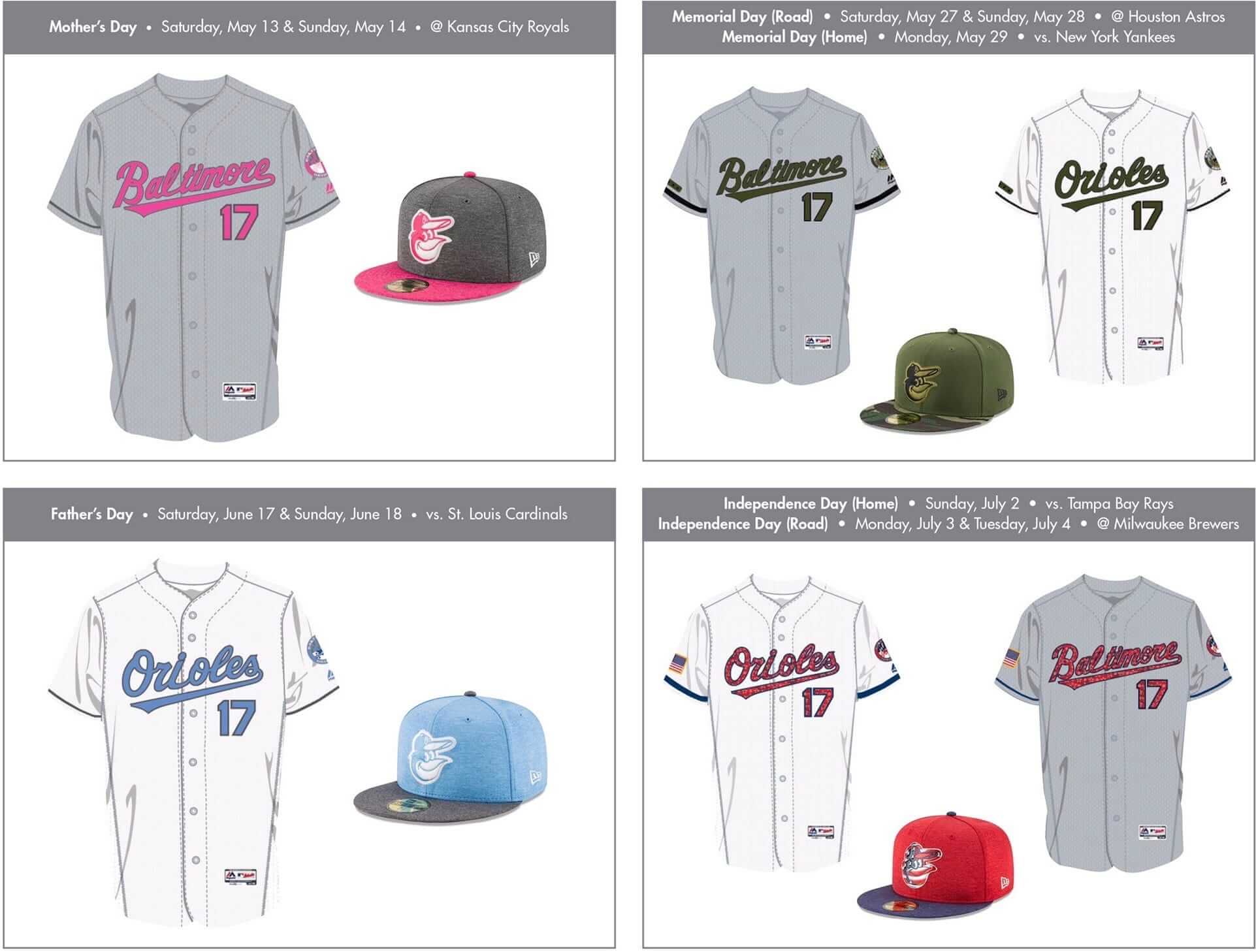 Click to enlarge
Hectic afternoon yesterday, as MLB unveiled all of its holiday and All-Star uniforms. Here's the short version:
•  The holiday unis will be worn for the full two-, three-, and four-day weekends of their respective holidays. That means two days of pink, two days of blue, three days of olive (but very little camouflage this year, thankfully), and a whopping four days of stars and stripes.
•  The Mother's and Father's Day uniforms are very similar to last year's. Independence Day is fairly similar as well, although the caps have high-tech chrome logos. As noted above, they've dialed back the camo for Memorial Day.
•  All-Star jerseys will now include a sleeve patch indicating how many times the player has been an All-Star. The caps have very nice heathered crowns.
•  This year's Home Run Derby jerseys (or All-Star BP jerseys, or whatever you prefer to call them) are pretty nice, and the caps are made from some sort of newfangled lightweight material. Sorry, I just can't bring myself to care about that.
•  Lots of new sock designs to go with all of these uniforms. Let's just say that none of them were designed to fade into the background.
If you want to know more — and you probably do — I strongly recommend checking out this SportsLogos.net piece, which has excellent info and visuals. Chris had an exclusive on this one, so he had lots of time to prepare everything in advance, and he really hit it out of the park. In terms of basic information, I don't think there's anything I can add that he hasn't covered there.
As for my opinions on all this:
•  Extending the designs over multiple days is, obviously, ridiculous. Fits in with MLB's (or the sports world's, or America's) basic credo that anything worth doing is worth overdoing. And these uniforms weren't really worth doing in the first place. But this is clearly where MLB is headed in the Rob Manfred era, and that's that.
•  Not much to say about the Ma's/Pa's Day uniforms that wasn't said last year. Minor changes, but nothing significant. Oh, but there's this: The Yankees will be retiring Derek Jeter's number on Ma's Day. Seems very odd that they'll be wearing pink-trimmed unis on that day of all days, no?
•  Nice to see them pulling back on the camouflage. And this year's Memorial Day jerseys and caps include five black stars — why, you'd almost get the idea that they think this holiday is for mourning the fallen instead of glorifying the active! I'd still prefer to see just a simple black armband, but this year's design counts as progress, even if it's only baby steps.
•  Not a fan of the chrome Independence Day cap logos. Seems like a given that some team(s) will be chosen as the guinea pig(s) to try this style as a regular season alternate cap in the near future. Here's hoping that team isn't the one I root for.
•  This year's All-Star Game caps are easily the best they've done since they started creating new cap designs for the event. If I were the kind of person who bought MLB caps — well, I still wouldn't buy one of these, because I don't like the star-shaped grommets, but you get the idea.
•  The "Look how many All-Star Games I've been in!" patch seems like something that would be better on the BP jerseys, not the game jerseys, but whatever — not a big deal either way. (The bigger question is how long they'll wait before coming out with dedicated All-Star Game uniforms like the other leagues, which seems inevitable in the current climate.)
•  Last year all of the teams' sleeve patches changed colors depending on the holiday, except for Wahoo, who stayed red, for obvious reasons. This year they're avoiding that problem altogether by giving the Cleveland holiday uniforms a block-C sleeve patch. This is the latest in a series of exceptions that have been carved out for Wahoo. All the other teams' fans can dress up as the team mascot or paint their faces — except Cleveland fans. Every other team's sleeve patch can get a stars/stripes treatment — except Cleveland's sleeve patch. And so on. When you keep having to carve out these kinds of exceptions for a logo — or, to put it another way, when your words keep saying that the logo is okay but your actions keep saying otherwise — it's a sign that the logo has outlived its usefulness and needs to go.
That about covers it. Again, for more info, SportsLogos.net has the goods on this one.
•  •  •  •  •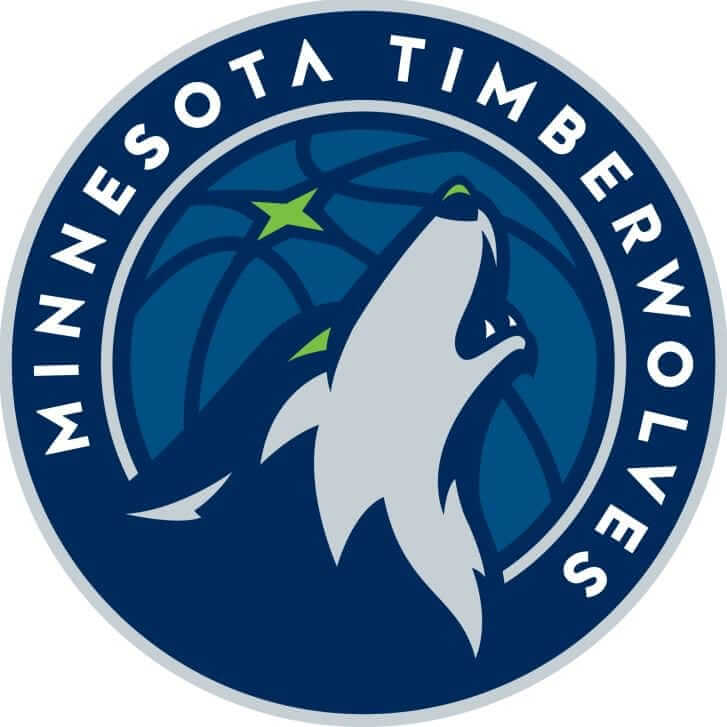 Storytime: The Timberwolves unveiled their new logo last night (shown at right; click to enlarge). As you may recall, yesterday we were promised that the design would be full of "stories." And sure enough, now that we've seen the logo, there are many stories at work here. For example:
Story No. 1: Once upon a time, there was a team that wanted a new logo. There was a lot of hype and buildup, which got people thinking that maybe the team would give itself a serious makeover. But in the end the team decided that all it needed was an update to its secondary logo: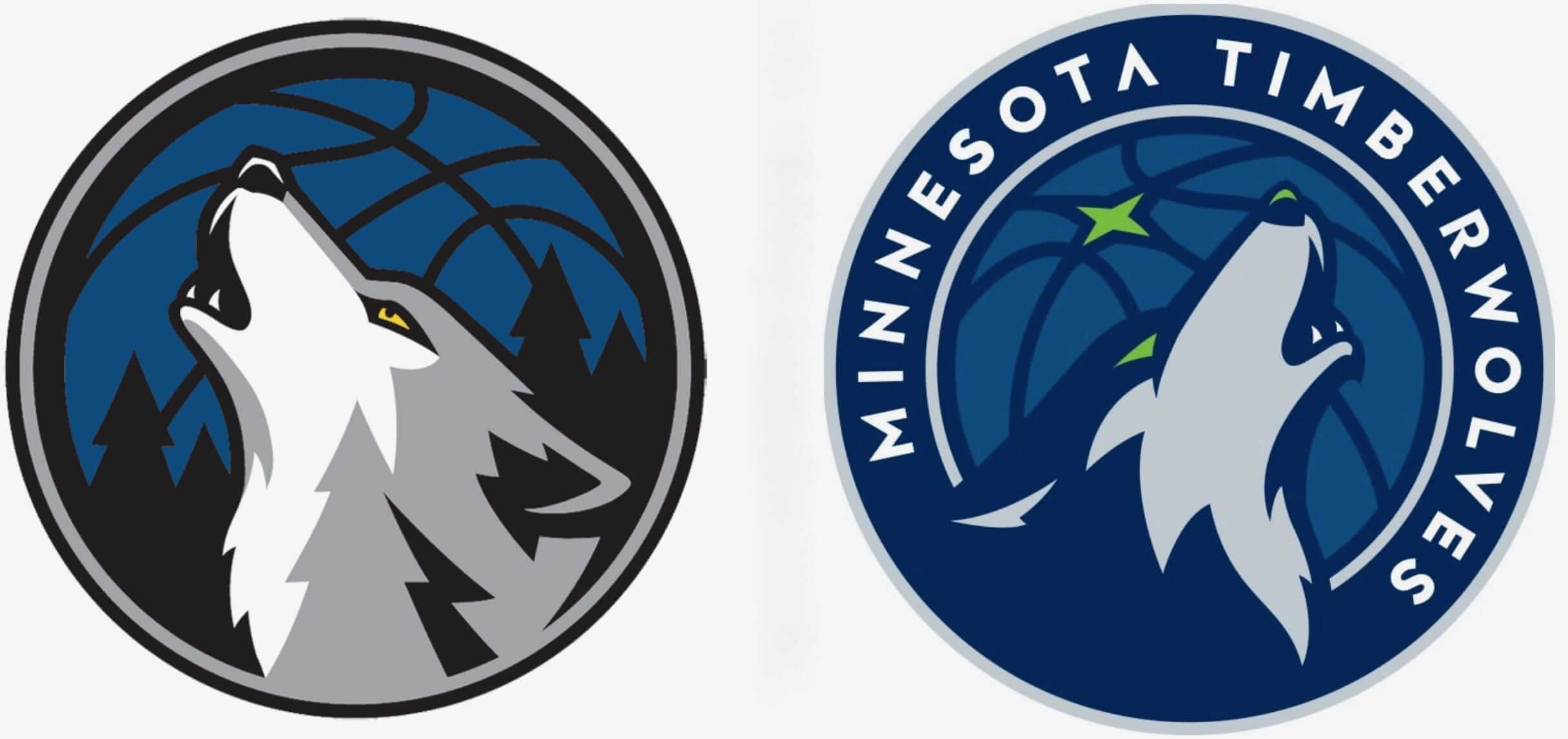 Story No. 2: Once upon a time there was a basketball team that decided to update its logo. But due to some wondrous sorcery, the basketball team ended up with a design very similar to one that's already used by a hockey team: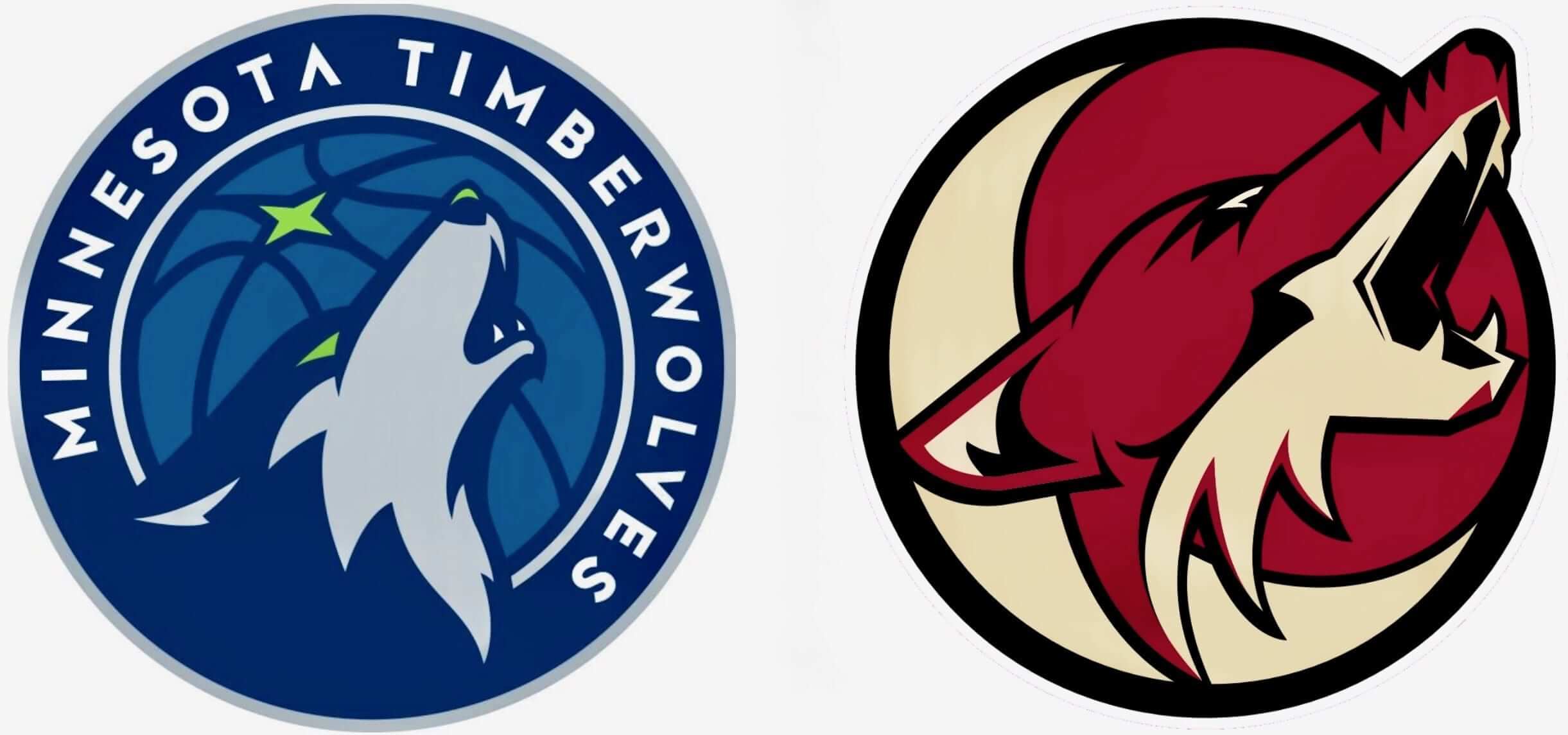 Story No. 3: Once upon a time there was a basketball team that decided to update its team colors. In yet another feat of sorcery — surely the work of a wizard! — the basketball team's new colors ended up being very close to the colors used by a football team: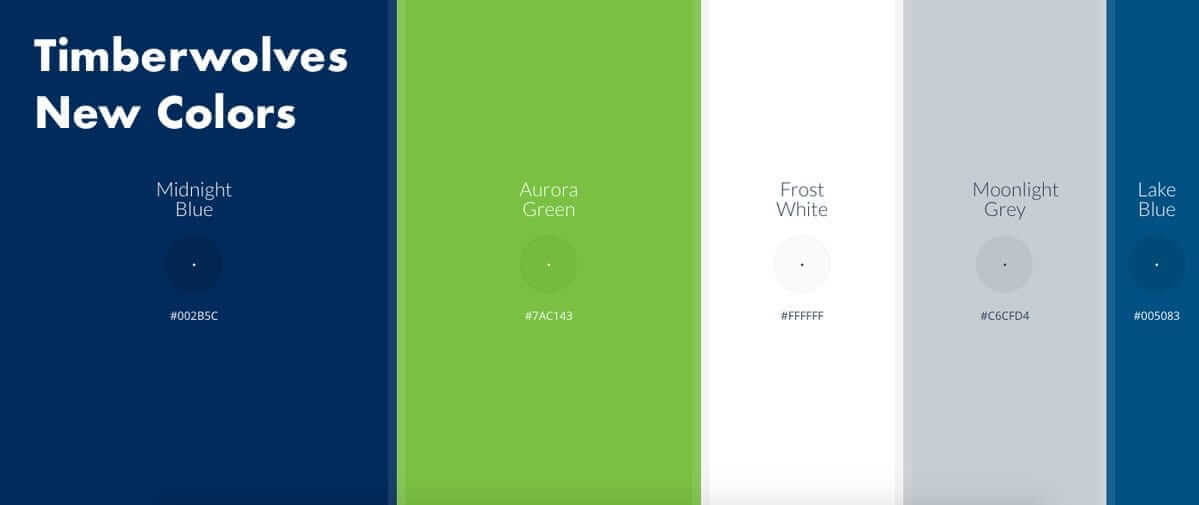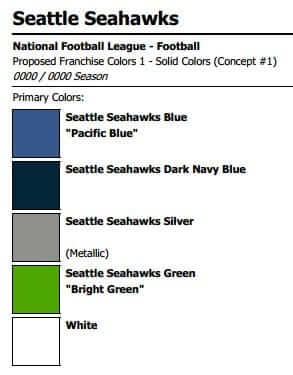 But everyone attending last night's game was given a free T-shirt with the new logo, so they all lived happily ever after.
———
And so on. Given how ho-hum the logo is, the overhyped press release sounds even sillier than usual. Key quote:
The logo includes a wolf head shown howling, the act of which is the glue that keeps wolf packs together. A wolf howl is used to warn outsiders to stay away, to communicate with the pack, or as a rally cry to reinforce bonds with family.
"¨And there's more:
The open mouth with the teeth showing represents the fierce energy of not just one Wolf, but a collective unit. To show aggression and fearlessness to the future.

The green of the eyes is a nod to the green that surrounds the state whether that be through Northern Lights, reflection of ice crystals in the winter or the flourishing of buds of trees in the spring.
Uh, right. Because none of the other 49 states have tree buds (or grass, or any other green vegetation). On the plus side, the Timberwolves have created a nifty interactive page to introduce the new look. These snappy web packages have become a standard thing for NBA teams with new logos and/or uniforms, and they're really terrific. Good for the league, and here's hoping the other leagues take notice and follow suit.
New uniforms and a new court design will follow this summer.
•  •  •  •  •
Raffle reminder: I'm currently raffling off a free varsity-style satin jacket from Stewart & Strauss. Full details here.
Merch reminder: In case you missed it earlier this week, the Uni Watch social media avatar (shown at right, click to enlarge), designed by the great Larry Torrez, is now available on a variety of shirts, sweatshirts, coffee mugs, tote bags, and stickers. They're all available here.
• •  •  •  •
The Ticker
By Alex Hider

Baseball News:  The Blue Jays debuted new batting helmets with a white front panel last night. They're reminiscent of what the team used to wear in the '80s and '90s, however, the panel isn't tapered to the visor like the old ones. …  The Indians' stated plan to wear the red block-C cap with their navy jersey at home this season didn't even last one game. Shortly before yesterday's home opener, they announced that they'd be wearing the block-C cap — and then promptly took the field wearing their Wahoo caps. Not surprising that they went with Wahoo (players received AL Championship rings yesterday, and the team wore Wahoo caps with navy jerseys throughout the playoffs), but strange they would tweet the wrong combo.  … The Cardinals are auctioning off  that ball that got stuck to Yadier Molina's chest protector last week (from Mike). …  Yoenis Céspedes became the first Met to wear the team's new skyline sock design last night. And given that he hit three home runs, expect to see more of that look. … Speaking of the Mets, they usually let the starter pick the team's jersey combo for the day. Matt Harvey has been known to prefer blue alts, but the Mets wore grey during his start last night (from Tezza). …  Spotted in Chicago: a White Sox street sweeper  (from Anthony Nuccio). … Here's a video about the #PonleAcento movement that has resulted in a number of Latin players adding accent marks to their NOBs  (from Mauricio Davila). …  North Carolina has added 3D batting helmet logos (from James Gilbert). … Speaking of the Heels, they went color-on-color against South Carolina last night (also from  James Gilbert). … A fan at last night's Mets/Phils game was wearing an interesting Phillies/Flyers mash-up T-shirt (from John M).

Football News:  Here's some more evidence that the Saints will be  ditching the collar horns  next season  (from  Pipes Guice). …University of Phoenix Stadium, home of the Cardinals, will likely be getting a new name soon (from  Brinke). …  Mark Sanchez will wear No. 6 for the Bears "" the number previously worn by Jay Cutler (thanks  Mike). … That Steeler's poster Brinke featured in yesterday's installment of Collector's Corner featured logos on both sides of the helmet (from  Brice Wallace). …  New field design for Colorado State (from  James Gilbert). … New logos for Rice. They'll also continue to use the Old English R. … New lids for Indiana Wesleyan, an NAIA school (from friend of the site  Seth Austin).

Hockey News: The "Montreal" sign on the city's Trudeau Airport has been rendered in Canadiens colors for the playoffs (thanks  Mike). …  The Rangers have an official "locker room T-shirt" for the playoffs. Note the signature block shadow (from  The Goal Net).

NBA News:  Tony Romo made a visit to the Dallas Mavericks yesterday "" in full uniform. That led to an amusing Rondo/Romo situation. …  Steph Curry's jersey is the NBA's top-seller for the second straight season (from Phil). … The site of the original Ben's Chili Bowl in DC has been given a Wizards-themed makeover. Note that the mural shows the Wizards players wearing their stars/stripes uniforms, which the team will be wearing throughout the playoffs.

Soccer News:  Interesting bit of history sent along by  Denis Hurley: Throughout  1986 World Cup qualifying, players for the  Republic of Ireland ended up wearing nine different jerseys in eight games. Irish players wore more than one  style of jersey in at least one match.

Grab Bag: Quinnipiac University now has its own pattern of plaid. It's even been added to the Scottish Register of Tartans, which tracks patterns of plaid (from Steven Tommasini). … Good feature on the staff at Washington's Verizon Center, which is currently juggling four teams and three playing surfaces (from Tommy Turner). …  Architecture firms in Cincinnati have erected sculptures made out of canned goods in support of local charities. More info here (from David Sonny). …  Wayne Jones  spotted a guy in Pittsburgh who has a Nike tattoo but is wearing Adidas shoes. … New helmets for Syracuse lacrosse (from  Travis Holland). … The  Saskatchewan Rush of the National Lacrosse League will wear special jerseys celebrating Canada's 150th anniversary (from  Nelson Hackewich). … Sun Country Airlines, which is based in Minnesota, says it will name each of its planes after one of the state's lakes (from  Mike Menner).