After a rain delay, the Cubs finally had their home opener last night. As you can see above, the gold trim on their championship uniforms was pretty subtle, at least from a distance. You can see it a little better in this close-up, but it's still surprisingly low-key: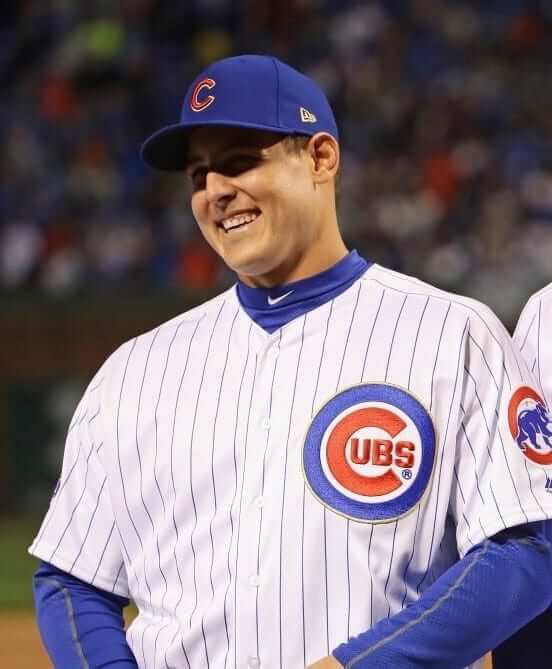 It didn't look much better on TV. Of course, the effect was somewhat more pronounced on the back:
Aw, wasn't it nice of the New Era folks to put their annoying logo in gold? Meanwhile, the Cubbies had the Commissioner's Trophy on the other side of the cap:
And speaking of headwear, I was wondering if they'd have a gold-trimmed helmet logo to match the cap logo. Nope:
The Cubs will wear this uniform again tomorrow night, when they'll be receiving their World Series rings. Meanwhile, last night they raised their championship banner:
•  •  •  •  •
Designer of the #Twolves new logo describes the visual representations and the colors that describe not only the team, but the state of MN. pic.twitter.com/tiSX7Imr0C

— Timberwolves (@Timberwolves) April 10, 2017
Bedtime story: The Timberwolves will unveil their new logo during halftime of tonight's home game against the Thunder (although the usually dependable Conrad Burry says it will look like this). In the video shown above, the logo's designer, Rodney Richardson of the Mississippi-based firm Rare Design "" the same firm that designed the current looks for the Pelicans, Hornets, Kings, Hawks, and Grizzlies — discusses his thoughts about the team's new colors. In less than two minutes, he manages three mentions of "story" or "stories," two mentions of "a sense of place," and one straight face.
The whole thing plays out like a Saturday Night Live parody of brand design (seriously, watch the video and imagine how it would go over on SNL — people would definitely laugh), only there's no need for SNL to do that because brand design presentations have become their own self-parody.
"Storytelling" nonsense aside, I look forward to seeing the new logo. As for the new uniforms, they'll presumably follow after the season, when the Adidas-to-Nike changeover takes place.
•  •  •  •  •
ESPN reminder: In case you missed it yesterday, I had an exclusive on how the Braves are about to debut MLB's first hydro dipped batting helmet with a carbon fiber pattern. Check it out here.
Merch reminder: Also from yesterday, the Uni Watch social media avatar (shown at right), designed by the great Larry Torrez, is now available on a variety of shirts, sweatshirts, coffee mugs, tote bags, and stickers. They're all available here.
Raffle reminder: I'm currently raffling off a free varsity-style satin jacket from Stewart & Strauss. Full details here.
• •  •  •  •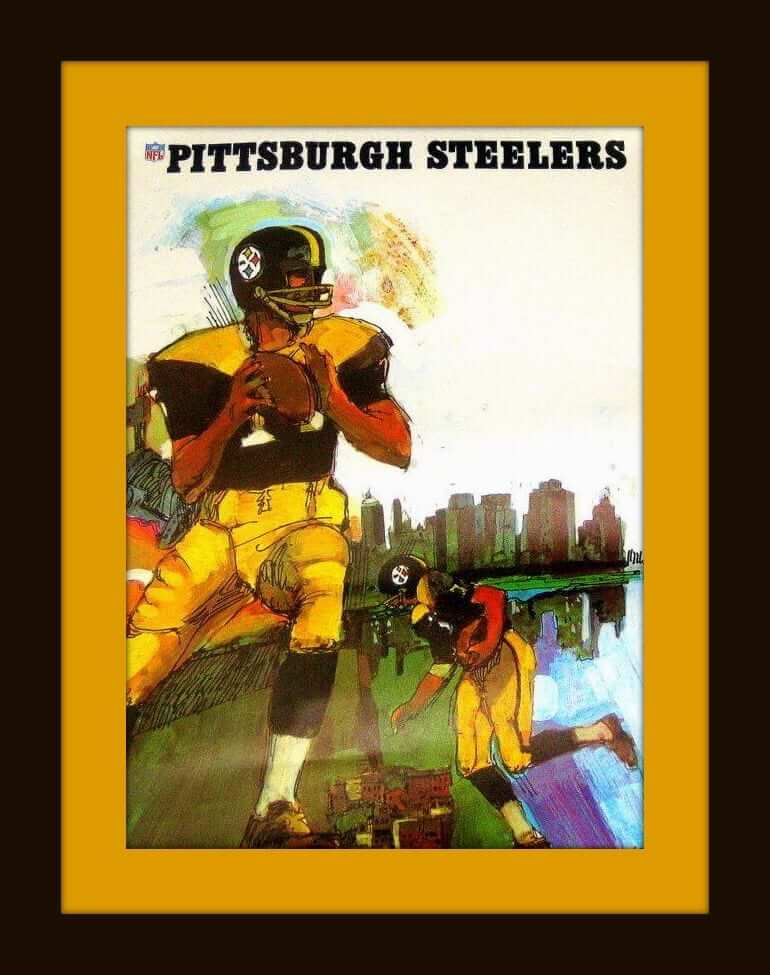 Collector's Corner
By Brinke Guthrie
Our featured item each week is always chosen on the basis of how punchy the artwork is. There were several items in the running this week, but when I came across this classic 1960s Steelers poster artwork, I knew we had a winner. See how complex the editorial process is?
Now for the rest of this week's picks:
•  Ricky Bell of the Bucs is the featured player on this 1977 PRO! game program. (Always loved how they had the exclamation point on there.) The unique thing here, of course, is that they chose to shoot the photo sans facemask. When was the last time you saw that?
•  Look how intricate the artwork is on this 1960s Yankees pennant!
•  We've featured these posters before, but it's worth higlighting them again, because the sleek artwork on this 1970s Boston Bruins poster is simply unmatched.
•  Interesting minimalist take on Cowboys legend Roger Staubach on this 11″ x 17″ print.
•  This 1960s Cincinnati Reds glass was sponsored by Tresler Comet, an old Cincinnati gas station chain. I distinctly recall the TV commercials for their car washes, too. A guy in a bronze 260Z (weren't they all bronze?) pulls out of the car wash and he says to himself, "My friends think I'm crazy, but I think a clean car drives better." Amazing how you recall things like that.
•  The color registration is just a bit off on this 1975 NY Giants coffee mug.
•  Here's the classic Miami Dolphins logo, in crochet form.
•  Falcons fans, don't miss this 1970s heavyweight enameled medallion.
• We've all seen these poses of football players that show up on promotional items from time to time, from cardboard signs to light switch plates and blankets. Here's an LA Rams Sunbeam Bread card from 1976, and I'd swear I've never seen that punter pose before. There he is, in his blue and yellow glory. This same eBay seller has several other teams available, too.
•  •  •  •  •
Uni Watch movie review: If you're into typography, or printing, or machinery, or knowing how things are made, or just good storytelling, you'll want to see Linotype: The Film, a 2012 documentary that I saw a few days ago. The trailer is above, and the movie is available for streaming on Amazon for $4. Worth every penny. Uni Watch's highest recommendation!
•  •  •  •  •
The Ticker
By Mike Chamernik

Baseball News: The Mariners wore hats with 40th anniversary patches for their home opener last night. The anniversary sleeve patches will be worn the rest of the year, but the cap patches were just for last night (from Tim Dunn). … Last week, Rajai Davis wore white Trusox as sanitaries, but he's now back to gold. Maybe it's a home/away thing (from Hans Hassell). … Salvador Perez has been wearing the WBC logo on his Royals catching helmet. He wore a team Venezuela helmet in the WBC (from Charles Noerenberg). … The Salt Lake Bees and Albuquerque Isotopes wore Gulls and Dukes throwbacks the other night (from John Ewanowski). … The Hartford Yard Goats will retire No. 21 in honor of Roberto Clemente. The move is made to connect with Hartford's sizable Puerto Rican community. … The Yankees have made some renovations and additions to Yankee Stadium to enhance social media experiences for fans (from Phil). … The Toledo Mud Hens will wear Boba Fett jerseys for Star Wars Night on May 27. … The San Francisco-based Anchor Brewing Company is selling another Giants-themed lager. The packaging for Los Gigantes has a Day of the Dead theme (from John Muir). … In the late 1980s, the Milwaukee Police Department produced Brewers trading cards where players gave kids advice about avoiding drugs, staying in school, participating in sports, and crossing the street and being a responsible baby sitter (good stuff, from Aaron Szopinski). … This color wheel graphic shows all the shades used in Minor League baseball logos (from Benjamin Hill). … Adidas released a new baseball cleat and turf trainer to honor Jackie Robinson. The shoes' bronze color is meant to represent both the bricks of Ebbets Field and Robinson's hall of fame plaque. … If novelist Kevin Guilfoile is to be believed, players on a Little League team named themselves the Illuminati (from Alex). … This piece argues that baseball stadiums and their unique designs have helped to increase the popularity of the sport. … The Cubs have filed for the trademark to the "That's Cub," a motto that has gained popularity with the team over the last few years. … The Akron RubberDucks wore 1997 Aeros throwbacks, with their standard caps, yesterday (from @CLERallyChicken). … Mets P Noah Syndergaard had his hair in a ponytail during his off day last night. He even pitched with his hair up during Spring Training. … Phillies C Cameron Rupp had some long and loose shinguard straps last night. They flapped around as he moved about (from Paul). … Nats OF Bryce Harper broke his belt during a head-first slide last night. The game was briefly delayed while a new one was brought out to him. … The Charleston RiverDogs scolded the Augusta GreenJackets for using an outdated Charleston logo in a social media post (from Matt Campbell).

NFL News: The Draft caps for the Browns, Cowboys, Steelers, Seahawks and Patriots have been revealed. … "The Ravens unexpectedly resigned Ladarius Webb, setting off an interesting chain reaction of number changes," reports Andrew Cosentino. "Webb retained No. 21, Tony Jefferson switched from 21 to 23, and Tavon Young switched from 23 to 25." Additionally, No. 25 went unworn last year to honor Tray Walker, who died in March 2016 after a dirt bike accident. … New 49ers RB Tim Hightower is refusing to wear No. 21, which was worn by Frank Gore before he left for the Colts two years ago (from Brinke). … Players, coaches, and members of the front office with the Rams were given T-shirts with a new team motto on them. … No photos, but a Reddit user says that he has seen the Lions new uniforms and offers a thorough description. The Lions will officially unveil their new set Thursday (from Justin Cliburn). … A new trading card shows Calvin Johnson in a Nike jersey but has a Reebok jersey swatch embedded in it (from Joe Gemma).

College Football News: Here's a look at a Schutt F7 helmet (the new helmet that Paul wrote about a few months ago) with a Clemson design treatment. In this case, the striping tape wasn't cut as it passed across the plates, although some equipment managers might choose to cut it, like most of them do with the Riddell SpeedFlex helmet (from Phil).

Hockey News: A New York City creamery is selling a Rangers-themed ice cream for the team's playoff push. It has a cheesecake, peanut butter cups, fudge brownies, and red and blue M&Ms (from Mary Bakija). … Here are 8-bit logos for each playoff team.

NBA News: Recently retired Dallas Cowboys QB Tony Romo will be a Maverick tonight. He'll be in full uniform on the bench during tonight's game against the Nuggets, and he will take part in pregame warmups. … Kyrie Irving flung his jersey into the stands the other night and someone famous caught it. That's Lamorne Morris from New Girl.

College Hoops News: Patrick Ewing wore socks with upside-down Nike logos on the cover of an old Georgetown program. Looks like he turned down his socks, creating the upside-down effect. While looking for additional Ewing photos, I noticed that the Hoyas used to have some really large nameplates (from Pete Richardson).

Soccer News: Louisville City FC unveiled its new third kit (from Josh Hinton). … The Washington Spirit of the NWSL didn't have an ad on their jerseys during this past weekend's preseason finale (from John Muir). … New 100th-anniversary shirt for Rosenborg. "Doubt they had a giant ad 100 years ago, though," says Ed Å»elaski.